While there are plenty of reasons to visit the state of Georgia, spending some time in Atlanta surely ranks near the top. The city's infectious mix of Southern character, food, and history make it a great pick for vacations and staycations alike. Creating memories in Atlanta is best done by staying in an Airbnb, as they're very often more than just a place to sleep. Whether you're after luxury rentals in Atlanta or an Airbnb in Downtown Atlanta, there's no kind of vacation that Airbnb can't help you with.
To ensure that these are indeed the best Airbnbs in Atlanta, only properties with superhosts and/or those who are part of Airbnb Plus have been selected. In case you're unfamiliar, superhosts are Airbnb hosts recognized for their well-reviewed service and accommodation. Airbnb Plus, on the other hand, are exclusive Airbnbs that have been verified through in-person inspections to ensure their accuracy.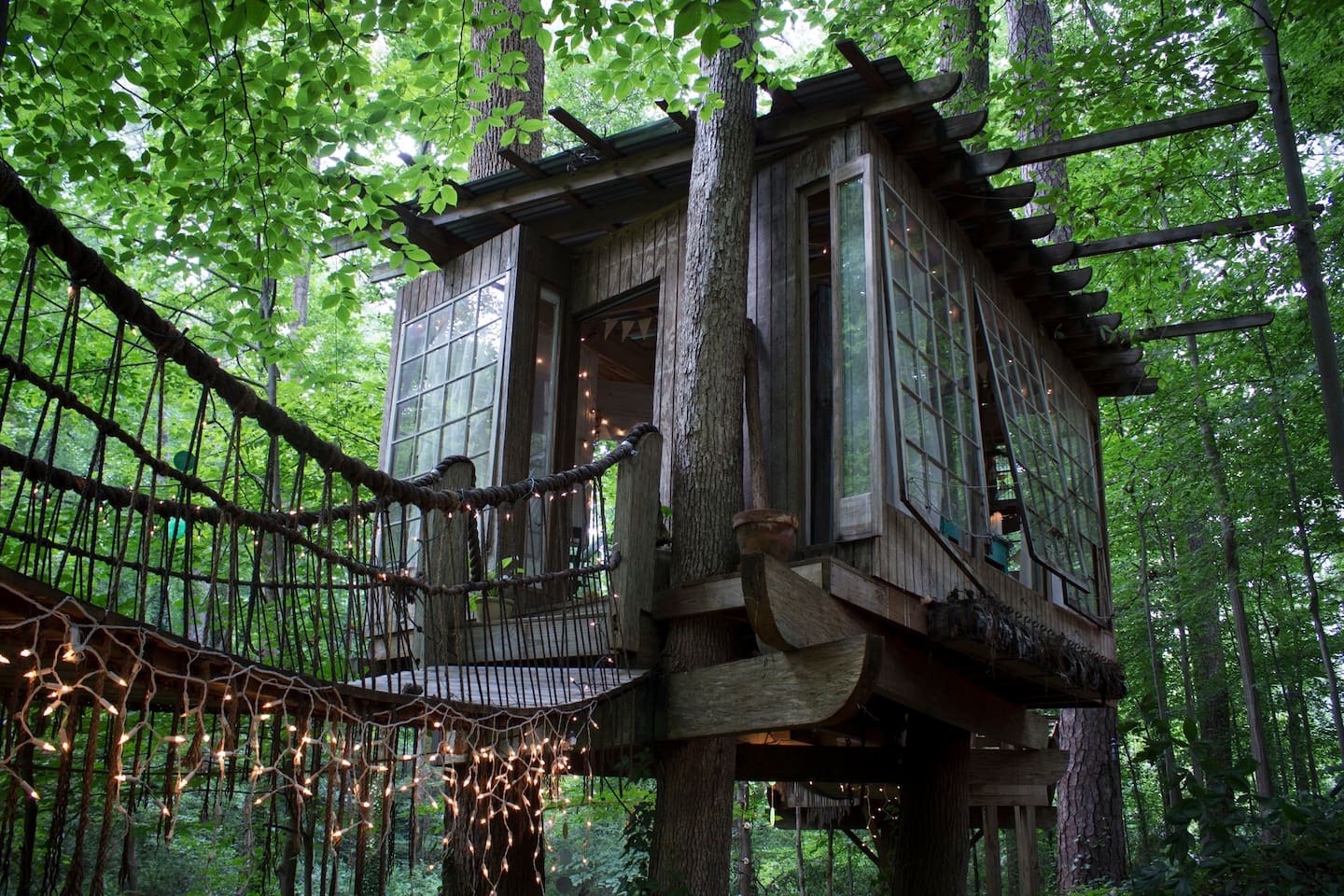 Secluded Intown Treehouse
The idea of staying in a treehouse Airbnb in Atlanta may seem a little out there, but it's guaranteed to make your trip memorable. Surrounded by trees, you'll almost forget that you're in the northern suburbs of Atlanta staying here. But indeed, this Airbnb is in a residential neighborhood with plenty of places to get food just a short drive away.
Atmosphere is a major part of staying here, as this treehouse looks as if it's been pulled straight from a storybook. Rope-bridges carefully connect three elevated platforms where the different rooms and spaces of this treehouse are. Sitting in the center is the bedroom with a double bed, which can be brought out onto a small, open-air platform when rolled through the room's glass doors. Either side of that is a wonderfully cozy sitting room and a hammock deck, which are both equally good for chilling out or reading.
As for the practical side of things, this treehouse does have its own bathroom facilities, but they're a 30 second walk away in the basement of the main house. Understandably, things are a little more basic here, with fans and a mattress warmer for temperature control. That said, the treehouse does have a microwave and Wi-Fi.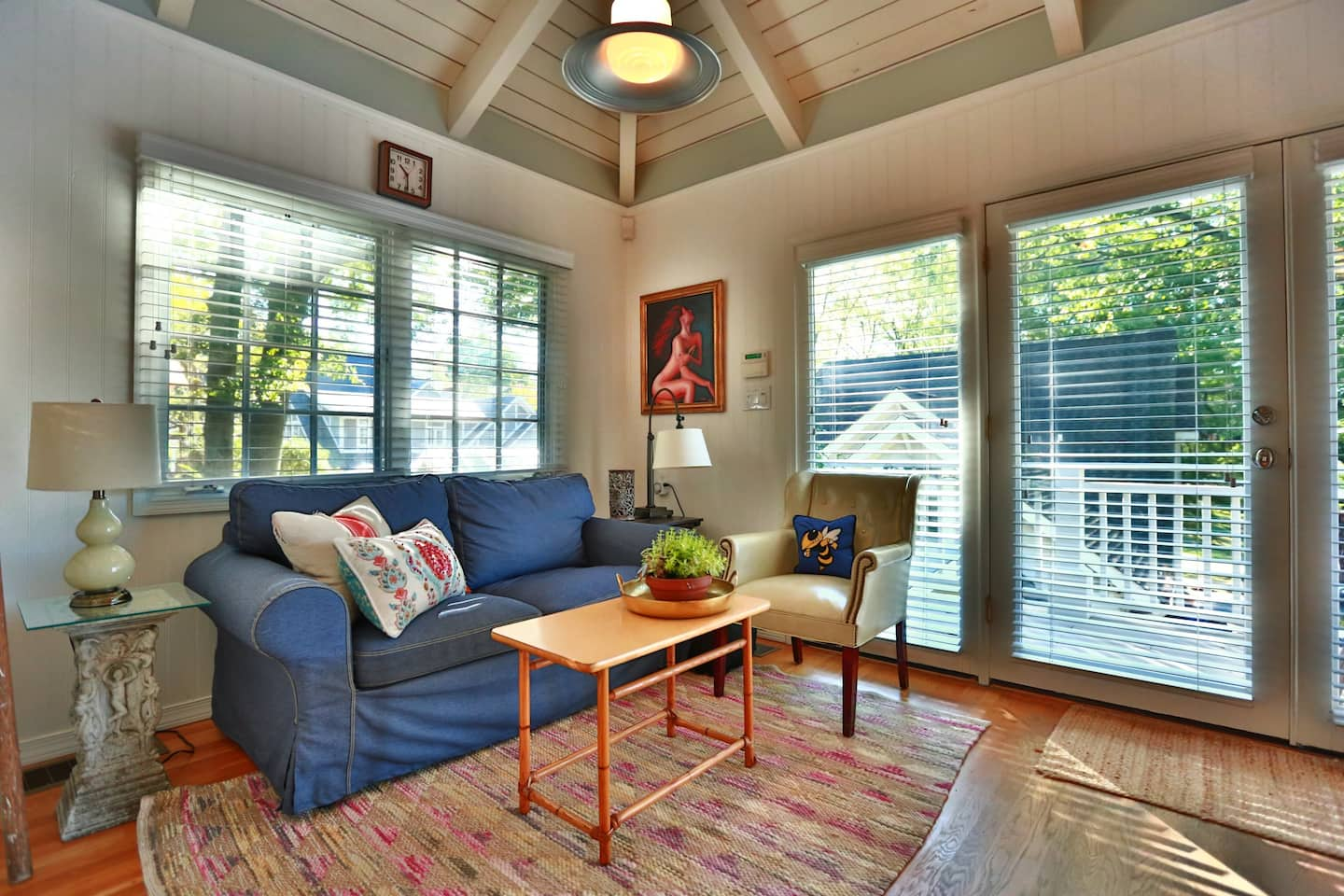 Bright and Airy Carriage House Studio Apartment
To see one of the best Atlanta Airbnbs you need only check out this fantastic apartment. Located in Virginia Highland, a lively neighborhood east of Midtown, this area is known for its cool cafes, cocktail bars, and vibrant restaurant scene.
There's a lot to like about staying in this studio apartment, starting with its bright and colorful interior. Although it is a studio meant for only two guests, it's quite a spacious apartment that cleverly creates private spaces. For instance, a useful desk helps separate the apartment's queen bed from the living area. Here you'll find a sofa and TV, as well as a larger desk area perfect for those who need to get work done while they're away.
Although this apartment doesn't come with a kitchen, there is a small pantry cupboard with a coffee maker, refrigerator, and microwave to help with breakfast. Outside is a nice terrace which overlooks the backyard that you share with the family house of superhost Suzanne. Finally, there's Wi-Fi, air-conditioning, and streaming services like HBO Max, Amazon Prime Video, and Hulu.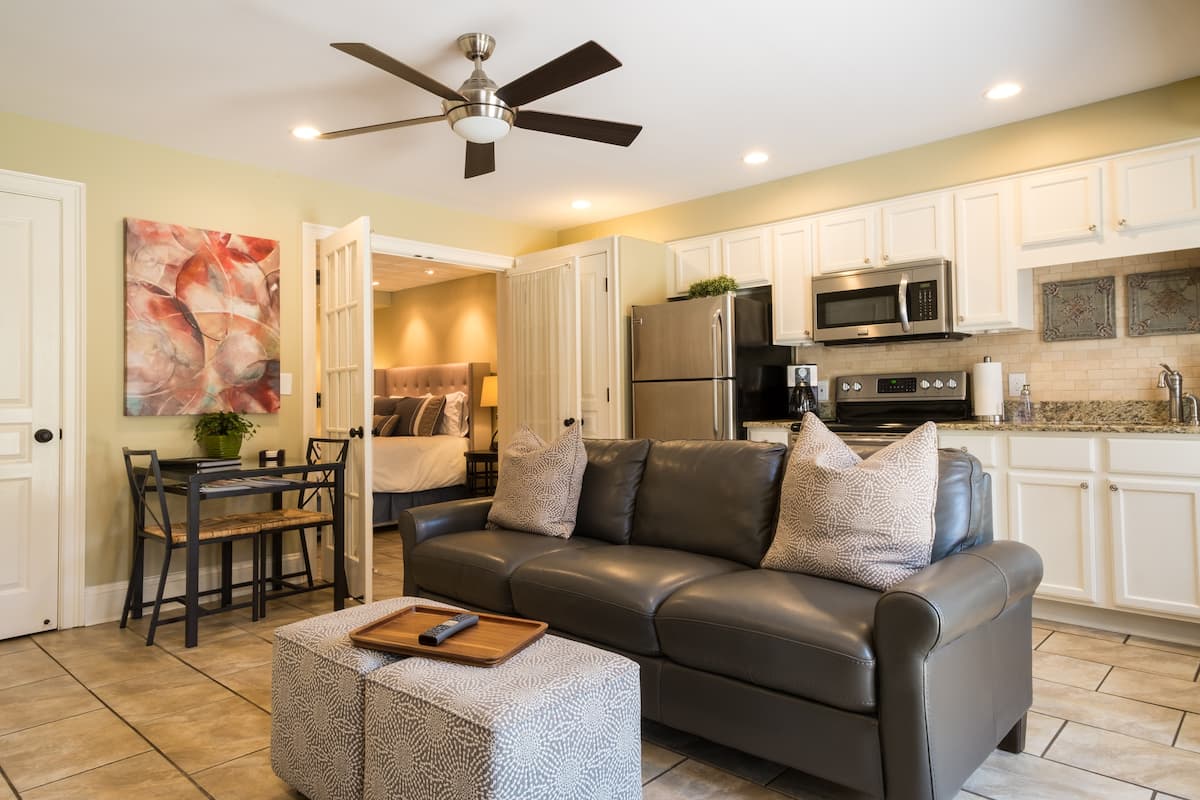 One Bedroom Apartment Retreat in East Atlanta
Those looking for vacation apartments for rent in Atlanta will not want to miss this great apartment. Situated in East Atlanta, just a short drive from the restaurants and shops of East Atlanta Village, this area is both convenient and quiet.
This inviting apartment occupies the ground floor of the home belonging to superhosts Craig and Joey, but is completely separate from the rest of the house. With no stairs or steps leading up to its private entrance or within the apartment, this Airbnb is perfect for those with accessibility needs. The apartment also boasts a full kitchen and plenty of space, meaning you'll have everything you need to be comfortable here.
Suitable for just two guests, this Airbnb has a queen bed in the tastefully designed bedroom. In this home away from home you'll also have a living room and private bathroom that are equally modern and well appointed. For your comfort, the apartment has climate control, Wi-Fi, and cable TV, as well as access to a laundry facility and a parking space in the driveway.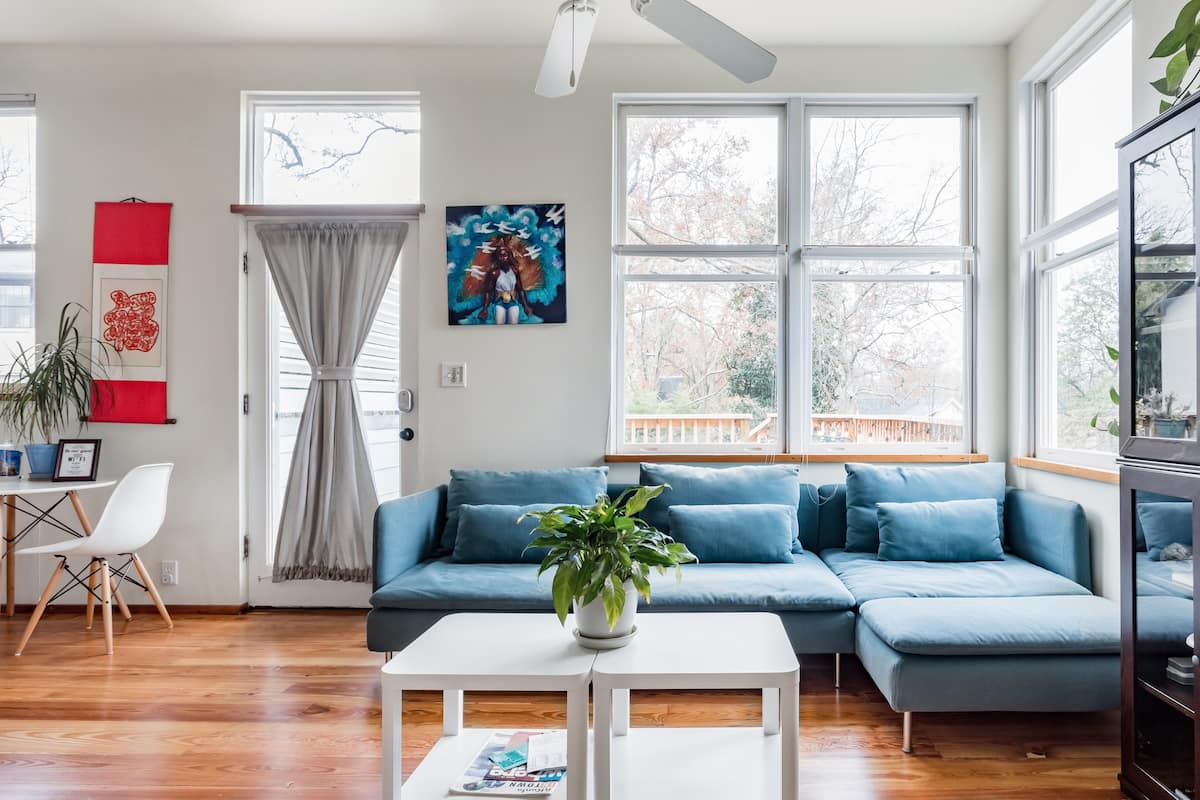 Treetop View Apartment in Charming Candler Park Bungalow
If you're combing through for apartment rentals in Atlanta that feel welcoming for young families, then this apartment is for you. Found in the pleasant residential neighborhood of Candler Park, it's a short walk to the park of the same name which has a playground and swimming pool. As for shopping and restaurants, lively Little Five Points is just down the road.
What makes this Airbnb Plus so special is how versatile it is. The apartment has been designed with accessibility in mind, creating easy access to get inside and around the living space. But superhosts Andrew and Phoebe also provide lots of family-friendly amenities like a travel crib, high chair, and stair gates that parents with young children can take advantage of. That said, the apartment only comes with a king bed, meaning it can't sleep more than two adults.
In this apartment you should have no trouble relaxing. The living area features a great long sofa to watch TV, plus there are chairs on the porch and a hammock in the backyard. Other spaces include the massive bathroom which has both a bathtub and shower, and the little kitchenette with its microwave, coffee maker, and small fridge. Finally, there's Wi-Fi, on-site parking, and the option to self check-in.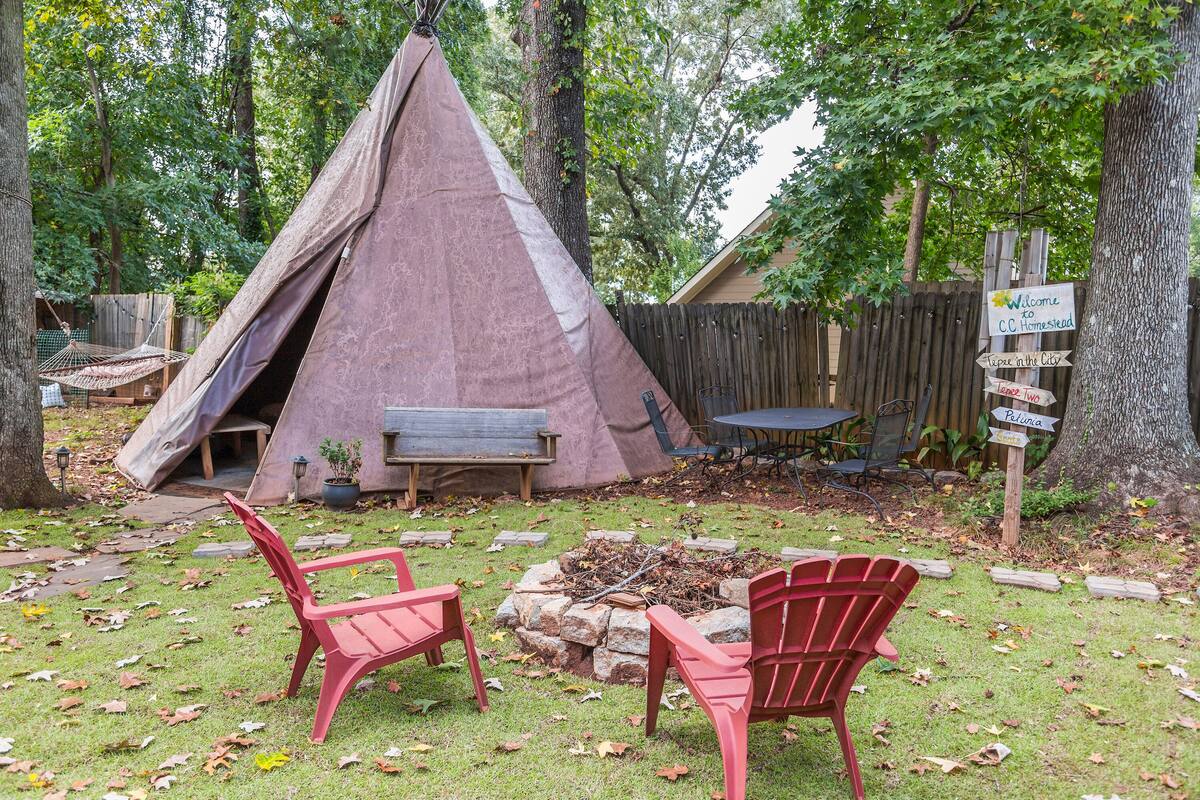 Glamp in this Magical Teepee in the City, with AC!
While there are many interesting places to stay in Atlanta, there's no doubt this teepee is one of the more unusual Airbnb options. Located in the quiet and safe neighborhood of East Atlanta, you can easily reach the restaurants, bars, and farmers market of East Atlanta Village by car.
When you stay in this teepee, you're opting for a fun outdoor adventure that is bound to shape your Atlanta vacation. Inside this large teepee there is just enough room for a queen bed and a sofa bed, meaning it can fit a group of up to four. Beyond that there's not much space, but the list of amenities it comes with is quite surprising. For starters, the teepee boasts a heater and air-conditioning, as well as electricity, a small fridge, a coffee maker, and general breakfast items.
Then there are the communal amenities of this property you also have access to, such as the communal indoor bathroom and kitchenette which are shared across several Airbnbs on the property. Out in the large backyard there are also hammocks, a treehouse with a zipline, a fire pit, Wi-Fi, and an outdoor grill, providing you with plenty to keep yourself entertained.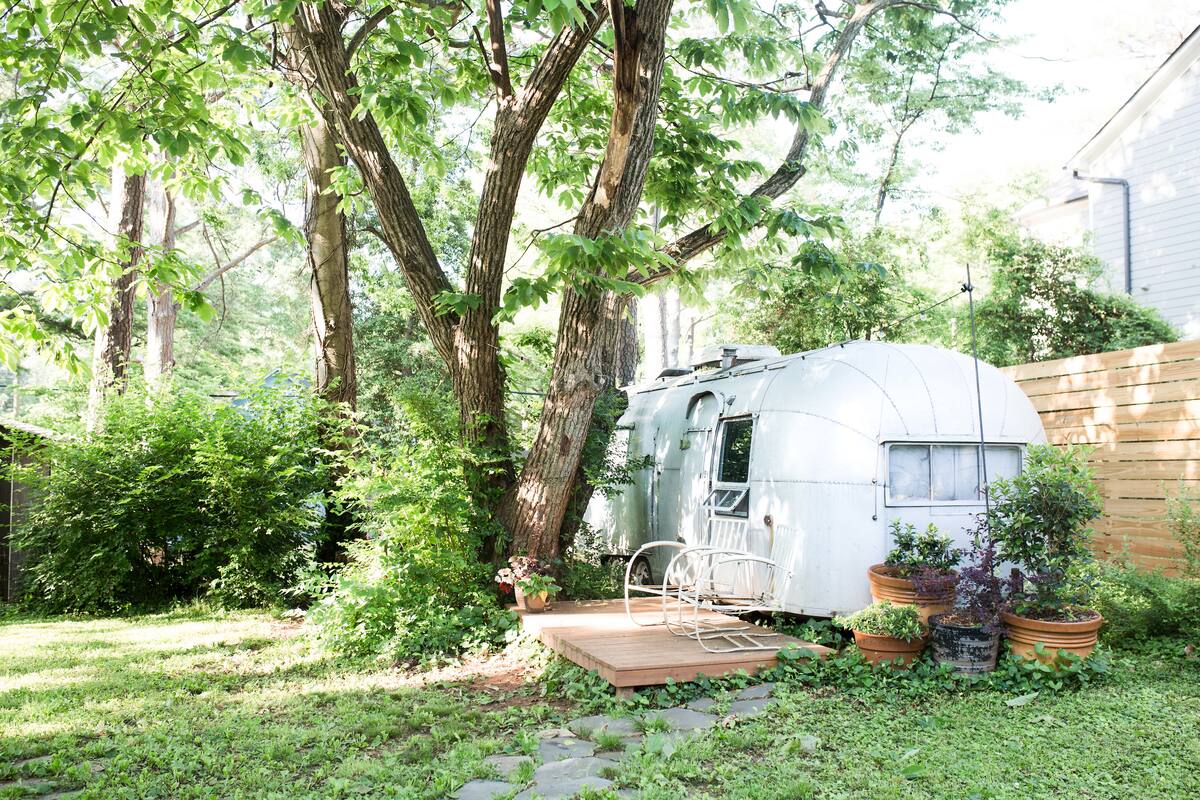 In-Town Atlanta Airstream
For people who don't need a lot of space, you may not find a better option than this cozy Airstream. Situated in the historic residential district of Grant Park, southeast of Downtown Atlanta, this spot enjoys a central location that's close to the city zoo, but also coffee shops, breweries, and local farmers market.
One of many Airbnbs in Atlanta that make clever use of their limited space, this converted Airstream can sleep up to three people. It features a proper double bed, as well as a single bed that doubles as a sitting area. Staying here can feel a little like glamping, since the shower in the converted RV doesn't come with hot water. The airstream does come with air-conditioning though which can be quite welcome during summer.
What this Airstream does have is a nice little kitchenette that features a mini fridge, a hot plate, and coffee making facilities. Superhost Caleb also does his best to make you welcome, providing a complimentary bottle of white wine, plus other odds and ends. Besides the TV, guests also have the private porch outside and shared access to the yard with its fire pit.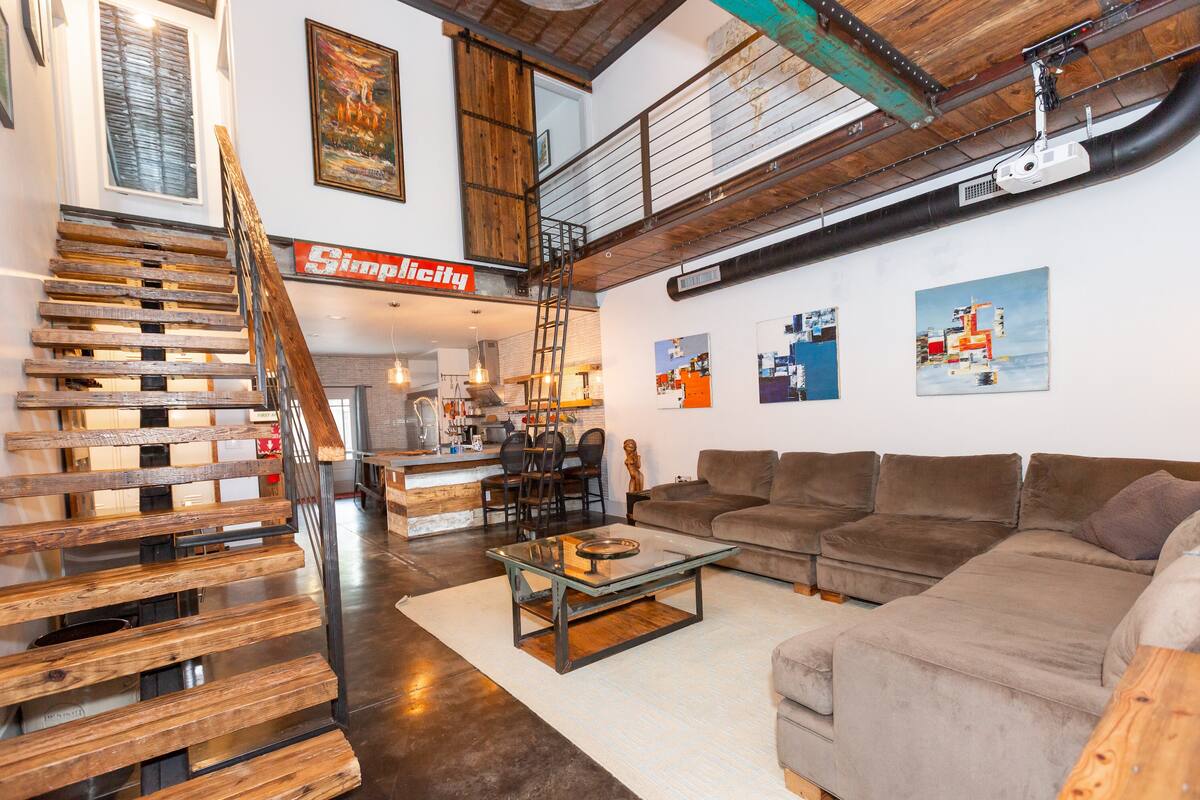 In Town Modern "Farmhouse" W/ Loft by BeltLine
When researching the best Airbnb rentals in Atlanta, this airy house is sure to come up, as it has everything you'll need for a great vacation. The rental is found in the convenient neighborhood of Reynoldstown, with lots of dining options nearby and the BeltLine Eastside trail a short walk away.
You'll have no trouble sleeping up to six people when staying in this big house. The house has three bedrooms, with a king bed in the master bedroom and queen beds in the other two rooms. As for bathrooms, there's an ensuite bathroom off the master bedroom and a guest bath as well. Easily the largest space is the huge living room downstairs, but the multiple outdoor balconies and decks provide outdoor alternatives as well.
To cater for large groups you have a full kitchen, complete with an oven, stove, microwave, fridge, and dishwasher. Or you can make the most of your outdoor space and do some grilling on the BBQ. As for other amenities, this Airbnb offers Wi-Fi, laundry facilities, cable TV, an indoor projector, and climate control.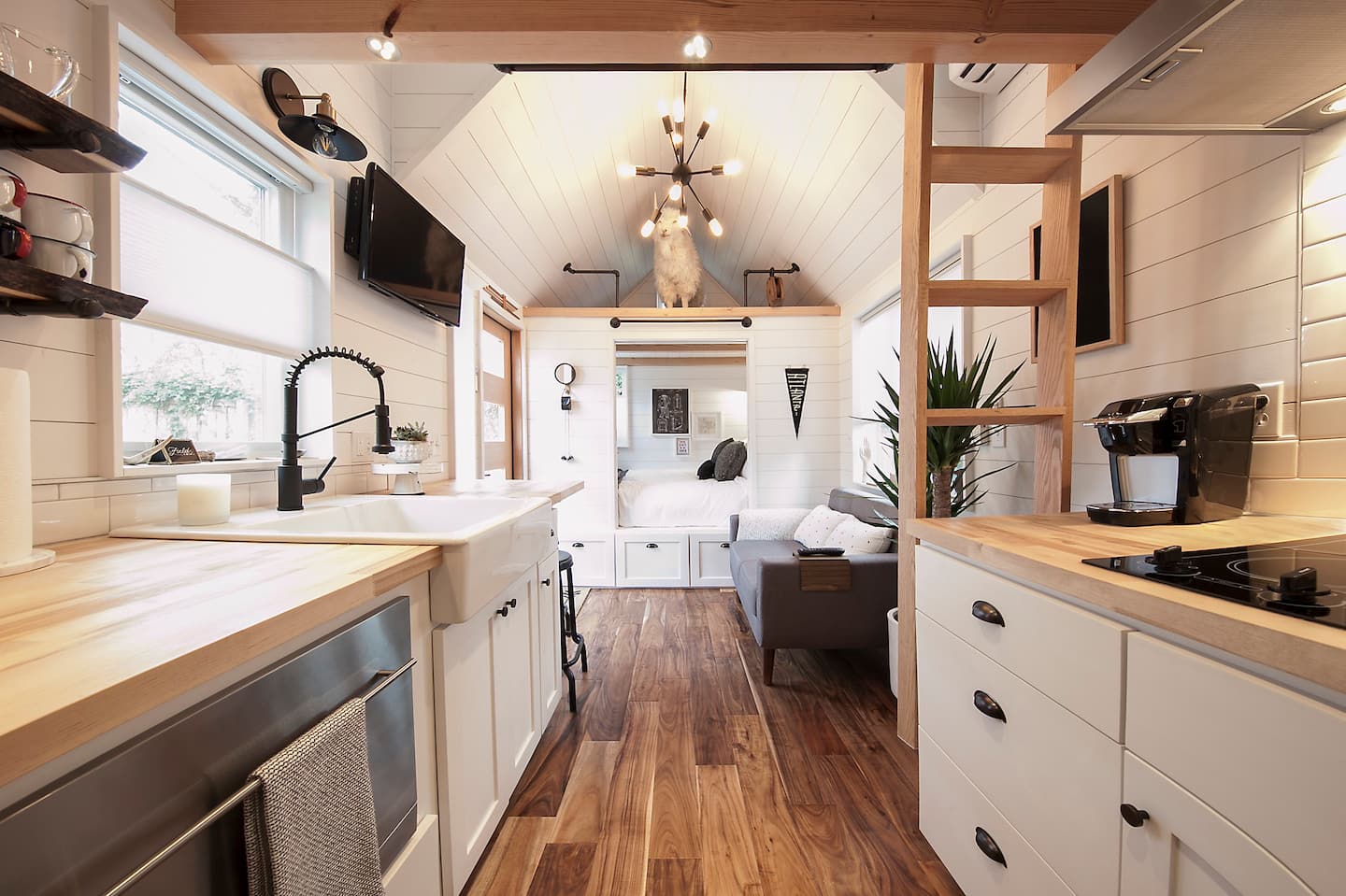 Unique Modern Tiny House 2BR/1BA
A great option for travelers after an alternative to short term apartment rentals in Atlanta is this charming tiny house. Located on the city's Eastside, you can easily reach trendy spots from here like Little Five Points and the Old Fourth Ward with their eateries and clothing stores.
Like any well-designed tiny house, this Airbnb makes the most of what limited space it has. Guests will find this two bedroom Airbnb both fun and practical, with a surprising amount of privacy between the two rooms. Each features a queen bed, with one up in a loft space, while the other is enclosed almost like a wardrobe. So yes, this tiny house can sleep up to four guests and still have room left over for a living area, kitchen, and a full bathroom.
What's great about this Airbnb is how it balances style with functionality. It has a clean, modern aesthetic to it that's inviting, but it doesn't skimp on amenities. Guests can easily prepare meals in the full kitchen which includes a stove, microwave, fridge, and dishwasher. Then there's the Wi-Fi and smart TV for when you're not using the ping pong table or fire pit in the shared backyard.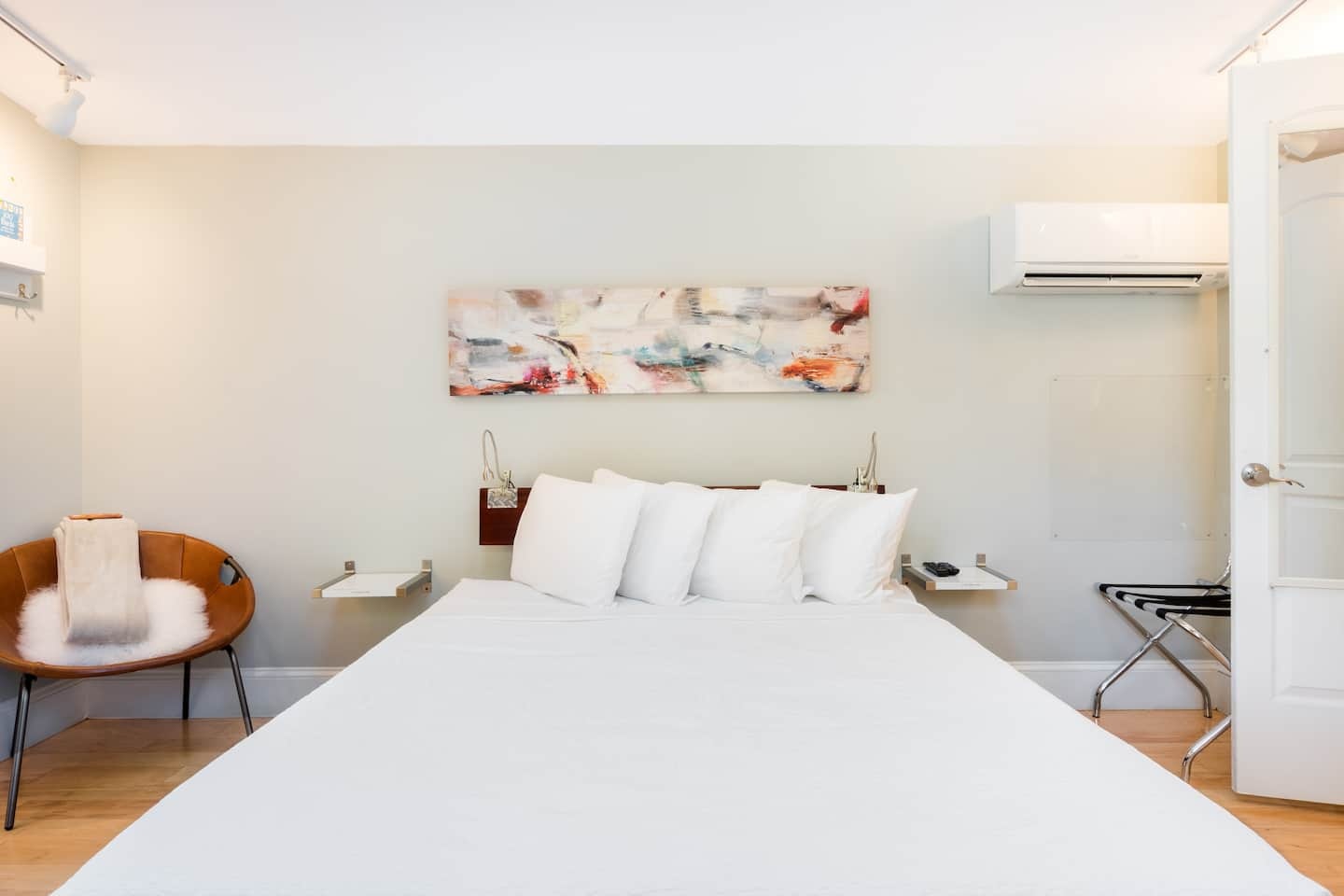 Tiny Urban Cottage in Artsy Cabbagetown Neighborhood
Another compact Airbnb in Atlanta that emphasizes style and functionality over space is this cute guesthouse. Situated in the artistic neighborhood of Cabbagetown, not far from Downtown Atlanta, you're surrounded by historic cottages and spoiled for choice with local eateries. What's not to like?
Staying at this Airbnb Plus is best for couples or solo travelers who need a base for their Atlanta trip. The main room of this guesthouse centers around a queen bed, while there's a small breakfast table and kitchenette there as well. Featuring a fridge, microwave, and coffee maker, the kitchenette should cover the basics, but you'll likely need to rely on the nearby restaurants as well.
To give you a little more space, this guesthouse has a screened porch area with outdoor seating where you can sit and relax. Then there are seats out in the garden behind the tiny house on a small patio, giving you somewhere else to hang out. Although this guesthouse is quite down to earth, it does come with modern perks like Wi-Fi, TV with Roku, air-conditioning, and the option for self check-in.
ATL Treehouse- Couples Retreat/Event Space/Hot Tub
This treehouse provides yet another option for people hoping to find an Atlanta treehouse Airbnb to stay in. Found an easy 10 minute drive from the Atlanta Airport, this Airbnb puts you in the tranquil middle-class suburb of East Point, southwest of Atlanta. Even still, it's only a 15 minute drive to Downtown Atlanta.
While it may be a treehouse, you're not exactly roughing it here. From the modish decor in the bedroom, to the bonus packages on offer with a private chef or masseuse, you can really treat yourself when you stay here. Simply looking at the quality of the queen bed and the lavish decor inside will tell you that this is no ordinary treehouse. Inside you have a bedroom, a cozy living area, and a small kitchenette with a fridge, microwave, and coffee maker for your use.
Directly beneath the treehouse is a huge covered outdoor space where you can eat meals and hang out. Follow the deck down and you'll find a bench swing, while communal amenities like a hot tub, outdoor kitchen, and fire pit all lie beyond your private, fenced-off area. Other amenities of the treehouse include air-conditioning, Wi-Fi, and a TV.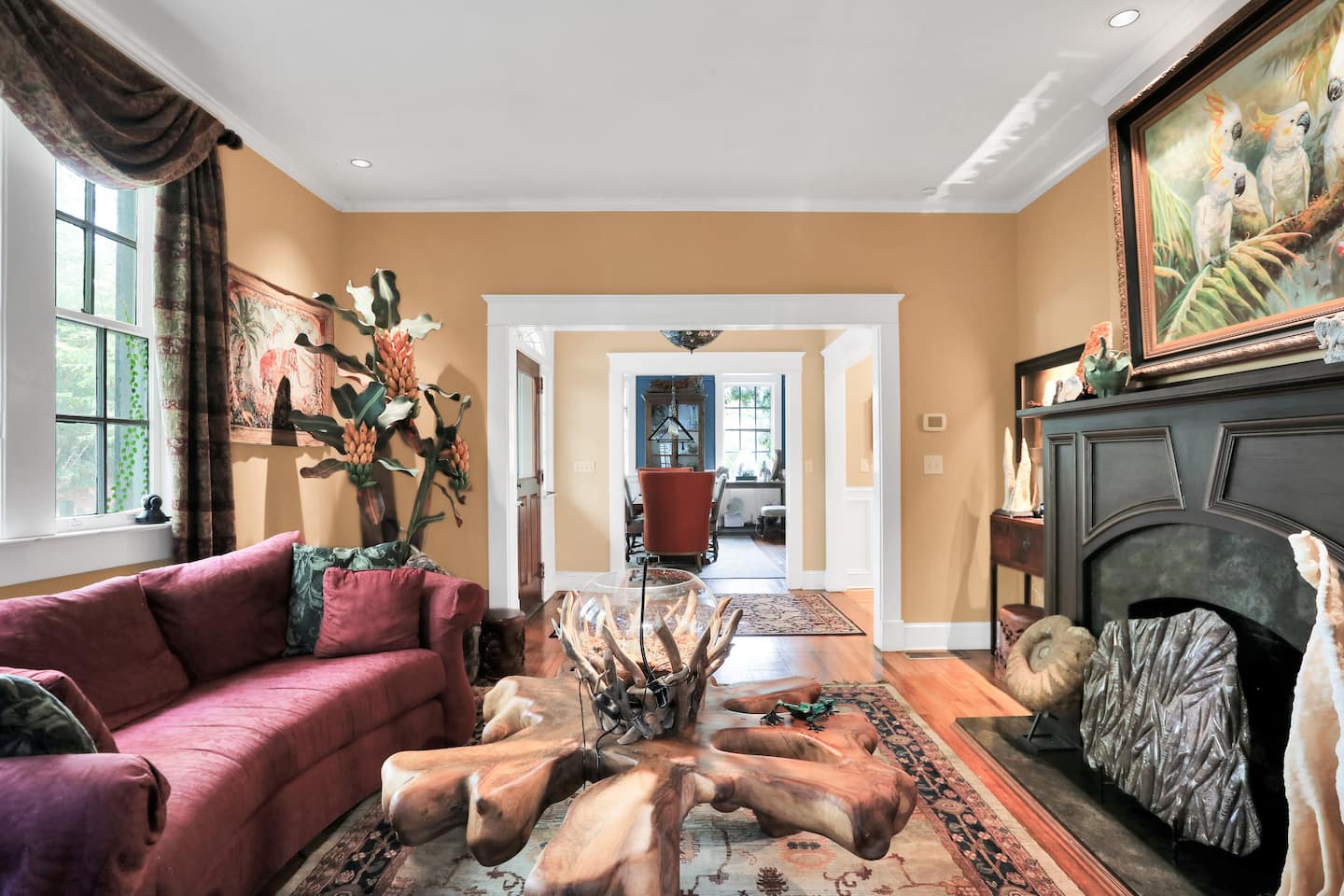 Visit the Intown Emu Ranch!
Choose this Atlanta Airbnb if you only need one or two private bedrooms rather than an entire house or apartment to yourself. What's interesting about staying at this Airbnb is that you can take one or two private rooms depending on the size of your group. Each room comes with a queen bed though, so you'll need to be comfortable sharing with your travel companions.
This accommodation is located in the home of superhost Barry in East Atlanta, one of the trendiest parts of the city. Just down the road you'll find East Atlanta Village, which is full of restaurants and clubs, as well as the friendly East Atlanta Village Farmers Market. Thanks to accessible public transport and cheap ride shares to Downtown or Midtown, you can even get around without a car.
As for the house itself, it's a historic building that's extremely cozy with an eclectic approach to decor. From the balcony of your room you can admire the lush garden and its koi pond. The gardens are actually quite extensive and you can stroll along the pathways to see each of their different themes. In terms of amenities, guests here have access to cable TV, Wi-Fi, free parking, a kitchen, and a washer/dryer.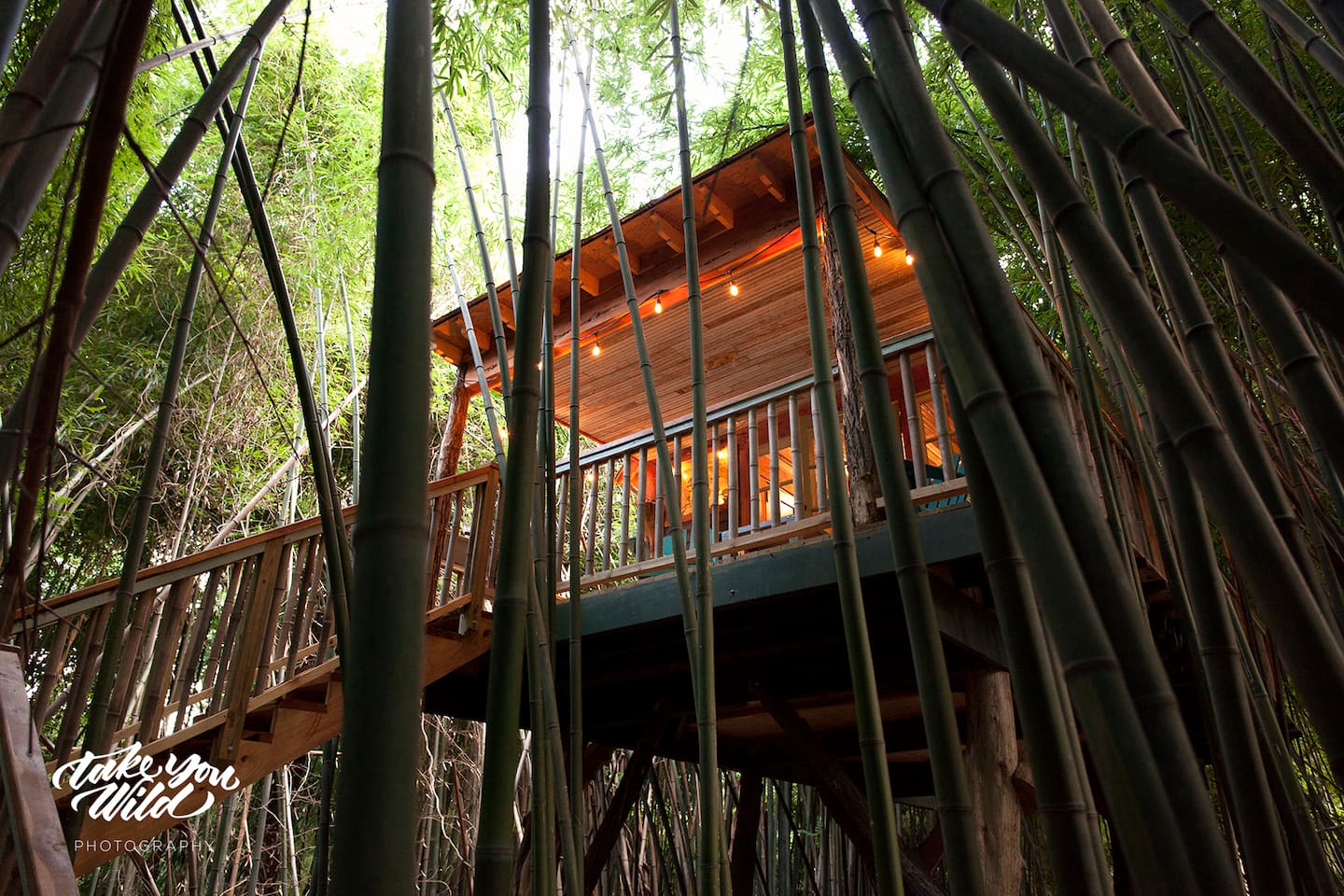 Atlanta Alpaca Treehouse in the Bamboo Forest
Who isn't tempted by the idea of spending a night in a treehouse? It seems a lot of people are, given that this is one of the most wish-listed Airbnbs in the world and has been featured on all sorts of TV shows. Take one look at this awesome treehouse surrounded by a forest of bamboo and you'll immediately see why.
While this treehouse is situated in the residential neighborhood of East Atlanta, the property it's on is actually a working farm providing a peaceful, rural atmosphere. That said, it's easy enough to find restaurants and bars in East Atlanta Village just a short drive away. This is useful to know as the treehouse is only equipped with a small fridge, coffee maker, and some drinking water.
It's important to understand that while the treehouse can fit up to four guests, it's not an especially large place to stay. Upstairs you have a small sleeping loft with a queen bed, while down in the living area there is a sofa bed for a further two people. Although not meant for overnight use, there's also a swinging rope Bali bed down under the treehouse for you to chill out in during the day.
Ultra-Clean Midtown Midcentury Bungalow 2BR/2BA
Are you looking for a stylish and spacious luxury Airbnbs in Atlanta for your vacation? Then this Airbnb in Midtown Atlanta is for you. Found on a quiet street in Piedmont Heights, this family-friendly neighborhood is a short walk to local restaurants and grocery stores.
Feel at home with this beautifully-appointed bungalow that has just recently been renovated. While it can fit up to four guests, this two bedroom house is quite flexible as there's also a sofa bed in the living room to go with the queen beds in the bedrooms. As it also comes with baby and child-friendly items like a travel crib, outlet covers, and a baby monitor, it's especially well-suited to young families.
Staying here you also have the benefit of a fully outfitted kitchen, complete with a stove, oven, microwave, fridge, and dishwasher. Perhaps just as useful, especially for longer-term travel, is the washer/dryer with complimentary detergent. Other handy amenities here include Wi-Fi, a smart TV with cable, air-conditioning, and free off-street parking. The house also has electronic locks, providing plenty of flexibility around check-in and check-out.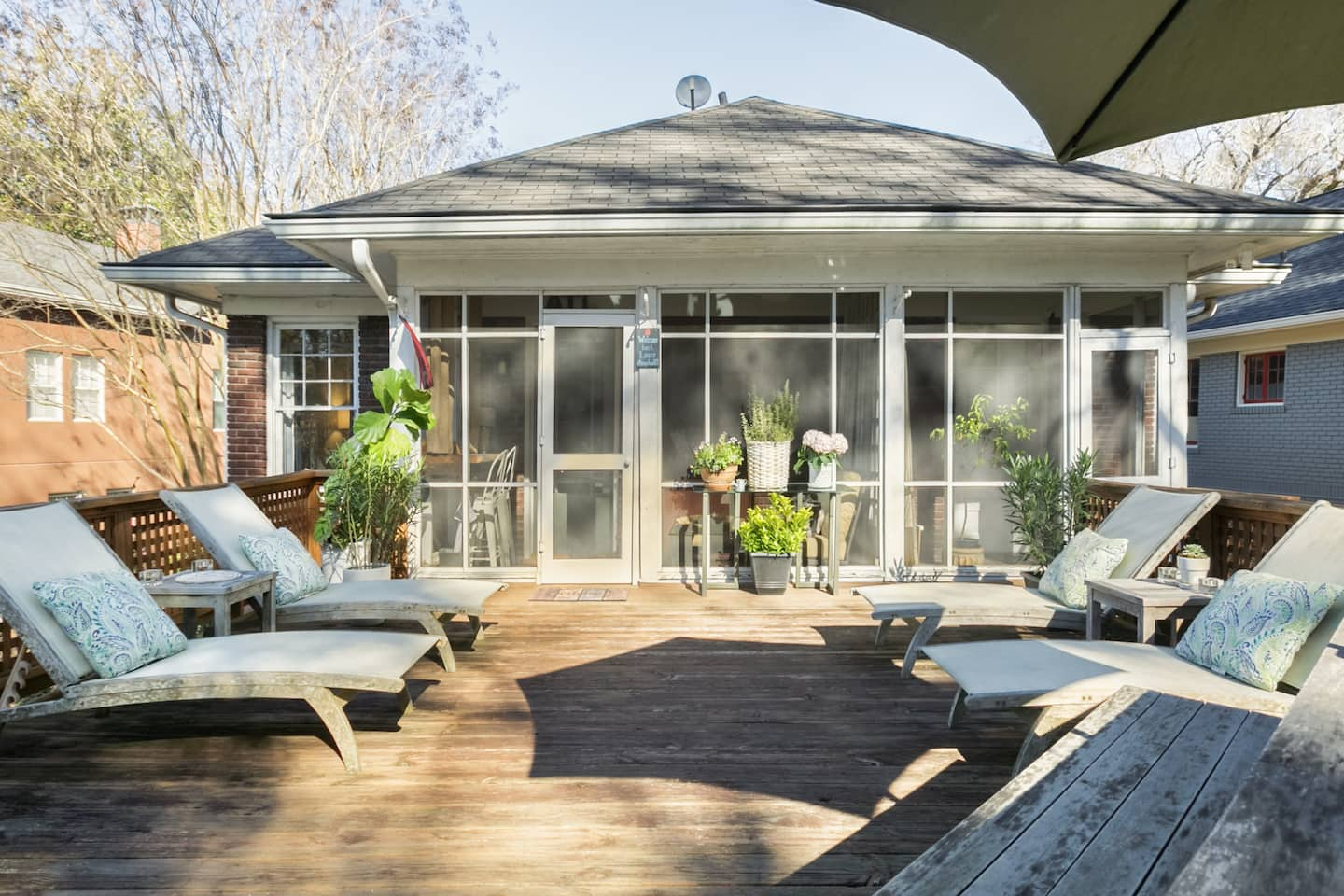 Designer Suite on Piedmont Park/BeltLine with Parking
As far as vacation rentals in Atlanta go, this small but stylish Atlanta Airbnb is hard to beat. Centrally located in the Virginia Highland neighborhood of Midtown, you'll have no trouble getting to the attractions around Atlanta. In the immediate area is the Atlanta BeltLine Eastside Trail and Piedmont Park providing plenty of space for fun and recreation.
What this guest suite lacks in space it more than makes up for in comfort and practicality. Best suited to couples or solo travelers, this Airbnb Plus has a modern bedroom with a queen bed. Instead of a traditional living room, you can unwind in the private screened porch which enjoys lots of light, or head out onto the large patio with sun loungers and an umbrella. That this patio enjoys views of the city skyline is just an added bonus.
To help with the mornings, you have a fridge and coffee maker in the little kitchenette for making breakfast. Added benefits of staying here include air-conditioning, a smart TV with Netflix, Wi-Fi, smart check-in, and free parking on premises.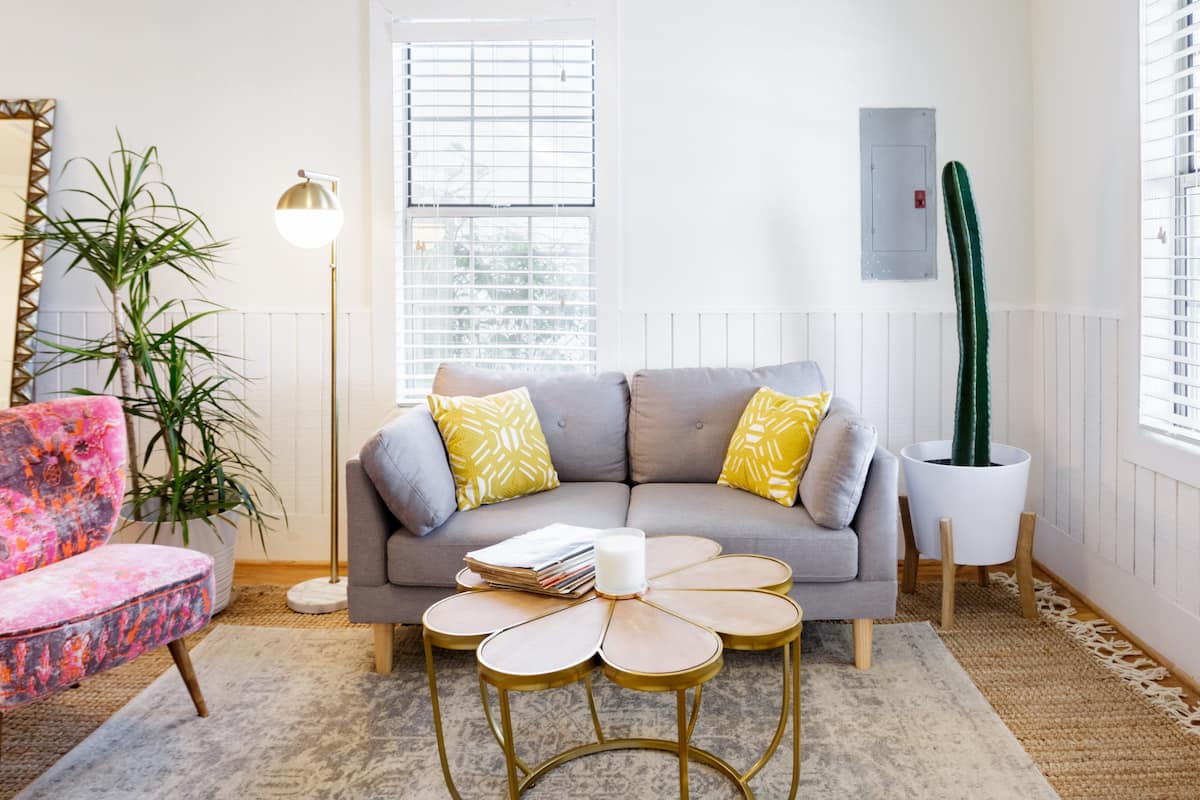 Cozy 1890s Historic Cabbagetown Mill House Full of Character
It's hard to resist an Airbnb when it comes with as much character as this cozy bungalow. This Atlanta Airbnb may look quite conventional from the street, but head inside and it has a nice variety of quirks that really make it special.
This Airbnb Plus is situated close to Downtown Atlanta in the neighborhood of Cabbagetown, a diverse area with an artsy side. There are also loads of places to get food nearby, whether you want burgers or brunch. Not that you necessarily need to eat out, as this bungalow comes with a full kitchen featuring a stove, oven, microwave, and refrigerator. Plus, you wouldn't want the beautiful formal dining room to go to waste, would you?
While only suitable for up to three guests, there's an awful lot of space in this colorful house. Not only is there the bedroom with its plush queen-size bed with a memory foam mattress, but there are also two living areas, and two outdoor patios. And let's not forget it's long list of amenities; from a laundry room to a fire pit, and also common inclusions like Wi-Fi, air-conditioning, a smart TV with cable, BBQ grill, and off-street parking.
No matter how long you're staying in the city, these Airbnbs in Atlanta will absolutely be a highlight of your trip. And really, what more can you ask from accommodation than that?
Looking for Airbnb suggestions outside of Atlanta? Take a look at our guide to the best Airbnbs in Georgia.