Boston is the kind of city that really does have something for everyone. If you like sports, watch the Redsox or the Celtics play. If you're more into history and sightseeing, Boston is home to lots of major cultural sights that tie into its extensive colonial history. Regardless of why you visit Boston, though, Airbnb is definitely the best resource available for finding quality vacation rentals in Boston.
To show you what we mean, here are the best Airbnbs in Boston. And to make sure these are indeed the best of the best, we've only included properties here that are owned by Airbnb superhosts – owners who have been identified by Airbnb as having a strong record of good service and positive reviews.
Related: 15 Best Airbnbs in Massachusetts, USA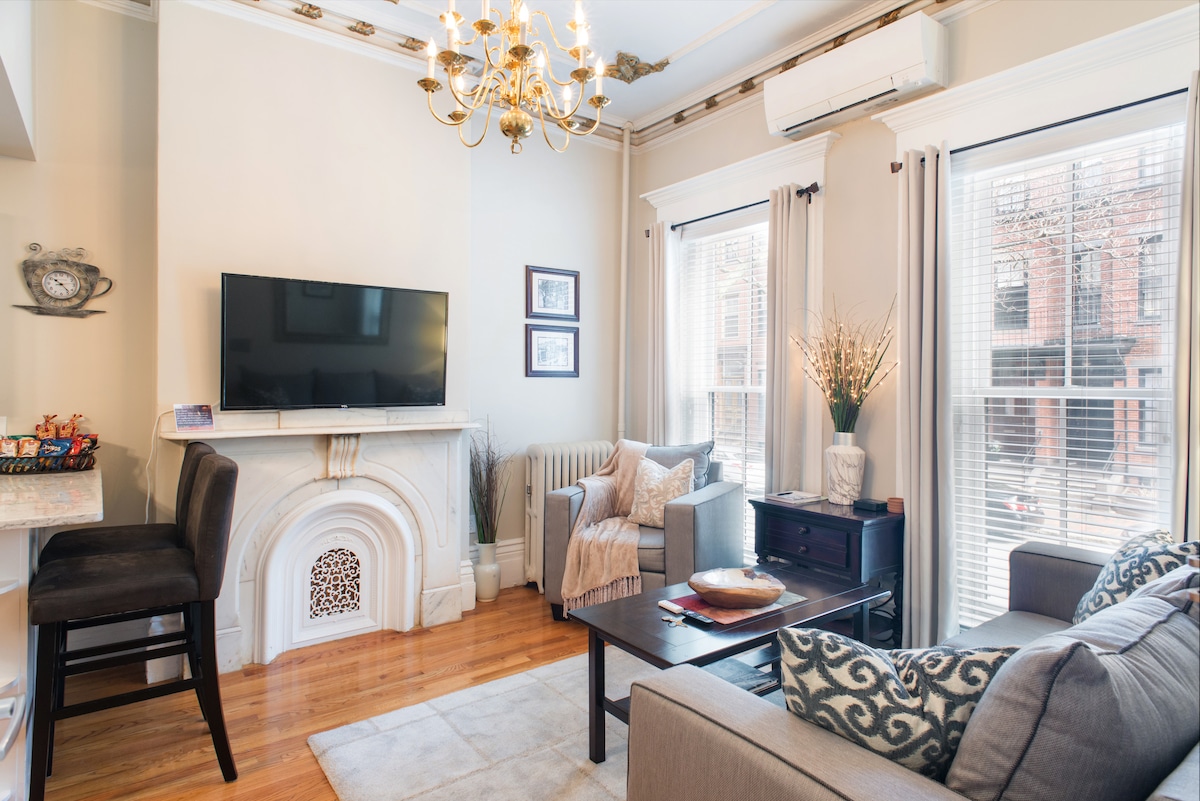 Astonishing 1 Bed South End Boston's Best Location
Those that are in search of a home away from home will love this vacation apartment for rent in Boston. Found in the central and cosmopolitan neighborhood of South End, this rental puts you just minutes from downtown and all the other popular parts of Boston. Closer to home, you have coffee shops, bakeries, and the top-tier restaurants of Restaurant Row within easy walking distance.
Thanks to its stunning interior and fantastic amenities, this first-floor apartment is certainly one of the best Boston Airbnbs you'll come across. The modern and stylish apartment offers one bedroom with a queen bed, making it a solid fit for a couple's getaway to Boston. However, it could also work for a family of three, as there's a pullout sofa bed in the living room. Other spaces inside include the full bathroom and modern kitchen with its small breakfast bar.
What makes this a good alternative to staying at a hotel are the home comforts it provides. That includes not only the fully equipped kitchen, but also amenities like the Wi-Fi, smart TV, and air-conditioning, plus laundry in the basement.
Cozy – Comfy Studio in Back Bay! (w/ Free Parking)
There's so much to love about this studio apartment, especially when you see how well it uses its limited space to accommodate more guests. Located in the upmarket area of Back Bay, a neighborhood full of fashion boutiques and brick townhouses, this Airbnb is situated in an exciting part of Boston, with Fenway Park and the Charles River an easy walk away.
Staying at this Airbnb in Back Bay, Boston, it's possible to sleep four people thanks to its clever layout. The studio apartment features two queen beds, one down by the living area and the other in a sleeping loft over the kitchen. These sleeping arrangements may not suit you long term, but for shorter trips, friends and families should find this quite alright. Beyond the two beds, the studio features a sofa, breakfast bar, full kitchen, and private bathroom.
Probably the main appeal of this apartment is just how charming it is, as the decor stylishly matches the Victorian-era feel of the building. But don't worry, it still comes with modern comforts like air-conditioning, Wi-Fi, and a TV.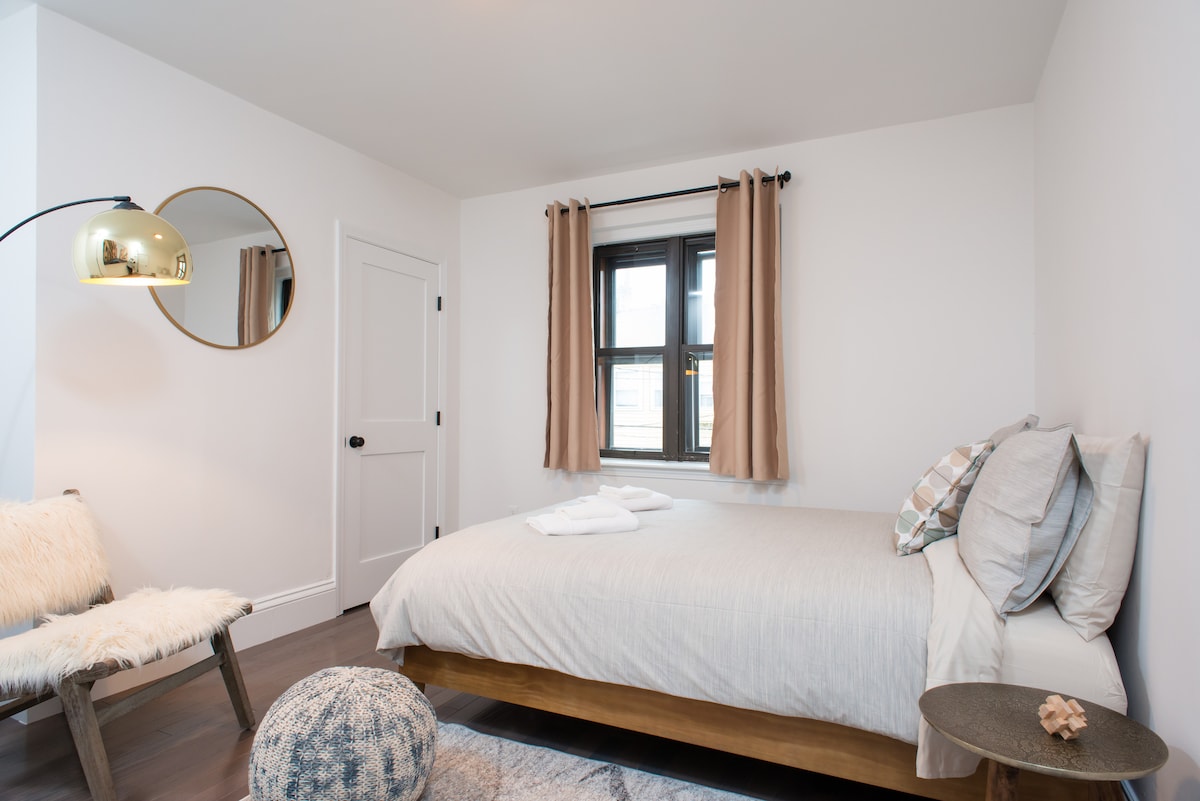 Clean, Modern & Bright – Great Location
This clean, modern Airbnb is surely one of the prettiest room rentals in Boston. Situated over in East Boston, this area will let you experience what it's like to be a Boston local, while also being just two subway stops from downtown. This way you can have quick access to Boston's best sights without the hefty price tag.
During your time here you'll be staying in the home of superhosts Boris and Susan. The room comes with a queen bed and is able to accommodate two people, making this a super affordable option for couples. Besides your comfortable and luxurious bed, the private room features a desk, a window, and a lock and key for security while you're out.
While you don't have a private bathroom here, the house does have 2.5 bathrooms, making sharing not that big of a problem. Guests also have access to other common areas, like the living room and kitchen. Other amenities here include Wi-Fi and air-conditioning, and street parking is also available.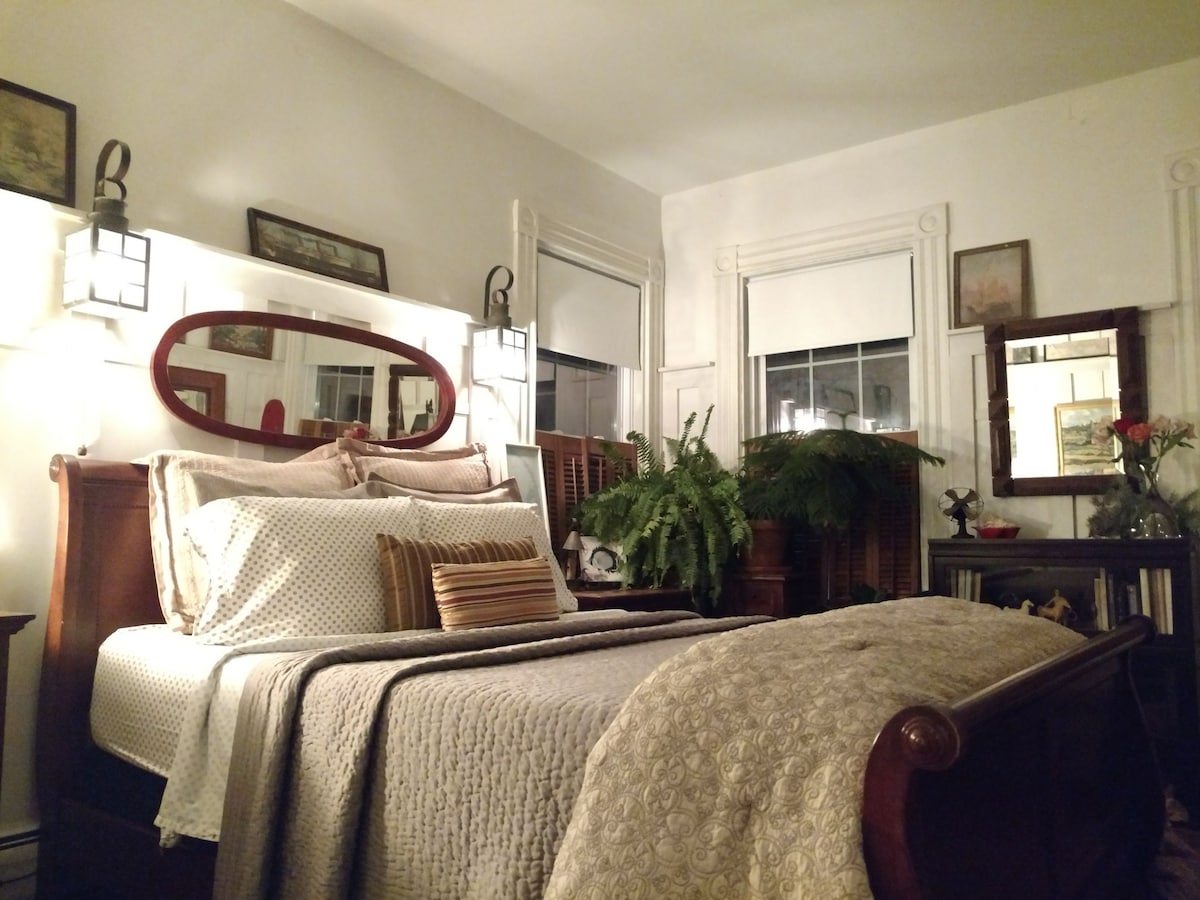 Cape Cod Room, With Private Bath-Townhouse-RedLine
Another of the many private rooms for rent in Boston MA is this highly sought after Airbnb in a townhouse a little south of the city center. Found down in the large and diverse neighborhood of Dorchester, this unit offers a look at a completely different side of Boston, thanks to the area's multicultural influences and residential feel. Don't worry, though – it's a four-minute walk to the Redline, which will take you into the city center.
Your visit here will be in a private room in the home of superhosts Bill and Corey. Set inside a historic Victorian townhouse with an eclectic decor, this Airbnb has plenty of character and will help make your trip to Boston even more memorable. Your room comes with a queen bed and is set up for a maximum of two guests.
Beyond somewhere to sleep, guests also benefit from their own private bathroom, not to mention the breakfast provided each morning. Should you want, it's possible to use shared spaces like the kitchen, living room, and dining room. As for amenities, you have access to the washer/dryer, Wi-Fi, TV, and air-conditioning to help make your stay as comfortable as possible.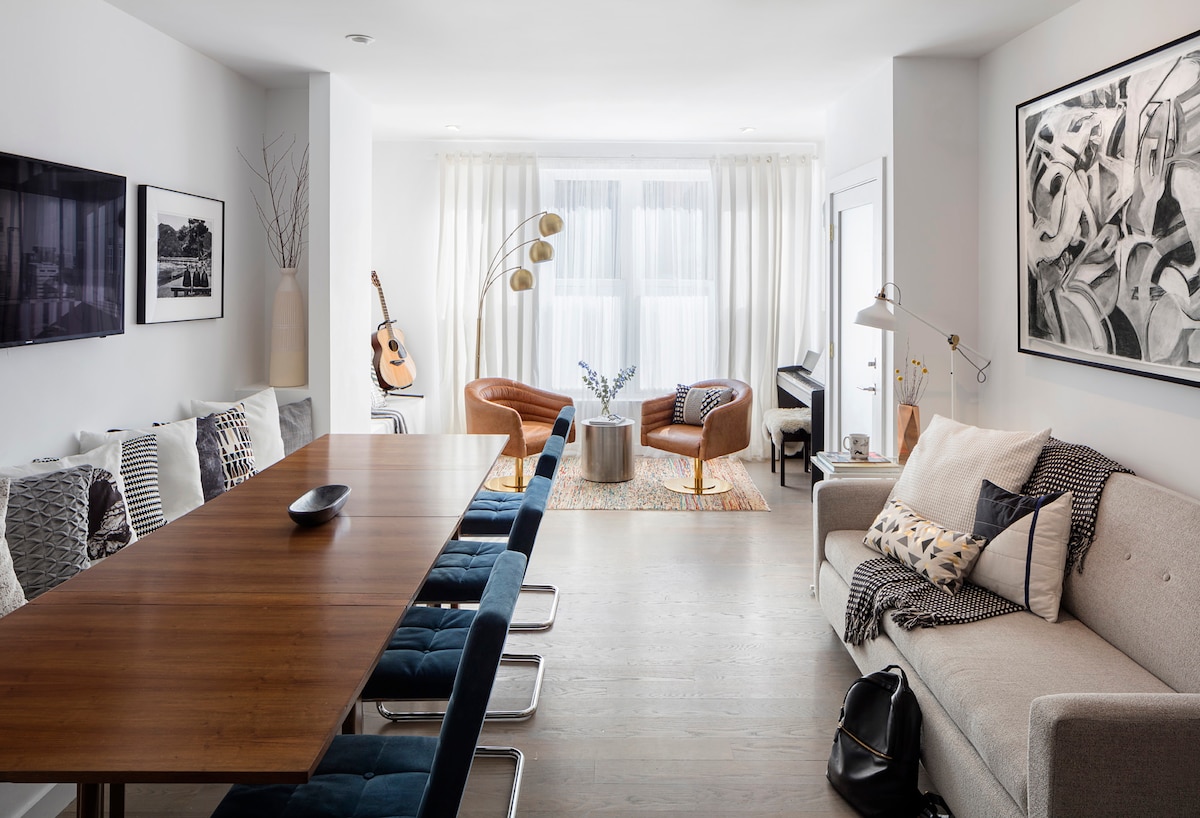 3-Story Luxury in Central Location
Thanks to its size and luxury stylings, there's little doubt that this fantastic townhouse is one of the best Airbnb rentals in Boston. Located in Bay Village, the smallest neighborhood in Boston, it enjoys a central spot that allows you to get around the heart of the city with ease. Best of all the Bay Village features plenty of the iconic townhouses that Boston is known for, giving you loads of local scenery to enjoy.
Like so many houses for rent in Boston, MA, this Airbnb is a townhouse, set across three stories. What's great about that is that it provides guests with plenty of space, as well as privacy from each other. The townhouse features three bedrooms and quite flexible sleeping arrangements, meaning it can host five people comfortably, and as many as eight in total.
To help with that many guests, it also has three bathrooms, a large dining area, living space, and modern kitchen. Those in need of some fresh air will be glad to hear that the townhouse has a small patio on the second floor. Extra perks include childcare equipment, air-conditioning, washer/dryer, Wi-Fi, and cable TV.
Second Oldest Home in Beacon Hill
If you're interested in short term apartment rentals in Boston for your visit, then you really need to check out this excellent apartment ASAP. A nice alternative to an Airbnb in Downtown Boston, this apartment is situated in the popular historic neighborhood of Beacon Hill. Close to lots of tourist attractions, this vacation rental is in an ideal location for people whose focus is sightseeing.
While this studio apartment is admittedly quite small, it more than makes up for it with charm and coziness. It'd be fair to say that this Airbnb is best suited to solo travelers or couples, even though it is able to sleep up to three people. The studio features a double bed in a little sleeping nook and also a single bed should you require it.
Within the rest of the studio apartment you have a full bathroom, small dining area, and kitchenette at your disposal. The kitchenette comes with a fridge, microwave, and coffee maker, so that you can prepare snacks or a basic breakfast. Further amenities available include a washer/dryer, plus Wi-Fi, TV, and air-conditioning.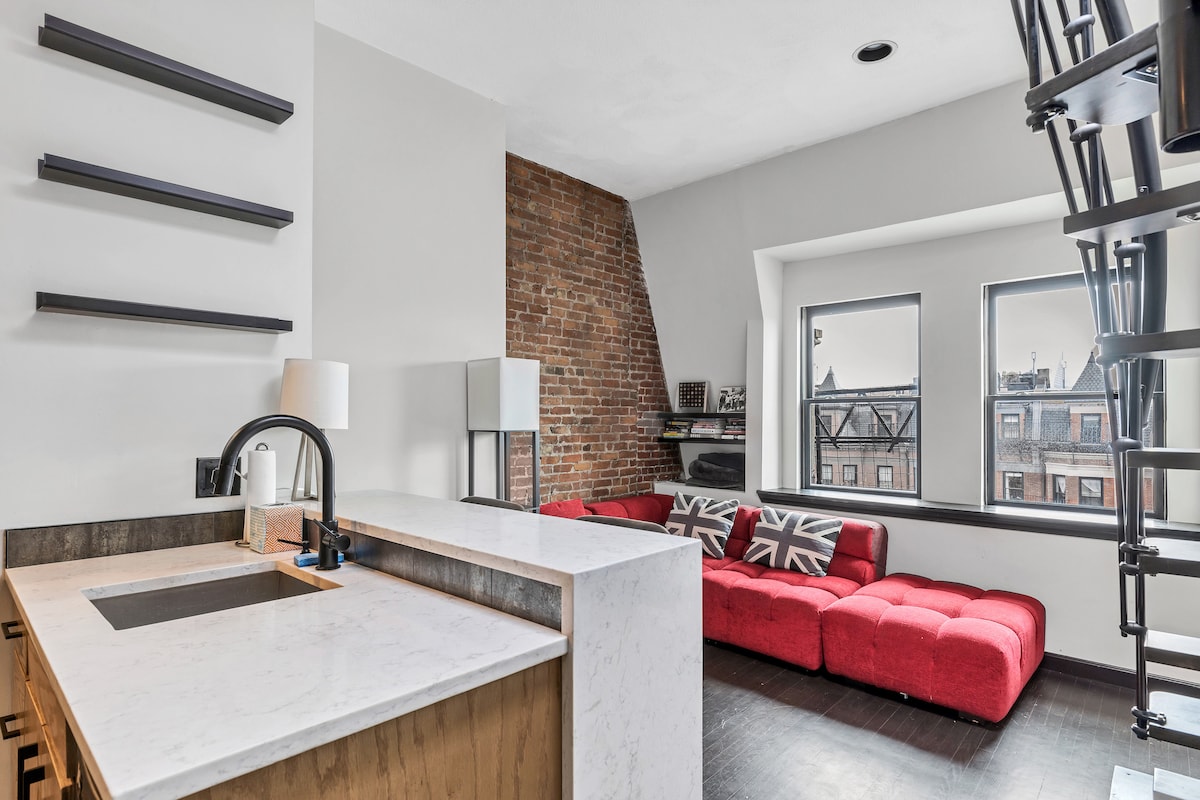 Stunning South End 1BR – Private Roofdeck
While there are many Airbnbs in Boston, Massachusetts set inside historic Victorian row houses, few offer the stunning views you get with this one. Found within the cultural hub of South End, this Airbnb offers you your pick of bistros, pubs, and restaurants, not to mention art galleries and studios. It's basically quite a trendy and upmarket part of Boston, giving you plenty of options for food and shopping.
Since this condo's view is so special, we really should start there. Follow the spiral staircase in the condo and you'll reach the huge rooftop deck that's all yours during your stay. From it you're treated to a stunning view of Boston's skyline, meaning you might find yourself up there quite a bit.
Down in the apartment itself you have the usual spaces, all decorated in a sleek and modern style. The condo's bedroom offers a king bed, while you also have a sofa bed out in the small living room. Then there's the modern kitchen and full bathroom, providing everything you could need for a short or long stay. As for amenities, those include a washer/dryer, Wi-Fi, TV, and air-conditioning.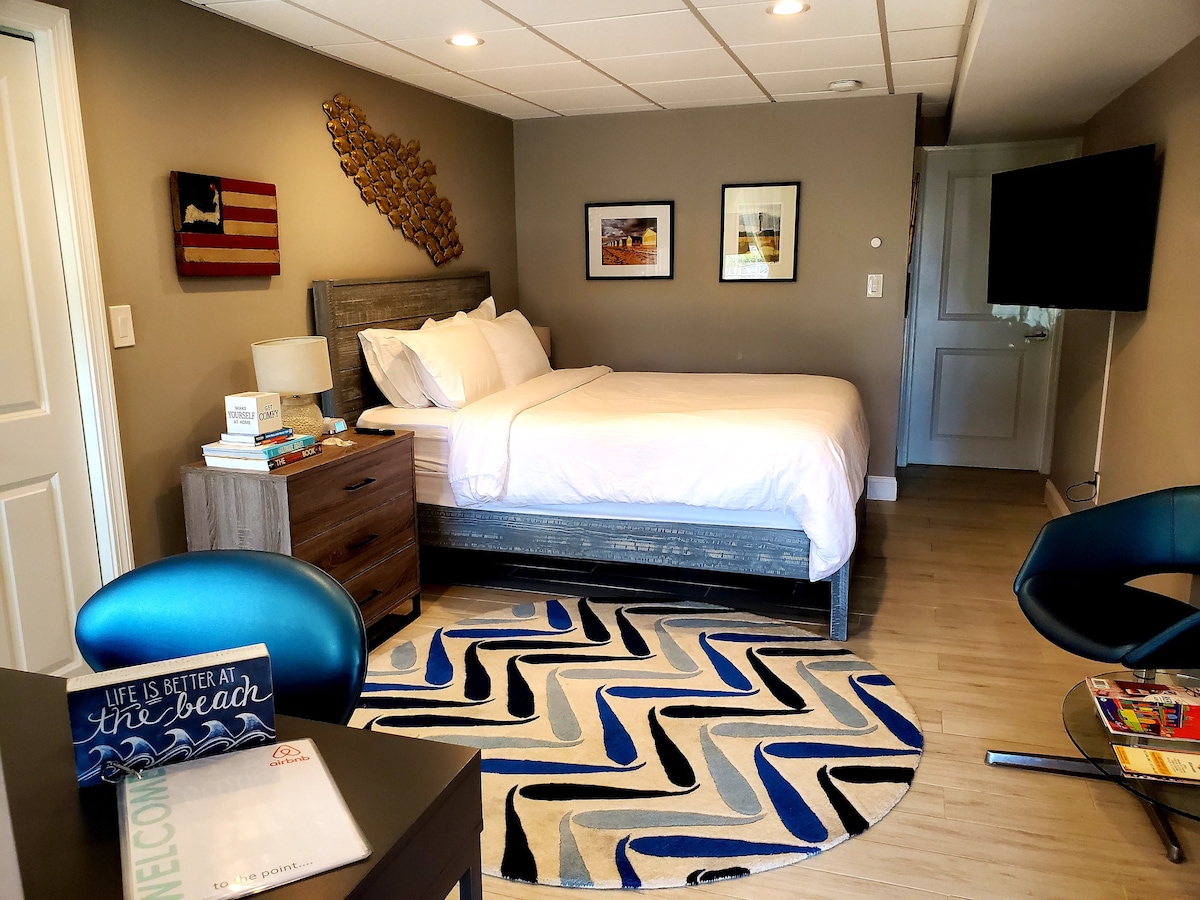 Get to The Point and The Beach!
Not all Airbnbs in Boston have to be right in the heart of the city, as this great guest suite proves. That's because this Airbnb is located out in the coastal town of Winthrop, just east of Boston. While technically beyond Boston's city limits, Winthrop is within easier reach of downtown than places that are actually part of the city. Plus, nearby Coughlin Park has awesome sunset views of the skyline from across the water.
This one-bedroom guest suite is situated on the lower floor of a family home, but is completely separate from the rest of the house. Its studio layout includes a bedroom, private bathroom, and little study area inside the cozy guest suite. As such, it's really meant for couples or singles, since it's not big on space.
It's fair to say that this Airbnb is also meant mainly for short stays, as it lacks any kind of cooking facilities. That said, it does come with a fridge, snacks, and a coffee maker to help make your stay a little more comfortable. On top of that, you have a private washer/dryer at your disposal, plus Wi-Fi, a TV, a white noise machine, and air-conditioning.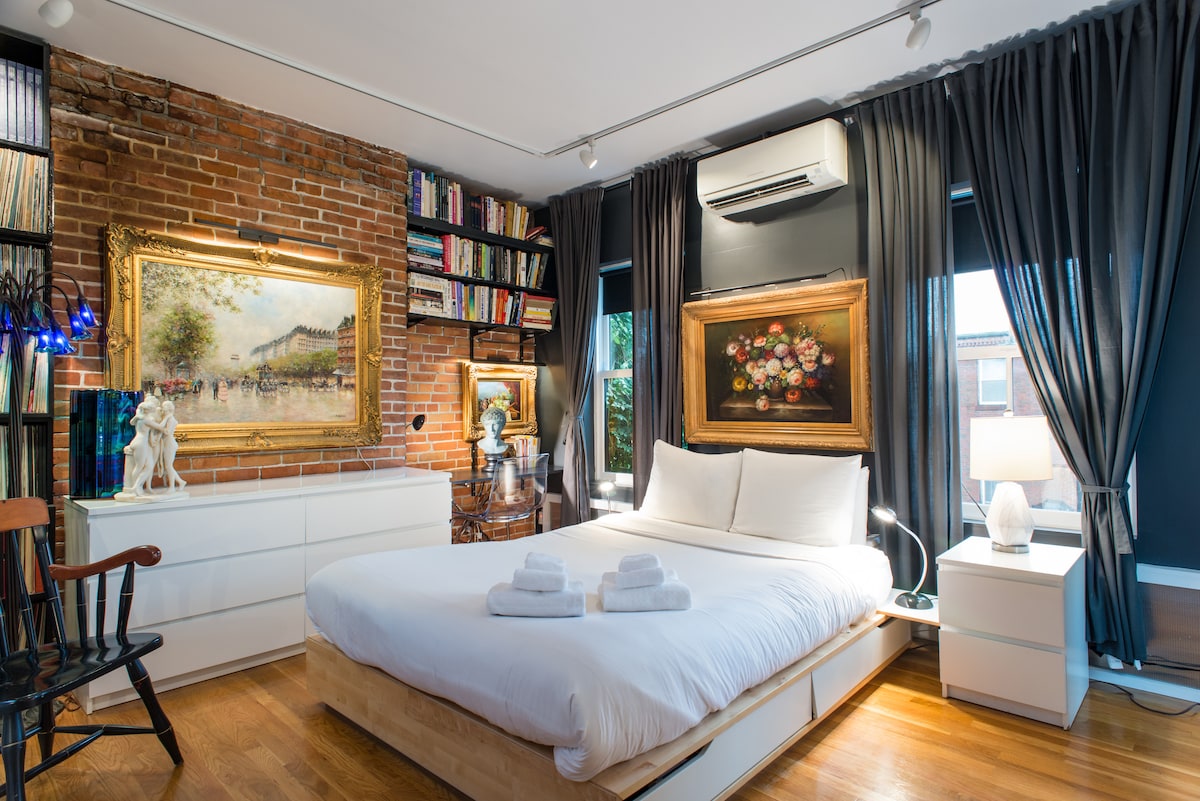 Berklee 360°Deck – PrivateBath – WalkScore95
Usually when you book an Airbnb stay that's only a private bedroom, it's quite modest and affordable. That's simply not the case with this penthouse room because everything about it is luxurious, from the decor inside to the awesome rooftop deck. It also helps that you'll be staying in a Victorian townhouse in the ever-popular neighborhood of South End, surrounded by restaurants and shopping boutiques.
Choosing this private room here in the home of superhost Edward, you'll have a nice mix of personal and shared spaces. Your room, decorated with period art pieces, features a big queen bed for two and a private ensuite bathroom. Then there are the beautifully furnished shared spaces, which include the kitchen, living area, and dining room.
But it's really the roof deck that makes this Airbnb so special. Up there you have a full 360 view of the city, with lots of outdoor seating and a little garden. There's even a glass see-through skylight down into the kitchen. As for amenities, you have access to a laundry room, free luggage storage, Wi-Fi, TV, air-conditioning, and even an EV charger in the paid parking.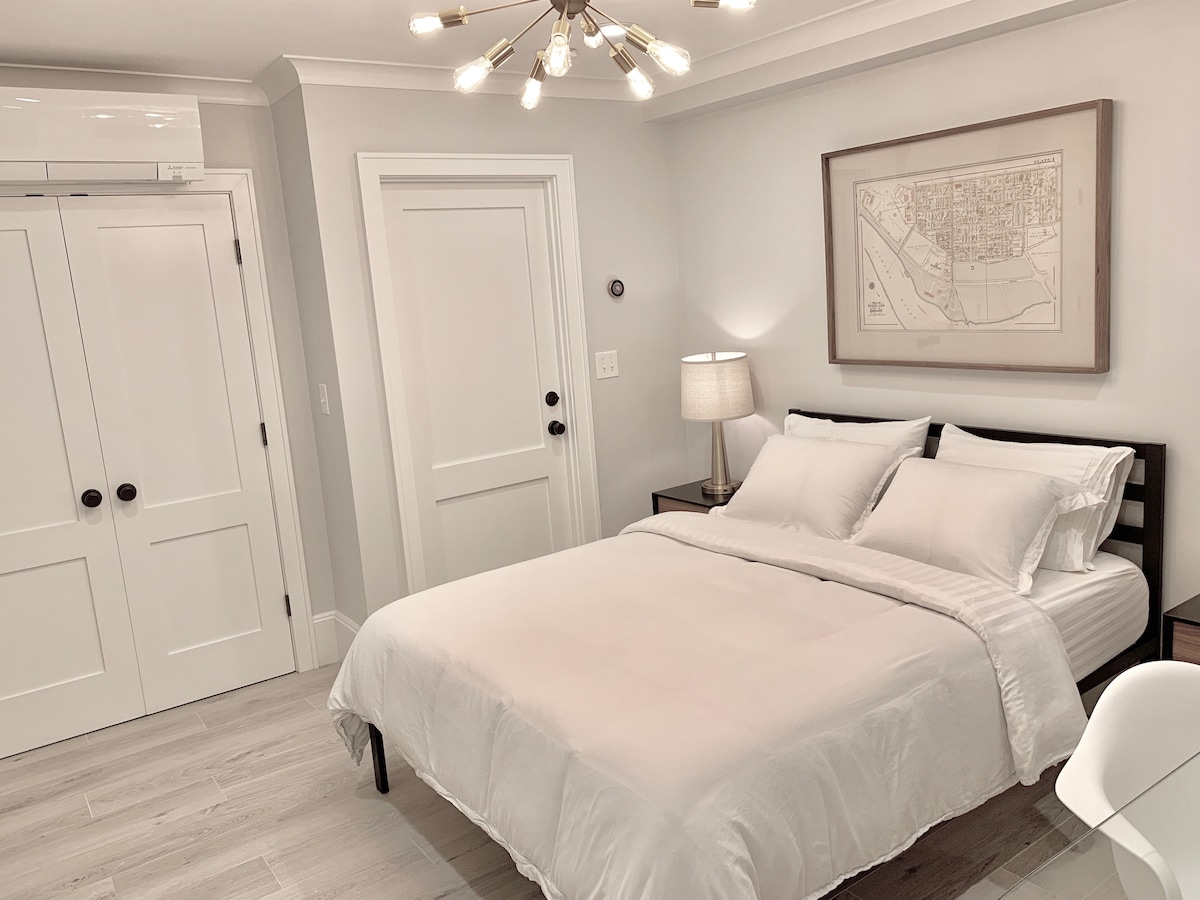 Luxury Studio w/ Parking by MIT/Harvard/BU/Fenway
Finding Boston Airbnbs that are close to major universities like Harvard and MIT isn't too difficult, but few of them are as modern and private as this studio. Situated in the Cambridgeport neighborhood of Cambridge just across the river from Boston, this Airbnb offers easy access to both universities, as well as Boston landmarks like Fenway Park.
Staying at this garden-level luxury studio, you should have everything you need for a stress-free visit to the Boston area. With a fresh and crisp decor, this studio apartment feels like a more personal version of a hotel room. In the room you have a queen bed, a desk, and a small kitchenette equipped with a fridge, microwave, and coffee maker. This Airbnb also comes with a private bathroom and private entrance.
Guests will be pleased to hear that off-street parking is available here, given its inner city location. Other amenities include Wi-Fi, cable TV, air-conditioning, and keyless entry.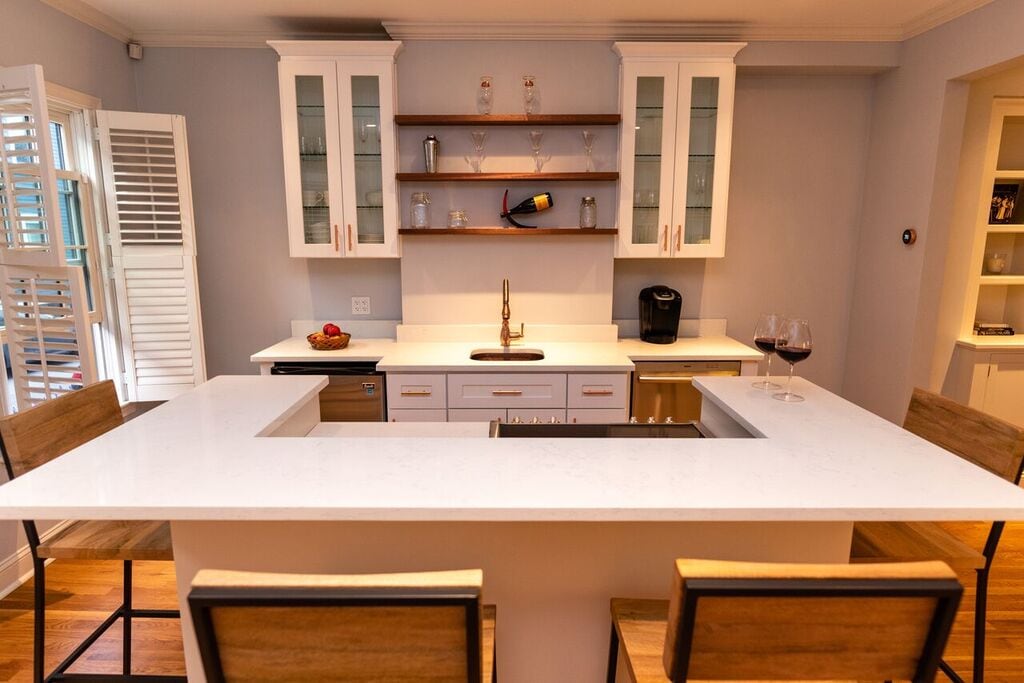 Luxurious Home in Boston's Historic Charlestown
One of the most beautiful Airbnbs in Boston you're likely to come across, this condo will soon enough feel like your new home. Settled in Charlestown, the oldest neighborhood in Boston, you're in a really good spot to explore the city's historic side. It also means you're close to some major museums, as well as the vintage U.S.S. Constitution warship.
A nice aspect of this condo is that it's able to sleep up to four guests. This is thanks to the queen bed in the bedroom and the pullout couch in the living room, which will work well for young families or friends traveling together. The rest of this first floor condo includes a brand new kitchen with a breakfast bar, full bathroom, and even a walk-in closet.
With a place like this it would be wrong not to mention how well this modern condo has been fitted into a historic 1880 townhouse. The renovations here maintain the original character of the building while adapting for modern use, including offering amenities such as a private washer/dryer, Wi-Fi, cable TV, air-conditioning, and keyless entry.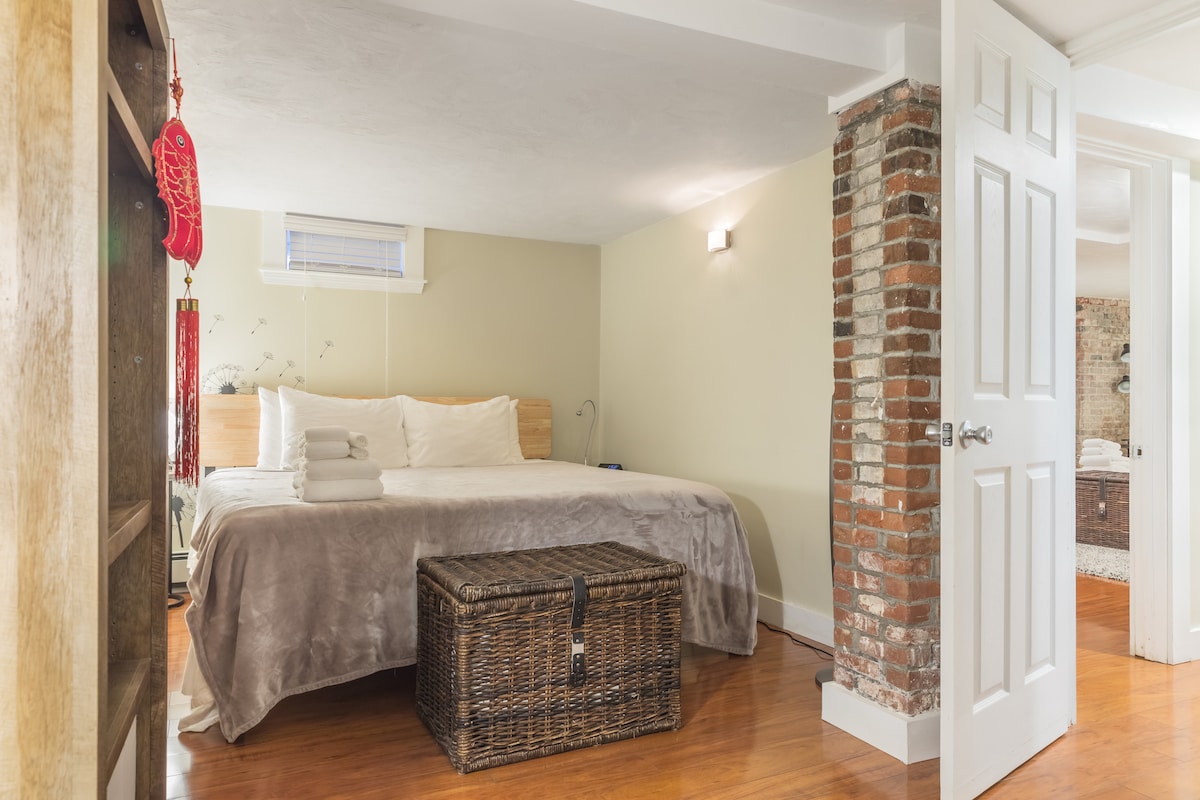 Private Entrance – King Beds! – Kid Friendly
If you are looking for an Airbnb near Fenway Park this apartment is one you won't want to miss. Found in a prime spot in the Back Bay area, it's comfortable walking distance to the famed ballpark, not to mention loads of Boston's best retail stores, restaurants, and nightlife. If you want the best of Boston on your doorstep then this is the place to stay.
There's actually a lot to love about this apartment besides its fantastic location. The garden apartment has a modern but homely feel that should make settling in here a breeze. But this Airbnb also offers plenty of room. It offers king beds in both bedrooms, plus a convertible sofa, making it a strong choice for young families or couples traveling together.
The rest of the apartment includes an open kitchen, nice dining area, cozy living area, and one full bathroom. One good thing to know is that this Airbnb is ready for families with young children, offering items like a booster seat and pack & play. Additional amenities include a washer/dryer, Wi-Fi, cable TV, Netflix, air-conditioning, and keyless entry.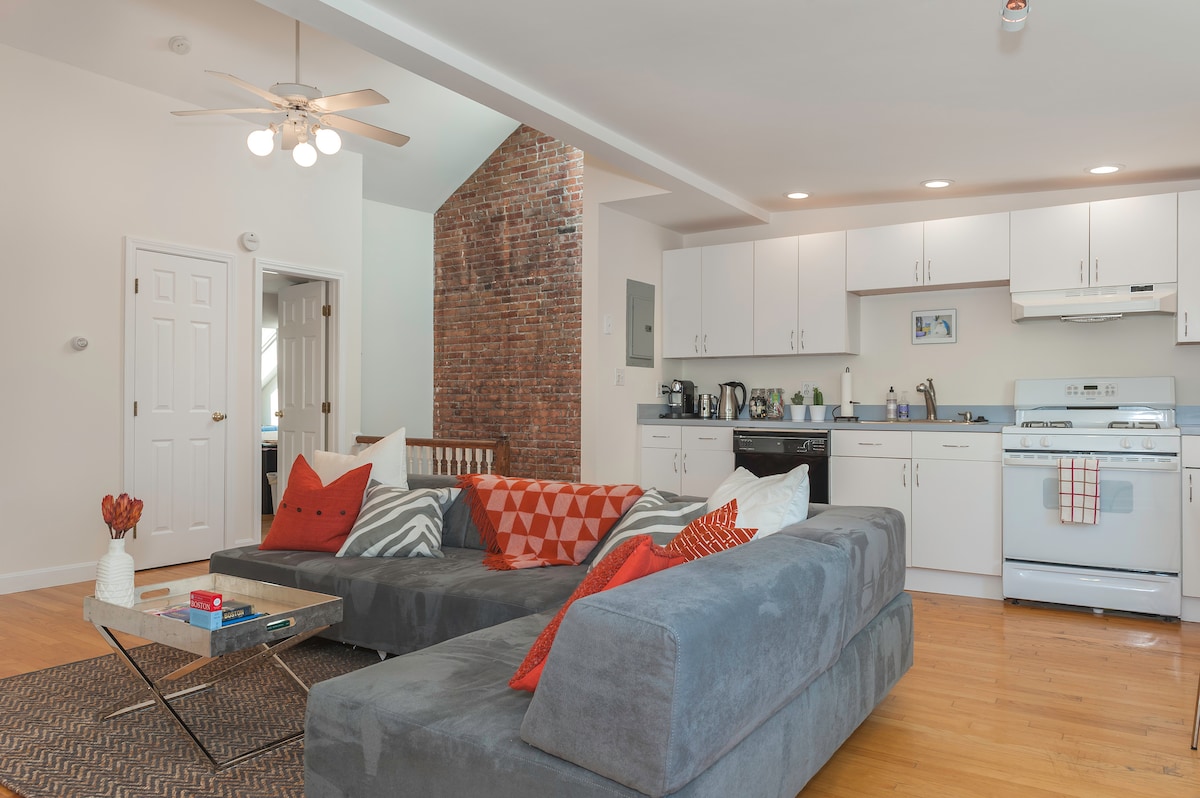 Beautiful South End Penthouse!
When it comes to Boston Airbnbs that give you somewhere cozy to return to at the end of a long day, this penthouse apartment is tough to beat. Located in the lively South End, you have umpteen choices of restaurants, bars, and cafes around you. Public transport is also close at hand.
While staying in this penthouse apartment gives you a private place to retreat to, it makes sure you still feel connected to the city around you. That's mostly thanks to the awesome views you get of downtown from the living room. You won't have trouble sleeping either, with a comfortable queen-size bed in the bedroom and a luxurious sectional in the living room that can sleep another two people.
Besides the bedroom and spacious living room, the rest of the apartment provides a full bathroom, well-equipped kitchen, and a pleasant dining table. Really the only downside to this Airbnb is the three flights of stairs up to it. In terms of amenities, the building has a communal laundry in the basement, while the room has amenities like Wi-Fi, cable TV, and air-conditioning.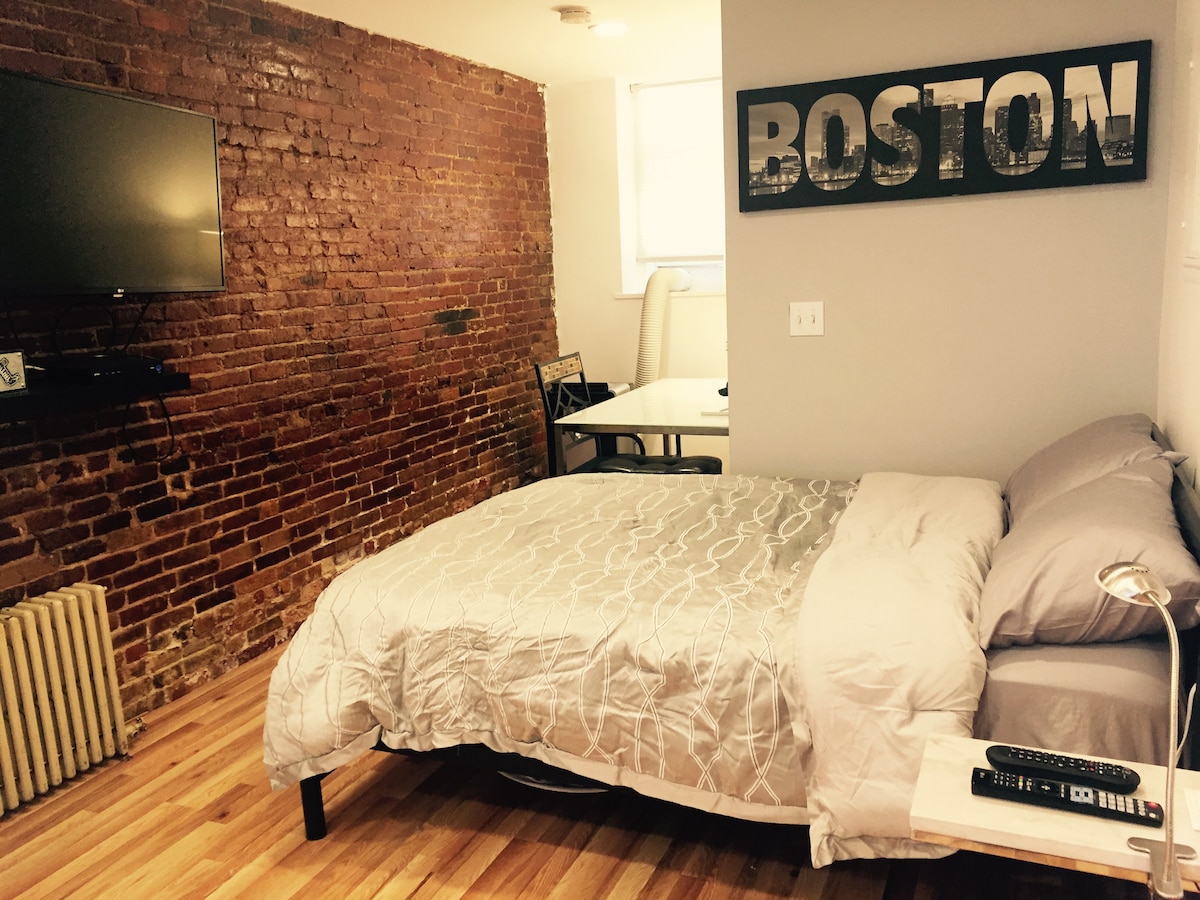 Private Condo in Prime Location
This studio apartment with its fresh decor and great use of space is a solid pick if you're after an Airbnb in North End, Boston. And this part of the city is super desirable for visitors, given how close it is to sights, downtown, and the TD Garden arena. Yes, it will only take you five minutes to walk over and watch the Celtics play if you stay here. How great is that?
Like many studios, this Airbnb is best suited to couples or solo travelers who are staying in Boston for a day or two. It may not be particularly large, but there's certainly enough space here that you won't be feeling cooped up. The room offers a double bed, desk and breakfast table, but also a full kitchen which isn't always a guarantee with smaller studios.
Naturally of course, the studio comes with a full bathroom as well, which has modern finishings like the rest of the apartment. As for amenities, it offers some essentials like air-conditioning, Wi-Fi, and pay TV.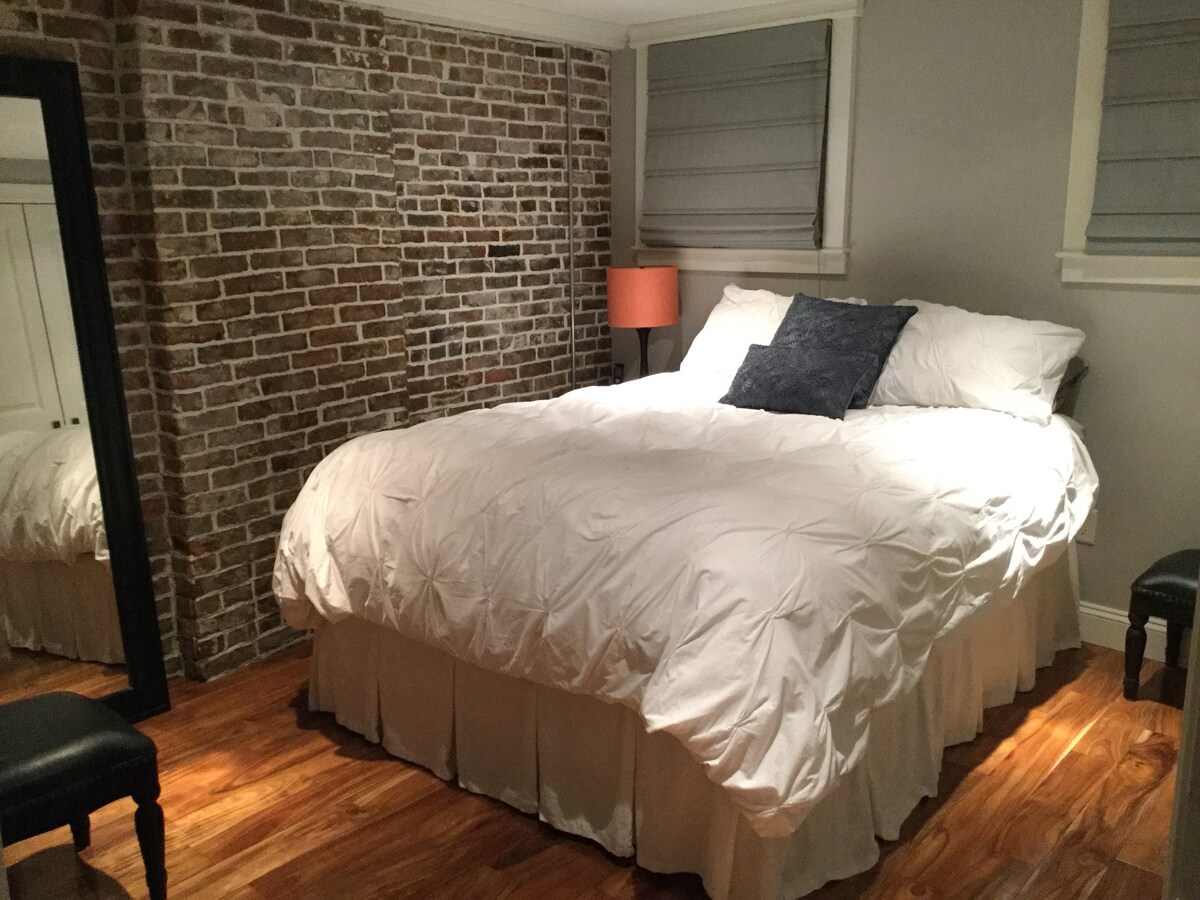 "La Gemma" – a Gem in the North End
To really dig into the historic side of Boston, you'll want to look at places like this that are in the North End of Boston. This old neighborhood is loaded with character, thanks to important historical landmarks, but also delights with its huge variety of local restaurants and bakeries.
What's really nice about this Airbnb is that it gives you such a central location, but it's also on a quiet courtyard, giving you a little oasis to get away from it all. It also helps that this is a split-level condo, with the living spaces upstairs and the two bedrooms downstairs, providing guests a little privacy from each other. The apartment can fit four people in its two bedrooms and also features one-and-a-half bathrooms, a newly renovated kitchen, and a pleasant living room.
This Airbnb is outfitted and designed in a way that's meant to make you feel at home, and that sense really comes across to guests. It helps that it includes modern comforts like a Pack 'n Play, air-conditioning, Wi-Fi, and pay TV.
No matter why you choose to visit or how long you plan on staying in the city, these Airbnbs in Boston are sure to make your trip both comfortable and memorable.