Houston may be forever linked to its role in space exploration, but there's so much more to discover in this beautiful city in Texas. Whether you're visiting for a long weekend or a little longer, your choices of things to do extend from museums to cuisine, culture, and nightlife.
Now, no matter what you have planned for your trip, Airbnb is the best place to start your search for vacation rentals in Houston. Here is a list of the best Airbnbs in Houston to show you what's out there.
To ensure they really are the best Airbnbs in Houston, each property included is owned by a superhost, and many have earned Airbnb Plus status. Superhosts are owners with strong track records of positive reviews, and an Airbnb Plus property is one that has had an actual in-person inspection to confirm its listing. 
So you can be confident that the places below are the real deal. Just be sure to read house rules for each property before you rent a house for a party in Houston.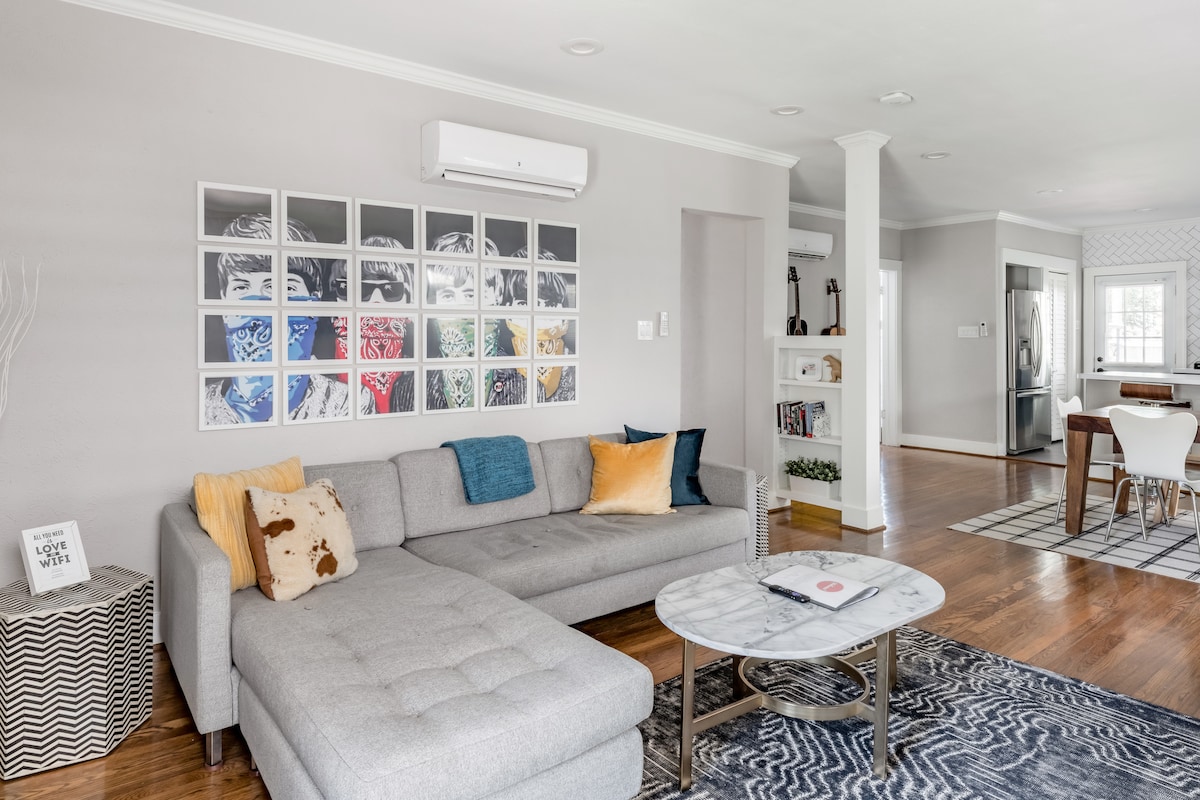 Urban Cowboy Inspired Apartment with Back Porch
With its fresh and modern decor that's clearly been thoughtfully put together, this unit is among the best Houston Airbnbs on offer. Its location in the eclectic yet historic neighborhood of Montrose is sure to add some real color to your Houston visit. Montrose also offers a nice balance, with plenty of restaurants and nightlife nearby, as well as opportunities for outdoor activities in Buffalo Bayou Park.
When you stay at this Airbnb Plus, you'll be able to accommodate up to six adults and an infant. The apartment features two bedrooms fitted with queen beds, as well as a large sectional sofa in the living room. Beyond that, this Airbnb comes with two full bathrooms, a modern kitchen, and an open dining area. As such, its setup should accommodate either a family or group of friends traveling together.
Outside of this lower-level unit, guests have access to a shared backyard and a BBQ grill. There's also a wide range of amenities, including childcare equipment like a baby monitor and Pack 'n Play, a washer/dryer, air-conditioning, Wi-Fi, and a TV.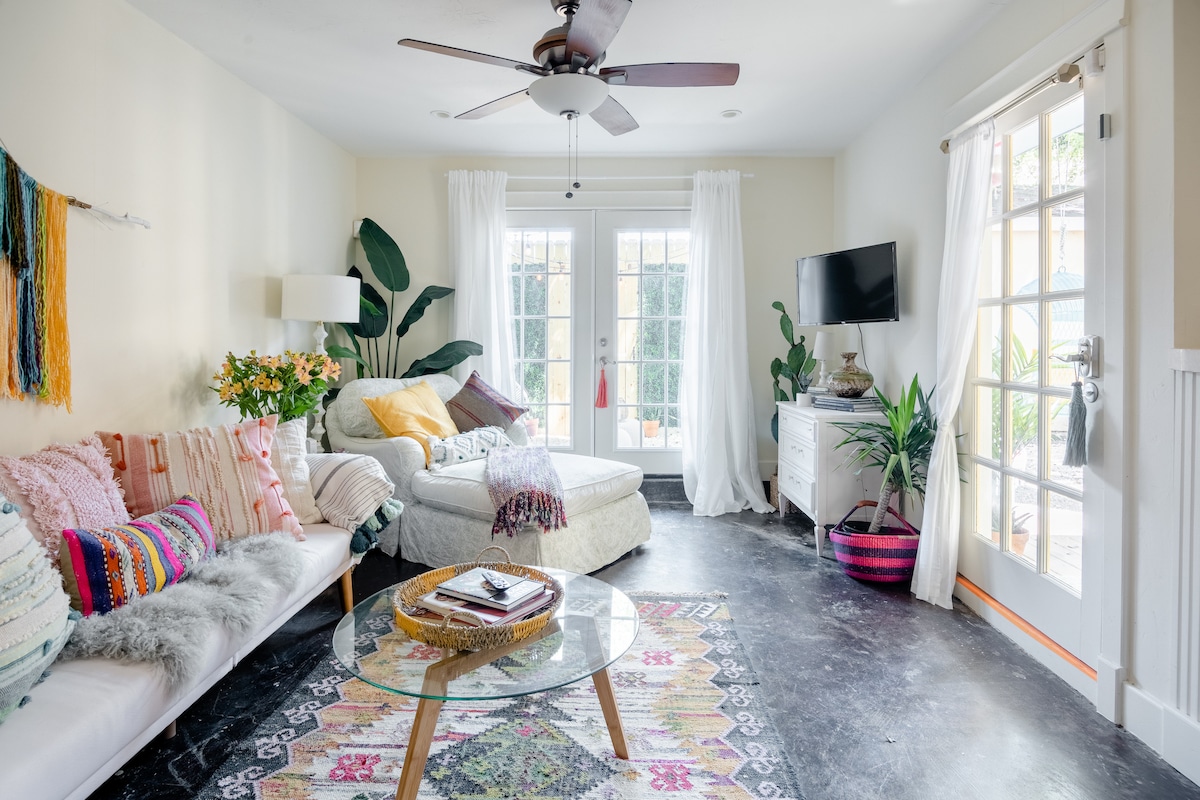 Airy, Bohemian Vibe with Outdoor Swing Lounge, near Museums
Full of light and boasting a playful bohemian vibe, this Airbnb in Houston, Texas is sure to provide guests with a restful experience. The guesthouse is situated on the edge of Midtown, providing quick and easy access to restaurants and coffee shops, as well as Houston's Museum District.
In this Airbnb Plus, you'll have enough room to fit up to four guests, although there is just one bedroom. This means the guesthouse is best suited to couples on vacation, but it could also work for parents with kids quite well. The rest of the unit offers a colorful living room, a full kitchen, and a bathroom with a large jet-spa bathtub. Each space inside has a nice arty flair to it, creating an interesting space for you to come back to each day.
There's a nice amount of houseplants inside this guesthouse, and it also has a quiet and comfortable outdoor corner with hanging chairs and a swing. Additional amenities include a washer/dryer, Wi-Fi, a TV, air-conditioning, and self check-in.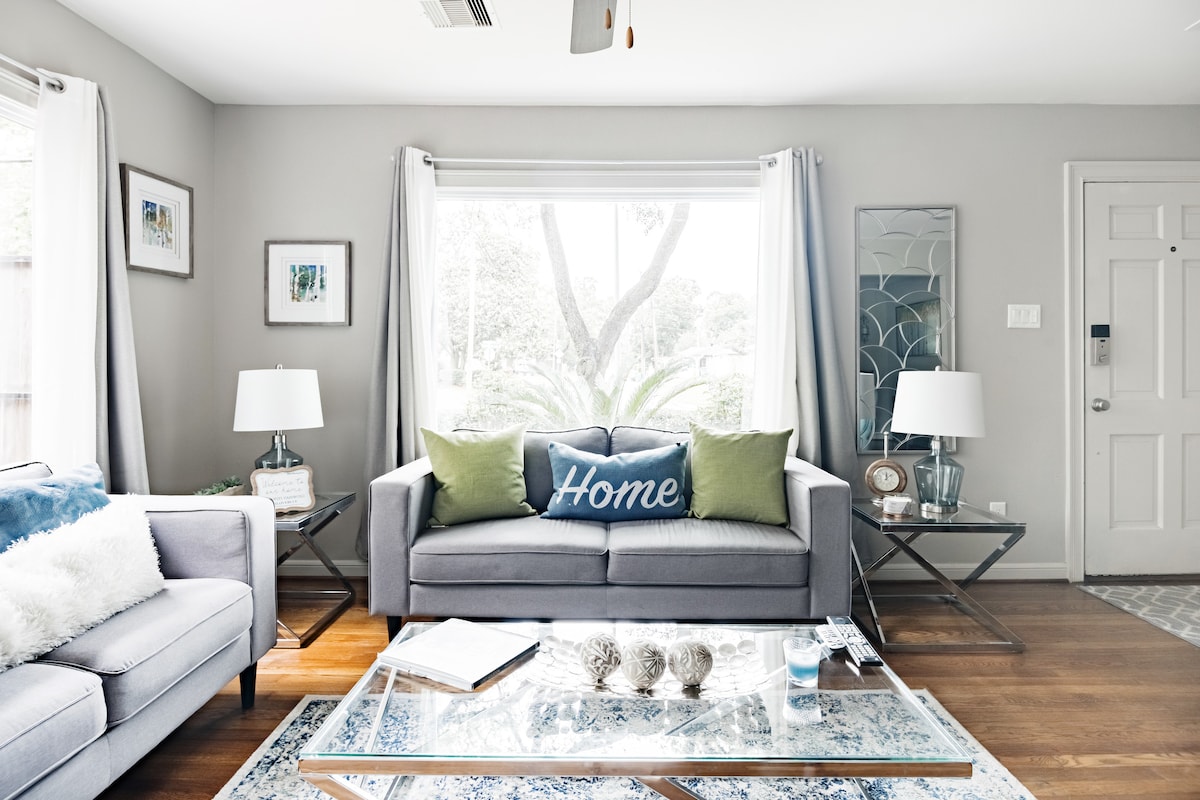 Blue Door Bungalow with Backyard Patio
Those looking to rent a home in Houston, Texas will no doubt want to spend a moment checking out this fantastic bungalow. Found in the Greater OST / South Union area on the city's southside, the rental is just minutes from the Museum District, the Houston Zoo, and the University of Houston.
Take a look inside this Airbnb Plus and it soon becomes clear why it's such a popular choice. This two-bedroom bungalow features a sophisticated monochromatic interior and comes with modern furnishings to make you immediately feel at home. But it also manages to provide flexible sleeping arrangements: One bedroom offers a queen bed, the other a single bed and a bunk bed. On top of that, there are extra folded beds in the closet if needed, which means up to nine guests are welcome here.
The rest of this Airbnb includes two ensuite bathrooms, a living room, a dining room and a big full kitchen. Extra amenities here include a washer/dryer, Wi-Fi, a TV, air-conditioning, and a Pack 'n Play. Whether you're traveling as a family or a group of friends, this bungalow should suit your needs.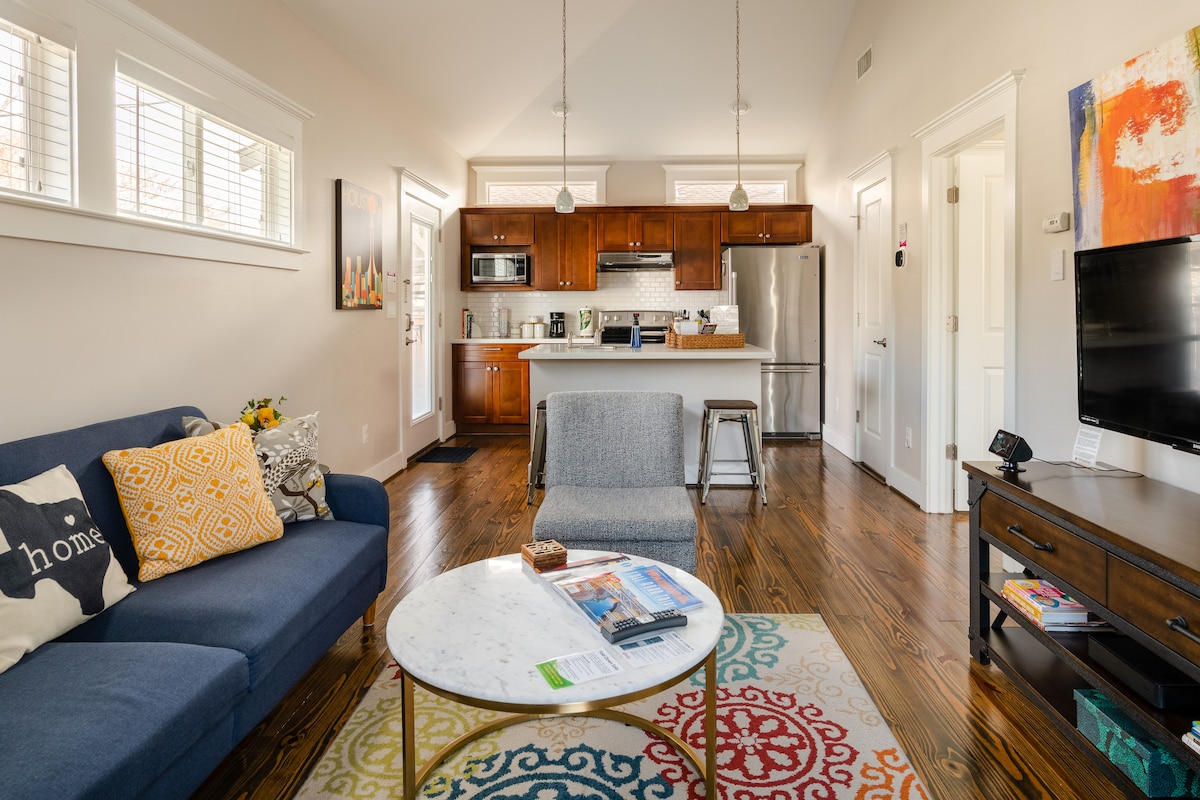 Alexander Guesthouse in the Historic Houston Heights
This cute and well-equipped guesthouse is easily one of the best Airbnb rentals in Houston, making it a safe pick for those visiting the city. Located at the rear of a property in Houston Heights, the unit is a peaceful place to explore Houston. Not only are you in a historic residential area that's an easy drive to downtown, you're just blocks from multiple hike and bike trails.
This cozy Airbnb Plus offers everything you need for your time away. The guesthouse provides a queen bed in the bedroom and pullout sofa in the living room, accommodating up to three people. It is ideal for couples or even solo travelers. The other spaces here are the bathroom, the dining room, and the kitchen, which comes fully equipped for your cooking needs.
Guests rarely want to spend all their time indoors, which is why the outdoor space here is so welcome. The backyard, shared with the main house, provides both a BBQ grill and fire pit. Other amenities include a washer/dryer, Wi-Fi, a TV, and air-conditioning.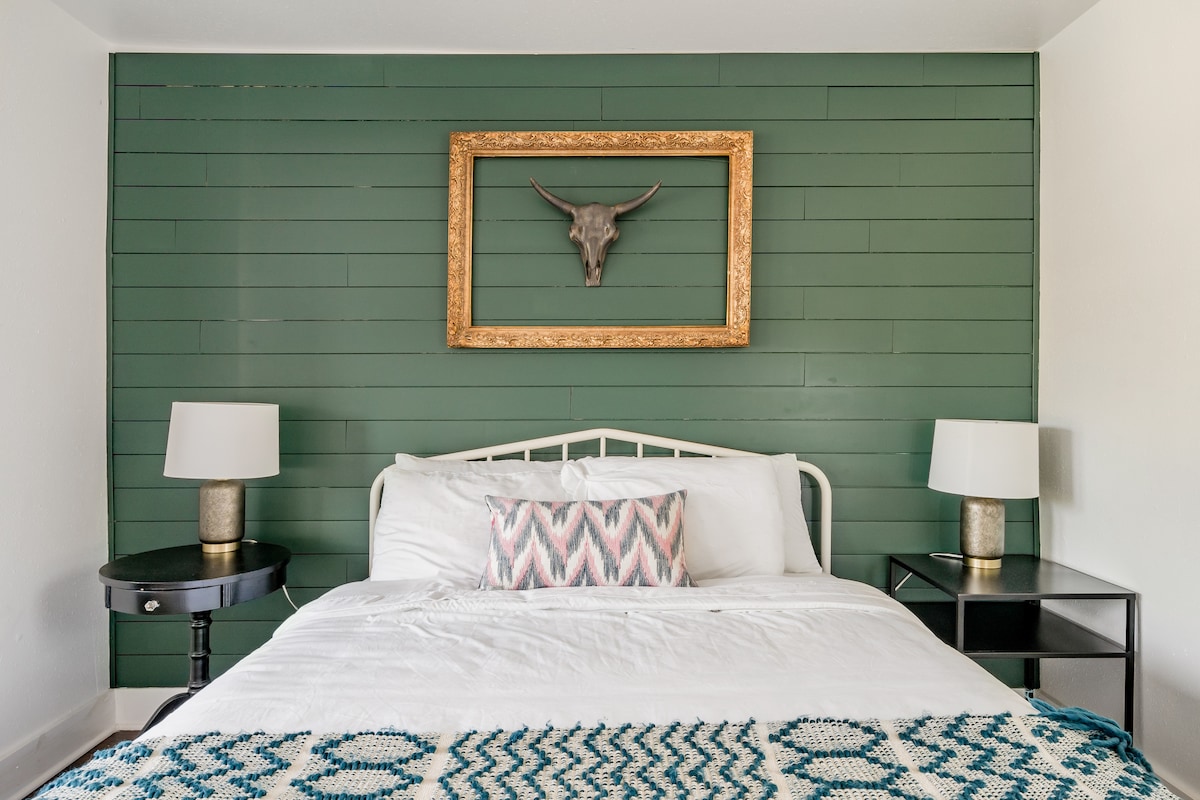 Vintage 1930 Charm, Minutes from Downtown
When all you need is a small space to call your own, Houston Airbnbs like this upstairs unit are perfect. Situated in historic Eastwood, a leafy neighborhood just to the east of downtown, the location offers the pleasant balance of downtown skyline views and a quick trip into the city center. There are also some great local eateries around l in case you don't feel like going far for food.
Set inside a 1930s home with plenty of vintage character, this Airbnb Plus has a real welcoming feel to it. That said, it's not very large, and with just a queen bed it is only able to sleep up to two people. As such, it's an ideal choice for people traveling alone or couples seeking a cheap rental house in Houston, TX. The unit's layout consists of a bedroom, bathroom, dining nook, full kitchen, and small living area.
On top of all that, guests have a private patio outside their front door where they can sit out and enjoy the view. Further perks include self check-in, Wi-Fi, a TV, air-conditioning, and a Pack 'n Play.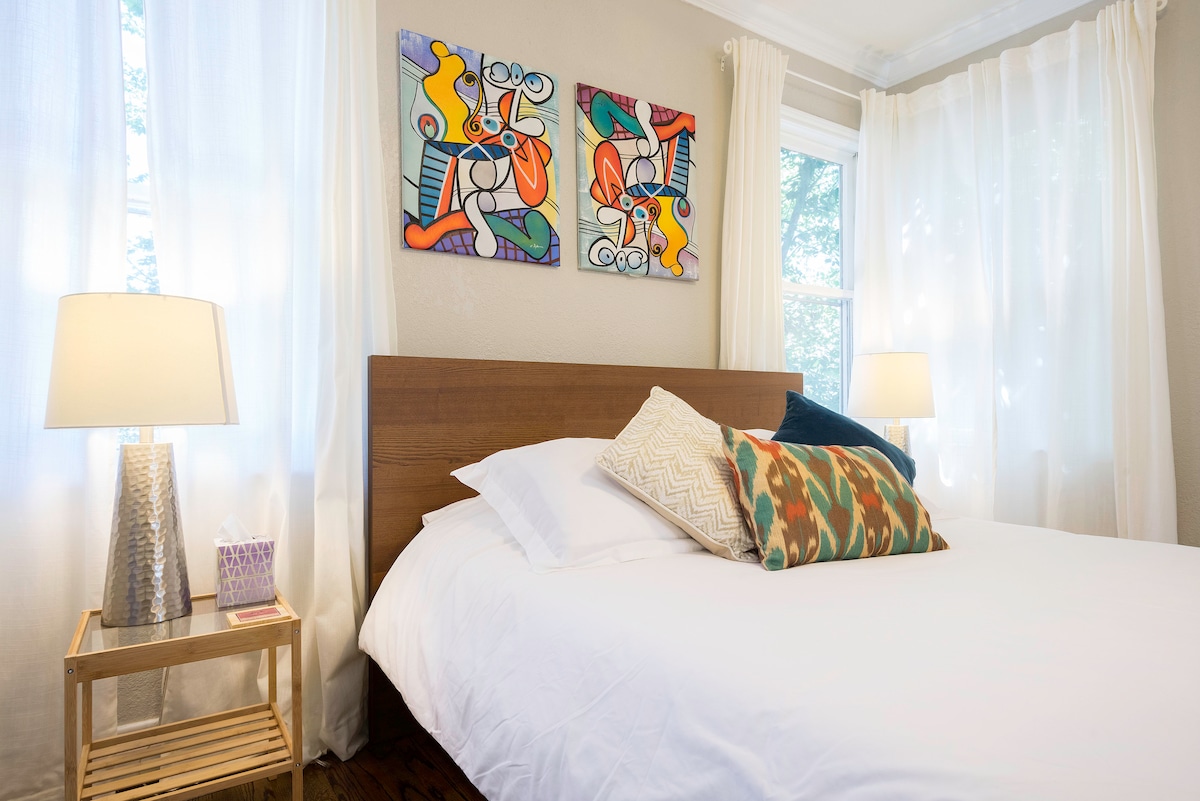 Charming Garage Apartment
You'll be hard pressed to come across many short term apartment rentals in Houston that offer peace of mind quite like this great Airbnb. Found in the popular Montrose area, it boasts a superb spot with a coffee shop around the corner, and restaurants and nightlife not much further. Here you have everything you could need within a quick drive.
Being a studio apartment, this garage unit is really meant for single travelers or couples. It offers a plush queen bed, sitting area, full kitchen, breakfast bar, and private bathroom. So, while it may not be overly spacious, this Airbnb packs a lot of value into a small floor plan, not to mention a small price tag. And don't worry – unlike some studios, you have a real kitchen here that's fully equipped and even stocked with essentials like herbs and olive oil.
Assuming you'll be traveling with a car, you'll be pleased to know that the apartment comes with a designated space for one car in the driveway. Extra perks include a Pack 'n Play, Wi-Fi, a TV, and air-conditioning.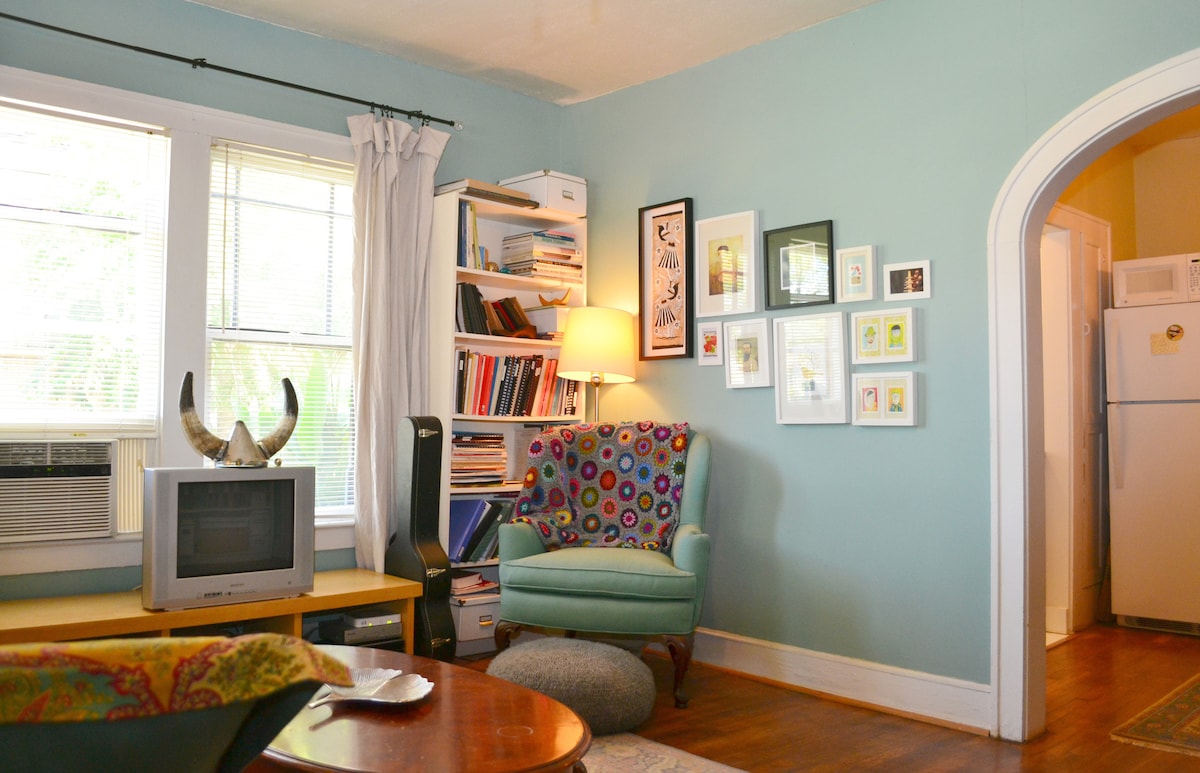 Adorable Apartment – Historic Duplex
One of the more colorful and quirky vacation apartments for rent in Houston, this Airbnb is great if you love character in your accommodation. Located on Houston's up-and-coming East Side, this Airbnb provides a diverse and residential setting for your time in the city. From here, it's just a quick trip over to the coffee shops and restaurants of neighboring Eastwood.
Unlike some of the more modern condos you might find on Airbnb, this apartment very much has a homely, arty vibe to it. As such, it's best suited to people who enjoy more casual places to stay. The Airbnb comes with one bedroom that offers a queen bed and fits just two guests. Elsewhere in this historic bungalow apartment you have a bathroom, a dining area, a living room, and a newly renovated kitchen.
Guests looking for somewhere slightly longer-term will be pleased to learn this apartment has a washer and dryer available in the backyard shed. Other included amenities are Wi-Fi, a smart TV, and air-conditioning, plus ample free street parking.
Historic Downtown 1BR Apt
If what you really need for your trip is an Airbnb in downtown Houston then look no further than this great apartment. Perfectly situated downtown by the Theater District, this unit is an ideal central base from which to explore all that Houston has to offer. Food, entertainment, and much more are right on your doorstep here.
Although it's a one-bedroom apartment, this Airbnb can sleep up to four guests. The bedroom comes with a queen bed, while a couch and an air mattress help round out the numbers. The rest of the apartment features a modern bathroom and large open-concept living area with a distinct industrial loft vibe to it. There you have the living area, breakfast bar, and fully equipped kitchen.
To ensure a comfortable stay, there's an elevator up to your apartment's floor and a washer/dryer inside for you to do laundry. Additional amenities include Wi-Fi, a smart TV, air-conditioning, keyless entry, and free parking on-site.
Galleria Urban Oasis-Family Friendly 4BR/7Beds
To really live it up on your vacation, why not consider staying at this Airbnb in Houston with a pool? Found way out to the west in the residential neighborhood of Larchmont, this big house gives you a place to relax away from the bustle of the city. Still, you do have the Uptown shops and restaurants, plus the Galleria shopping mall, all just a short drive away.
While its private pool may be this Airbnb's standout feature, there's plenty more that guests will love about it. For starters, there's the matter of sleeping arrangements, as this spacious house boasts four bedrooms and eight beds, and can sleep up to eleven people. That's absolutely massive for any kind of Airbnb, meaning you should have no trouble fitting you and your travel companions here.
To support such a large number of guests, this house comes with two full bathrooms, a nice living area, indoor and outdoor dining spaces, and a large fully equipped kitchen. Then there's the backyard with the pool, hot tub, BBQ grill, and fire pit for you to use, not to mention amenities like a Pack 'n Play, washer/dryer, Wi-Fi, TV, and air-conditioning.
Spectacular Downtown View From Modern Luxury Loft!
Although there are loads of condo rentals in Houston, few offer such great value as this luxury loft does. Located in a wonderful spot close to everything in the Washington Avenue area, this rental is within a five-minute drive of downtown, the Heights, Midtown, and Montrose. Closer by, you have cafes, bars, restaurants, and leisure spaces within walking distance.
Because this loft condo is super close to downtown, it enjoys some phenomenal views of the city. In fact, because it's split over several floors, you actually have two balconies with awesome city views. That alone should give you a sense of how luxurious this Airbnb is, but let's also look at how massive it is: This condo is able to fit up to eight guests, thanks to two bedrooms and a combination of trundle beds and an air mattress.
Filling the rest of this three-floor condo you have two ensuite bathrooms, a half-bath, living room, and modern kitchen with breakfast bar. To ensure a comfortable stay and save you the trouble, the kitchen is even stocked with snacks, breakfast food, and drinks. Amenities here include lots of childcare equipment, a washer/dryer, air-conditioning, Wi-Fi, and a smart TV.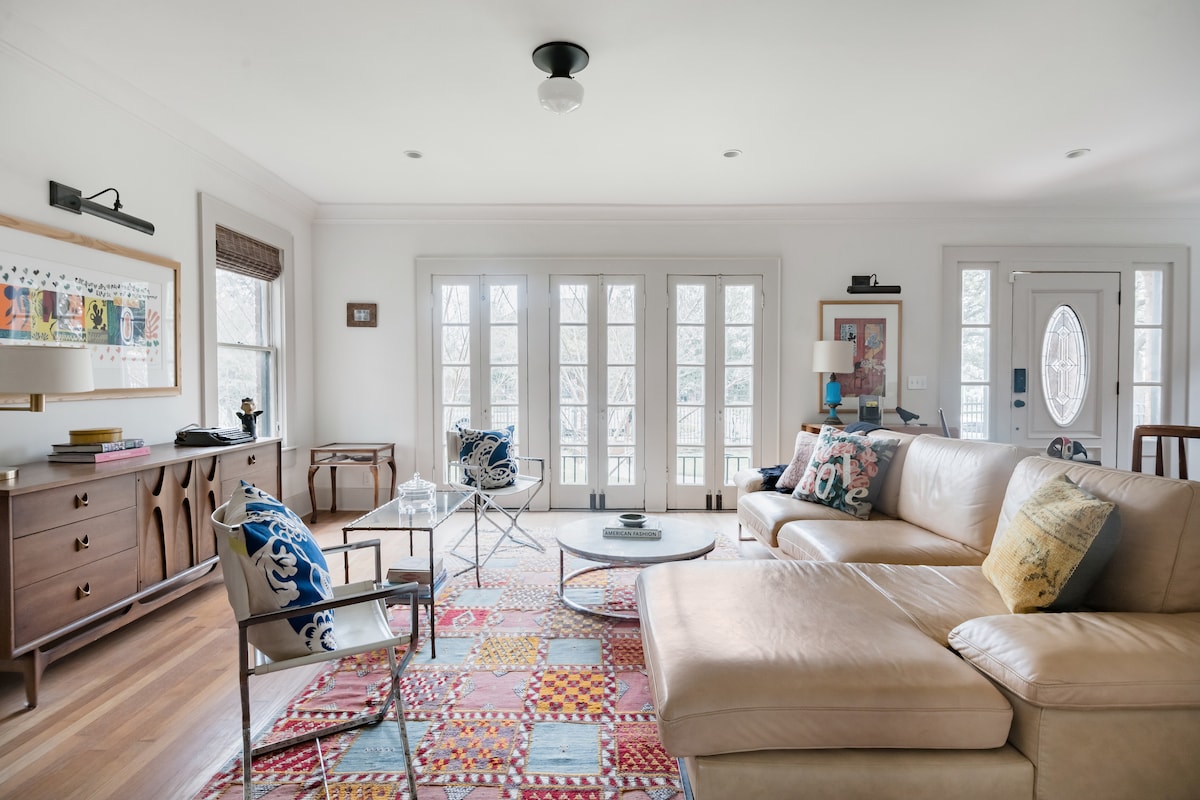 Stunning 1927 Home Minutes from Medical Center
Easily one of the coolest house rentals in Houston, Texas, this Airbnb is the ultimate place to stay during your vacation. The unit is situated in the historic and gentrifying neighborhood of Riverside Terrace, and you couldn't hope for a more interesting part of Houston to stay. Here, you're super close to the Houston Zoo and Museum District, and there are plenty of local eateries and nightlife nearby.
At this Airbnb Plus there's so much room and so many high-end furnishings that it'll feel like you're staying at an Airbnb mansion in Houston. Each room in this restored home has been lovingly and carefully appointed, creating an exceptionally inviting space you won't want to leave. It doesn't hurt that this huge house can sleep up to ten guests in its four bedrooms, meaning you and your fellow guests have plenty of space to stretch out.
The house also features a modern chef's kitchen, family-style dining area, large living room, family room, sunroom, and two-and-a-half bathrooms. Even at capacity, that's a whole lot of room. It helps that this house comes with amenities like an indoor fireplace, washer/dryer, Wi-Fi, TV, air-conditioning, and a Pack 'n Play.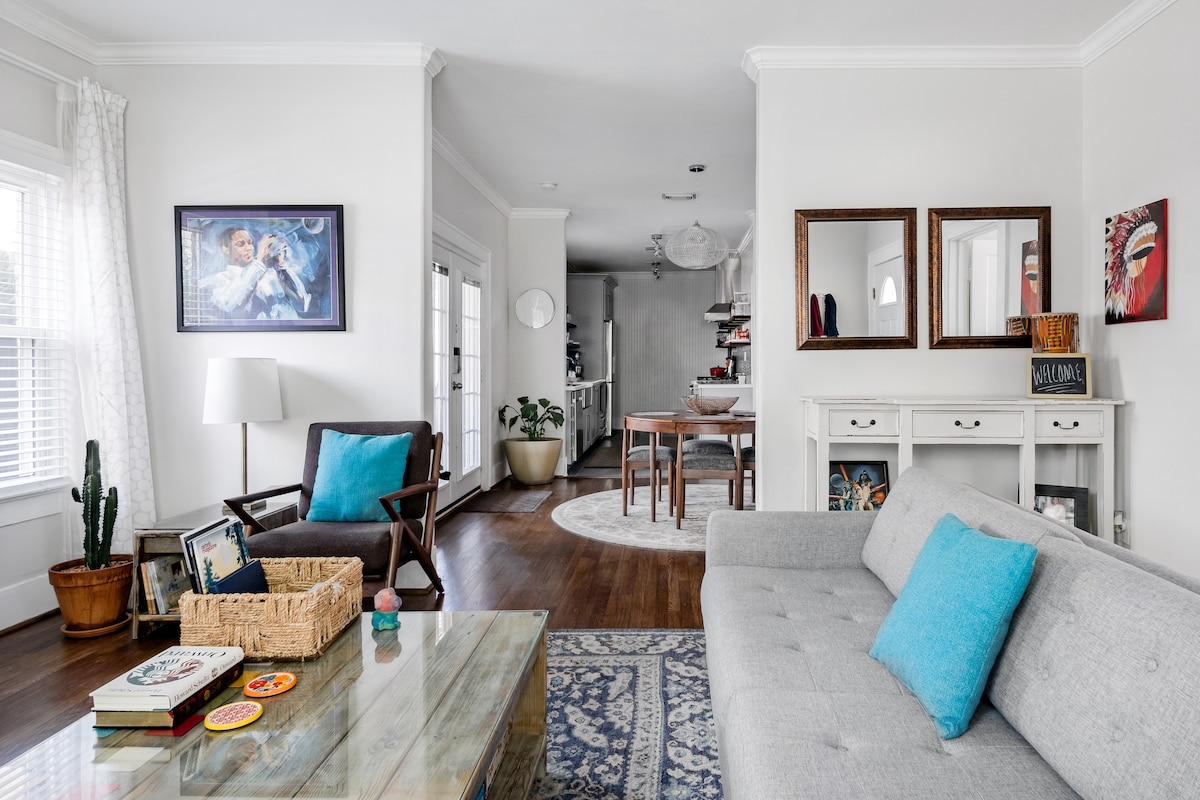 Renovated 1940 Bungalow with Covered Patio
For a place to stay in Houston that combines location with charm, you can't do better than this relaxed bungalow. Sitting in the Greater Eastwood area of Houston's second ward, the house is less than a mile from downtown and within walking distance to most modern conveniences like grocery stores, bars, and restaurants.
This renovated bungalow from the 1940s embraces its historical charms while providing the kinds of modern comforts today's guests will expect from an Airbnb in Houston. Clever accents of color liven up the bungalow's mostly monochromatic decor, creating a simple yet inviting space for all guests. On the practical side of things, the bungalow features two bedrooms, one with a king bed and the other a queen bed. Such a setup is perfect for young families or two couples traveling together for a weekend away.
Flowing from one space to the next, you have the living room, dining room, modern kitchen, and full bathroom. As for outside, there's a pleasant front porch for you to sit out on, as well as a covered back patio with a BBQ grill and seating. Other amenities include a washer/dryer, Wi-Fi, a smart TV, air-conditioning, and an indoor fireplace.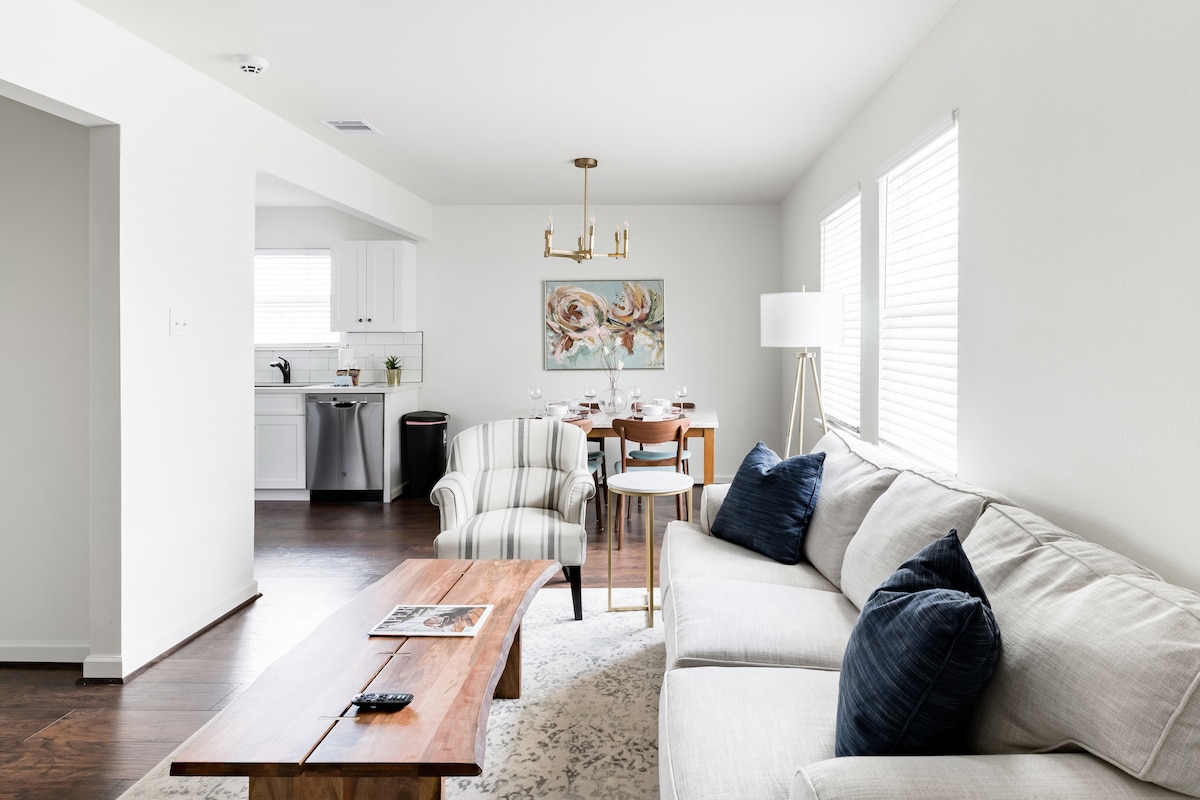 Classic Style & Charming 2BR Near the Action
Of the many Houston Airbnbs to choose from, it's worth taking a moment to appreciate this stylish one. This Airbnb Plus, conveniently found just outside the city's Museum District, gives you an excellent base for experiencing Houston's best. Here you have loads of fun eateries and bars that are an easy walk away, plus all the attractions in and around the Museum District.
Staying at this two bedroom apartment should work with many different sizes of groups, given that it can sleep up to six people. Each bedroom has a queen bed, while the living room provides a sofa bed should you need it. Even though this apartment has a comfortable, casual feel to it, the furnishings all appear to be quite upscale. That applies not only to the bedrooms and the living room, but also the full bathroom, modern kitchen, and dining room.
With regards to the kitchen, it appears to be the most recently renovated space in the apartment, offering all the appliances you need to cook for yourselves, plus a dishwasher. As for the more general amenities, there's also air-conditioning, a washer/dryer, Wi-Fi and a TV for your use.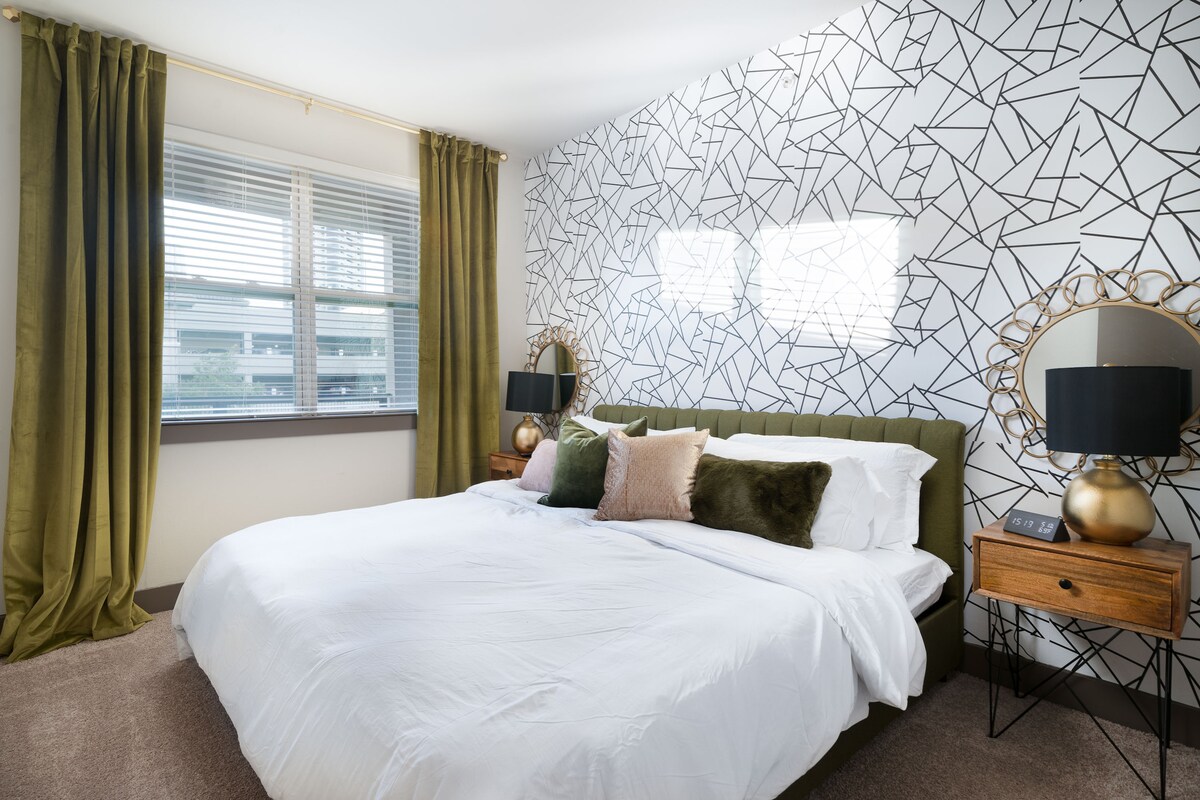 velvetLUX|$0Fee|MDAnderson|TexasMed|Muse|NRG|GRB
This fantastic apartment is a great choice if you're looking for a dose of luxury in your Houston accommodation. Located in the convenient Museum District with a prime spot, the unit is close to some major local attractions, and you'll have lots of cafes, bars, and restaurants to choose from in the surrounding blocks.
With two bedrooms, each with big beds, this luxury Airbnb is a great fit for two couples on a trip together, and young families might like it as well. Because this apartment is by no means small, you won't feel at all cooped up here, even if there are four of you staying here. Besides the bedrooms, this Airbnb comes with an open-concept living space with a desk, couch, dining table, and modern kitchen.
Those wanting some fresh air will be pleased to hear that the apartment has a nice private balcony. Other good news is that you have free use of the on-site gym, pool, BBQ pit, and covered parking. Further amenities here include a private washer/dryer, Wi-Fi, a smart TV, and central air-conditioning.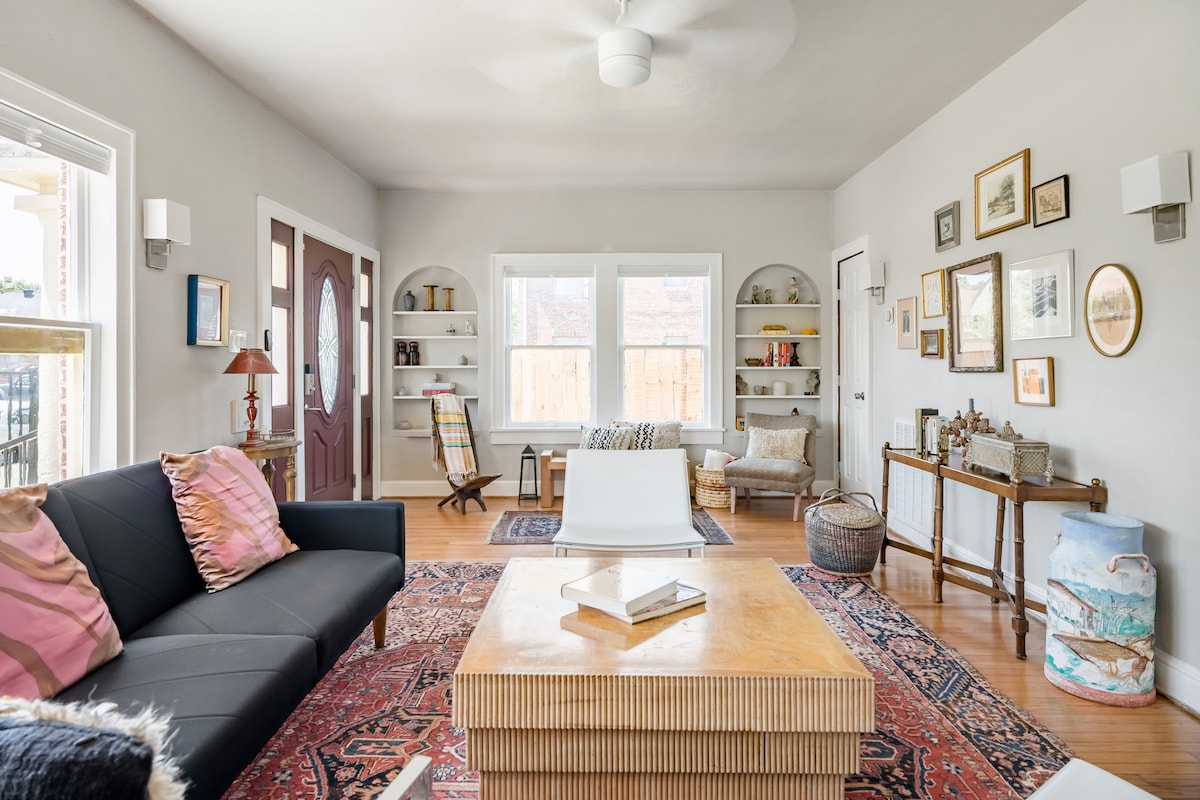 Explore Central Houston from Charming Big Home near Med. Ctr
It's hard to believe there are so many oversized Airbnbs in Houston meant for large groups of guests, but somehow we have yet another one here. Situated in the diverse and promising neighborhood of Riverside Terrace, this part of the city offers plenty of interesting historic architecture and superb local eateries.
In case you had any doubts about the size of this house, let's take a look at the floor plan: Five bedrooms and three full bathrooms mean that it can handle up to twelve guests, which is absolutely incredible. Then there is the living room, family room, study, dining room, and full kitchen, all providing plenty of space for groups to spend time together. It seems unlikely you could find anywhere that fits in more people under one roof in the city.
Outside this renovated and carefully furnished 1930s home, you also have a nice second-floor balcony that provides views of downtown Houston. Besides free parking in the driveway, this Airbnb Plus comes with perks like washer/dryer, Wi-Fi, a TV, air-conditioning, and self check-in.
Hopefully it's now clear just how many great Airbnbs in Houston there are, no matter your taste or group size. Houston is waiting for you to explore, and Airbnb is the best way to make the most of your trip there.