Los Angeles is a huge city with many different sides to it. This can make deciding where to stay in Los Angeles during a trip or staycation quite challenging as there are so many things to consider. To help you with that, here is a list of the best Airbnbs in Los Angeles, each suiting different tastes and needs. Start here knowing it is the best of the best and you won't have to look through all the vacation rentals in Los Angeles.
To ensure that these are quality Airbnb listings, they are only high-rated Airbnbs offered by superhosts. What this means is that these great properties are offered by Airbnb hosts with an excellent track record of service. Many of these Los Angeles Airbnbs also belong to the Airbnb Plus program which identifies listings with a strong sense of style or decor.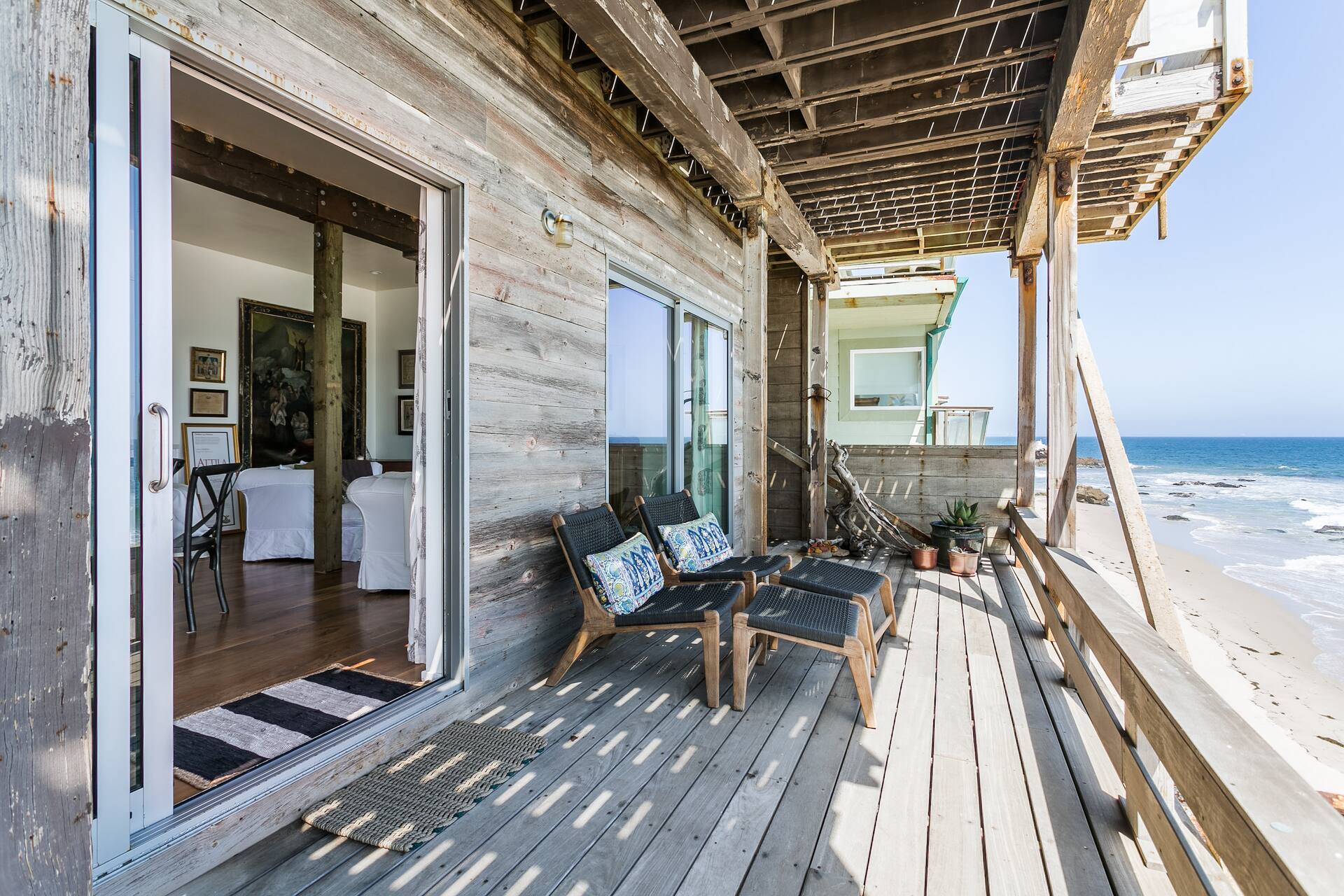 Idyllic, Romantic Beachfront Apartment in Malibu
Not only is this one of the best Airbnbs in LA, but it's one of the few that sits right by the city's beaches, letting you fall asleep to the sound of the surf. Located right next to the beaches of Malibu, this is an ideal seaside getaway if you don't mind being a little out from the city center.
Sit back and relax on a sun lounger, drink in hand, and watch the waves break on the beach below, all from the comfort of the spacious patio of this Airbnb Plus. This apartment is situated on a quieter part of the Malibu coast so you don't have to worry about tourists ruining the atmosphere.
Walking in from the patio you'll see the bedroom which has a queen-sized bed perfect for a romantic getaway. Then there's the spacious and bright living room with sofas and a dining table. You'll also have a full kitchen at your disposal, with a gas oven, fridge, and microwave. There's even a rain shower for you to use after time on the beach. Finally, there are other amenities like air-conditioning, Wi-Fi, and a washer/dryer to make your stay as comfortable as possible.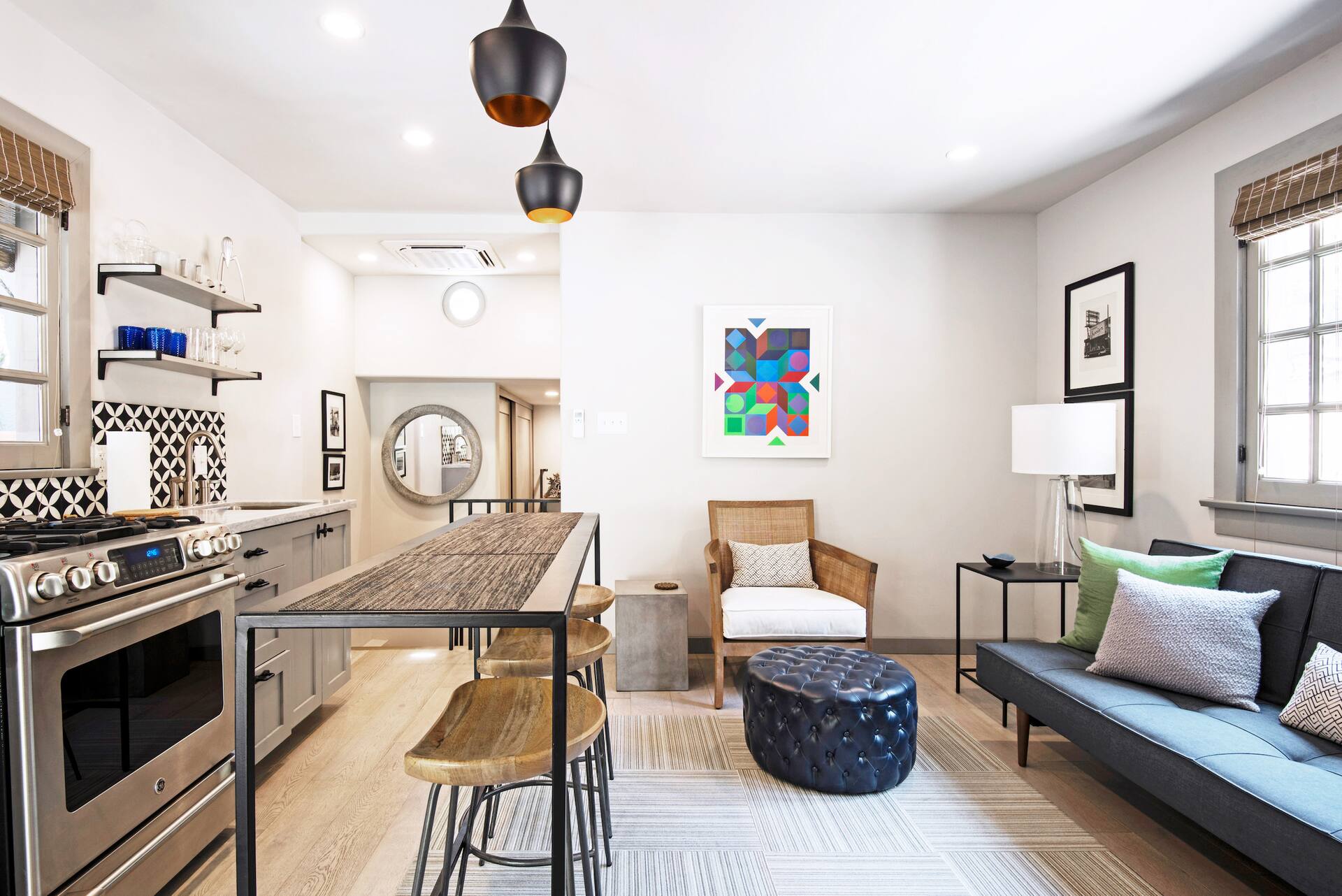 Private Modern Guesthouse near Mulholland Drive
This guesthouse is easily one of the best Airbnb rentals in Los Angeles for those after somewhere close to central L.A. Located near Laurel Canyon in the Hollywood Hills, this stylish Airbnb Plus is just minutes drive from the Sunset Strip.
Housed inside a beautiful Spanish Colonial Revival cottage, this Airbnb enjoys tasteful decor that makes it cozy and welcoming. But it's also practical, with a full kitchen including an oven, stove, and coffee maker at your disposal. Then there's the breakfast bar and sitting area where you can watch TV or relax using the provided Wi-Fi.
In the cottage's one bedroom is a queen bed making it ideally suited to couples. If you feel like relaxing outside there's a nice patio area surrounded by plants by the front door. Other nice perks of this L.A. Airbnb include air-conditioning, heating, and self check-in.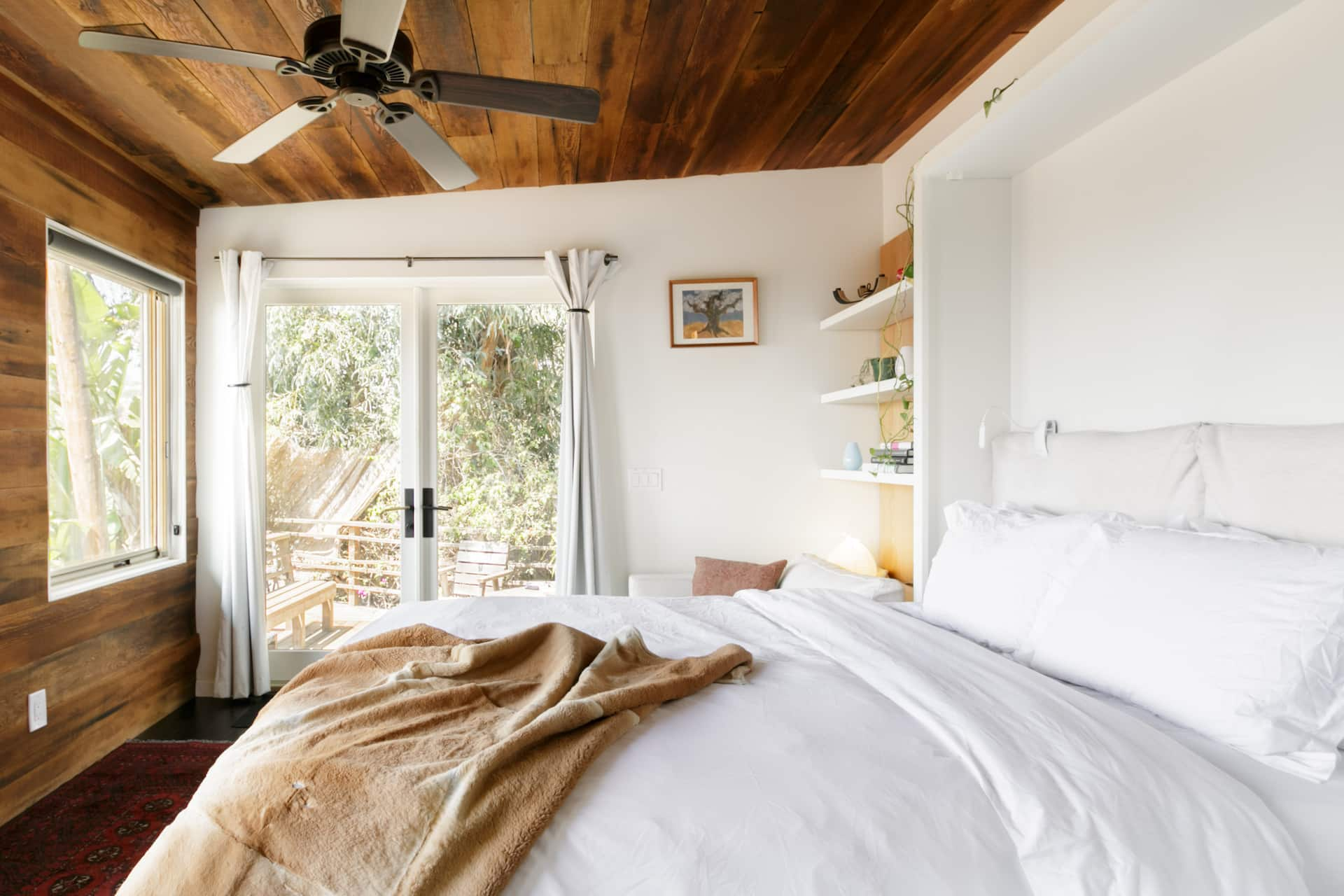 Rustic Space Perched in the Hollywood Hills
Another Hollywood Hills Airbnb that combines home comforts with a fantastic location, you won't find it hard picturing yourself relaxing here during your L.A. visit. In fact, this is the perfect Airbnb in Hollywood if you want to hike in the Hollywood Hills or see the Hollywood sign or the famous Griffith Observatory.
You don't even need to leave the house to enjoy views of Los Angeles in fact, as there are nice big windows by both the bed and the bathtub. Yes, this Airbnb Plus comes with a classic bathtub in its well appointed bathroom. There's also an outdoor shower if you're in the mood. Also outdoors you'll find a pleasant patio area with a rustic-looking outdoor lounge to relax on.
Inside, the bedroom with its queen bed adds to the rustic feel of the house thanks to its simple style which features large windows and plenty of wood. Other facilities at your disposal include the small kitchenette with coffee-maker, Wi-Fi, and air-conditioning that should ensure a pleasant stay.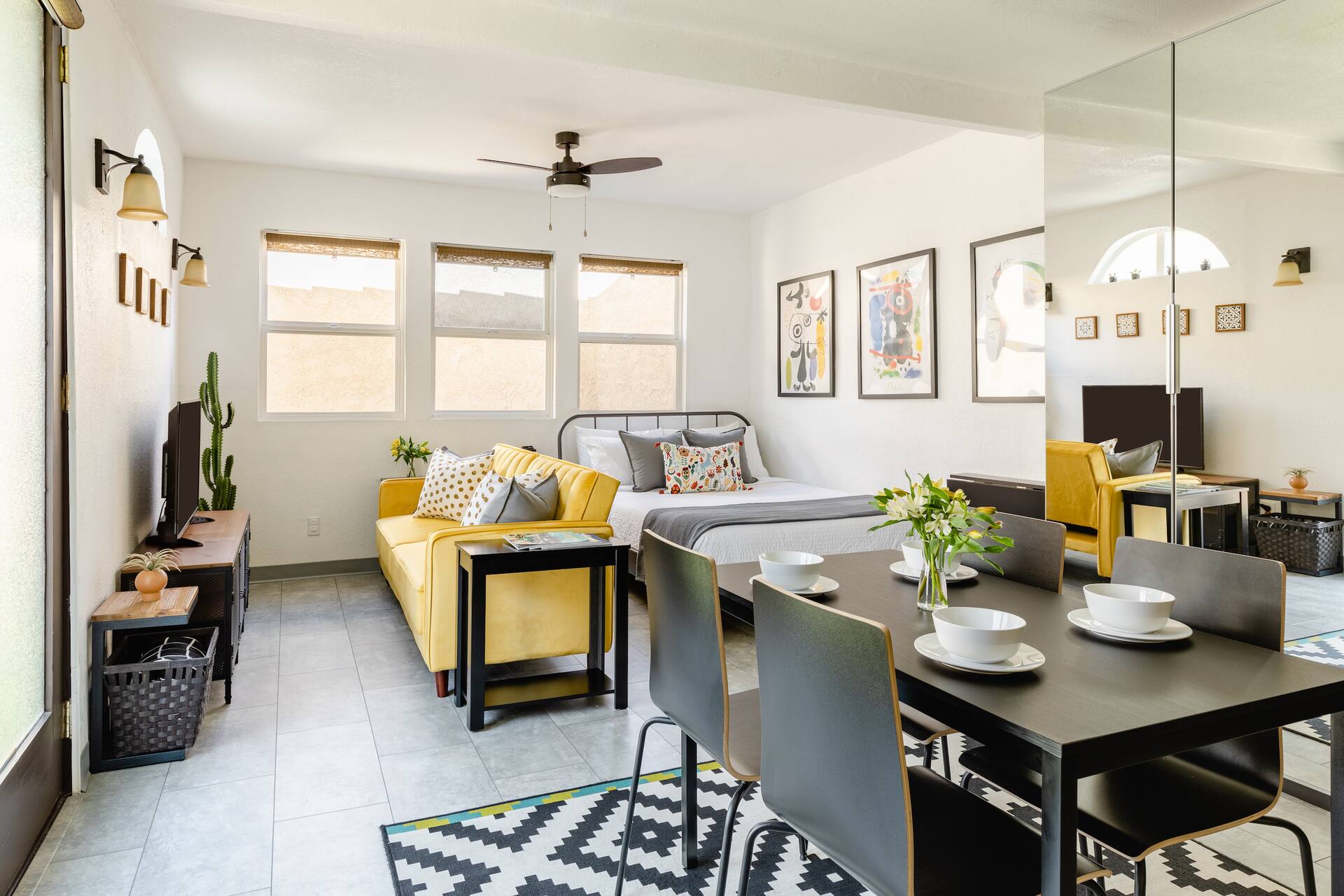 Retreat to a Private Studio With All the Comforts of Home
Travelers that value comfort and functionality over space will love this cozy studio apartment found in the urban neighborhood of Wrigley in L.A. A part of Long Beach, some might find it interesting to stay in this area and see another side of the Los Angeles metropolitan area.
What's most impressive about this studio apartment is just how much it manages to fit into such a small place. It can actually sleep up to three people; with a nice queen bed and a convertible sofa bed. This Airbnb Plus also comes equipped with a full kitchen including a convection and gas oven. There's even an all-in-one washer/dryer, making it a great choice for those looking to rent an apartment in Los Angeles for a vacation.
Although set inside a Spanish Revival casita, there are plenty of modern amenities for guests' comfort. Not only is there high-speed Wi-Fi, you'll also have access to Netflix and Amazon Fire to keep you entertained, as well as air-conditioning for when it gets hot.
Cozy and Private with a Garden View
It's not easy to find a cheap Airbnb in Los Angeles, let alone one that's cheap and good, which is why this private room offered by superhost Miriam is not to be missed. Located in their family home, in suburban Gardena, with plenty of free street parking, this property is a convenient base from which to explore the city.
Even though you're sharing the house with Miriam and her family, this Airbnb offers plenty of space and privacy. The room, which sleeps two people, is a converted covered porch and has pleasant views of the quiet backyard – meaning plenty of light. In it is a large and comfortable queen-sized mattress, plus heating and air-conditioning to keep things just right.
Besides your bedroom, you'll also have your own private bathroom a few steps out of your bedroom. Guests also have access to the kitchen and backyard, making it hard not to feel at home here.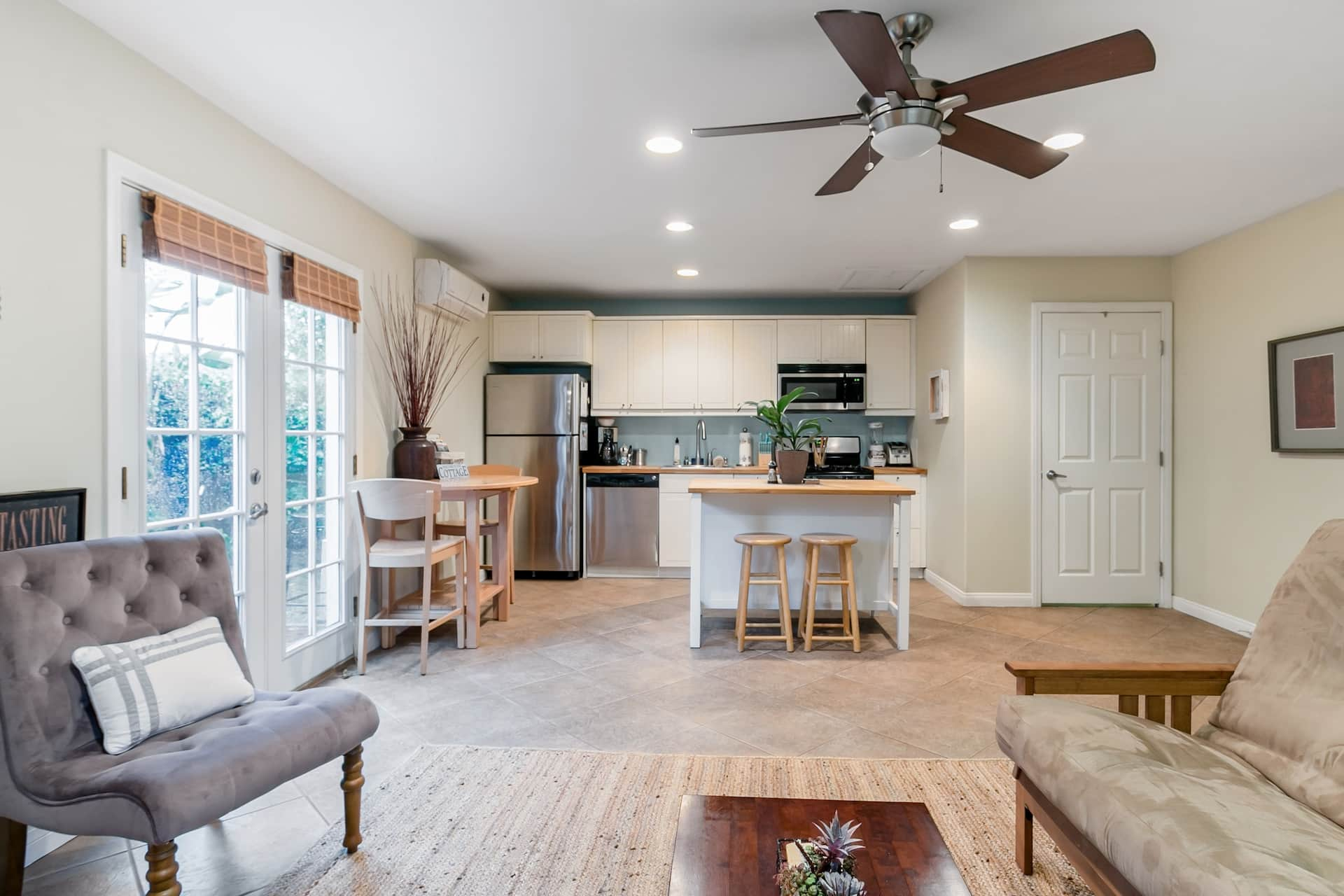 The Cottage of Lake Balboa
Found in Lake Balboa, this cottage is one of the best Los Angeles Airbnbs for families or groups looking for somewhere scenic and well-equipped to stay. Located in the wonderful San Fernando Valley, this Airbnb Plus makes for a lovely retreat from the big city.
With two bedrooms that comfortably sleep five people, and enough space to ensure things don't feel cramped, this Airbnb is perfect for mid-sized groups. The master bedroom features a king-sized bed, and there's a bunkbed and TV in the second bedroom, making it well-suited for families with kids. Families won't have any trouble catering for themselves with the cottage's full kitchen which is complete with a fridge, microwave, and stove.
There are many other conveniences in this cottage on offer as well, starting with the laundry facilities and free parking on premises, both of which make life easier. You'll also be grateful for the air-conditioning and Wi-Fi, not to mention the ability to bring pets with you.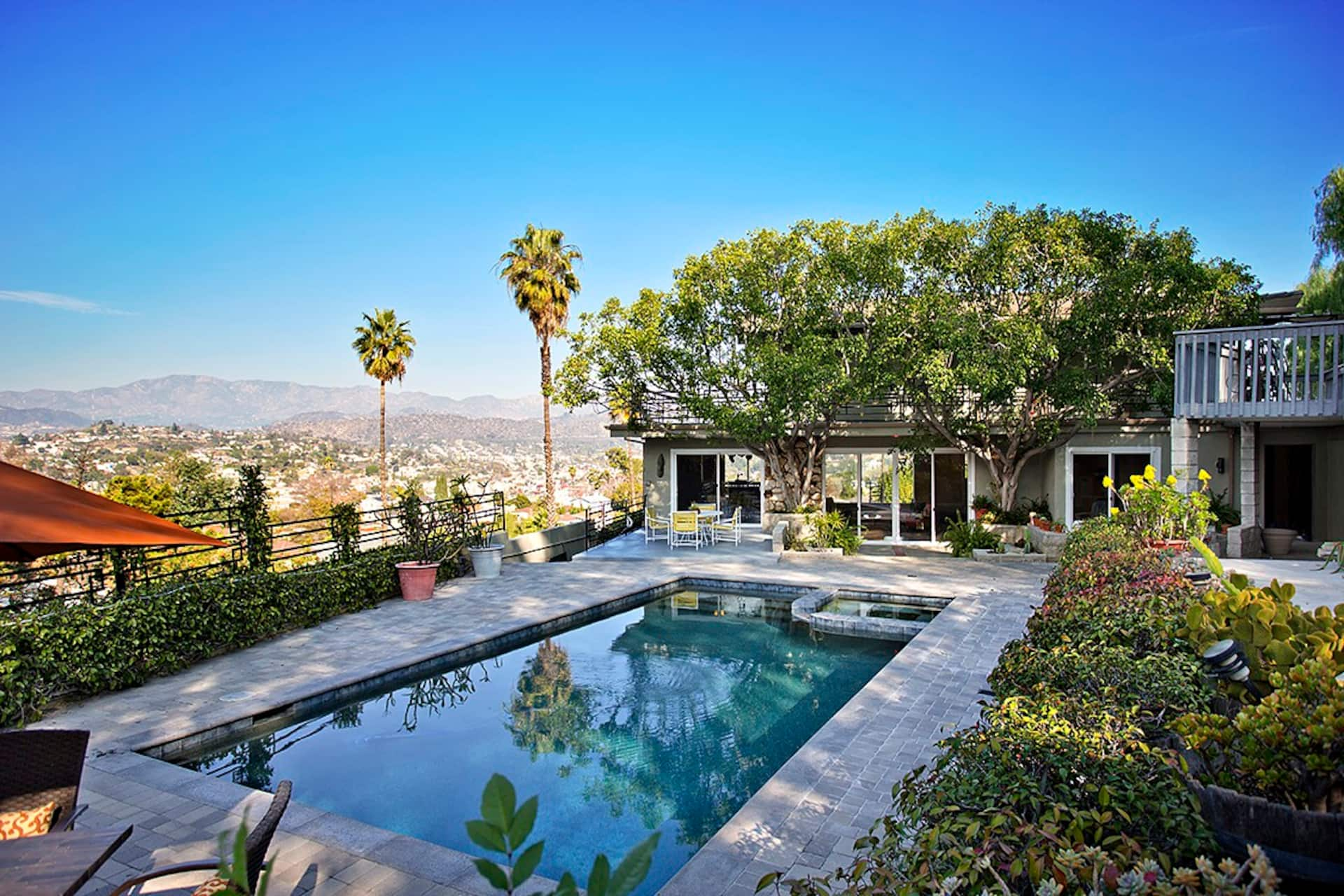 Private Pool House with Amazing Views!
The idea of staying in a pool house may not seem very glamorous, but wait until you get a load of this L.A. pool house. Hidden away up on Mt. Washington, close to Downtown L.A. and Hollywood, this secluded retreat sure beats most vacation apartments for rent in Los Angeles.
As a pool house, this Airbnb Plus is part of superhosts DnA's private residential compound. What that means is that you get to enjoy access to the pool, spa, and laundry facilities which make up the shared amenities. This also means you get to enjoy DnA's superb hospitality as they do their utmost to make you feel welcome. Plus, the stunning views out over Los Angeles looking towards the Griffith Observatory
You also have plenty of private space in this one-bedroom guesthouse that sleeps up to three. There's a queen bed in the main bedroom, and a futon-bed in the living room should you need it. You also have your own private, modern kitchen and bathroom, plus your very own patio area with a BBQ grill.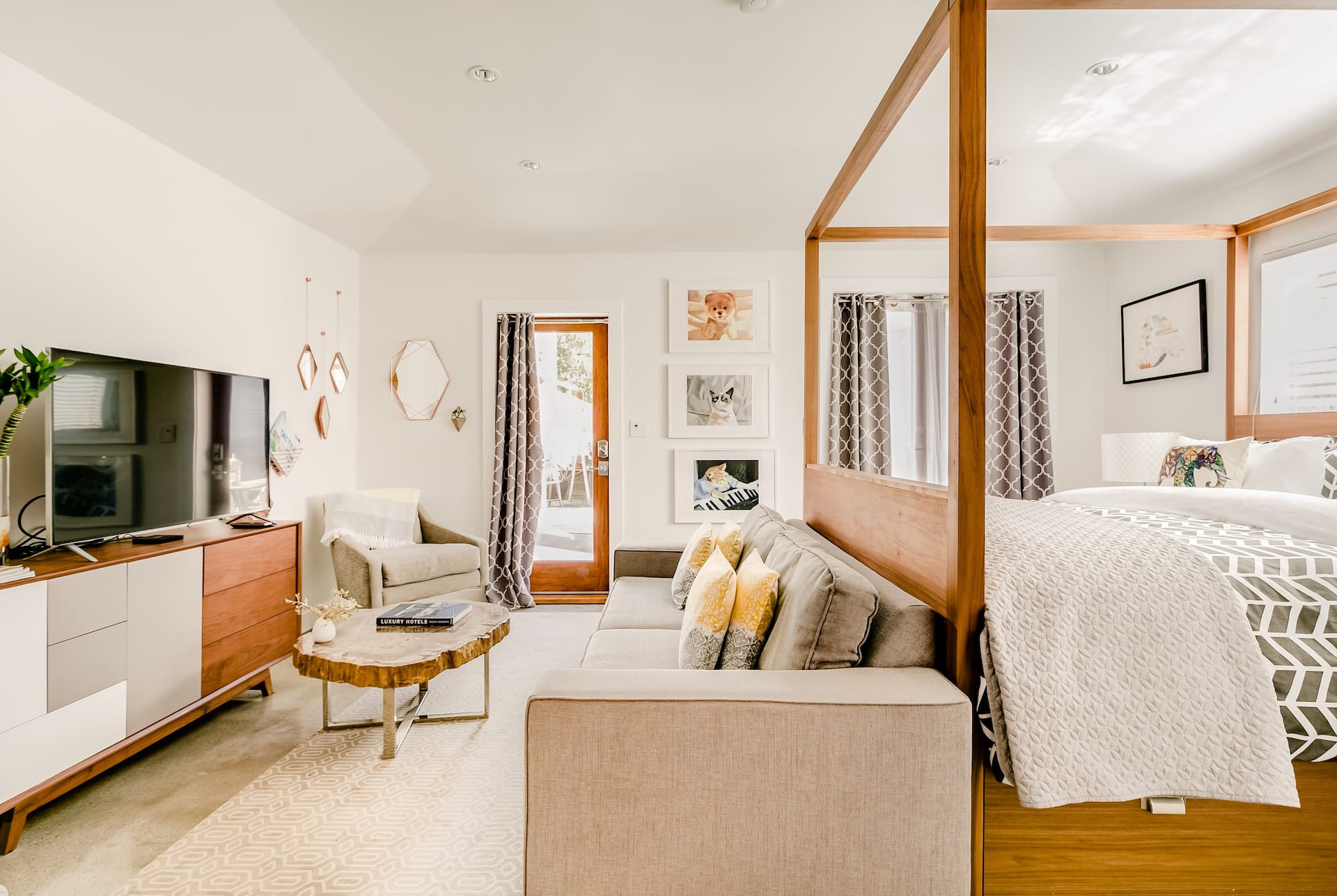 Stylish Guesthouse Close to Beach in Mar Vista
Those seeking a chic and vibrant Airbnb in Los Angeles, that also has a pool, are definitely in luck with this guesthouse. Another converted pool house, this Airbnb Plus in
Mar Vista puts you just two miles from both Venice Beach and Santa Monica.
Even though this guesthouse is situated behind the main house of superhost Vilaivanh, you'll find plenty of space and privacy here. Really, the only shared space is the pool and patio area that sits between the houses, which you're free to use if and when you like. Same goes for the little herb garden of lemongrass and mint that you're free to pick for tea or cooking. Otherwise, the rest of the Airbnb is private.
Best suited to couples, this one bedroom studio centers around a spacious California king bed. There is also a nice seating area with sofa and chairs to read in. You can also use the Wi-Fi or watch HBO GO on the smart TV. Despite its compact nature, this guesthouse does come with a full kitchen, complete with a range, convection oven, and coffee machine.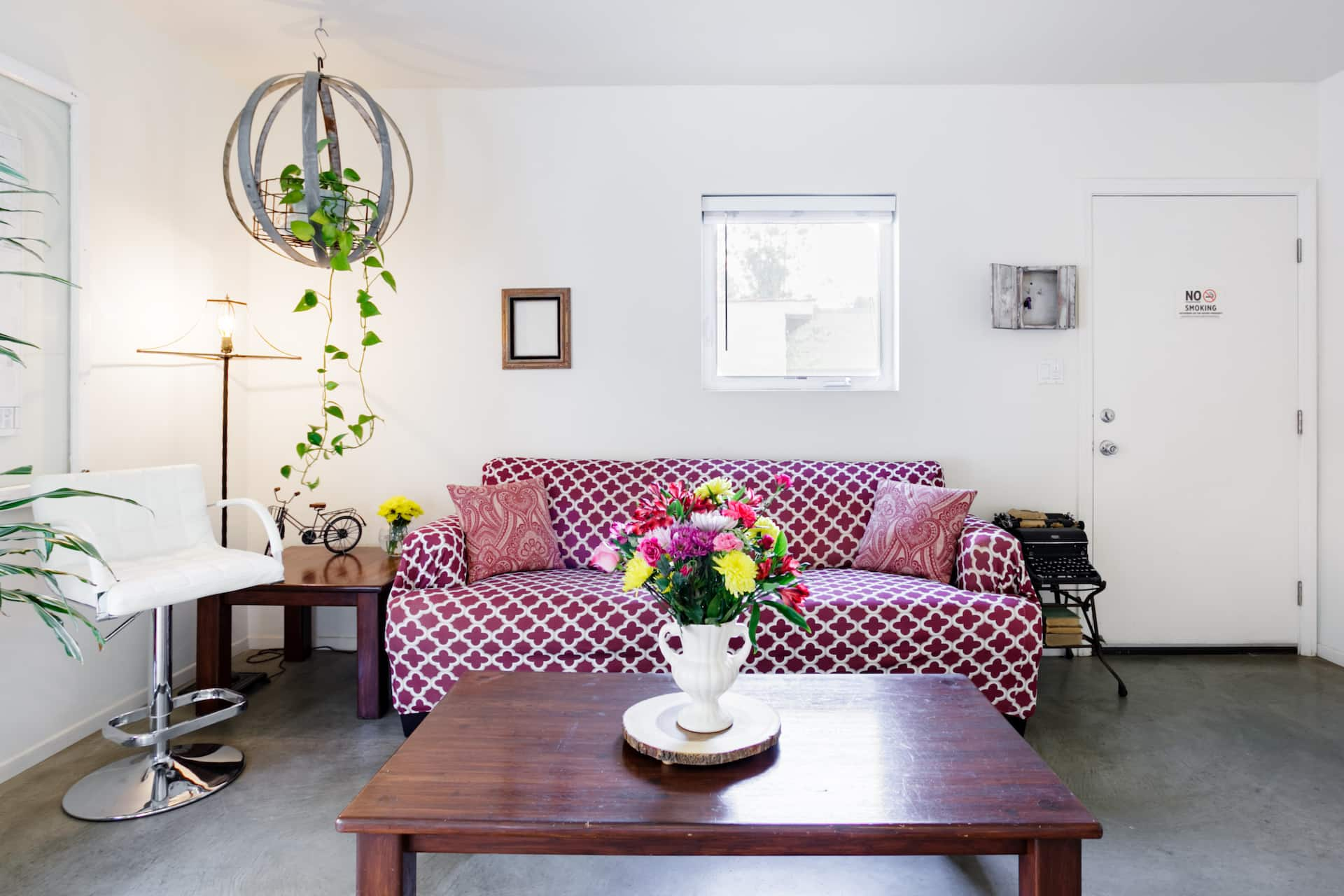 Venice Original Private Guest House
For a short term apartment rental in Los Angeles with a personal touch, it's hard to resist this guesthouse down in Venice. Not far from the beach or the shops, restaurants, and galleries of
Abbot Kinney Boulevard, this Airbnb Plus is perfectly located if you want to experience Venice like a local.
Superhost and Venice local Patrick has put a lot of thought into the shabby chic decor of this apartment, even making the furniture and artwork himself. But don't think that this guesthouse is all about style, it's immensely comfortable too. Whether you're chilling out on the private patio or sitting in the colorful living area, it's easy to relax in this Airbnb.
While there's just one bedroom with a big queen bed, the space is actually able to sleep four – which can be useful for small groups. The full kitchen is equipped with stainless appliances, a gas oven, and even a dishwasher to make cleaning up after meals a breeze. Other conveniences include laundry facilities, free street parking, a smart TV with Netflix, and Wi-Fi.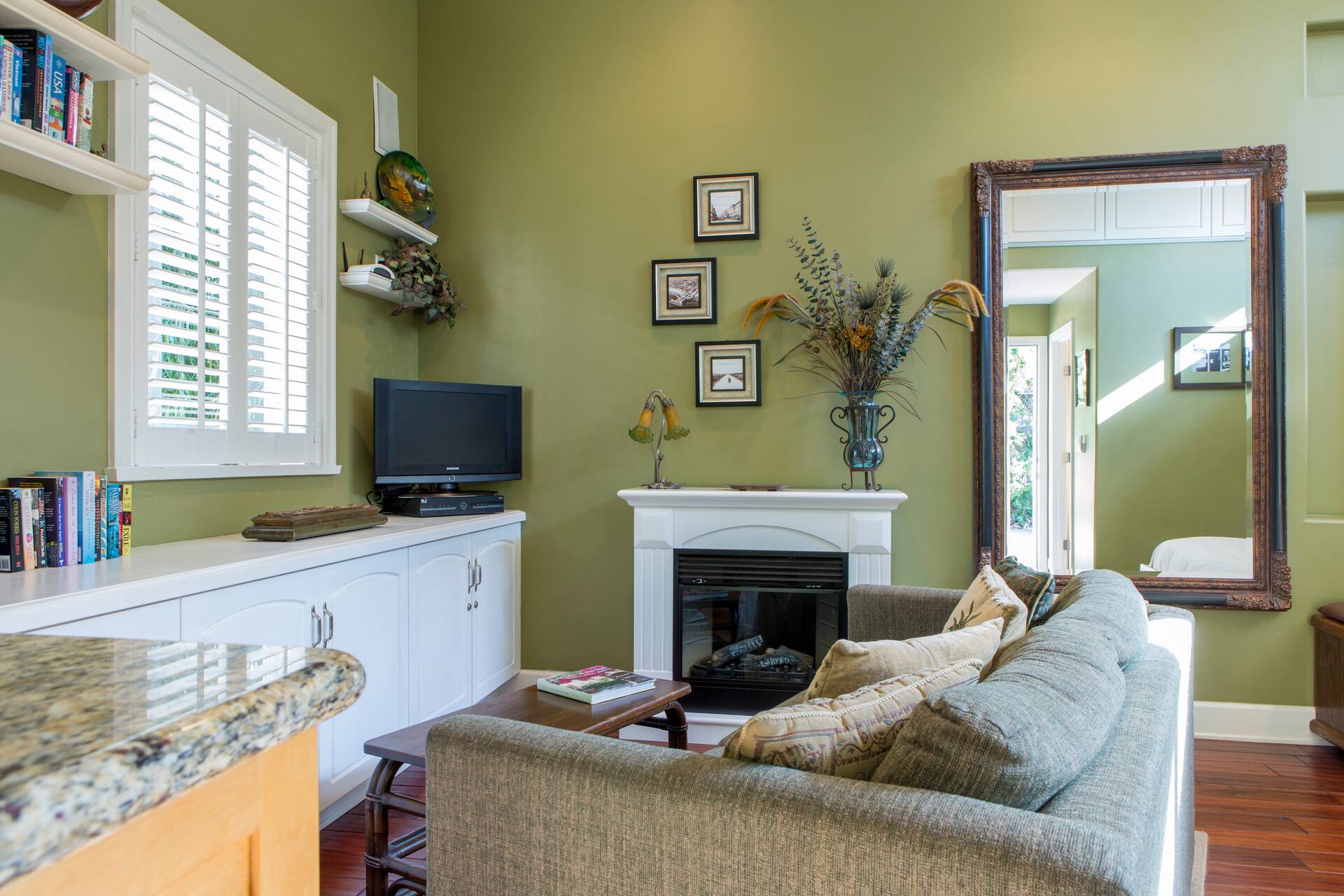 Venice Beach Walkstreet Getaway
Possibly the most popular Airbnb at Venice Beach, this guesthouse has a near-perfect rating with over 800 reviews left by guests. And when you see its location, on a typical Venice "walk street", just two blocks from lively Abbot Kinney Boulevard, you'll begin to understand why.
It also helps that superhost Madeleine makes sure you have absolutely everything you need during your stay. That even includes beach towels and snorkeling gear should you want to go down to the beach. Other thoughtful touches include a portable evaporative cooler fan, a safe for your valuables, as well as common inclusions like Wi-Fi and TV.
It's all quite impressive given the cozy size of this studio guesthouse. And yet there's still space for a comfortable queen bed, a living area with a sofa and a coffee table, and even an indoor fireplace. You also have a sizable kitchenette that includes a microwave, coffee machine, and fridge for preparing simple meals.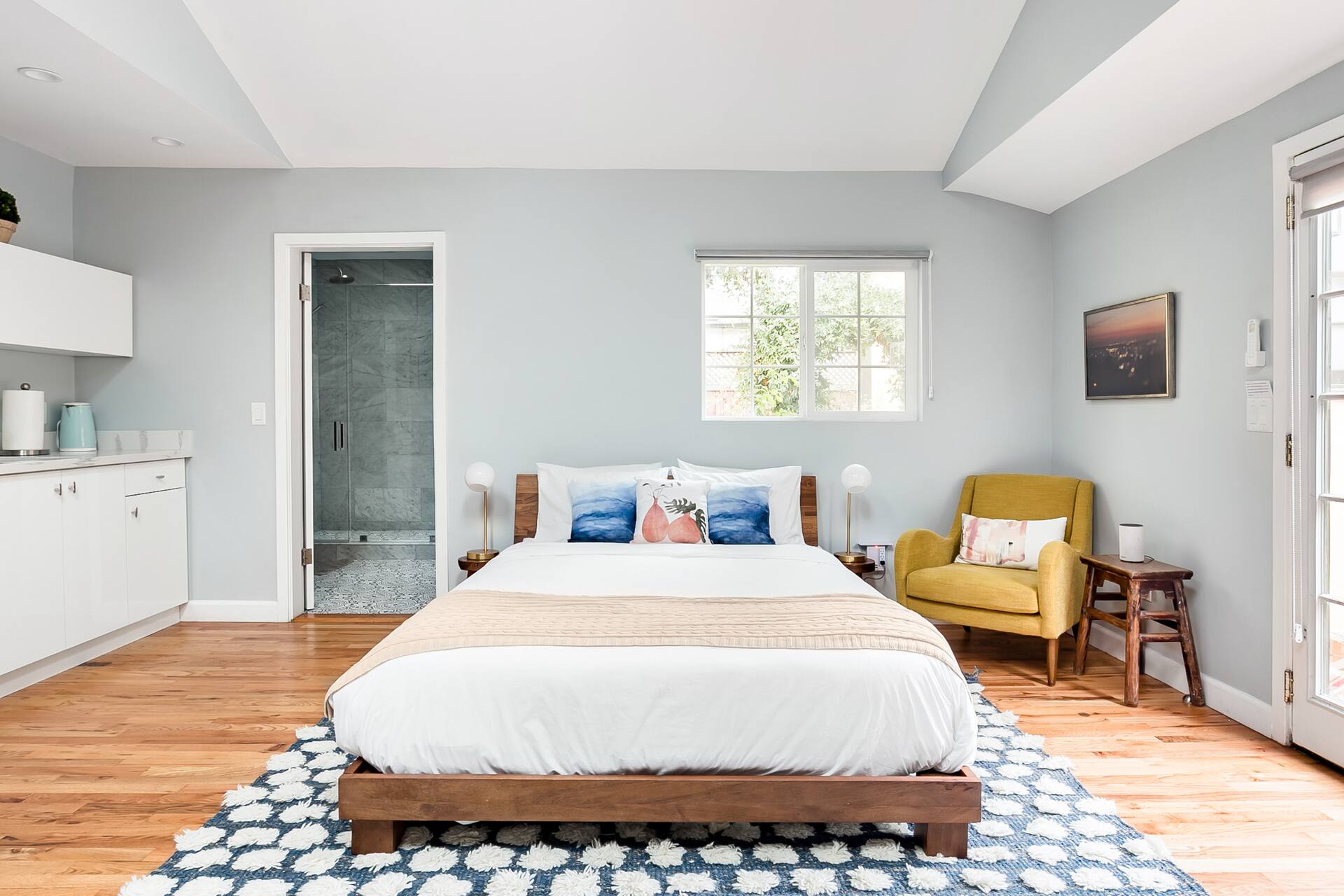 Private Mid-Century Inspired Guesthouse
Before you trawl through all the different weekend rentals in Los Angeles, why not first take a look at this clean and spacious guesthouse in Mid-Wilshire? You can't beat the location of this Airbnb Plus in central LA, which is both convenient for sightseeing and also situated in a quiet, safe neighborhood.
While this studio guesthouse is best suited for couples, it offers guests a surprising amount of space. Sleeping two people, this Airbnb comes with a large queen bed, but also has a sofa bed should you need it. Besides the sofa and coffee table, you also have a nice breakfast table to enjoy meals at. It's worth mentioning that this guesthouse only has a small kitchenette with a fridge, microwave, and electric kettle, suitable only for the basics.
Comfort is a big part of this Airbnb, with air-conditioning and access to a washer/dryer making life easier. Plus you'll have Wi-Fi and TV with Netflix if you just want to chill out. You'll also have access to an outdoor patio area in case you're feeling cooped up inside.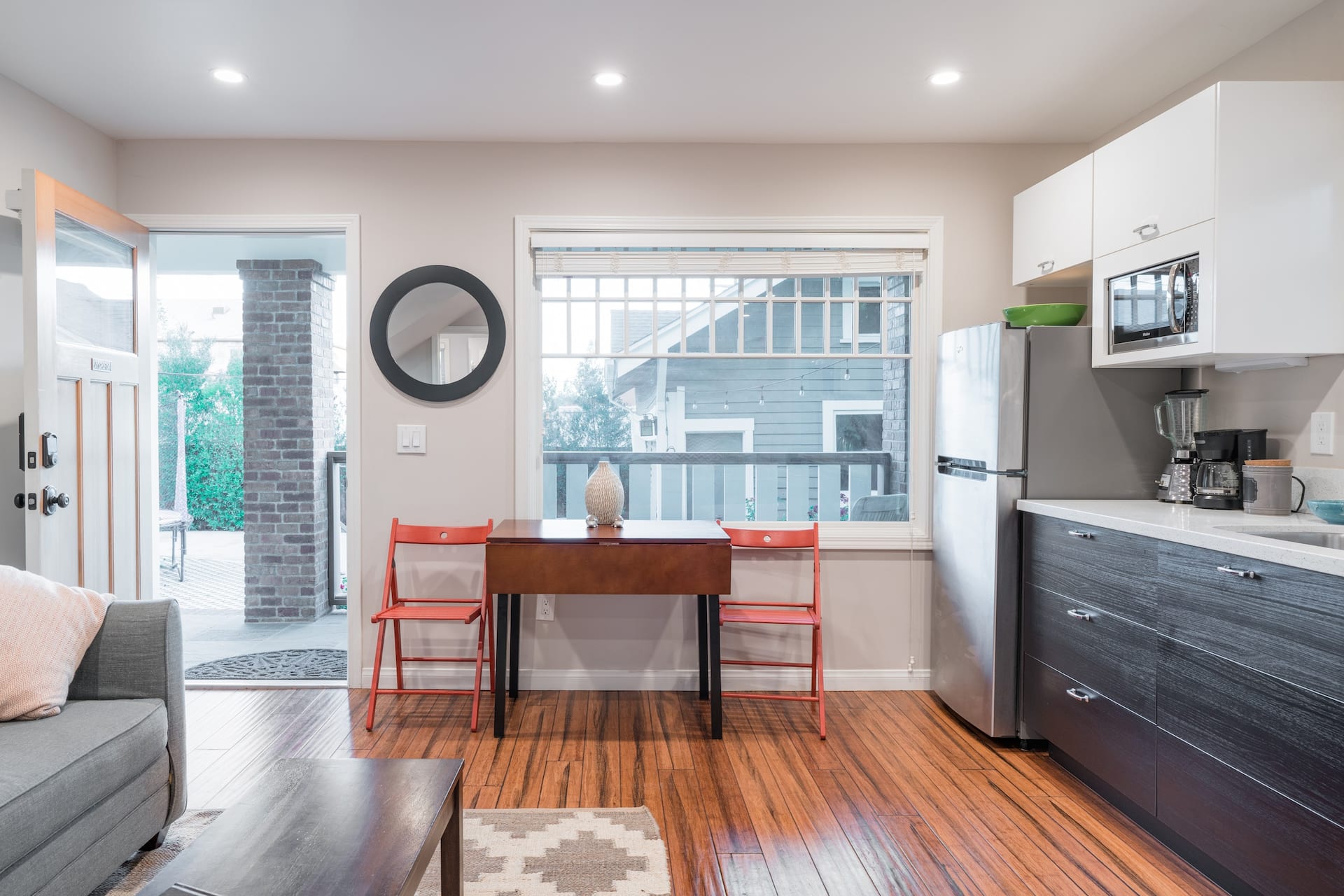 New Craftsman-Style Studio in a Historic Area
Finding family-friendly Airbnbs in Los Angeles isn't always the easiest, which is why parents will be so relieved to find this place in West Adams. Situated in a leafy, historic neighborhood in central LA, it's the ideal location for families seeking to explore the city.
There's a lot to like about this bungalow guesthouse, starting with its ample outdoor space. Not only do you have a front porch to sit out on, but there's also a backyard playground for kids, and an outdoor common area with a BBQ grill. All of this makes the studio-styled guesthouse feel far larger than it otherwise would.
Inside is a queen bed with a memory foam mattress, which is the studio's main bed, but there's also a fold-out sofa and travel crib at your disposal. That, the bathroom with a bathtub, and the full kitchen with a fridge, stove, and microwave, make this a great Airbnb Plus for young families. There are nice extras as well like Wi-Fi, TV and kids toys.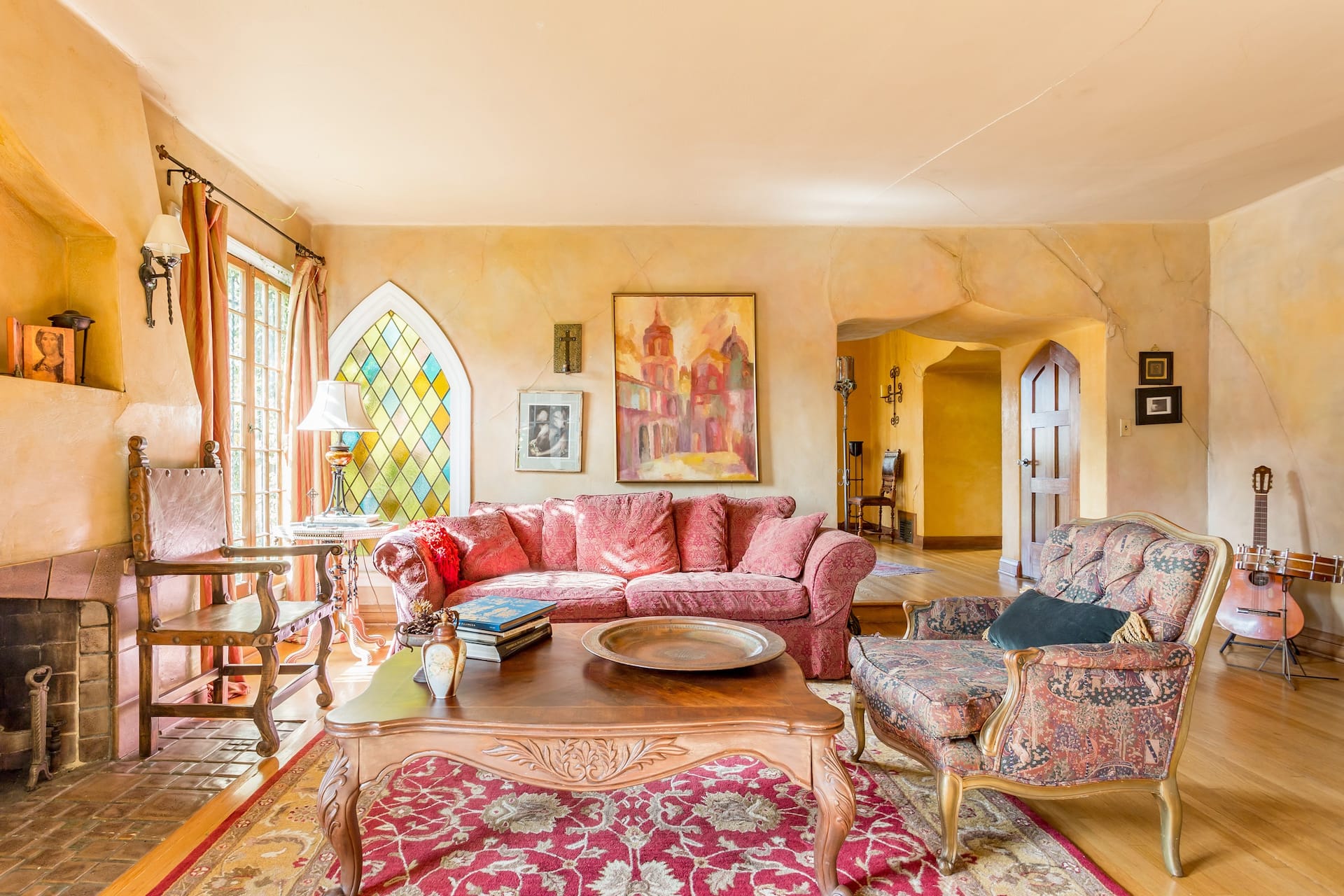 Private Room in an Elegant French Gothic Home
Normally, if you want to stay in an Airbnb Plus you need to rent out an entire place, but that's not the case with this Los Angeles Airbnb. Here you can stay in a private room and still enjoy the wonderful charm and style of this beautiful French Gothic home in the convenient Mid-Wilshire area.
While staying with superhosts David and Rebecca, you have some private space, but also access to plenty of shared spaces. This means you're able to make use of the living room, dining room, kitchen, and backyard. You also have the option to use their laundry facilities, plus things like Wi-Fi and TV.
But you have your own space as well, starting with your private bedroom featuring a queen bed and a ceiling fan. Off from that you'll find an ensuite bathroom, complete with a classic bathtub. While the bedroom is designed to sleep two, the room does come with a travel crib and other children's accessories for if you're traveling with a little one.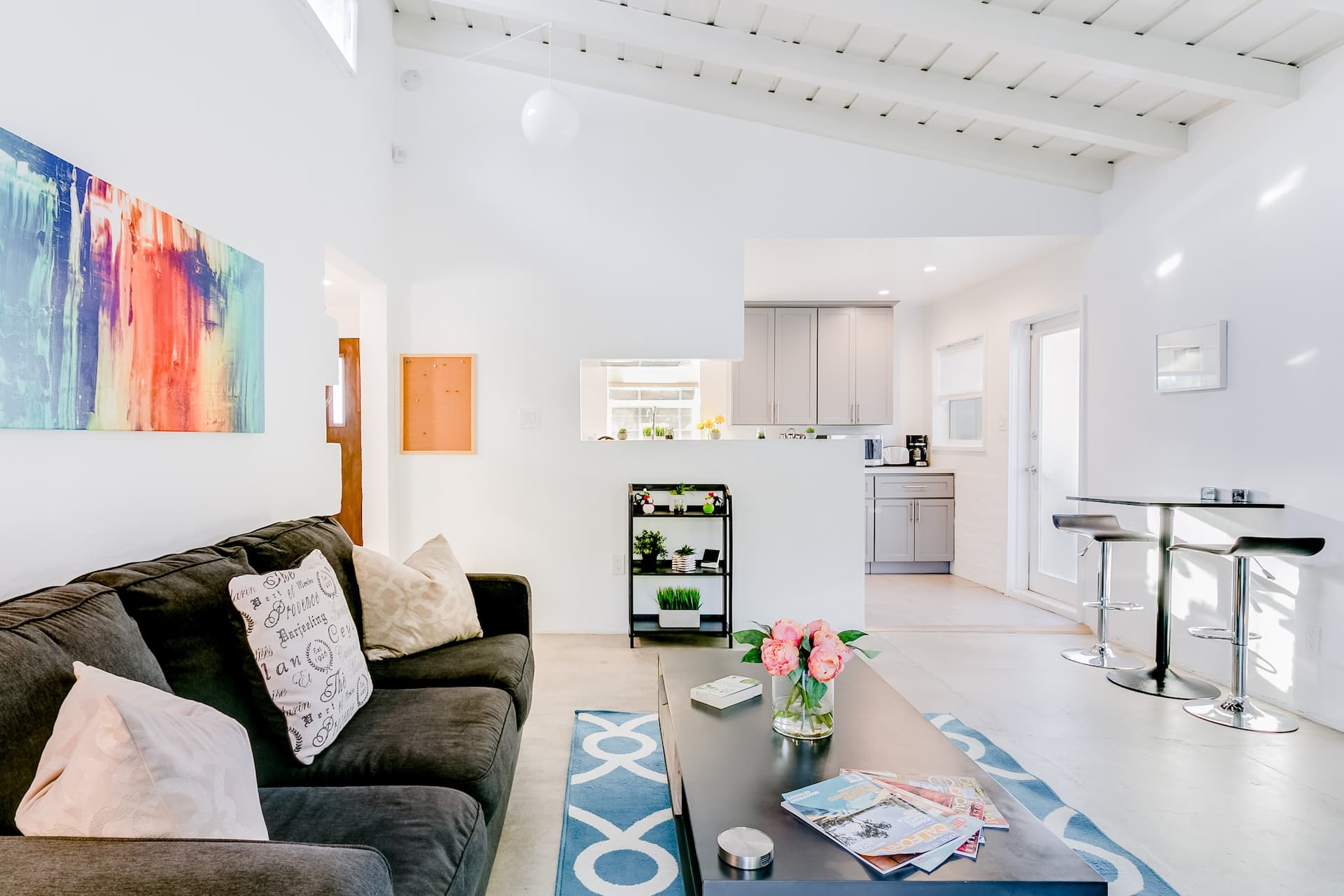 Soak Up the LA Feel from a Private Pool Home
If you'd prefer your surroundings to be more suburban and relaxed during your stay, look no further than this modern house in Sherman Oaks. Tucked away in the San Fernando Valley, there are local shops and places like Trader Joe's and Westfield closeby, while Hollywood is just a short drive away.
One of the great things about this Airbnb Plus is that it provides total privacy, as it's not a guest house or a pool house attached to a main house. That means you have this home, the on-premises parking, and the house's backyard with a heated outdoor pool, all to yourself.
Able to sleep four, this house features a queen bed in the bedroom, plus there is a sofa bed in the living room. Both are spacious and well-appointed, as is the large bathroom and kitchen with a range, fridge and more. Then there's the little detached studio that works as either an office or a home gym thanks to the treadmill. Other benefits of this Airbnb include air-conditioning, keyless entry, Wi-Fi, and a washer and dryer.
Pirates of the Caribbean Getaway
After a Los Angeles Airbnb that's not afraid to be a little different? Then this unique one bedroom guest house in Topanga Canyon near Topanga State Park is sure to intrigue you. It's not everyday that you find a Carribean/jungle themed Airbnb in the hills of L.A. which also happens to be quite practical.
The benefits of staying here are obvious even before you step inside the house. This private bungalow is surrounded by lush greenery and private patios, some with tables and chairs, others with a daybed, hammock, swing, and even an outdoor bathtub. That's in addition to the secluded jacuzzi and huge teepee, both of which you can spend hours relaxing in.
Head inside and you'll see that the interior of this bungalow is a bit more cozy, all the while keeping the jungle look of the place going. Best suited for couples, there is a queen size bed in the bedroom, a living room with a reclining couch and a flatscreen TV, as well as a kitchenette with a fridge, stove, microwave, and coffee maker. Finally, yes there is Wi-Fi.
It should be plain to see that there are countless different Airbnbs in Los Angeles to choose from, even just based on this small selection. So, no matter if you want to rent a house in Los Angeles for a party or for a short weekend getaway, there's likely a place on Airbnb for you.