Thanks to the Great Lakes and its affinity for nature and outdoor activities, Michigan surely is a destination worth visiting. This state in the Midwest really comes alive during the summer time, but can also be pretty magical when covered in snow. No matter when or why you visit, the best place to find vacation rentals in Michigan is Airbnb. And we're not just talking cabin rentals on Lake Michigan, even though there are plenty of those as well.
To show you what Airbnb has to offer, we've put together this list of the best Airbnbs in Michigan. Although you'll see all sorts of rentals here, they do have one thing in common; they're all managed by Airbnb superhosts. In case you're unfamiliar, superhosts are experienced, highly rated hosts who are committed to providing great stays for guests.
Neighborhood Beauty: Sun-filled and Spacious
With a modern and sophisticated look to it, this apartment is exactly the kind of place you'd expect to find among the best Michigan Airbnbs. Located in the creative and quirky neighborhood of Woodbridge in Detroit, you'll be staying in an area with loads of character. You won't have to go far in this trendy part of town for eateries and bars, while the midtown area is just a short drive away.
This Airbnb in Detroit, Michigan is set inside a historic 19th century house that's been freshly renovated. You'll have a second floor apartment all to yourself here, which is really designed for solo travelers and couples despite how spacious it is. The apartment has one bedroom with a comfortable king bed and lots of space, making it quite a comfortable place for longer stays.
Down the hall past the bathroom you'll find an open concept space, where the living room, dining room, and kitchen all connect. Besides modern cooking facilities, this Airbnb comes with amenities like a washer/dryer, Wi-Fi, TV, air-conditioning, and free on-site parking.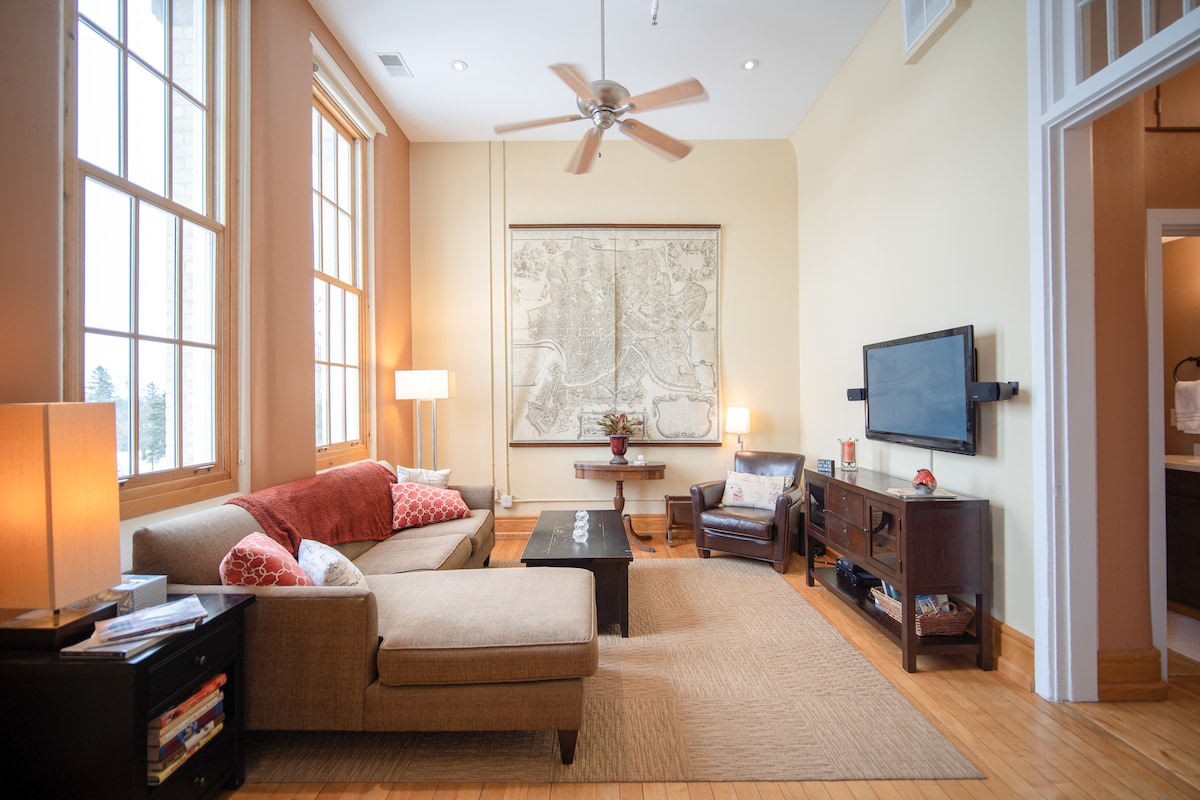 Historic Suite
For an Airbnb in Traverse City, Michigan that blends vintage and modern seamlessly, check out this great loft. Situated in The Village at Grand Traverse Commons, a historic hospital complex that's been completely overhauled, you'll be staying in a fun and cosmopolitan part of the city. As for downtown and the beaches along Grand Traverse Bay, those are just 2 miles away.
Staying in this loft condo is best suited to guests who appreciate a little fun and character in their accommodation. The studio condo features high ceilings, allowing plenty of space for the sleeping loft and its queen bed. Heading down its special stationary library ladder, you reach the living room, dining area, and modern kitchen. Around the corner you have your private bathroom as well as plenty of closet space if you're staying longer.
From its original wood floors to the beautiful granite countertops, it's really the little details that make this such an inviting Airbnb. Then there are all the amenities provided, including Wi-Fi, pay TV, air-conditioning, keyless entry, laundry facilities, and free parking.
Pure Michigan! Blue Bliss Cottage Retreat
A gentle cottage in a small town, this Airbnb in Michigan will feel like an oasis if you need to escape from the city for a little bit. Found in the town of Saugatuck just off Lake Michigan, you'll be staying just east of the downtown area. From here, it's just as easy to reach the local beaches and lakefront as it is the restaurants and cafes of Saugatuck and neighboring Douglas.
What you get with this Airbnb in Saugatuck, Michigan is a great little retreat that's able to sleep up to four people. The cottage features two bedrooms, each with a queen bed, making it a nice choice for young families or a pair of couples away together. Here you also have one bathroom, a living room, a dining area, and a full kitchen at your disposal.
Then there's the private back patio where you can sit out and enjoy the surrounding greenery and peace. It doesn't hurt either that the patio has a hot tub exclusively for your use. Other facilities and amenities include shared BBQ grills and firepit, washer/dryer, air-conditioning, Wi-Fi, and TV.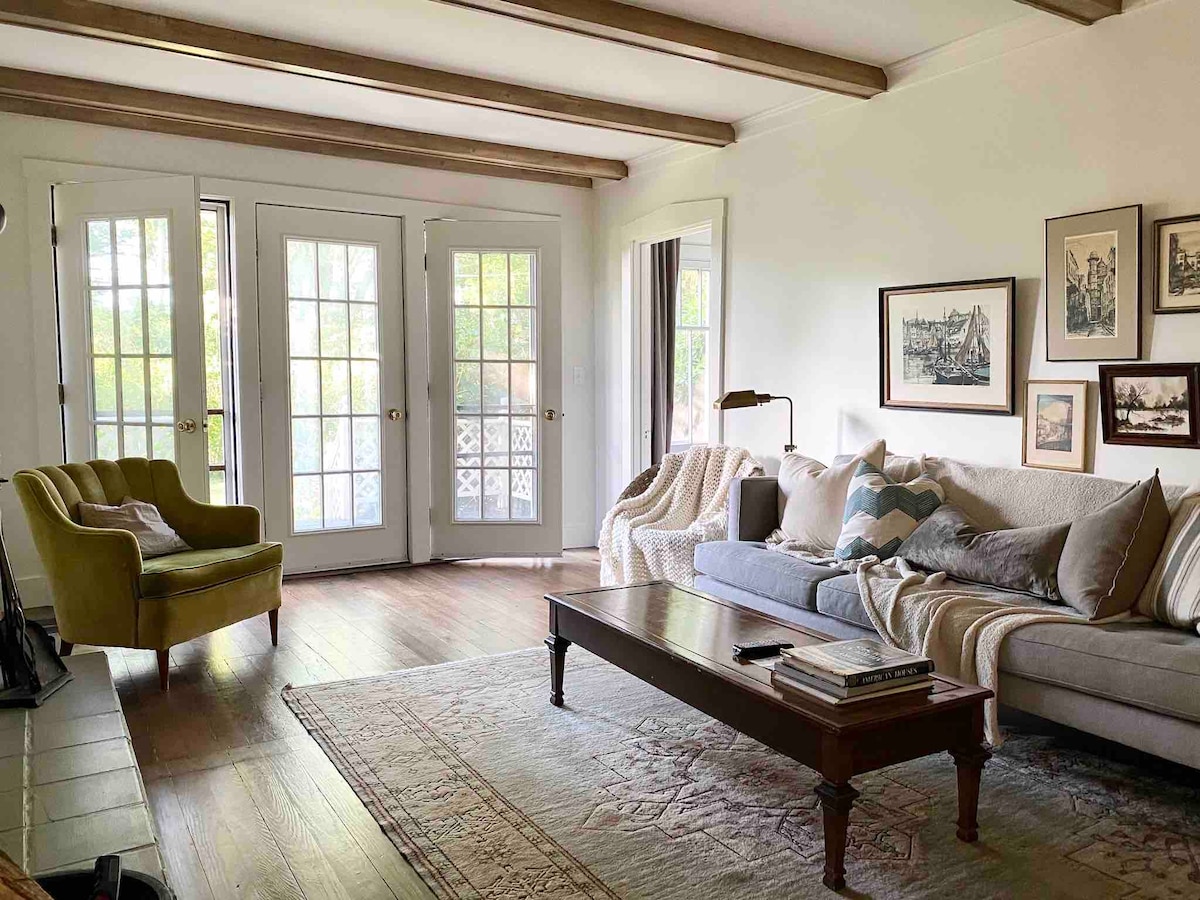 The Cottage of Harbor Country – Close to it All!
Those in need of lots of space for a big group trip will love this cottage, as it not only has heaps of room but is also one of the best Airbnb rentals in Michigan. Located in Harbor Country just outside the town of Sawyer, it boasts an excellent spot just back from Lake Michigan. The waterfront at Harbert Beach is just 15 minutes on foot, while downtown Sawyer is 5 minutes by car.
Even though it's quite a charming and well-appointed cottage, it's hard not to fixate on just how much room this Michigan Airbnb has to offer. All told it can fit up to eight guests across its four bedrooms, with a variety of different bed combinations that make the sleeping arrangements quite flexible. The only real downside to this is that there's only one bathroom for such a large group.
The rest of the cottage involves a light-filled living room, large dining room, full kitchen, and screened-in porch. Outside, there's a large deck with outdoor seating, as well as a hot tub, BBQ grill and fire pit, plus a large yard. As for amenities, you have an indoor fireplace, washer/dryer, air-conditioning, Wi-Fi, and TV.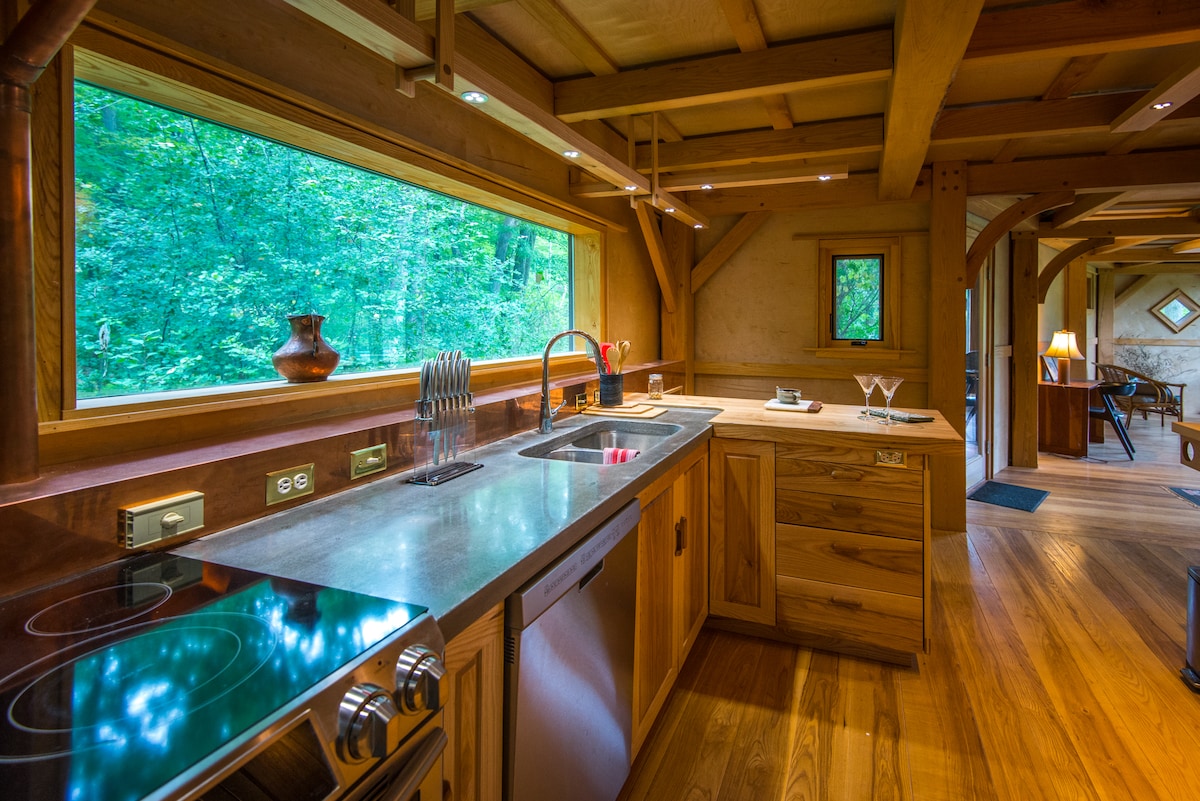 Lakeside Timberframe Cabin
If you're looking to rent a lakehouse in Michigan that's been specially crafted for a luxurious getaway then this is the place for you. Situated on a small lake not far from the village of Richland and Kalamazoo. While offering peace and privacy, you're just a 15 minute drive to downtown Kalamazoo, while there are places to get food a bit closer in Richland.
One of the nicest cabins for rent in Michigan, this Airbnb boasts about 300 feet of lakefront and is a perfect pick if you want to spend time out on the water. Guests here are free to use the two kayaks on the lake, while swimming and fishing are also popular here. Then there's the lovely lawn area where you can sit out and just chill as you wait for the brilliant sunsets you get over the lake.
Inside the timber framed cabin you have loads of room considering this Airbnb is just meant for four guests. It offers two bedrooms with queen beds, two bathrooms, a fully-equipped kitchen that was custom made, a dining area, and several sitting areas. You have everything you could need here and that includes a washer/dryer, Wi-Fi, TV, and air-conditioning.
SoHa Whitehouse: 3BR Home Steps From Beach + Park
Utterly beautiful with its charming white interior, this Lake Michigan Airbnb is ideal for summer vacations with friends and family. Found in the small city of South Haven just 1,000 ft from Lake Michigan, this cottage puts you in a wonderful position for your trip. Getting to the beach couldn't be easier with this Airbnb in South Haven, Michigan, while downtown isn't too much further.
With this completely renovated cottage it's possible to sleep up to eight people thanks to its three bedrooms. This makes it a smart choice for larger groups, like family get-togethers or trips with friends. Beyond the bedrooms it provides a big lounge area, dining room, full kitchen, bathroom, den, and sun porch. Basically, you're not going to run out of room, that's for sure.
Head outside and you'll find even more space thanks to the patio deck and yard area. There you'll also come across a fire pit and BBQ grill, giving you even more reasons to linger outside. In terms of amenities, this cottage provides a laundry room, indoor fireplace, beach equipment, smart TV, Wi-Fi, and air-conditioning.
Blue Door Bungalow with Snowshoes!
When searching for Airbnbs in Michigan make sure not to skip this cozy bungalow as it's great value considering what it provides. Located two blocks from the historic downtown area of Marquette and the waterfront along Lake Superior, you won't have any trouble getting around on foot here.
Thanks to its fresh and homely feel, it should be super easy settling in to this Airbnb in Marquette, Michigan. The apartment offers enough room for four guests to stay here, with two bedrooms and even a sofa bed in the living room should you need it. Other spaces here include a full bathroom, a modern kitchen with a breakfast bar, and a small dining area.
Because of the range of outdoor activities that are possible up here in Michigan, the bungalow comes with both beach gear and snowshoes. Extra amenities include washer/dryer, Wi-Fi, TV, air-conditioning, and keyless entry.
Pictured Rocks Right on H58 (Entire House)
It's hard to imagine a better place to stay for comfort, outdoor activities, and privacy than this Airbnb in Munising, Michigan. Situated just outside the town near Munising Falls on the edge of Pictured Rocks National Park, you have endless options for keeping busy in the great outdoors when you stay here. And yet, all the conveniences of Munising are right there, with bigger cities like Newberry and Marquette still within reach.
Besides being an awesome gateway to waterfalls, hiking, and other activities on Lake Superior, the other major perk of this house is its considerable size. After all, this house comes with three bedrooms with queen beds, allowing six guests to fit under its roof. It's even possible to bring your pets with you.
While it may not look particularly interesting from the outside at first glance, this Airbnb has quite a fresh and homely feel that will make it easy to settle in. Along with three bedrooms, the rest of the house includes a big kitchen with a dining table, large bathroom, laundry room, and living room. Then there's the yard and its fire pit which you're free to use, plus amenities such as Wi-Fi, smart TV, and keyless entry.
Fernside Aframe: Private Riverfront, Hidden Gem
This traditional A-Frame cabin is the most wish-listed Michigan Airbnb, earning it its place on our list of the best Airbnbs in the United States. Take one look and you'll immediately see why. It doesn't hurt that it sits by the Sturgeon River in a tranquil spot just outside the idyllic town of Indian River. Here you have complete privacy while being just a quick drive into the center of town.
There's so much to love about a stay in this beautiful cabin, starting with its wall of windows that let loads of light while allowing you to look out to the river. Then there's all the space you get inside, with a nice open-concept space that functions as the living room, dining room and kitchen area. Surprisingly the cabin comes with two bedrooms, one on the main floor, and one upstairs in the sleeping loft.
Even though it can feel off-grid, the cabin comes with a modern bathroom equipped with everything you'd expect. This cabin does embrace the outdoors though with an inviting front deck and fire pit. Amenities here include a BBQ grill, washer/dryer, Wi-Fi, and air-conditioning.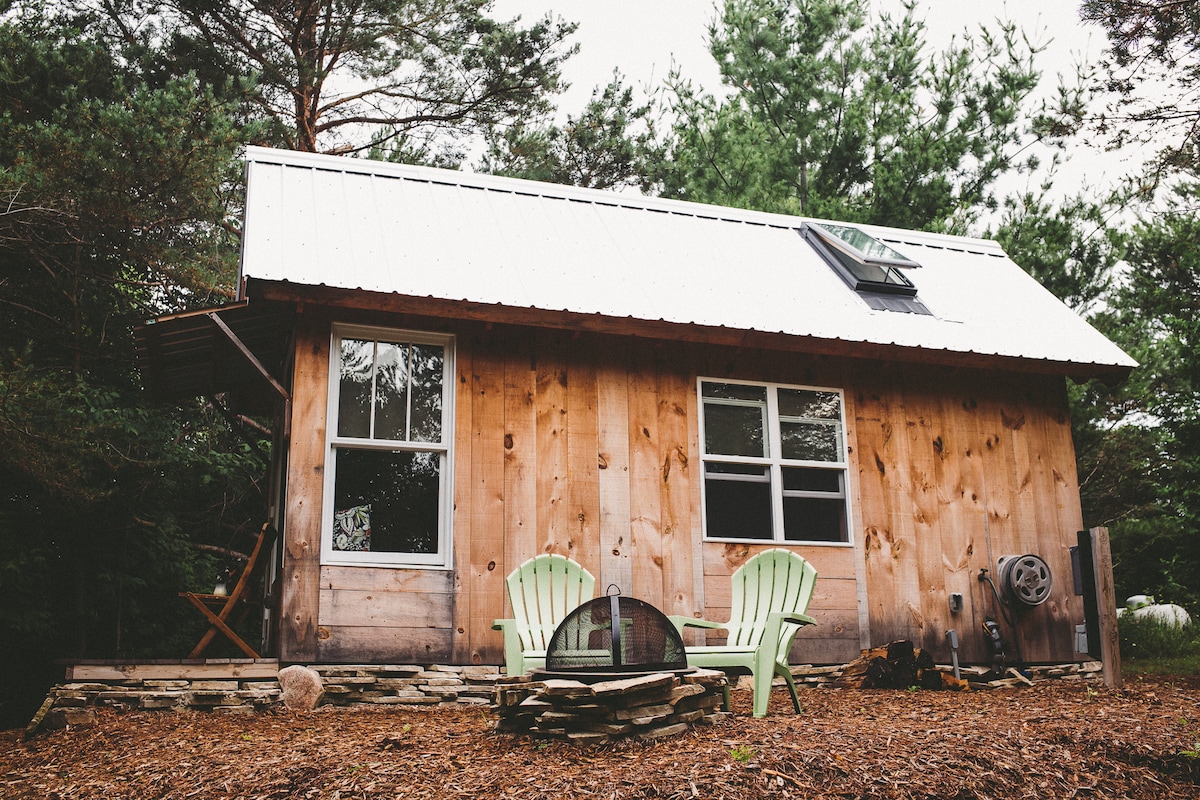 A Tiny House: A Simple Getaway In NoMich
A fun alternative to renting a cabin in Michigan is staying in this adorable tiny house, as it provides a similar experience with just a little more ingenuity and cuteness. Hidden among the northern Michigan woods a little outside Charlevoix, this tiny house provides a compromise between remoteness and convenience. It's less than 3 miles drive to downtown Charlevoix, but it certainly won't feel that way.
True to its name, this Airbnb is indeed tiny. And yet, it's exceptionally well-equipped given how limited its space is. It comes equipped with a sleeping loft and storage loft, which really helps maximize the space. The sleeping loft does manage to offer a queen bed though, so couples as well as single travelers should find it comfy up there.
Down the ladder you have the main space of the tiny house, which incorporates the kitchen, the sitting area, and a full bathroom. Chances are though you'll want to spend as much time outside as possible, which is aided by the little front porch and fire pit where you can sit and relax. While light on amenities, the Airbnb does have air-conditioning and basic breakfast items are provided.
Little Cabin at Rocky Top Farms (Dog Friendly!)
Located on a working cherry orchard down the coast from Charlevoix, this may be one of the quaintest Airbnb cabins in Michigan. In the area around the cabin you have quite a few small lakes, not to mention the beaches along Grand Traverse Bay and plenty of local hiking spots. That being said, Charlevoix is only a 15 minutes drive away and Elk Rapids about a 20 minutes drive.
Best suited as a romantic getaway for couples, this custom timber-frame cabin makes up for its small size with coziness. Reaching your queen bed in the sleeping loft requires a climb up a ladder, but it's worth it for the views out the window to the forest and night sky. Down below you have the living space with a sitting area, a dining table, and a compact kitchen, equipped with a fridge, microwave, oven, and stove.
To give you a little more space, the cabin comes with a pleasant front porch and guests are welcome to wander around the nearby gardens. It's also possible to bring pets, which makes all this outdoor space even better. Amenities here include a hot tub, washer/dryer, and TV.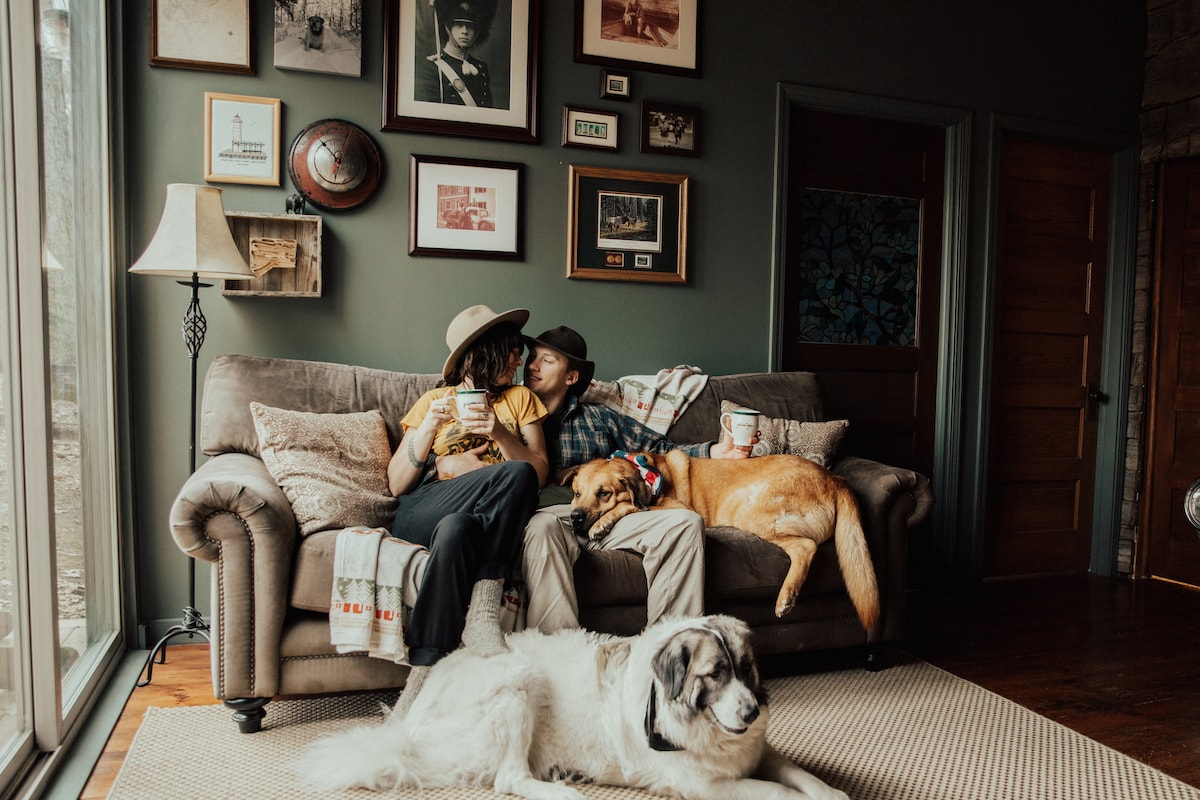 The Trails and River Are Calling
Another cabin rental in Michigan that's sure to put you in the vacation mood is this modern riverside cabin. Found in the heart of the Manistee National Forest by the banks of the Little Manistee River, you should have no trouble switching off and enjoying nature here, especially with loads of local trails. Manistee over on the coast is the nearest big town if you need supplies or want to get food.
The inside of this striking cabin is quite eclectic, but in an endearing and welcoming way. Photos and knick knacks line the walls and shelves, while the custom pendant lights are downright cool. On the practical side of things, this cabin can sleep up to four people, across its two bedrooms. Pets are also welcome here, so families of all kinds should find this a good fit.
Beyond sleeping spaces, this cabin offers a modern bathroom, full kitchen, dining area, and living room. Guests also have the front deck to themselves, as well as roughly 100 feet of riverfront to relax by. Extra amenities include keyless entry, a washer/dryer, BBQ grill, and TV.
Pere Marquette Riverfront Cabin
Getting away from it all couldn't be easier with this Michigan Airbnb secluded among State and National Forest. Located near the start of the Pere Marquette Rail Trail in Lake Country, it's a perfect place to go for hiking and other outdoor activities. As for civilization, that comes in the form of Baldwin, a small town due north along a major road.
Unlike some cabins where the views of your surroundings are limited, this Airbnb is full of windows that allow you to look out at the gorgeous surrounding forest and nearby river. Thanks to its reasonable size, this cabin offers two bedrooms with double beds and can accommodate up to four people. The rest of the cabin features a full bathroom, living area, two dining areas, and full kitchen. That's to say nothing of all the outside space around the cabin at your disposal.
To help you make the most of the outdoors here, this Airbnb comes with a two-person tandem kayak, canoe, and fishing poles that are free for guest use. Other amenities include a BBQ grill, fire pit, air-conditioning, and keypad entry.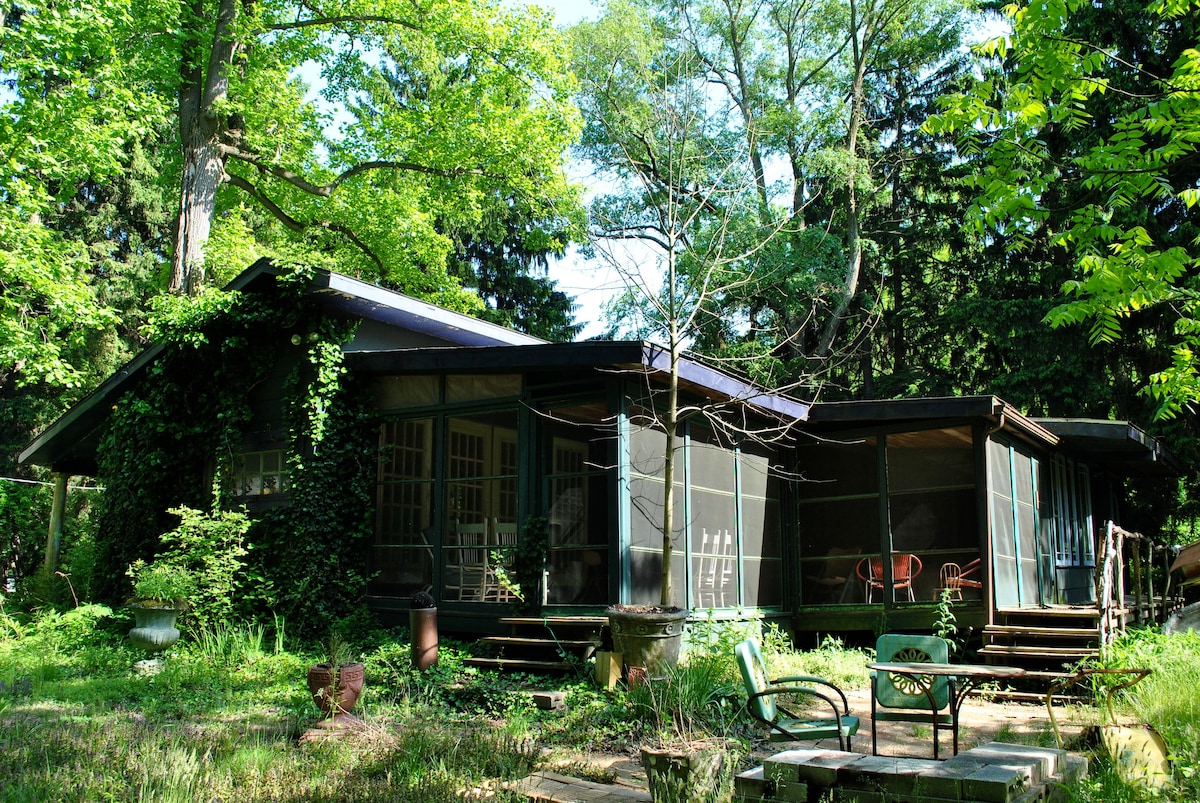 Floyd's Cottage in Lakeside, Michi
Of all the rental houses on Lake Michigan, it's hard to go past a gem like this wonderful cottage. Situated in the community of Lakeside, you're just a short walk to the beach on Lake Michigan, and Warren Dunes State Park is just a little ways up the road. While there are places to eat down near Union Pier, Sawyer is the nearest town with a variety of stores.
With this Airbnb on Lake Michigan, it's possible to fit up to six guests, although the cottage does have an odd configuration. One bedroom features two queen beds, the other a double bed, meaning it will probably best suit families rather than friends traveling together. Dogs are also welcome here with approval and there's a Pack 'n Play cot if you're bringing little ones.
What's nice about this cottage is that it has been furnished by a professional cabinet maker, superhost Floyd, adding to its traditional feel. Besides somewhere to sleep, this cottage offers a full kitchen, bathroom, cozy living area, pleasant dining area, and screen porch. On top of that, there's Wi-Fi, pay TV, air-conditioning, and an indoor fireplace.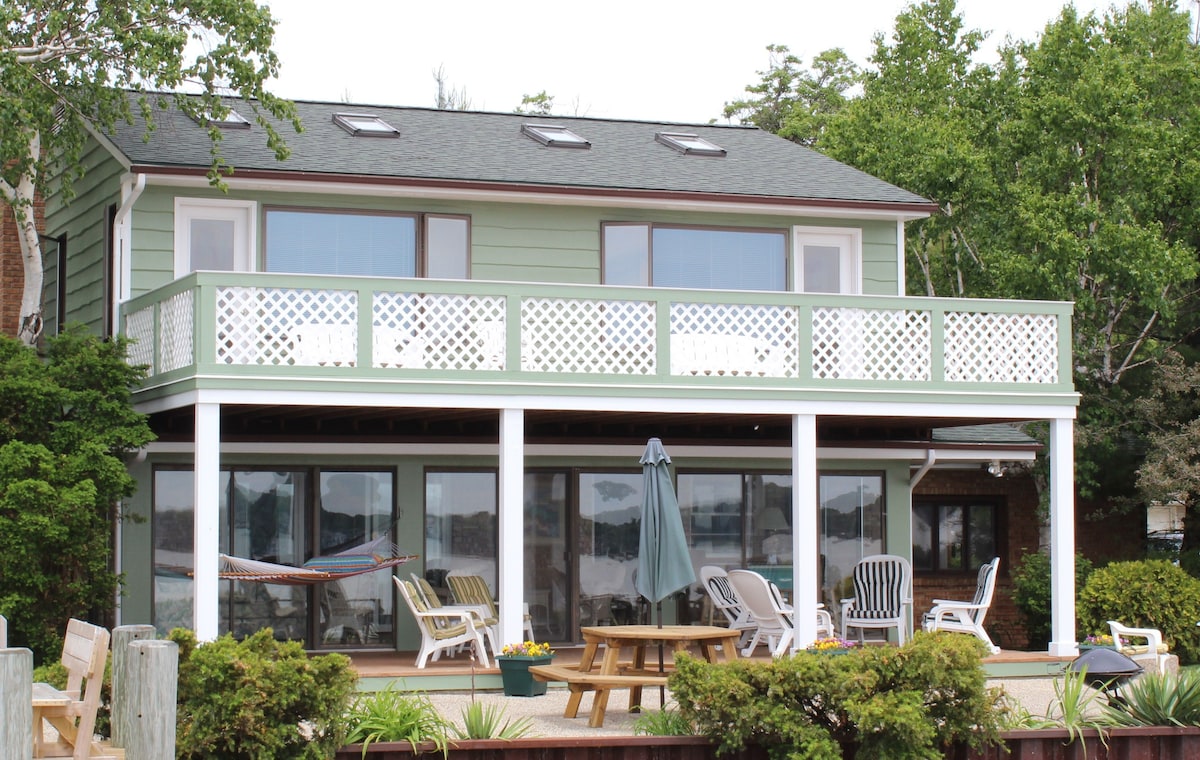 Macatawa Lake Side Cottage
In terms of lake houses for rent in Michigan, you'll be hard pressed to find any other places as large as this gorgeous cottage. Found by the shore of Lake Macatawa in Ottawa Beach, you've got super easy access to Lake Michigan, beaches, and other recreational space.
Staying at this gorgeous and enormous cottage really is a treat thanks to its immediate view of the lake with a little dock nearby. Bring your boat and you can step right out of your rental onto the boat and go for a cruise around Lake Michigan. With all the other popular activities here like swimming, jet skiing, and biking, you may not spend too much time in the cottage itself, but it's a great place to relax when you do.
Featuring four bedrooms, three full bathrooms, and the ability to sleep eleven people, you'll have a hard time filling this huge Airbnb. On top of all that, this immaculate cottage comes with a modern kitchen, laundry room, living room, sun room, back porch and multiple decks. Throw in several bikes to use, a BBQ grill, fire pit, and loads of modern amenities, and this couldn't be more perfect.
It seems, no matter what you're looking for in terms of accommodation, Airbnbs in Michigan are the way to go. Hopefully these suggestions will ensure you have a fun and memorable trip.