Resting in the beautiful Pacific Northwest, the state of Oregon is adored by tourists for its wilderness, coastline, and the quirky character you'll find in cities like Portland. This combination of attractions means that Oregon has a broad appeal for those looking to travel there. To suit that variety, you'll find vacation rentals in Oregon in all shapes and sizes, especially when you check on Airbnb.
This list of the best Airbnbs in Oregon covers a wide range of destinations and accommodation styles. In fact, the only thing these vacation apartments for rent in Oregon have in common is that they're operated by Airbnb superhosts. For the uninitiated, superhosts are owners who have consistently well-reviewed properties. You'll even find an Airbnb Plus on here as well, which is a property that has had its quality verified through an in-person inspection.
Beautiful Beach Front Studio Condo!
With a prime spot right by the beach, this Airbnb in Seaside Oregon is a great pick for your getaway. Located along the promenade of this small resort city, the beach is just steps away, while the shops and dining of downtown are about a 10 minute walk away.
You're sure to feel relaxed in this studio condo as you enjoy its fantastic ocean views. In fact, the condo actually brings that seaside feeling to you with its beach house decor, from the artwork on the walls to the pillows on the queen bed. And while it may not be the largest of the vacation rentals in Seaside, it's the perfect size for couples on a romantic getaway.
While getting to local restaurants isn't hard, you'll also have a kitchenette so you can cook for yourself. In it there's a stove top, microwave, fridge, and coffee maker. Additional amenities in this condo include Wi-Fi, cable TV, an infrared fireplace, and assorted beach gear. You'll also have access to a BBQ and patio out in the communal area of the property, not to mention free onsite parking and an EV charging station.
By-Wind-Sailor
Those after an Airbnb in Lincoln City Oregon that's both bright and cozy will want to keep this house in mind. Situated in the coastal neighborhood of Nelscott just south of downtown Lincoln City, this Airbnb is close to both the beach and a nice selection of local restaurants.
What makes this one of the best Oregon Airbnbs is how much value it manages to pack in. While it may look like a cabin, this Airbnb has more in common with tiny homes and the way they cleverly optimize their space. As such, you can actually fit six guests with ease, thanks to the bedroom with a queen bed, the sleeping loft with a queen bed, and a sofa bed in the living area.
But there's also space for a fully-equipped kitchen, complete with stove, oven, microwave, fridge, and dishwasher. What's more, this cabin is loaded with added extras like two cruiser bicycles and a private jacuzzi, not to mention the fire pit and swimming pool in the common recreation area of the development. Of course, there are also the more regular amenities like Wi-Fi, a smart TV with Netflix, and air-conditioning.
Spoil Yourself! Luxury Cabin on the Santiam River
Easily one of the best Airbnb rentals in Oregon, this luxury cabin is ideal for an escape to nature. Found on the banks of the Santiam river outside the city of Stayton, this cabin is best suited to guests looking to go swimming, kayaking, or fishing.
With the way this luxury cabin is set up, it's certainly a good fit for couples looking for a romantic getaway. The guesthouse features a comfortable king bed, a large soaker tub for two, and other romantic touches like candles and an ice bucket. Besides the sleeping area, there's also a living space centred around an indoor fireplace and a private deck with a hammock and heated blankets which looks out over the river.
It's important to recognize that this guesthouse is also quite practical. The kitchenette it has comes with a mini fridge, microwave, and coffee maker, while you have a private grill out on the deck to cook with. There are also some modern touches to this cabin like Wi-Fi, a smart TV with Netflix, fluffy robes, and air-conditioning.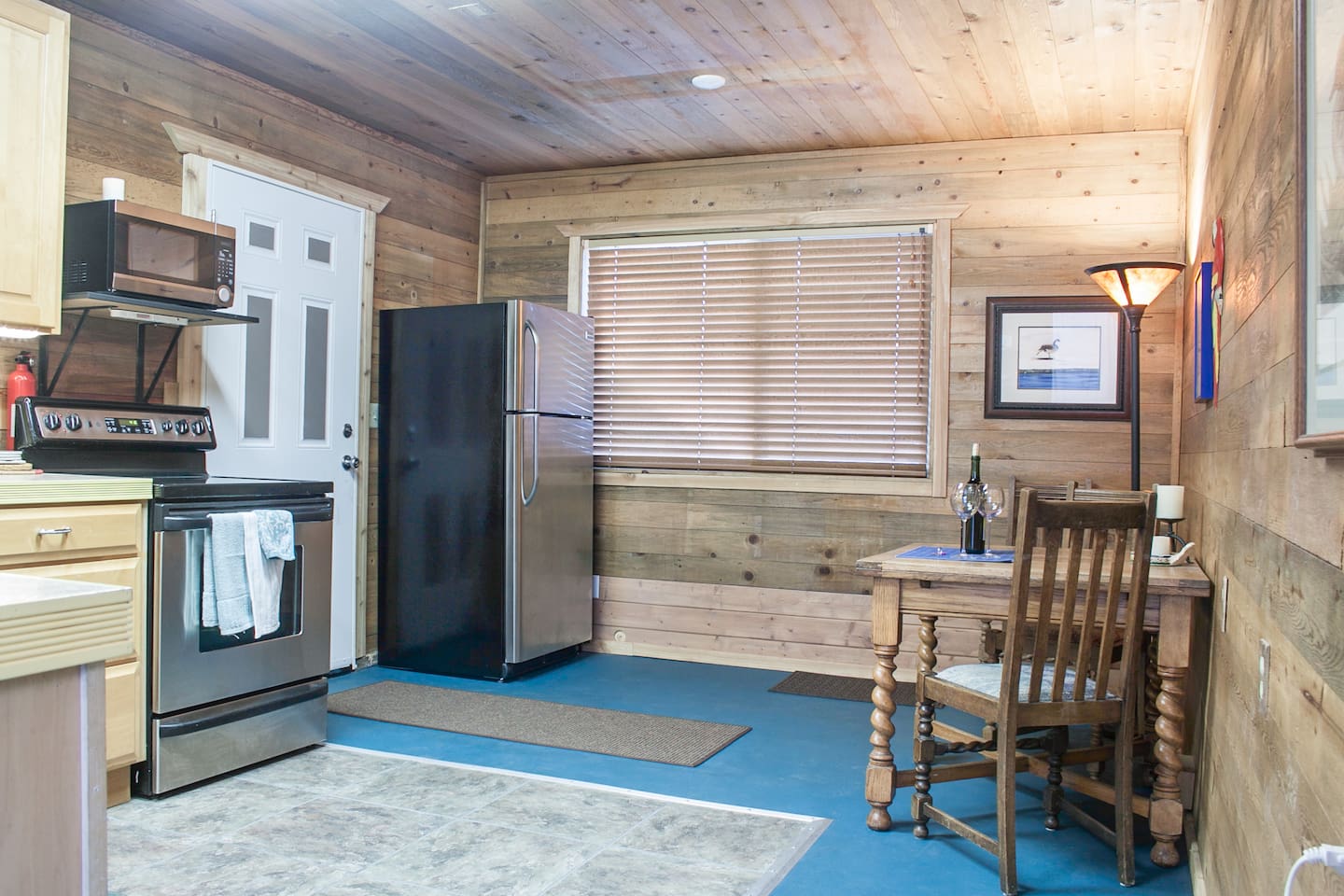 The Little House at DH w/ Hot Tub!
Travelers interested in renting an Airbnb in Bend Oregon should make sure to properly take a look at this great guesthouse. Located in a diverse neighborhood near Midtown Bend, this Airbnb is within walking distance of lots of restaurants and a local brewery.
This guesthouse is a cozy and quiet hideaway which offers fantastic value for those visiting Bend. It's able to sleep two people but provides some flexibility as it has a queen bed and a super comfy day bed in the little library, should you need it. Yes, this guesthouse actually has a little library and reading nook that's perfect for chilling out or napping. It really is the kind of Airbnb which you won't mind staying in.
What really makes this guesthouse suitable for longer stays though is the full kitchen with a range, microwave, fridge, and coffee maker. That said, the private hot tub on the deck doesn't hurt either. Other benefits of staying here include private parking for two cars, Wi-Fi, and air-conditioning.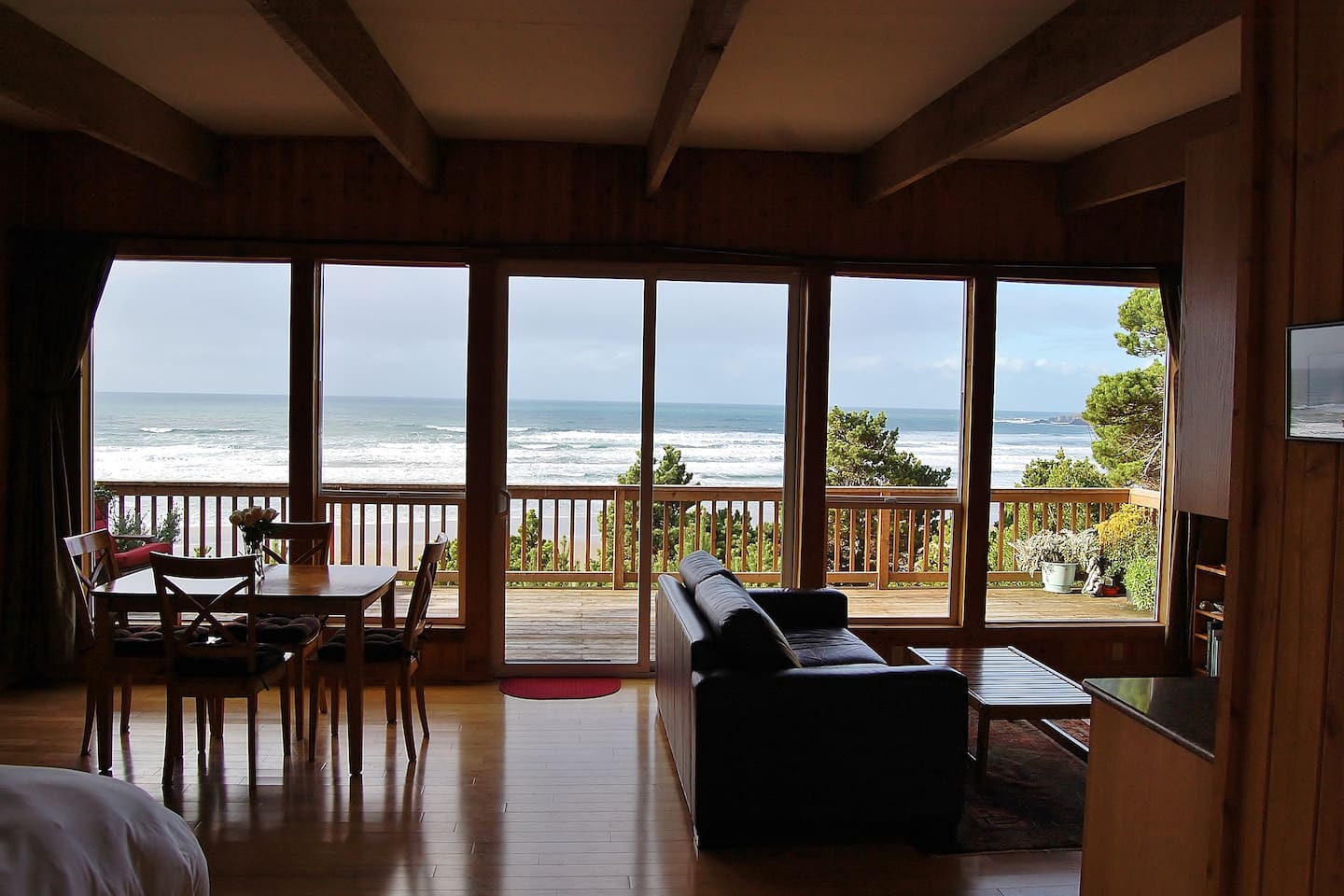 Oceanfront Cottage – Amazing Views!
For a relaxing stay at an Airbnb by the beach look no further than this wonderful cottage. Situated in a quiet part of Newport up near Agate Beach, here you have a peaceful spot by the water that's a quick drive from restaurants and downtown.
With a studio layout, this beach cottage may not be huge, but is exactly the right size for couples or solo travelers. Not that you'll be noticing the size of the cabin because your eyes will be glued to the wall of full-length windows and their ocean views. Inside you have a queen bed, a nice dining area, and a living space focused on a working wood stove. All of this is in a distinctly Scandinavian design with wooden floors, walls, and furnishings.
Another benefit of this cottage is its modern kitchen. In it you'll find a stove, oven, microwave, and fridge, making self-catering nice and easy. The cabin also comes with Wi-Fi, cable TV, and a spacious private deck for you to unwind on.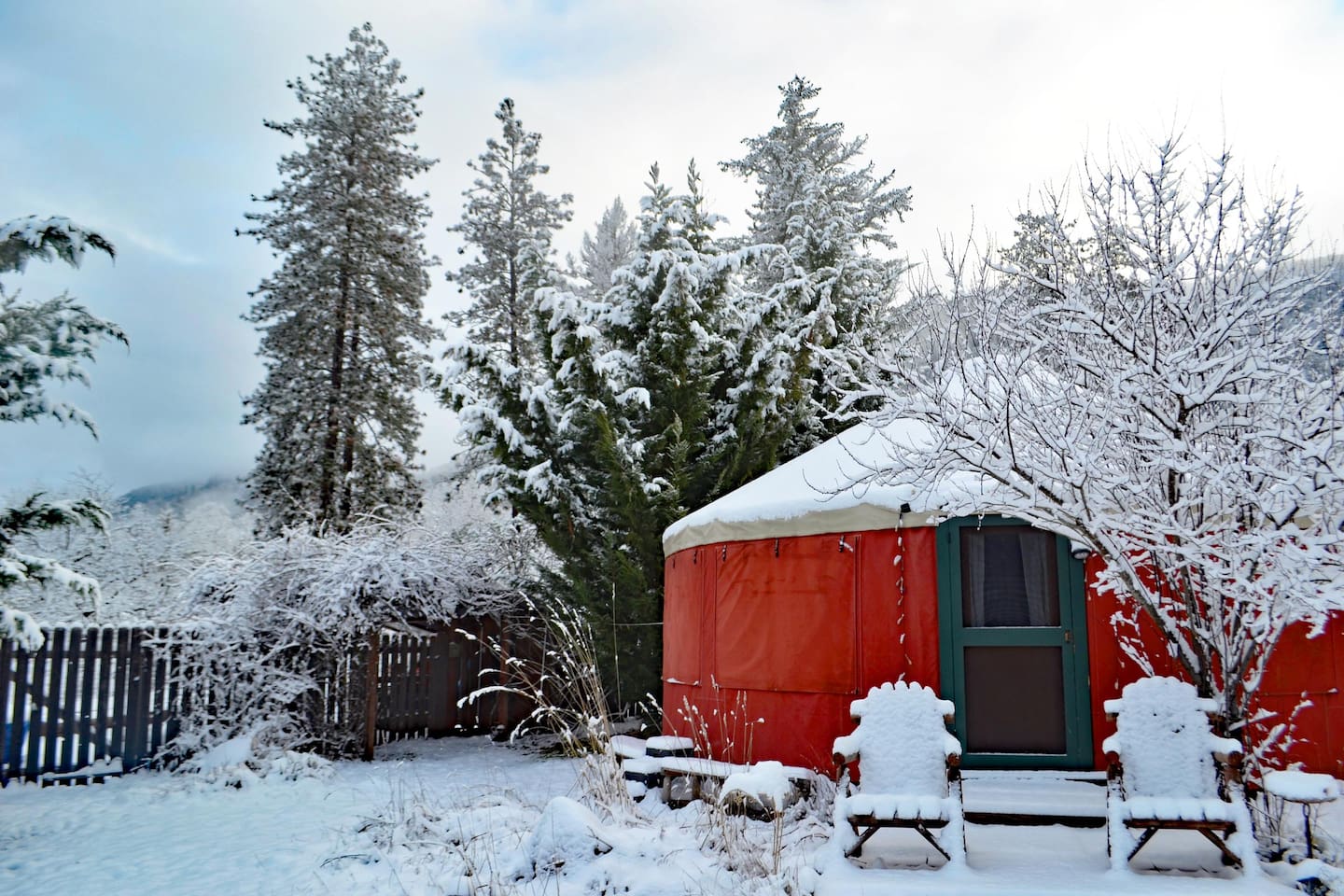 Sunset View Yurt of Applegate Valley with Hot Tub!
As far as Airbnbs in Oregon go, few come with as much character as this colorful yurt. This fantastic accommodation is found to the south of Grants Pass surrounded by a bunch of wineries on the Applegate Wine Trail. Staying here, you get to enjoy a semi-rural setting with easy access to the conveniences of a nearby city.
In case you're unfamiliar with yurts, they are simple nomad homes which originated in Mongolia. They have a single large space under a tent-like structure. But it's fair to say that this is no ordinary yurt, what with its vivid interior and comfy lounge space. The yurt is able to sleep up to four people, with a large king bed and sofa bed together in one space. Other than that, inside you also have a large dining table and a small kitchenette with a microwave, small refrigerator, and coffee maker.
Besides being maybe a fun, new experience, there are some real perks to staying at this yurt. One is the complimentary continental breakfast provided by superhost Kathleen, while the hot tub definitely also qualifies. Other things worth noting are that this Airbnb is 420 friendly and has amenities like air-conditioning and Wi-Fi.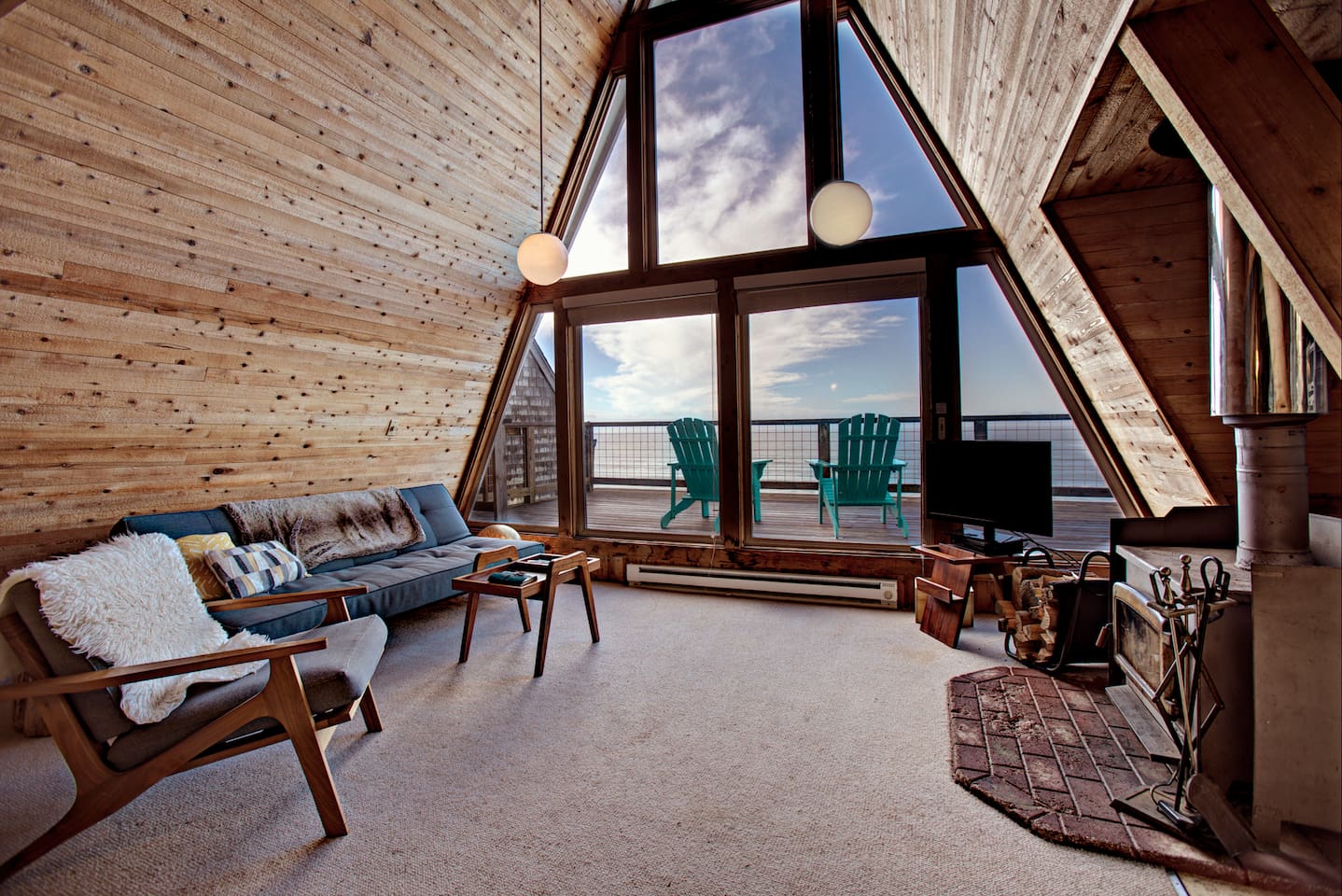 Oceanside A-Frame (Unit A)
Combining mountain cabin charms with seaside views, this Airbnb on the Oregon coast is an absolute delight. Located just two blocks from the center of Oceanside Village, you have easy access to everything in this sleepy coastal community.
Despite its cabin design, this Airbnb is actually quite spacious and full of creature comforts that will have you feeling right at home. The cabin features two bedrooms, with a queen bed in the upstairs loft room. In the downstairs bedroom there's a double bed and a roll-out twin trundle, providing some nice flexibility for family or friends staying here. Aside from the sleeping spaces, there's a huge living room with high ceilings and a fantastic large private deck with views of the ocean, Cape Meares and Cape Lookout.
To help make your stay enjoyable, the cabin features a kitchen equipped with a stove, oven, microwave, and refrigerator, plus a BBQ grill. As for comfort, there's a wood burning stove to keep you toasty during the colder months. Be sure to bring a book to read or board games to entertain yourself, as the cabin doesn't have much other than Wi-Fi.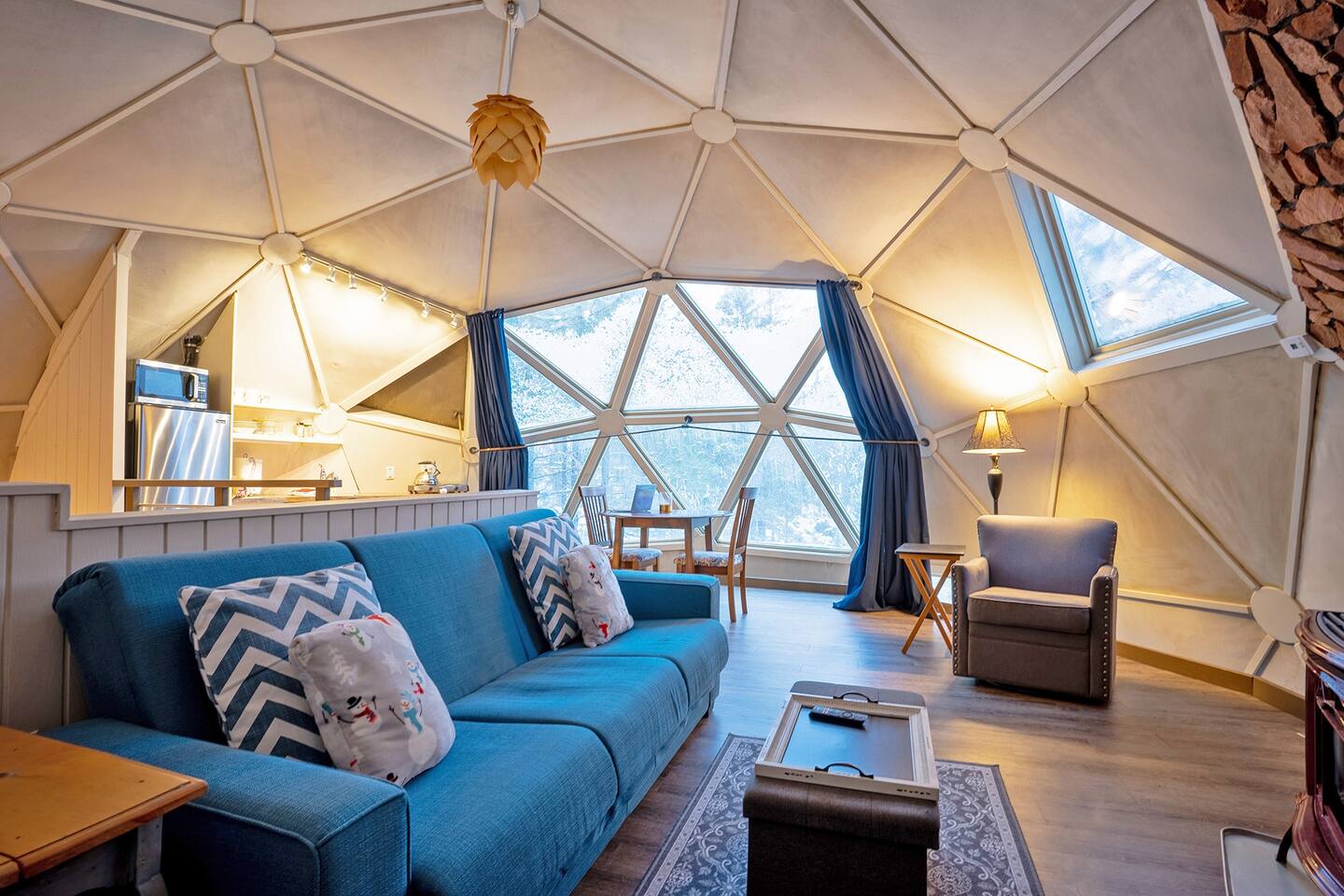 Dome Sweet Dome … A Must Experience!
While it certainly looks rustic from the outside, this Oregon Airbnb is remarkably modern on the inside. Situated in the neighborhood of First-on-the-Hill in the outer reaches of Bend, you'll be surrounded by ponderosa pines, hiking trails, and solitude. That said, you're really not far from the restaurants and supermarkets of Southern Crossing just up the road.
From the outside of this geodesic dome you might think that this Airbnb has quite a simple layout. But actually, it's quite clever in how it makes use of its space. There are two bedrooms here with a queen bed in the main bedroom and a single bed in the cozy den. However, there's also a sofa bed in the living area, meaning this dome can fit up to four people. And with its stylish living room and multiple outdoor spaces, you should find staying here extremely comfortable.
On the practical side of things, this dome features a handy kitchen which includes a stove, fridge, microwave, and dishwasher, while there's also a BBQ grill outside. Perhaps more impressive is that you also have access to a washer/dryer, making longer stays here quite viable. Finally, there are additional amenities like an indoor fireplace, air-conditioning, Wi-Fi, and TV that will really make you feel at home.
Mt Hood View Tiny House
If you don't require a lot of space from your Airbnb in Oregon, then this tiny house is an excellent pick. Found within the city limits of Sandy, this house is a short drive from the city's restaurants and stores, and around 30-40 minutes from Mt. Hood and Portland.
Designed to make the most of its views of Mt. Hood and the surrounding woods, this little cabin makes for a wonderful nature retreat. But it is indeed a tiny house with a studio layout, meaning it's best suited to couples or solo travelers. In its space you have a queen bed, a couch facing the windows' sweeping views, a small living space around an indoor fireplace, and a breakfast bar. It's all perfectly cozy and inviting.
While the tiny house is short on space, it does have enough room for an excellent full kitchen. With its stove, oven, microwave, fridge, and dishwasher, you should have no trouble self-catering here. Beyond that, this cabin is limited on modern luxuries, save for Wi-Fi and a keypad for self check-in.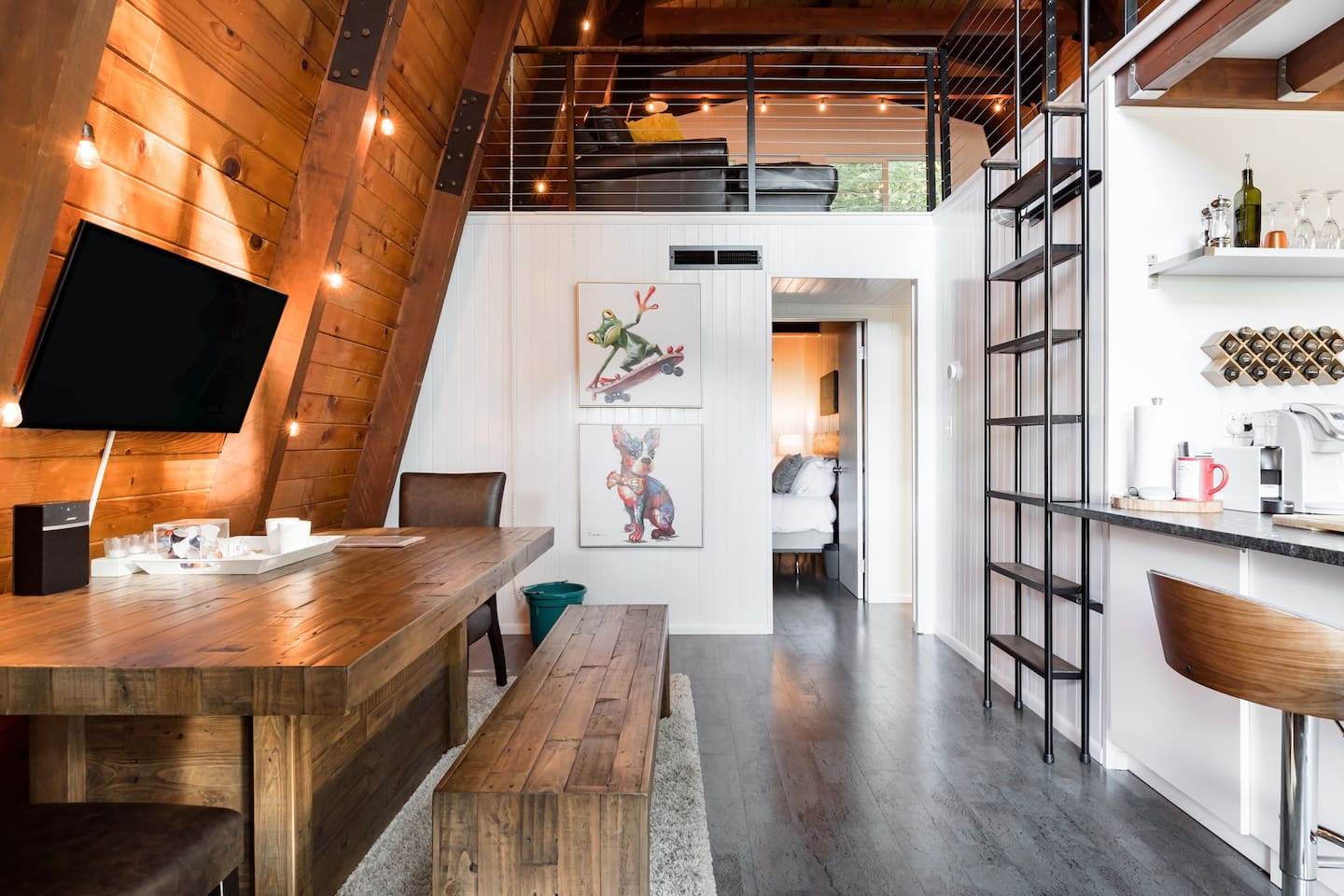 Tree-Top Lodge in the Hillside Overlooking Tenmile Lake
One of the more beautiful Oregon Airbnbs you can find is this charming lodge in the woods. Located among the hills just outside the small city of Lakeside, this Airbnb Plus enjoys views of Tenmile Lake and the surrounding countryside. Down in Lakeside you'll find a grocery store and a few restaurants that should meet your needs.
Staying here in this spacious chalet you can fit as many as eight people, which is considerably more than most Airbnbs. The cabin has two bedrooms, each with a queen bed, as well as couches and sofas in the living room and study. In fact, this cabin has loads of spaces for you to spend time together, with a big dining table for meals, a large balcony and even a fire pit. For something a little comfier, you can also relax out in the cabin's private hot tub.
Catering for larger groups shouldn't be a problem here, as the cabin comes with a fully-equipped kitchen and BBQ grill. The cabin is also loaded with modern amenities and facilities that range from useful like the washer/dryer and Amazon Echo, to entertaining like the high-speed Wi-Fi, gaming console, and multiple smart TVs.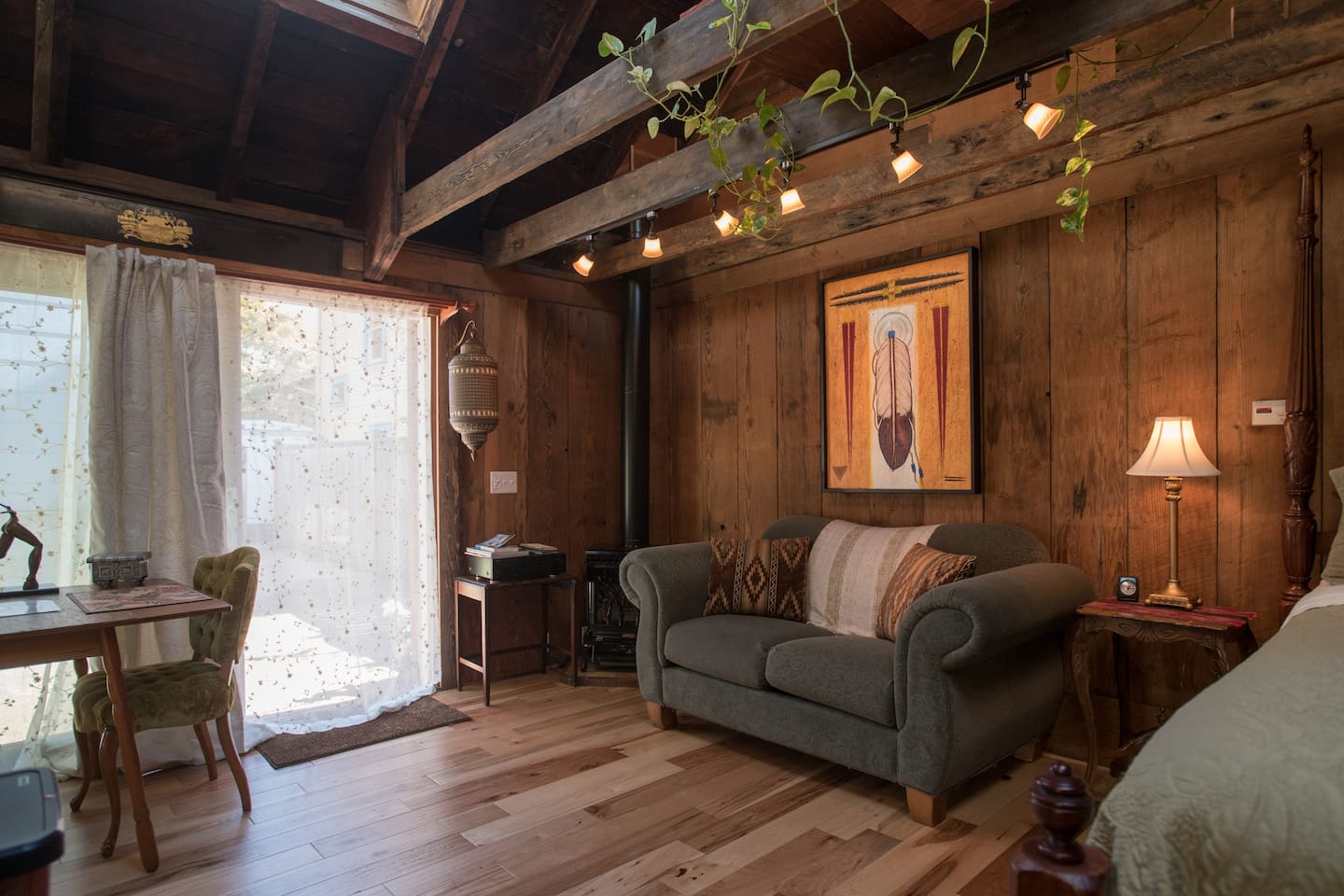 Magic Barn
To give a unique twist to your visit to Portland, choose this delightful barn as your accommodation. This Airbnb in Portland Oregon is in the neighborhood of Richmond, a lively part of town that's close to the wealth of restaurants, grocery stores, and boutiques along SE Hawthorne and SE Division St.
As its name suggests, this guesthouse is an old converted barn that was previously used as an art studio. Today it's a thoughtfully designed Airbnb that is particularly well-suited to families visiting the city. Inside there's a queen bed that sleeps two, as well as a floor mattress and crib, which is perfect for young families. Besides the portable crib, there are also other baby amenities like a baby bath and a high chair available upon request.
It should be said that this Airbnb will also work well for other types of travelers, especially since it's 420-friendly and close to several local dispensaries. Beyond the unit, guests also have access to the fantastic sculpture garden which is a space shared with another Airbnb and superhosts Todji, Gisele, And Hobie. Amenities include a standard kitchen, air-conditioning, Wi-Fi, and an indoor fireplace.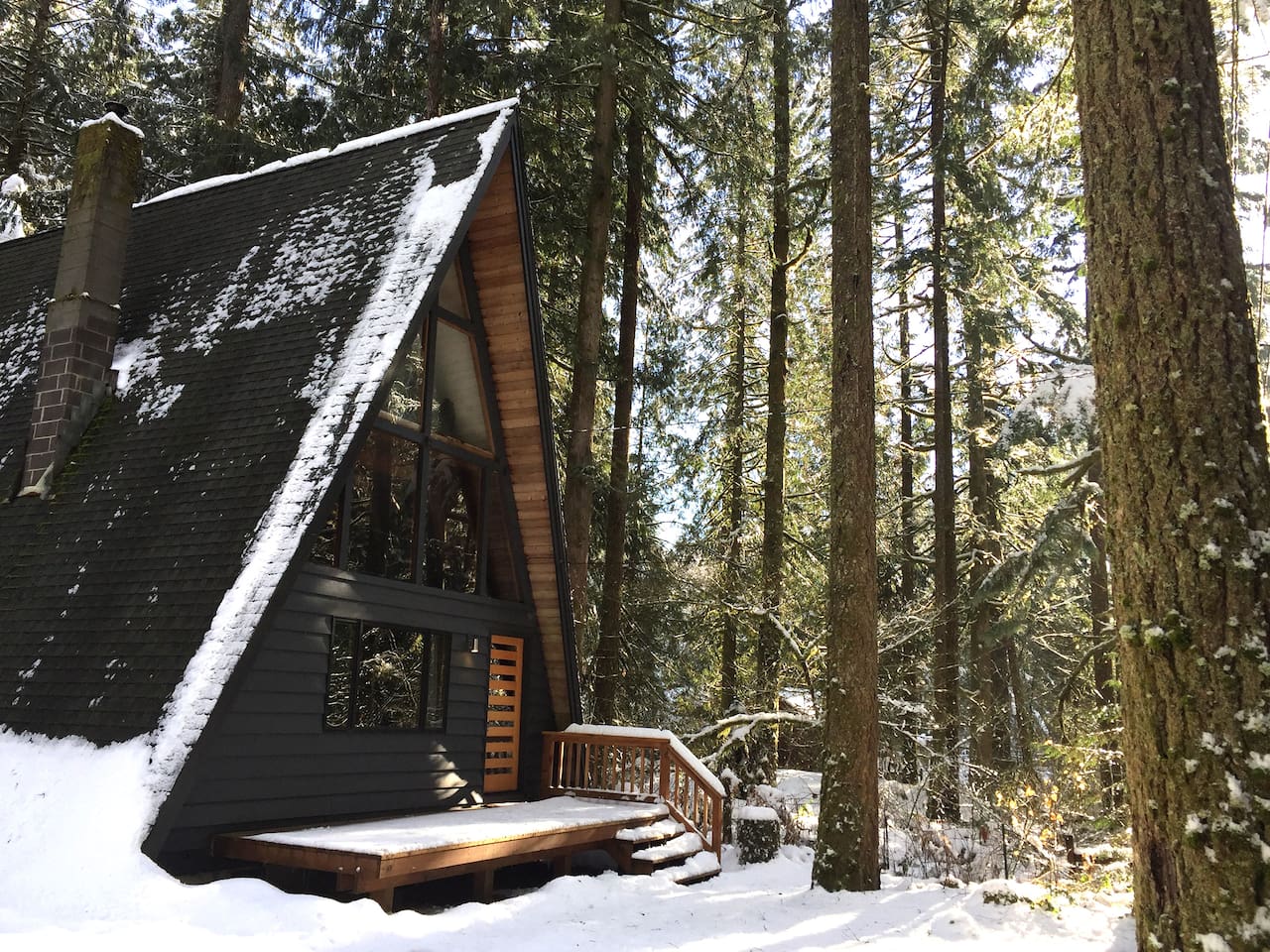 Rancho Relaxo – A Beautiful Mountain A-frame
You won't find many A-frame cabins in Oregon that are as nicely furnished as this one and still have a remote feel to them. Nor are you likely to find a cabin that's split over four different levels as this one is, allowing plenty of space for guests to relax.
This cabin sits on the edge of Mt. Hood National Forest near the many local hiking trails that carve through the wilderness here. Sitting between Mt. Hood Village and Rhododendron, you're never far from roadside restaurants and the like. Not that you'll necessarily need them, as this cabin comes with a well-equipped kitchen, including a stove, oven, fridge, and coffee machine.
Made to sleep four, this cabin has two bedrooms, each with a queen bed. Other spaces include the dining room and living room on the ground floor and a cozy reading nook on the third floor. Now, while there is no TV here, there are distractions like a little library, a horse-shoe pit, games, and Wi-Fi. Other amenities include a washer/dryer, air-conditioning, and an indoor fireplace.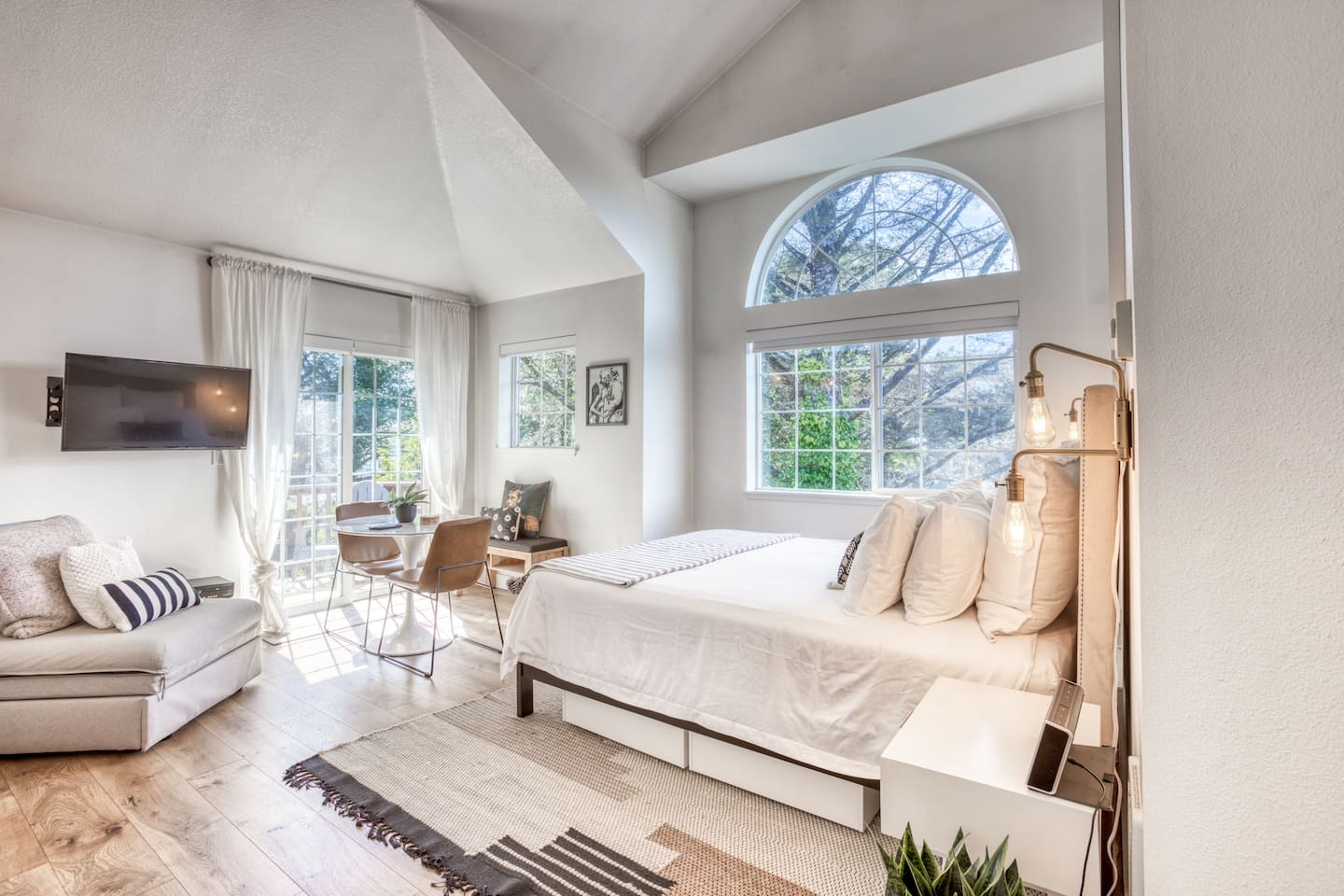 Sunny Studio With Private Deck and Netflix Streaming, 500 ft. to the Beach!
This sunny and stylish vacation rental in Cannon Beach is a great choice if you want some home comforts during your trip. Found at the southern end of Cannon Beach in the quiet community of Tolovana Park, you're close to the beach but still away from the busiest parts of this popular beach town.
Filled with natural light, few short term apartment rentals in Oregon manage to provide a homely feeling quite like this one. Featuring a studio layout, this Airbnb sleeps just two in its queen bed. Beyond its sleeping space, there's also a dining nook and a sitting area to eat and relax in. Through large glass doors you have a private deck with chairs and a BBQ grill.
Due to its limited space, there's only enough room in the condo for a kitchenette. That said, it still has a microwave, oven, and stove, making it quite handy for simple meals. Extra benefits of staying here include free on-site parking, Wi-Fi, a smart TV, and an indoor fireplace.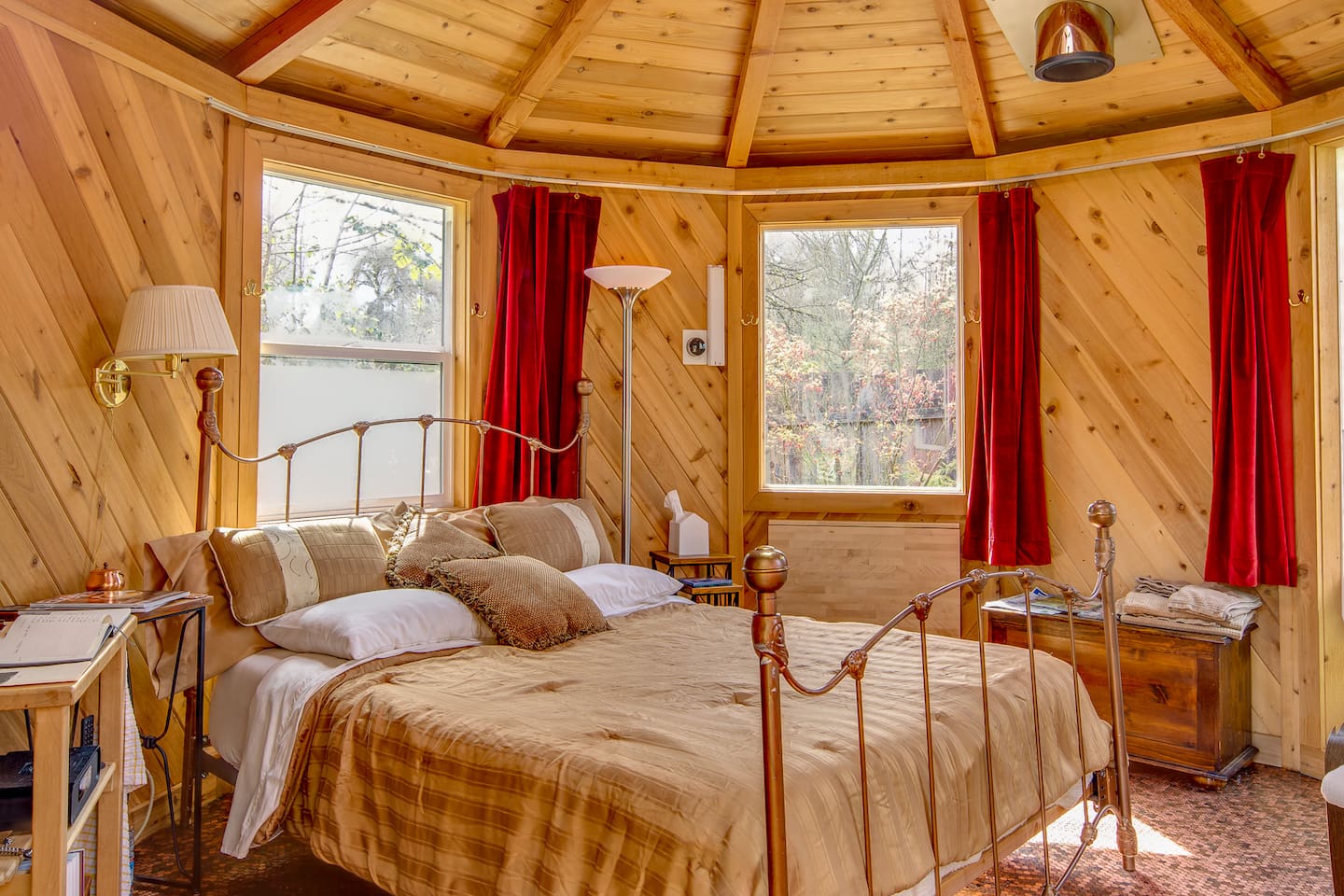 Private Oregon Roundhouse … Not in a Box!
Another minimalist option available when traveling around the state is this tiny house Airbnb in Eugene Oregon. Located in southeast Eugene, it's not far to both the University of Oregon and downtown Eugene, and there are plenty of restaurants and health clubs nearby.
This little cabin, sitting in the yard of superhost Don's home, is a great option if you're after something a little different for your next trip. Made of cedar and glass, this tiny house is just large enough to fit a queen-sized bed with memory foam, a small table, and a chair and that's it. To improve the comfort of the cabin though, it does have heating, cooling, and room-darkening curtains for privacy and sleeping in.
What the cabin lacks inside, it makes up for outside. The bathroom is at the back of the main house a short walk away. Then there's the outdoor kitchen which has a fridge, microwave, coffee pot, and toaster oven for making breakfast. And actually, it's also possible to access Don's kitchen and laundry should you need it. However, the roundhouse does have its own Wi-Fi, so there's no need to head over for that as well.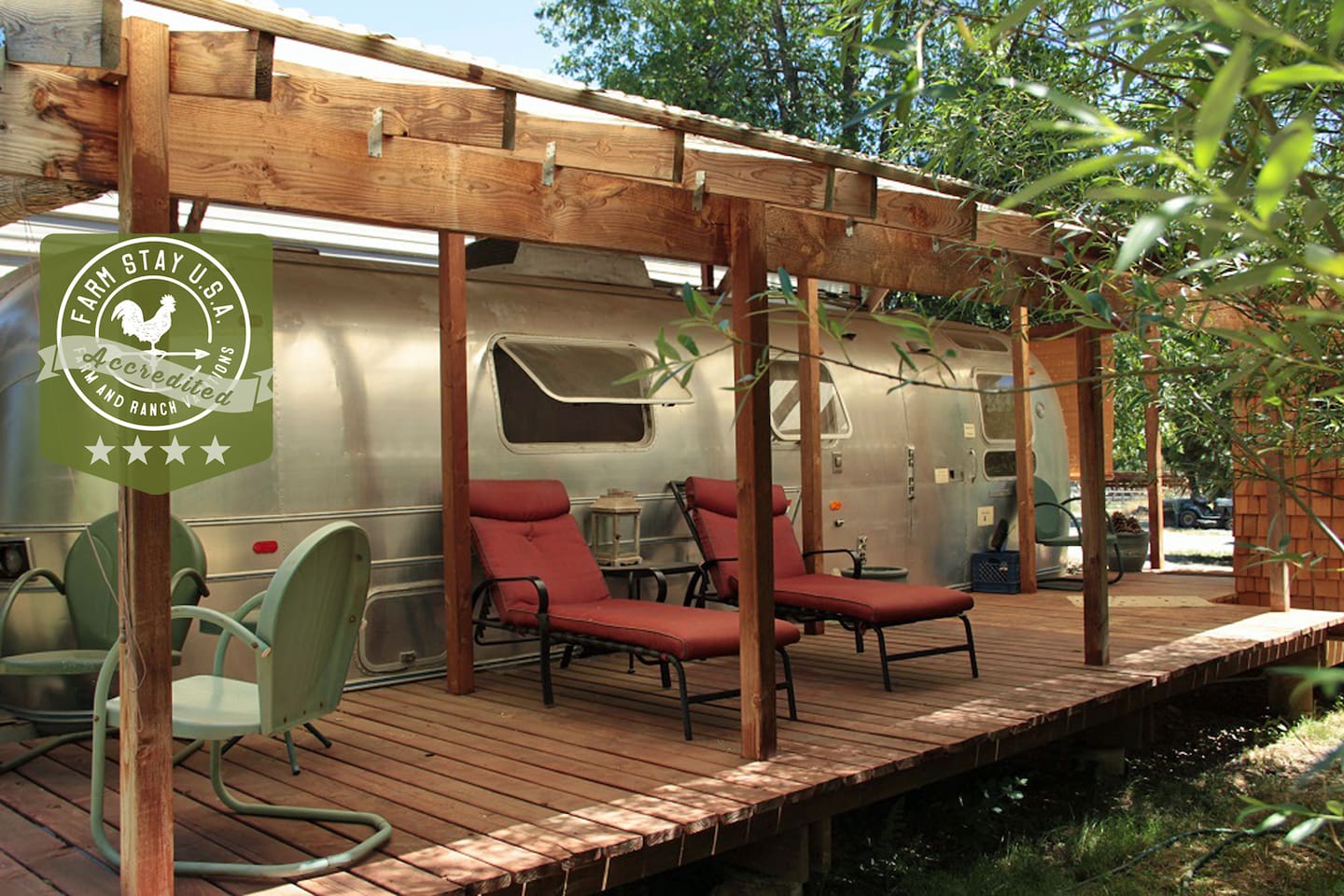 Off-the-Grid Retro Airstream at Pholia Goat Farm
Farm stays are a great way to add a different energy to your vacation, and there are quite a few Oregon Airbnbs like this one that make the concept super easy. Situated around 9 miles from the town of Rogue River, you're well off the beaten path here.
Staying in this converted Airstream you'll not only get somewhere to stay, but also have the chance to experience farm life as well. Guests can tag along with superhost Gianaclis for the midday "goat walk" or even try their hand at milking the farm's goats. Otherwise, pass the time by chilling out on the deck or taking a snooze in the hammock.
Inside this solar-powered Airstream you'll find a queen bed and a twin bed, sleeping up to three. Other than that, there's a small dining area and the galley kitchen, with stocked cupboards, a fridge, stove, and gas grill. While there is a composting toilet in the RV, you'll also have a real bathroom in the main building with hot water. As for modern creature comforts in this off-the-grid camper, there's really just Wi-Fi.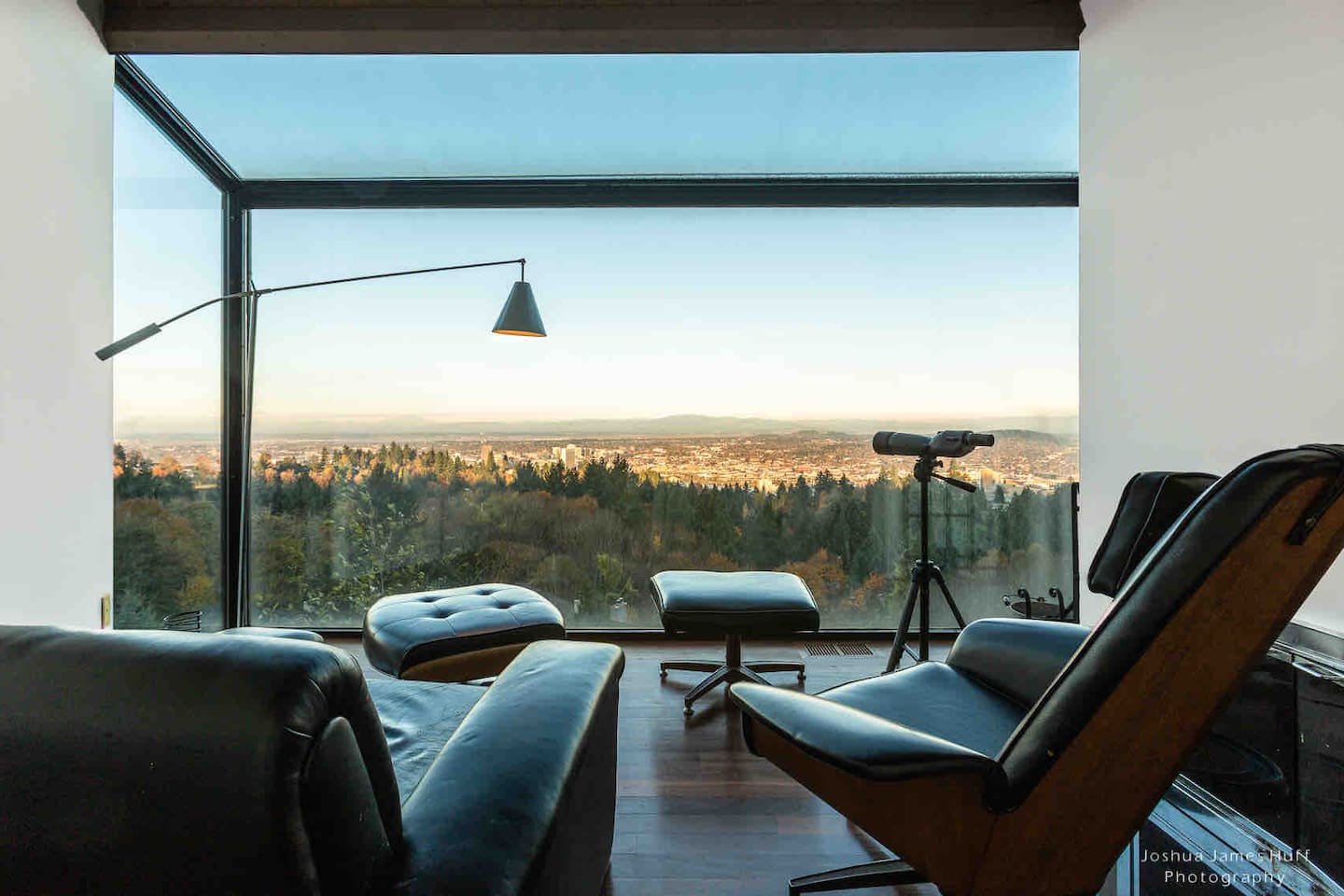 Bonus: Saul Zaik Treehouse!
Sleeping in a treehouse is a dream for many outdoorsy types, and this Oregon treehouse Airbnb can make that dream a reality. Found among the Southwest Hills of Portland by Marquam Nature Park, you're close to hiking trails and within three miles of Downtown Portland.
Staying at this treehouse Airbnb in Oregon, you'll be sharing the home of superhost Lance. In your private room you'll enjoy a big queen bed, a mini deck and the incredible views that make this Airbnb so popular. The room is actually located on the lower level of the treehouse, meaning you have a separate space to yourself that includes a sitting room and private bathroom. What more could you need?
Other things worth knowing about this Airbnb are that it has street parking, a shared laundry room and is 420-friendly. You'll also have amenities like Wi-Fi and air-conditioning at your disposal.
Clearly, there are plenty of interesting and charming Airbnbs in Oregon for you to choose from when planning a vacation there. Regardless of how you want to do your trip, one of these places will surely enhance the experience.