Oslo is a fascinating blend of modern and historic character expressed through everything from its architecture to its food. The city is just the beginning of what Norway has to show visitors, and day trips from their are the perfect way to explore that corner of the country. While there are plenty of places to visit, there aren't all that many day tours from Oslo available. This means if you want to explore the best places to visit from Oslo you're going to need to organize it yourself. No matter how you get there, these are the best day trips from Oslo.
How to Get Around
Although you can make many of these day trips with public transport, consider renting a car for the day to give yourself more flexibility and independence. With your own four wheels, you control your time and schedule; depending on how many people are in your group, renting a car might even work out to be cheaper than other forms of transportation. You can compare car rental deals and find the lowest prices at Rentalcars.com, an aggregation site that searches and displays prices and availability from hundreds of car rental companies so that you can get the best possible car for your budget.
Don't want to drive or deal with the hassle of public transport? No worries! We've listed the best tour for each day trip (where available).
1. Lillehammer
Possibly best known as the host of the 1994 Winter Olympics, Lillehammer also happens to be one of the best places to visit in Norway. With its connection to the Winter Olympics, it makes sense that Lillehammer is a ski resort town. You can see the old Olympic facilities like the Lysgårdsbakkene Ski Jump, the Olympic Bobsleigh, and Luge Track, or learn more about the 1994 Winter Games at the Norwegian Olympic Museum. Beyond that, the highlight of Lillehammer is the Maihaugen open-air museum. Strolling through Maihaugen you can see traditional Norweigan homes from all walks of life, some of which date back to the 13th century. Go and enjoy the small-town atmosphere as a break from big-city Oslo.
Getting there: Hourly trains make the 2 hour journey from Oslo to Lillehammer and with few tours available, public transport is your best bet.
2. Fredrikstad
When it comes to classic Oslo day trips, it's hard to pass up the adorable, historic city of Fredrikstad. Visits to Fredrikstad are typically focused around the city's impressive fortified Old Town, Gamlebyen, which is the perfect place to start. Built by King Frederik II in 1567, the Old Town has been impeccably preserved and still has hundreds of residents who live within its fortifications. Other old city fortifications worth the walk include Kongsten Fort and the island fort of Isegran. For those travelling with children, a trip to the Old Town Model Train Center is also certainly worth considering. Those interested in history should pay a visit to the Fredrikstad Museum as well as Roald Amundsen's birthplace where you can learn about the Antarctic explorer.
Getting there: There are hourly trains that take 1 hour 10 minutes to get from Oslo to Fredrikstad.
3. Tønsberg
Those interested in history won't want to miss the chance to explore Tønsberg, the oldest city in Norway. Many of the city's attractions focus on the Vikings who founded it. Begin with a stroll along the Brygga, Tønsberg's picturesque harbor waterfront. There you can admire the replica of the famed Oseberg Viking ship that was found in a burial mound in Tønsberg and is now on display in Oslo's Viking Ship Museum. The city also boasts Scandinavia's largest ruin site at the hilltop Slottsfjell, where a large 13th-century castle once stood. Back in the town center you can stop at the Haugar Art Museum which showcases contemporary regional art.
Getting there: One of the most popular and easy train trips from Oslo, Tønsberg is just 1 hour 15 minutes from the city by train.
4. Drøbak & Oscarsborg
Just a short trip from Oslo, there are few harbor towns in southern Norway as pretty as Drøbak. Lying along the Oslofjord, what Drøbak lacks in size it makes up for in quaint charm. The town is now dressed up as a year-round Christmas village. That means Christmas decorations in windows and even a Santa Post Office. The other big draw of Drøbak is that it's just a short boat ride from the Oscarsborg fortress. Positioned on two islets, this WWII fortress delayed the German invasion in 1940 by sinking the heavy cruiser Blücher. On a visit there you'll see the military batteries still stationed on the island, as well as the peaceful nature that covers the rest of the islets.
Getting there: It is possible to reach Drøbak from Oslo by regular bus which takes 40 minutes. However, in warmer months it's also possible to take a 1 ½ hour ferry ride along the Oslofjord to Drøbak which stops at other small harbors along the way.
5. Lake Mjøsa
If you're looking to explore some of Norway's nature, one of the best things to see in Norway outside of Oslo is Lake Mjøsa. Mjøsa is Norway's largest lake and as such there is plenty of waterfront to discover. One of the most popular ways to see the lake is to take a paddlesteamer like the Skibladner from Gjøvik. Other boats depart from Hamar and Lillehammer. On land, Hamar has a number of city sights to see such as the Cathedral ruins, the Atlungstad Distillery, and the Norweigan Railway Museum. In terms of nature spots, the views from the top of Skreikampen mountain are tough to beat.
Getting there: Hourly trains depart from Oslo stopping at various villages along the lake's eastern shore: Langset, Espa, and Hamar. The journey will take up to 1 hour 15 minutes depending on where you get off. Regular trains also go to Gjøvik on the western shore, but the town is 2 hours away.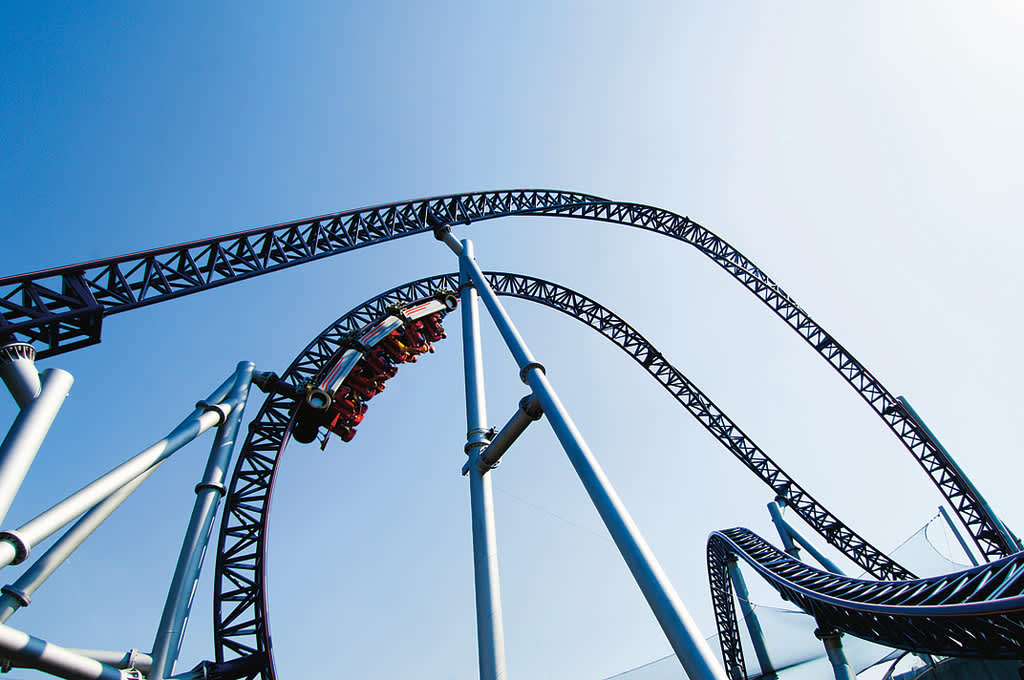 6. TusenFryd Amusement Park
For a fun change of pace, why not consider spending the day at TusenFryd Amusement Park, one of the best side trips from Oslo. This is the largest amusement park in the country, boasting well over 30 attractions and rides that will suit all types of visitors. Rides range from gentle fun perfect for kids, to the more intense attractions like the dizzying SpinSpider carousel and the Speedmonster roller coaster. Some rides have a bit of Norweigan flavor to them, like the Ragnarok raft ride and the Thors Hammer 4D experience. To mix things up, there are performances by the Burnout Stuntshow, as well as the BadeFryd water park in summer.
Getting there: There is a local bus line that takes 30 minutes to reach TusenFryd Amusement Park from Oslo.
7. Hadeland Glassverk
Another day trip from Oslo that's a little different, is to the historic Hadeland Glassworks. Located in the pretty little village of Jevnaker, by the shores of Randsfjorden Lake, this glass works has been in operation since 1762. At the Glasshytta glassblowing studio you can watch glass blowers still employing traditional methods in their craft. There's also the Glass Museum, showing off glass creations from the last 250 years. Of course you'll have plenty of time to browse and shop as well, if you're still looking for the right souvenir. You could even try your hand at making your own souvenir at the Glass Hut, personally customizing it with a sandblasting machine.
Getting there: There are different combinations of buses and trains that allow you to get to Hadeland Glassworks in around 1 hour 40 minutes.
8. Karlstad, Sweden
Oslo sits close to Norway's border with Sweden, so one option you have is to pop over the border for the day and visit the city of Karlstad. The picturesque city sits on the Klarälven River as it flows into the enormous Lake Vänern. Begin your visit at Stora Torget and take a walk through the city center to admire its mix of classic and modern architecture. Along the way, stop in at the Karlstad Cathedral to see its ornate chandelier. Be sure to visit the Värmlands Museum, a museum with a comprehensive collection of regional art and culture, housed inside a historic building inspired by the architecture of Chinese temples. You can also learn a little about Sweden's Cold War history with a trip to the Brigadmuseum.
Getting there: Your best option to get from Oslo to Karlstad for the day is to take either the bus or train. Both options run about 3 hours, each with limited departures.
9. Kongsberg
It may not receive too much attention from tourists to Norway, but the town of Kongsberg makes for an interesting day trip destination. At the core of Kongsberg's appeal is that it was once the sole source of Norway's silver. At the Norwegian Mining Museum you can learn about the centuries of silver mining for the kingdom that took place as well as the history of the Royal Norweigan Mint. You'll also see one of the largest collections of raw silver in the world while you're there. For those that aren't claustrophobic, it's possible to venture down into the Kongsberg Silver Mines during the summer months when tours are available, but be warned, it gets chilly down there.
Getting there: Getting from Oslo to Kongsberg is easy thanks to hourly trains that get you there in 1 hour 15 minutes.
10. Bærums Verk
Last but not least is the cute little village of Bærums Verk which sits just beyond the city limits of Oslo. For much of its life, Bærums Verk was known for its ironworks, but those days are now in its past. After the foundry shut down, it wasn't until 1997 that the village found new life as a modern shopping complex. Many of the historic buildings have been repurposed into shops, galleries, and restaurants, making it a perfect place for a day of retail therapy. In terms of attractions, you'll find the Bærums Verk Oven Museum, featuring ovens made from the old foundry, and the Sculpture Park with a collection of sculptures crafter by famous Norweigan artists.
Getting there: Frequent buses make the 35 minute trip out to Bærums Verk from Oslo but it's also possible to use a combination of subway and bus to get there.
That sums up your best options for convenient and entertaining day trips while in Oslo. All that's left now is to decide which ones best suit you and your Norway trip.