Whether you love art, history, food, shopping, or photography, Florence has a variety of places which will make your jaw drop. If there is any downside to Florence, it's that it can get costly. To help you stay on budget while still enjoying the best of the city, we have compiled a list of the best hostels in Florence for you below.
Quick Answer: The Best Florence Hostels
PLUS Florence
With all of the amenities it offers, PLUS Florence is like a hotel with a hostel price tag. Guests love starting their morning with the buffet breakfast which has both hot and cold options on offer. If you have any questions before you head out into Florence, there's a travel desk where the staff will help you book tours in and around Florence. When it's time to eat, there's a restaurant, café, and bar on-site. For those just looking to relax, PLUS Florence has an indoor and outdoor pool, a sauna, a Turkish bath, and a panoramic terrace. All rooms have ensuite bathrooms; private rooms can sleep up to three while dorms can sleep up to eight. Sitting near the Santa Maria Novella train station, you'll be within walking distance to the city and all of the attractions on your Florence bucket list. For a luxury hostel experience in one of Italy's greatest cities, go with PLUS Florence.
Check Prices on Hostelworld Check Prices on Booking.com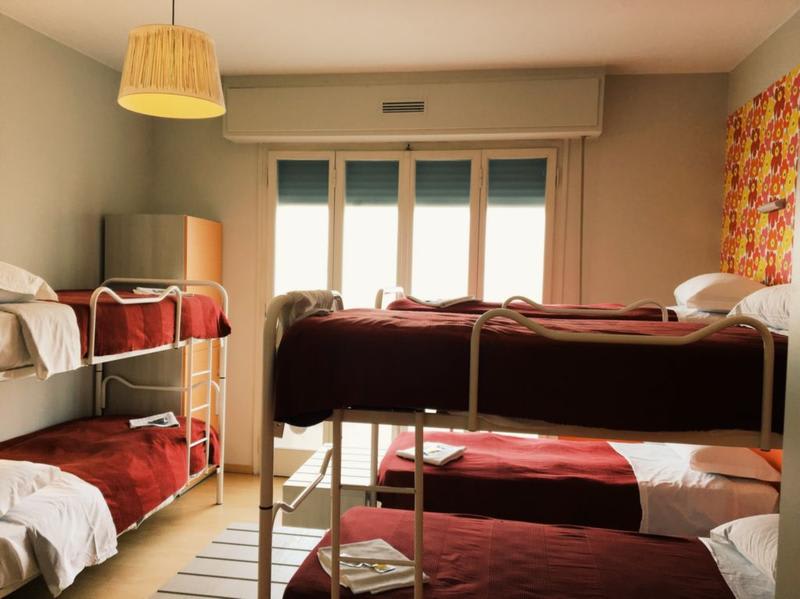 Hostel Gallo d'Oro
One of the reasons Hostel Gallo d'Oro is such a beloved hostel is because of the three different buffets each day. The day begins with a breakfast buffet and is followed by a buffet of snacks then a dinner buffet – and the best part is they're all free! The chef cooks up everything from pasta and sandwiches to homemade cakes and Italian coffee. The rooms are bright and inviting, and have either four or six beds, some also have private bathrooms. All beds come with towels, linens, and a reading light so you can catch up on your favorite books. Hostel Gallo d'Oro is located only a block from Piazza Della Libertà, a five-minute walk to the Galleria dell'Accademia which houses Michelangelo's world-renowned David statue, and about a 20 minute walk from the train station. For a peaceful and friendly environment during your time in Florence, Hostel Gallo d'Oro where Sonia and the staff want guests to feel right at home, is a great choice.
Check Prices on Hostelworld Check Prices on Booking.com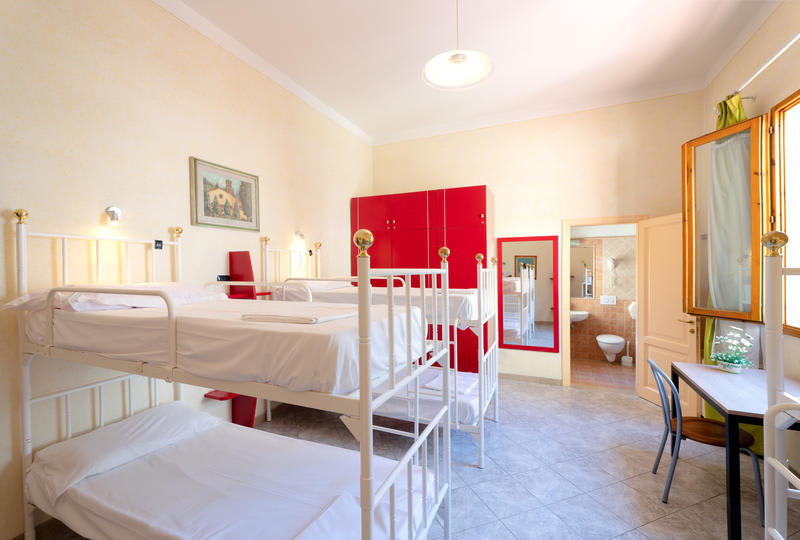 Archi Rossi Hostel
Archi Rossi Hostel perfectly combines artistic flair and a fun atmosphere. Marco and Leonardo are the receptionists and are experts on the hostel and the city. Private rooms have between one and four beds and ensuite bathrooms while dorms range from four to nine beds, some have ensuite bathrooms. This family-friendly hostel has something for everyone. Kids have a playground they can enjoy while adults can take advantage of everything from the spa and wellness center to the hot tub. The water in Florence is great to drink, but it's not always free. Archi Rossi Hostel is nice enough to provide a cold and hot water dispenser, so be sure you bring your water bottle with you to stay hydrated and so you don't have to pay for water. Only three minutes from the train station, it'll be easy for you to get anywhere in the city from here, or to transfer to other popular Italian cities. Whether you're traveling solo or with a group, Archi Rossi Hostel is sure to enhance your stay in Florence.
Check Prices on Hostelworld Check Prices on Booking.com
Hostel 7 Santi
Located in a gorgeous 19th-century convent, Hostel 7 Santi is right near the Artemio Franchi soccer stadium. This is an ideal hostel for groups as there are 190 beds. There are both private rooms with ensuite bathrooms, and dorm rooms, and they even allow pets into the private rooms. The dorms are bright and welcoming, and can sleep up to ten people in bunk beds. They offer a top of the line catering service which handles their buffet breakfast and dinner and drink buffet. Dietary preferences are able to be accommodated as they offer vegetarian and vegan options, so if you're doing Florence gluten-free, then be sure to let the staff know in advance. In addition to the restaurant, there's also an outdoor bar. For a serene hostel at a great price, don't pass up Hostel 7 Santi.
Check Prices on Hostelworld Check Prices on Booking.com
Hostel Santa Monaca
One of Florence's oldest hostels, Santa Monaca is located in a 15th-century convent in the San Frediano district. With dorms holding anywhere from 4 to 18 beds as well as private twin and double rooms, the room options mean this is a perfect hostel for everyone from couples to those on adventures backpacking through Florence with friends. It's easy to make friends here as there is a fully-equipped kitchen along with a dining room which seats 100. Next door there's an auditorium in a former church, and if you're in town on the right day there may be a music event to enjoy. Ida and Giuliano have set out to make your hostel experience truly special, so if you want to stay somewhere that feels like your home away from home in Florence, they're more than happy to welcome you to Hostel Santa Monaca.
Check Prices on Hostelworld Check Prices on Booking.com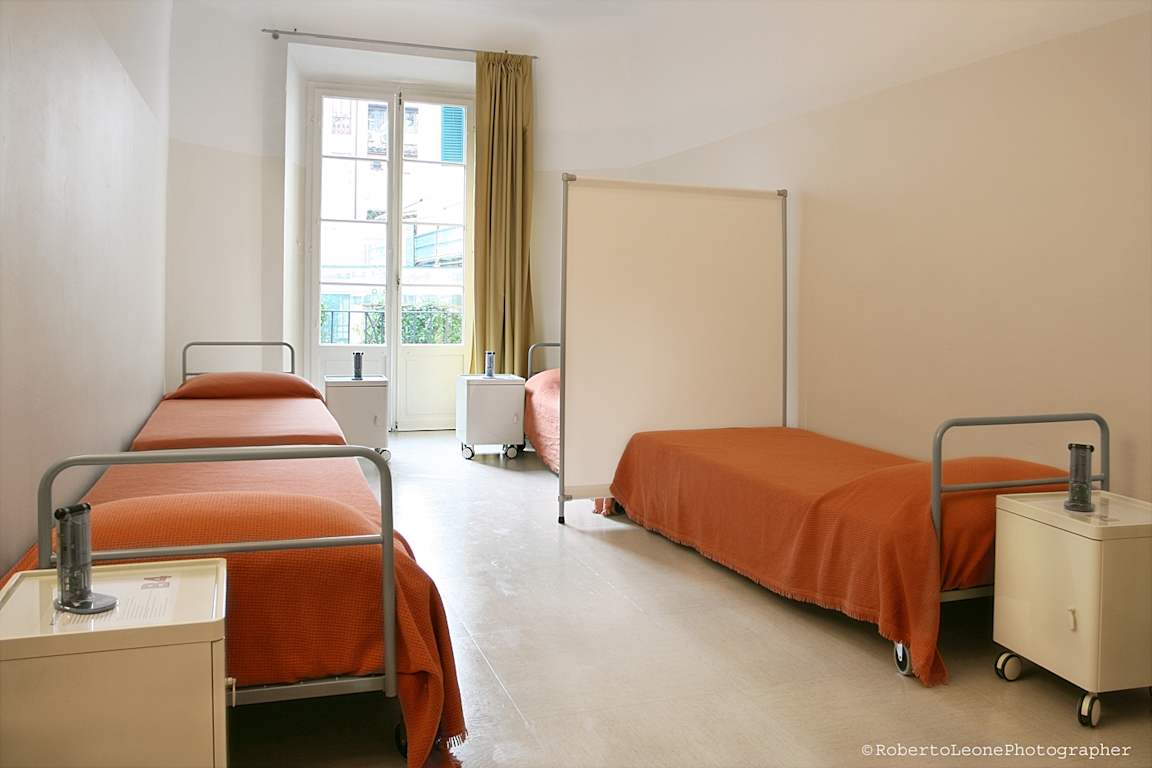 Academy Hostel
There's a lot to love in the Tuscan capital, but it can be hard to see it all in one trip. Even if you're only spending three days in Florence, Academy Hostel puts you in the perfect place to be able to maximize your time in the city. You'll be less than 300 feet from the Duomo, on the street that leads to the Galleria dell'Accademia, and less than ten minutes from one of the world's most popular art museums, the Uffizi Gallery. This is a simple and straightforward hostel geared toward travelers who want to chill out in a quiet place and meet other travelers. They have private rooms and dorms, but one of the highlights of their dorms is that there are no bunk beds. Academy Hostel is a small and cozy hostel in an ideal location, so if you're looking to stay here be sure you book your room in advance.
Check Prices on Hostelworld Check Prices on Booking.com
WoW Florence Hostel
After a full renovation guests are absolutely loving the colorful and relaxing environment offered by the staff at WoW Florence Hostel. They operate by the motto "cheap and clean", and want to be your accommodation answer for all short and medium trips. For those not keen on communal bathrooms, both the private and dorm rooms have ensuites. Inside they offer a gym and sauna while large terraces and a rooftop garden with a view of the Duomo enhance the outside appeal of the hostel. Be sure to check out the rooftop bar as well because they have great prices and Marco makes some amazing drinks. From June to September they even offer free yoga lessons at sunset. WoW Florence Hostel is a place that's easy to love and you'll be excited to come back to.

Check Prices on Hostelworld Check Prices on Booking.com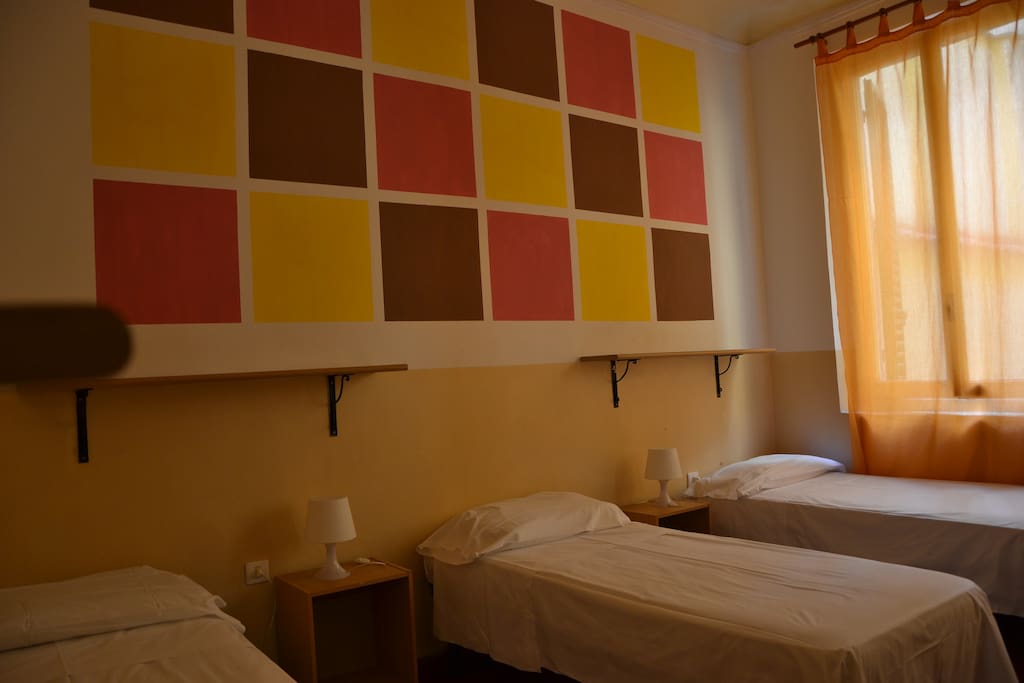 Leonardo House
Leonardo House lets you enjoy the convenience of being in downtown Florence without the noise of sirens, buses, and scooters. The peaceful rooms are only one of the main draws of this hostel. Rooms can be doubles or twins, and it's possible to add one or two more beds to each room. There are two shared bathrooms and some of the rooms have privates. Darko is the host, he's very accommodating and even lives on the property in case you have questions or need recommendations. You'll be only two minutes from the Duomo and less than five minutes from the train station, the Ponte Vecchio, and the Uffizi Gallery. Leonardo House is ideal if you're visiting to see the best of Florence before continuing your tour of Italy.
Check Prices on Hostelworld Check Prices on Booking.com
Emerald Fields Hostel
Antonio has done his best to make sure Emerald Fields Hostel is a place where travelers can relax in a comfortable accommodation with clean beds, spacious rooms, and a fun atmosphere. The garden and terrace are the perfect places to hang out as you get to know other world travelers. If you need any recommendations for food, museums, etc. don't hesitate to ask. While there's plenty to do in the Tuscan capital, Antonio knows many guests love taking day trips from Florence, but others don't have the time. Because of that, Emerald Fields Hostel now offers a one-day (12-hour) bus tour of Tuscany. You'll get to see places like Siena, San Gimignano, and Pisa. The tour includes transportation and food (a Tuscan lunch with wine). If you're looking to stay in a hostel where the staff truly care about your overall Italian experience, check out Emerald Fields Hostel.
Check Prices on Hostelworld Check Prices on Booking.com
Backpackers Florence Central
The staff at Backpackers Florence Central seek to make your stay as convenient as possible. Located in one of Florence's main squares, Piazza Santa Croce, you'll be in the heart of all the action surrounded by restaurants, cafés, etc. For fans of great Italians, this hostel puts you right near the Basilica di Santa Croce, the gorgeous church that's also the burial place of world-famous Italians like Michelangelo, Galileo, and Machiavelli. To help your budget, they've even established agreements with a local restaurant and nearby bar to get you discounts. If you'll be driving, you can park your car for free at the Artemio Franchi soccer stadium or you can choose to pay to park closer at the Bargello. This hostel has private rooms and dorms, and all rooms have ensuite bathrooms. Dorms have five beds and private rooms have between one and five beds. Backpackers Florence Central offers many conveniences at a great price to make sure your time in Florence is unforgettable.

Any of these hostels will offer you a comfortable accommodation with a helpful staff to guide you through the must-sees in the city and surrounding area. No matter what your priority, whether it's Michelangelo's magnificent David statue or the largest brick dome ever constructed at the Duomo, these hostels provide the ideal base to take advantage of everything Florence has to offer.