The mountain town of Pai is the ultimate backpacker destination in Thailand with plenty of cheap hostels to choose from. However, not all of them have good reviews, so we have put together this Pai hostel guide for you. From fun party hostels to chill hostels surrounded by rice fields, here are the best hostels in Pai, Thailand.
Quick Answer: The Best Hostels in Pai, Thailand
The Famous Pai Circus Hostel
Owned by a former circus performer from England, the Famous Pai Circus Hostel is one of the most booked hostels in Pai. This party hostel is a great budget accommodation in Pai where you're sure to have fun. It's located only 700 meters from the night market and walking street, which is one of the must-do activities in Pai. The on-site restaurant seats 60 and has an impressive breakfast buffet that's highlighted by a chef who cooks food fresh. They have nightly entertainment ranging from pool parties to quiz nights, and even offer free curry and Pad Thai dinners. A must-visit spot is the infinity pool where you can enjoy beautiful mountain views. To guarantee an unforgettable time in Pai, book your stay at the Famous Pai Circus Hostel.
Check Prices on Hostelworld Check Prices on Booking.com
Suandoi Backpacker Resort
Suandoi Backpacker Resort offers a lot of thoughtful amenities to make you feel like the valued guest you are. They'll pick you up from the bus station (between 8:00am – 5:00pm), show you around the hostel, and make sure you get settled in to your shared or private room. Breakfast is included and free drinking water ensures your refillable travel water bottle stays filled all day. The restaurant specializes in Thai and western dishes, and the bar is always a popular hangout. The outdoor common area sits right next to a pond where you can chill out in a hammock and watch the sun set. Outside you can also play volleyball, barbecue, or listen to music. To stay at a fun hostel surrounded by nature, Suandoi Backpacker Resort is the best backpack hostel in Pai.
Check Prices on Hostelworld Check Prices on Booking.com
Common Grounds Pai
Housed in the city center only 50 meters from the walking street, Common Grounds Pai is a great place to stay if you want to be social but also get a good night's sleep. The staff host daytime activities like canyon and waterfall trips, and evening events like open mic nights and dance parties, Common Grounds is not a party hostel though. You can pregame at the hostel until 9:00pm, then you'll be led to the best bars in town to party the night away. They offer private rooms and dorms. Because of its great location, social environment, and quiet nights, Common Grounds is one of the best cheap places to stay in Pai.
Check Prices on Hostelworld Check Prices on Booking.com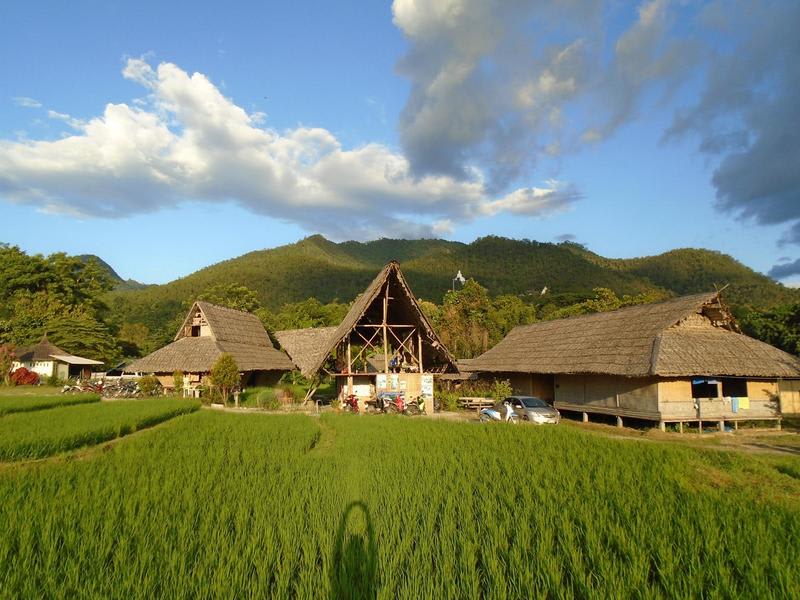 Spicypai Backpackers
The best Pai hostel perfectly combines a social atmosphere with the beauty of nature. The treehouse-style farmer huts have impressive views and the hostel has a chill environment. The sleeping quarters include private rooms and dorms with mosquito nets. Sometimes the hostel hosts large parties, but they do enforce quiet hours after midnight. You can rent a motorbike from the hostel to explore the area, or if you want to head to a nearby temple, the staff is happy to help you organize that as well. For a simple hostel at a good price, check out Spicypai Backpackers.
Check Prices on Hostelworld Check Prices on Booking.com
Nolo Hub Pai
Geared towards groups and solo travelers between 18 – 34, Nolo Hub Pai is an activity-based hostel with pod-style bedding for privacy. It's located only a 15-minute walk from the walking street and bus station. The hostel has six-bed dorms in which each bed has its own window, reading light, locker, and even a flip down desk to hold things like your phone and travel alarm clock. When you're ready to socialize, head to the rooftop to enjoy the views and good conversations, or head outside to play pool or catch a movie. They do enforce quiet hours after 11:00pm, so you can enjoy yourself during the day and sleep well at night. To meet some great friends but also enjoy some privacy in your pod, consider Nolo Hub Pai.
Check Prices on Hostelworld Check Prices on Booking.com
Juno Hostel
Juno Hostel is housed in the perfect location, only five minutes from the bus station. You'll be surrounded by restaurants and convenience stores, markets, and a post office. The all-dorm hostel has rooms with four, six, and eight beds. Towels are included, as well as bread, jams, snacks, and Thai biscuits. A shared kitchen and lounge are available for when you return to the hostel and want to cook your own meals. For a helpful staff and an ideal location, go with Juno Hostel.
Check Prices on Hostelworld Check Prices on Booking.com
Nine House
Nine House is a great place if you're looking for a home away from home in Pai. The all-dorm hostel is located in a teakwood Thai-style building. The dorms have tatami-style beds and shared bathrooms. There's also a terrace on the second floor. While this hostel has a homey feel, you can also easily access all the action in Pai. Only ten minutes from the main street, you're sure to enjoy the live music and great food in the city center. If you don't want to eat out, the hostel has a kitchen available. The hosts, Momo and Jojo, look forward to making sure you have an exciting experience in Pai.
Check Prices on Hostelworld Check Prices on Booking.com
Deejai Pai Backpackers
Right on the edge of rice fields is Deejai Pai Backpackers. This social hostel has fun vibes and regularly hosts activities. Activities and events include everything from trips to the caves and waterfalls to family barbecues. The dorms in the hostel have shared bathrooms, and each bunk comes with a reading light and power point, just make sure you bring your travel adapter. The on-site restaurant serves Thai classics as well as western cuisine that'll knock your socks off. A lot of the vegetables and fruits they use are grown in their organic garden. When you're not eating at the hostel you can play some basketball, hop on the slackline, or play board games. If you want to make friends while in Pai, book a bed at Deejai Pai Backpackers.
Check Prices on Hostelworld Check Prices on Booking.com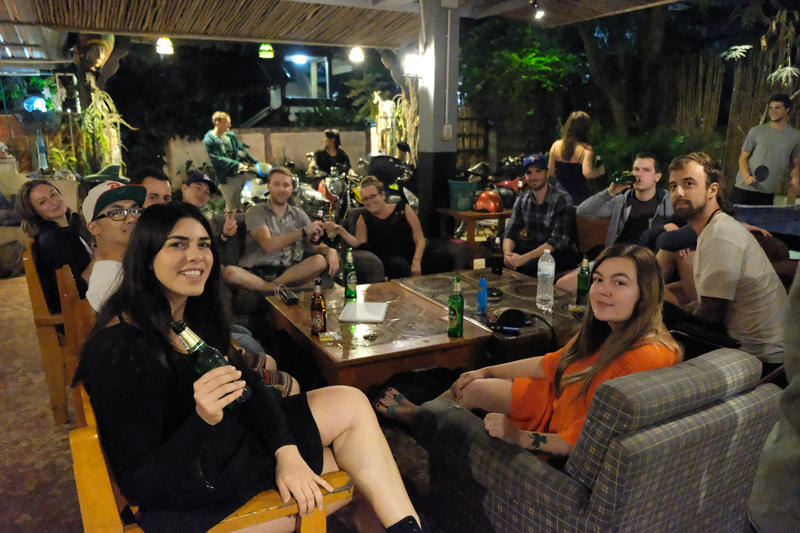 Happy House Backpackers
Happy House Backpackers is a family-run hostel where the staff want to help you experience the best of Pai. Inside the hostel is a fully-stocked bar with ping pong and pool tables. The bar will be blasting tunes as you enjoy a cold beer. The common area has comfy chairs where you can relax or play some cards. If you want to go out and explore, ask Clay, he has the best recommendations. Happy House has dorms and private rooms, some with shared bathrooms and others with ensuites. While it's not a party hostel, Happy House Backpackers is a social hostel you're guaranteed to love.
Check Prices on Hostelworld Check Prices on Booking.com
Pai Backpackers Paradise
Housed in the trendy district of Mae Hong Son, you'll be surrounded by gorgeous natural surroundings in the Thai-inspired cottages of Pai Backpackers Hostel. They have private cottages, private rooms, and shared dorms, and each cottage has its own private balcony. This is an amazing hostel if you want to meet people and party. They always have something going on, whether it's a hip-hop night or fire show. Even if you're not staying here, be sure to visit on a night where they put on one of their impressive fire shows. At Pai Backpackers you'll be two minutes from the renowned Sunset Bar and about a 20-minute walk from the bus station. You'll have so much fun at Pai Backpackers Paradise, so don't be surprised when you want to extend your stay.
Check Prices on Hostelworld Check Prices on Booking.com
These are the best hostels in Pai and no matter which one you choose you'll have a great time and be able take advantage of the best this picturesque mountain town has to offer.