Sydney is a city many people only dream of visiting. From the harbor and beaches to the parks and nightlife, there's always something happening in the capital of New South Wales. While it's an amazing city that's sure to leave lasting memories, it is pricey. To make sure you experience the best of the city, even on a budget, we have listed some of the best hostels in Sydney.
Quick Answer: The Best Hostels in Sydney
Wake Up! Sydney Central
Wake Up! is the best Sydney hostel because of the experience it offers. Wake Up! Sydney Central is located in a eight-story heritage building across from Sydney's Central Station. They have 540 beds in dorms and private rooms, with some of the private rooms including private bathrooms. Their on-site cafe serves great food in the mornings while their renowned on-site bar has you covered with amazing food and drink specials beginning at 4:00pm. Each day they offer a handful of activities both in and out of the hostel. There are outings to Bondi Beach and Glebe Market and Tuesday Trivia or free wine & cheese parties. Staying at Wake Up! will truly make your time in Sydney unforgettable.
Check Prices on Hostelworld Check Prices on Booking.com
Base Sydney
Located only two minutes from Darling Harbor, Base Sydney is the perfect base for your time here. There is more than enough to do here, with city activities including trips to Manly Beach and Hyde Park, and evening hostel activities including silent discos and live music. It's definitely the best budget accommodation in Sydney if you want to be social and meet other travelers. Both their dorms and private rooms have options of shared or ensuite bathrooms. This is an amazing hostel, especially for the ladies because of "The Sanctuary", a luxurious girls only floor that includes things like free shampoo, hair dryers, and flat irons. For a hostel that will cater to your every need, book your stay at Base Sydney.
Check Prices on Hostelworld Check Prices on Booking.com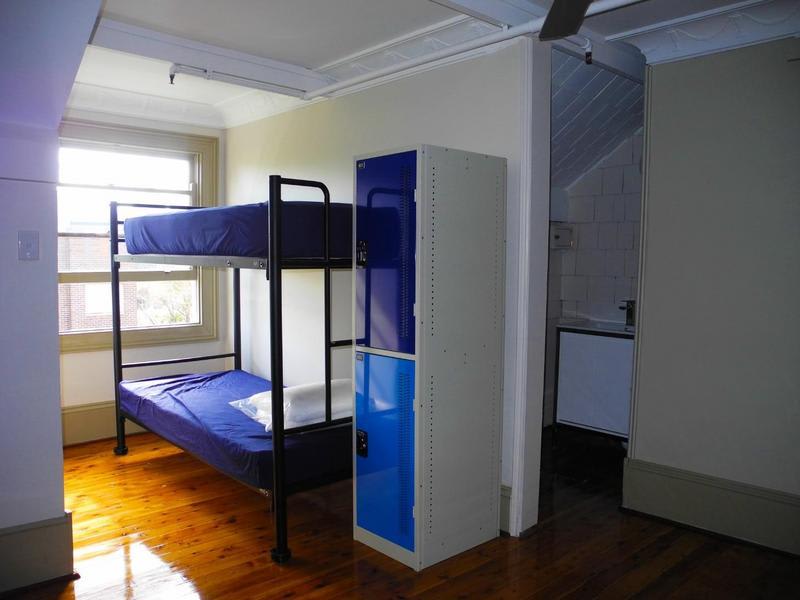 Backpackers HQ
When it comes to youth hostels in Sydney, Backpackers HQ is where you want to be. This all-dorm hostel is housed on a tree-lined, cosmopolitan street in King's Cross. They pride themselves on being a quiet and friendly hostel while still being central to vibrant nightlife and bars. Start your mornings here with free breakfast in the courtyard before visiting the tour staff to get tips on things to do in Sydney and the surrounding areas. For those wanting a quiet night in, you can relax in the 24-hour TV lounge or read some books in the library area. With a nice vibe and a helpful staff, you're sure to enjoy your stay at Backpackers HQ.
Sydney Central YHA
Sydney Central YHA is the perfect place to stay and play while you're in Sydney. Outside they have a rooftop pool, a sauna, and an outdoor area where you'll definitely want to bring your camera to capture the panoramic views. Inside are two large, well-equipped kitchens, a cinema, lounge areas, an on-site bar, and more. Their famous activities include everything from Aussie BBQs to pizza nights, and these popular events are the perfect venues to make new friends. Private rooms come with ensuite bathrooms while dorms have shared bathrooms. Housed right next to Central Station, it's in the perfect location for your time in Sydney.
Check Prices on Hostelworld Check Prices on Booking.com
Wake Up! Bondi Beach
Wake Up! Bondi Beach is the best hostel for beach bums because you'll be only seconds from the surf and sand. Ideal for those who like to stay active, they offer free activities like personal training sessions, rooftop yoga classes, and walking tours along the Bondi to Bronte coastline. For those looking to catch some waves, surfboard rentals are available. The activities don't stop once you return to the hostel though as you can enjoy everything from karaoke competitions to pizza nights. If you're not totally exhausted after your action-packed days, head out to the exciting nightlife right at your doorstep. For constant views of the iconic Bondi, check out Wake Up! Bondi Beach.
Check Prices on Hostelworld Check Prices on Booking.com
Mad Monkey Backpackers @ Broadway
Housed in the suburb of Chippendale near Newtown, a stay at Mad Monkey Backpackers @ Broadway puts you near some unique hidden bars and amazing hipster breweries. This hostel fits 100 guests in dorms and private rooms with shared bathrooms. Staying here gets you impressive freebies like hot breakfast, gym access, and bicycle rentals. Inside they have a shared kitchen, common area, and a FIFA/gaming area. There's also a travel agency on-site, so whether you want to tour the city or head to Brisbane, they can help you out. Mad Monkey Backpackers @ Broadway is an upmarket hostel with a modern design and welcoming atmosphere which will make your time in Sydney one to remember.
Check Prices on Hostelworld Check Prices on Booking.com
Sydney Harbour YHA
Built above archaeological remnants of colonial Sydney, Sydney Harbour YHA is the one and only budget hostel in the historic Rocks area. This sustainable hostel boasts rooftop views of the world-famous Sydney Opera House and Sydney Harbour. They have both private and shared rooms, each with its own ensuite bathrooms. Unique daily activities include complimentary archaeology tours and beach walks. At the hostel you can enjoy specials like discounted burgers and free pancakes. For state-of-the-art facilities combined with a heritage experience, book your stay at Sydney Harbour YHA.
Check Prices on Hostelworld Check Prices on Booking.com
Big Hostel
You'll find Big Hostel only a five-minute walk from Central Station. The first thing you'll notice there is the friendliness of the staff who are happy to help you with anything you need. This eco-friendly hostel has a fully-equipped kitchen, rooftop terrace, and lounge area to chill out in. They have a mixture of shared, private, and family rooms with bedding included. This is an ideal hostel if you prefer to sleep in as they offer a later check-out time than most other hostels of 11:00am. The on-site travel desk can help you arrange anything your heart desires, from Opera House tours to a trip to one of Australia's best parks. Big Hostel is a great home away from home during your time in Sydney.
Check Prices on Hostelworld Check Prices on Booking.com
The Downing Hostel
This small hostel is right in the middle of the hustle and bustle of Sydney. The Downing Hostel is 500-feet from Hyde Park and puts you in the perfect location to experience the best of the city. Dorms have 4, 6, or 8 beds and there are also three-person private rooms with shared bathrooms. The hostel can be noisy depending on the street events or other hostel guests, but they do have quiet hours from 11:00pm – 7:00am. They don't have lockers for your travel backpack, but you can store things in their office if necessary. You'll have access to shared kitchen facilities as well as their on-site restaurant and bar. The bar has daily happy hours and the restaurant offers $10 meals. The Downing Hostel is a great, cozy place to meet new friends and explore Sydney.
Check Prices on Hostelworld Check Prices on Booking.com
790 on George
Among the best cheap places to stay in Sydney is 790 on George. It's housed on historic George Street in Sydney's CBD. Whether you choose a private room or shared dorm you'll have a shared bathroom and a locker with a universal plug. The common rooms are fun social areas where you can play pool, chill out on a bean bag, or catch a movie. The staff host free events to encourage you to meet other world travelers. The staff is super friendly and most of them have lived in Sydney for many years so they have a wealth of knowledge they're excited to share with you. Known as a very friendly hostel, 790 on George is an ideal place to make lifelong friends you can travel the world with.
Check Prices on Hostelworld Check Prices on Booking.com
These high-quality hostels will ensure you can safely rest your head at night so you're ready to tackle Sydney in the morning. From friendly staff to affordable pricing and great locations, one of these hostels is sure to be the right fit for you.