Imagine being able to travel anywhere in the world and have the local language translated for you in real time – directly into your earbuds. Well, the Timekettle WT2 Edge Translator Earbuds have turned this seemingly futuristic concept into reality.
What Are Timekettle Translator Earbuds?
These real-time two-way translation earpieces appear similar to traditional Bluetooth earbuds, but they have a far more advanced function. Using leading AI technology, the earbuds offer bidirectional simultaneous translation for up to 40 languages, so you can hear translations and speak at the same time. Perfect for multilingual business meetings, international trips, and even just casual conversions, the Timekettle WT2 Edge/W3 Earbuds are changing the real-time translator game, allowing travelers to hurdle language barriers like never before.
Specifications
Product dimensions: 3.93 x 3.93 x 1.97 inches (100 x 100 x 51 millimeters)
Weight: 7.1 ounces (189 grams)
Battery: 50 mAh
Battery life: 12 hours with charging case
Standby time: 720 hours
Continuous translation time: 3 hours
Charging time: 90 minutes
Charging port: USB Type-C
Connection: Via Bluetooth
Noise reduction: Yes
Translatable languages: 40 plus 93 regional accents
Mobile system compatibility: Android 7.0 / iOS 12.0 and above
Earbuds warranty: 12 months
Accessories warranty: 6 months
What's in the Box?
Earbuds
Charging case
USB Type-C charger
Four earbud covers
On-ear hooks
How Much Do They Cost?
Timekettle offers a few versions of this product:
Online Translation: $299.99
Online & Offline Translation: $349.99
Online & Offline Translation With Zero-iOS Bundle: $359.98
Online & Offline Translation With Zero-Type C Bundle: $359.98
Online & Offline Translation With Fluentalk T1 Bundle: $519.19
Purchase on Amazon Purchase on Timekettle
Four Modes Meet All Your Needs
You can use the Timekettle WT2 Edge/W3 Translator Earbuds in four different modes:
Simul mode allows you to share one of your earbuds with the person you're speaking to. This allows you both to speak in your own languages and receive simultaneous translations in one ear.
Touch mode is great for loud or overwhelming settings. Simply tap the earbud once to speak and once again when you're finished speaking, then you're ready to listen to someone else's translation.
Speaker mode allows you to translate your own speech for your partner without sharing earbuds – perfect for brief interactions with strangers. Simply wear one earbud yourself and hold out your phone for your partner, who will then be able to hear the translation out loud or read it from your phone screen.
Listen mode is a simple one-way translation setting that allows you to listen continuously. The coolest thing about this mode is that it actually records a transcript of the translation, letting you review it later.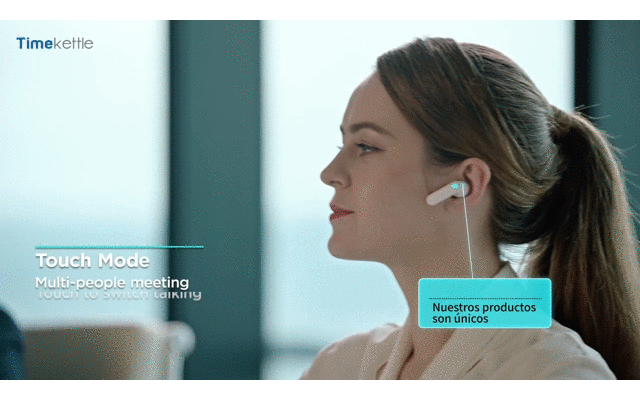 Impressive Features
1. Support for 40 Languages and 93 Accents
Timekettle Earbuds can translate 40 languages and 93 accents, meaning they can foster communication among over 85% of the world's population.
2. Offline Package With 8 Languages
The offline translation feature allows you to use the earbuds without the internet. You can download everything you need onto your smartphone and access translations of the world's eight most popular languages with no Wi-Fi or cell service.
3. Bidirectional Simultaneous Translation
The WT2 Edge Earbuds allow for simultaneous interpretation – the first of its kind – so you can speak and hear other people's translations at the same time.
4. Support for Large Meetings and Multiple People Speaking at Once
The earbuds work seamlessly for multilingual meetings with up to six participants, and the cutting-edge technology can support up to 40 people speaking 40 different languages at once.
5. Smart Noise Reduction
With directional voice recognition, the earbuds separate the sound of your voice from other voices and background noise to ensure clear and accurate translations.
6. Up to 95% Accuracy
The Timekettle Translation Core integrates its own translation software with the world's six leading translation engines to deliver the most accurate possible translation.
7. Low Latency
Utilizing 15 servers worldwide, Timekettle can deliver translations in just 0.5 to three seconds.
How to Use the Timekettle Translator Earbuds
The earbuds work and wear similarly to standard Bluetooth earbuds, which connect to your smartphone and come with a charging case. Timekettle also offers an intuitive app where you can select your desired modes and the languages you need the earbuds to translate. The app also includes a helpful demo video in case you need further instruction.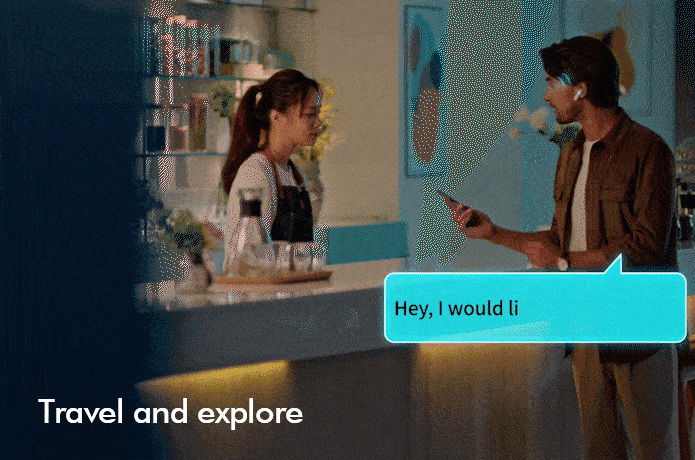 Reasons You Should Travel With Timekettle Translator Earbuds
1. They're Unlike Any Other Translator Device on the Market
Timekettle has remarkably removed the typical limitations of conventional language translator devices and apps. The simultaneous translation and user-friendly design offer a more natural experience that eliminates the need to take long pauses in conversation or pass a device back and forth.
2. You Can Share Them With New Friends
The convenient mode options allow your speaking partner to benefit from the technology without a pair of their own. Simply share an earbud or select speaker mode to enjoy a real-time translated conversation or ask a quick question.
3. They Have an Impressive Battery Life
The earbuds can continuously translate a conversation or meeting for up to three hours. Even if you're away from a power source for a while, you can use them for a whopping 12 hours. When it's time to charge, it only takes 90 minutes to get them back to 100%.
Whether you're asking a stranger for directions, making new friends in a foreign country, or presenting your ideas in a business meeting, cross-language communication has never been easier. These innovative translator earpieces allow more natural communication and enhance the travel experience. So what are you waiting for? Purchase your Timekettle WT2 Edge Translator Earbuds today and see the world like never before.