One of the most iconic cities to visit across the USA, there's nowhere quite like Las Vegas. The desert city is of course best known for its row of casinos along the iconic Vegas Strip, but Las Vegas also delights with its upscale restaurants, clubs, and surrounding natural attractions. No matter the reason for your visit, Airbnb is the place to look for the best vacation rentals in Las Vegas.
To show you what we mean, we've assembled this list of the best Airbnbs in Las Vegas so you can see what's on offer. One way to identify quality Airbnbs is to look for properties managed by superhosts, so we've only included those kinds of properties. For those not familiar with the idea, superhosts are Airbnb hosts with a proven record of good service and quality accommodation. Let's get to those great Las Vegas Airbnbs, shall we?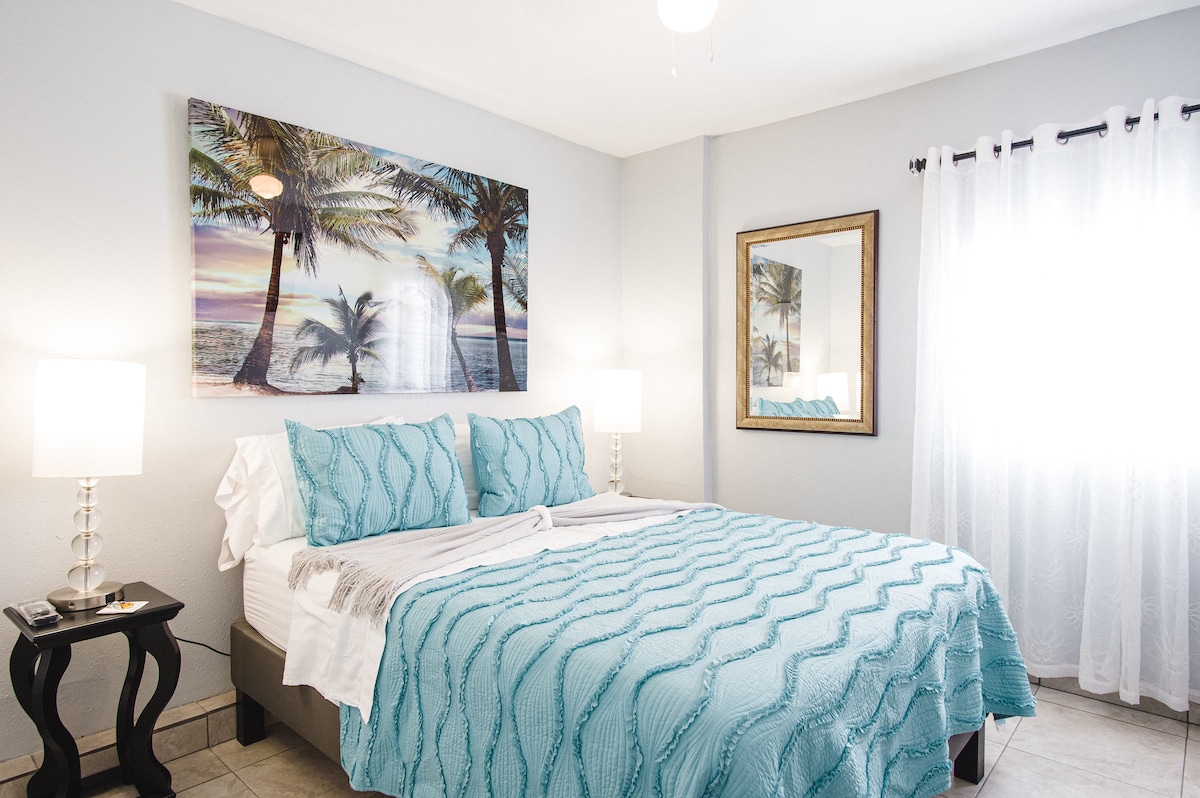 Cozy Mini Apartment Perfect To Explore Las Vegas
With pretty much everything you could need, this apartment easily ranks as one of the best Las Vegas Airbnbs. Located in the State Streets area to the city's east, you're roughly 15 minutes drive from the Las Vegas Strip. In the local area you've got a nice selection of restaurants, grocery stores, and other useful spots.
This one bedroom apartment has an extremely cozy and comfortable feel to it, making it an excellent choice for a short or long stay. While the perfect size for a couple or solo traveler, this apartment is able to sleep up to three people if needed. The bedroom comes with a comfortable queen bed, but there's also a sofa bed in the living room. In the rest of the apartment you have a full bathroom, a dining room, and a kitchen.
If you don't feel like heading out to eat, the kitchen is equipped with a stove, a microwave, and a fridge, which should be enough for cooking simple meals. Beyond that, this Airbnb offers amenities like Wi-Fi, smart TV, and air-conditioning, as well as free on-site parking.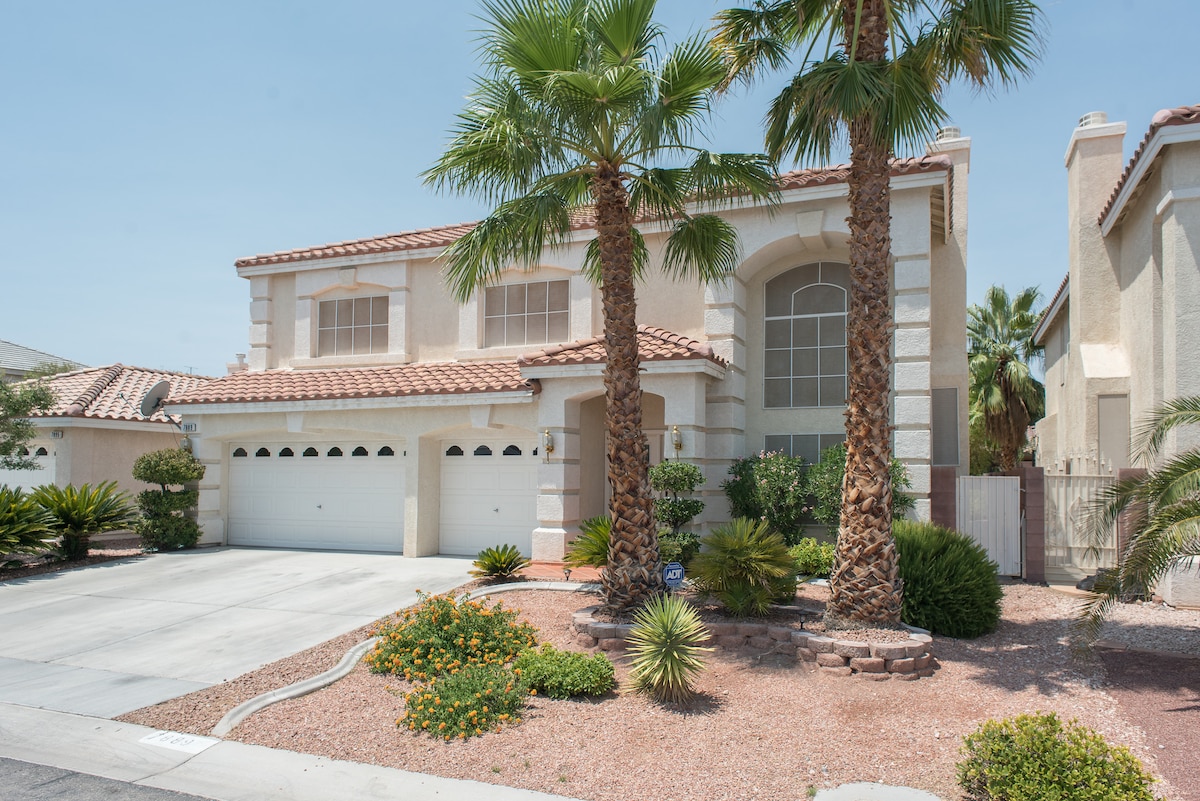 Beautiful Home In Perfect Location
If you're in need of a little bit more space, then this Airbnb in Las Vegas, Nevada is the place to look at. Found in the very quiet residential area of Enterprise in the Las Vegas metro area you're around 25 minutes by car from the Strip. That said, you have loads of local eateries and grocery stores in the immediate area.
The most eye-catching aspect of this Airbnb in Las Vegas is just how large it is, with three bedrooms that can fit up to six guests. As such, it's perfect for large families or friends traveling together who want to stay under the same roof. What's nice is that this guest suite isn't just spacious, it's also quite beautiful and creates an environment where it's super easy to unwind.
Within this guest suite you have two bathrooms, one of which is off the master suite, as well as a spacious living room and a handy kitchenette. Although not a full kitchen, it comes equipped with a coffee maker, a fridge, and a microwave, which will cover the basics. Other amenities include an indoor fireplace, Wi-Fi, cable TV, and air-conditioning.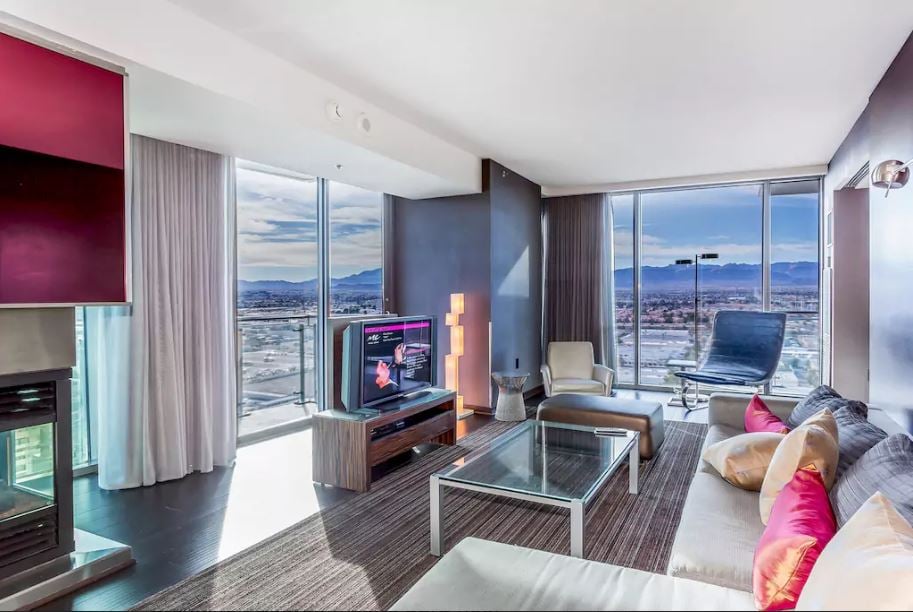 One Bedroom Palms Place Luxury Condo
Finding vacation apartments for rent in Las Vegas isn't too difficult, but few offer comfort and views quite like this luxury one. Situated within the Palms Casino Resort, this spot is just a few minutes from the heart of Vegas, giving you a little breathing room from the non-stop action of the Strip.
Stepping inside this luxury condo chances are you'll either notice its stylish modern decor or the incredible views from its windows. Both will help you know that you've made the right pick with this Airbnb. And sitting up on the 23rd floor with two balconies you better believe the views from up the condo are spectacular, with even part of the Vegas Strip in view. Of course, there's more to this apartment than views and decor, starting with the fact that it can sleep four people. With a king bed and a sofa bed, it's a great size for a Vegas trip with friends.
The other facilities of this luxury condo include 1.5 bathrooms, a full modern kitchen, and a light-filled living room with a fireplace. Further amenities here include a private washer/dryer, air-conditioning, Wi-Fi, and TV, plus resort perks like a pool, hot tub, and gym.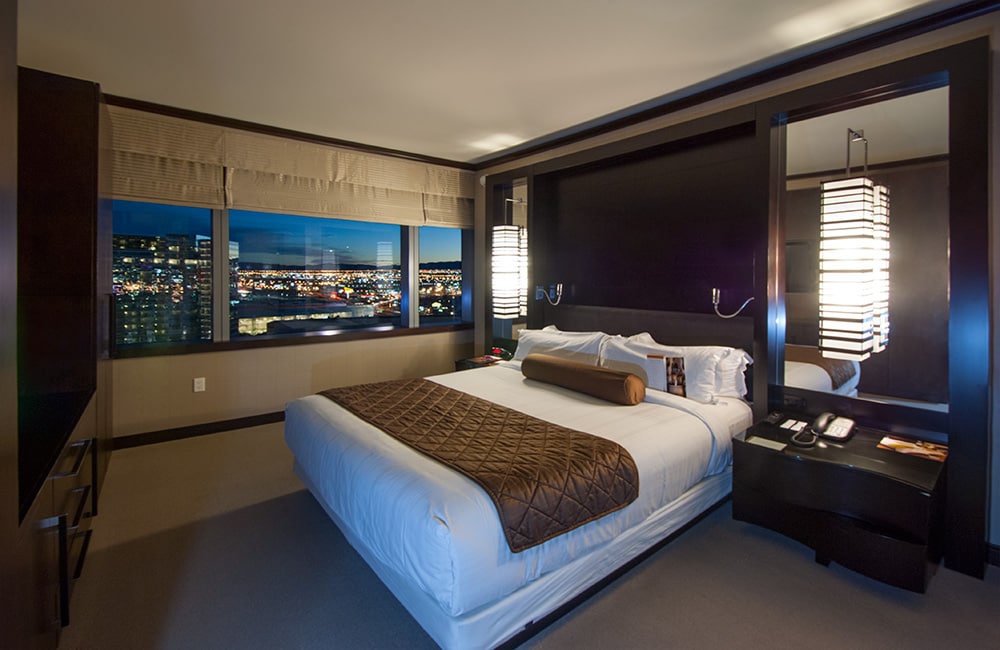 Vdara Suite | Best Condo-Hotel | 100% Smoke Free
For a beautiful short term apartment rental in Las Vegas make sure to check out this Airbnb suite. Located in the Vdara Hotel & Spa just behind the Bellagio, you're right in the city centre here and mere steps from the Strip. That way, you have the best of Vegas immediately around you.
This superb one bedroom apartment is able to fit up to four people with its king bed in the bedroom and sofa bed in the living room. Beyond the bedroom and sleek living room, this Airbnb also offers 1.5 bathrooms, a dining area, and a full kitchen, in case you want cook. Normally, apartments in resorts like these are studios, making this an excellent find for groups of more than two as it really provides enough space to be comfortable.
Since this apartment is part of the Vdara hotel, guests get the benefits of the facility, including a fitness centre, a jacuzzi, and a swimming pool. Extra amenities here include a washer/dryer, air-conditioning, Wi-Fi, and Pay TV. It's also possible to bring your dog with you here for a fee.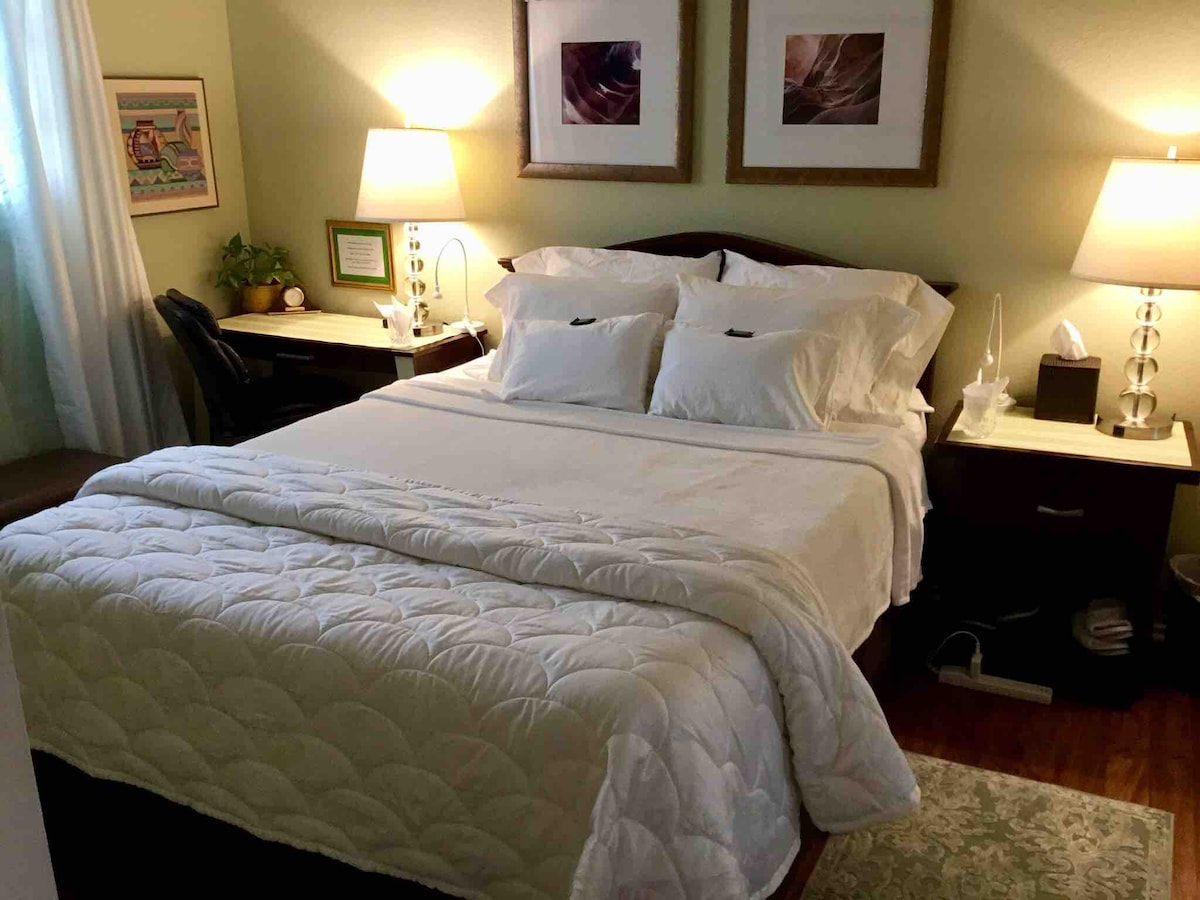 Quiet Home. Easy Access to Fabulous Las Vegas
When you don't really need a whole place to yourself, you may just want to rent a room in Las Vegas like this one for your visit. Situated in the central part of Spring Valley, this Airbnb is around 7 miles from both Las Vegas Boulevard and the city's Convention Center. This means it's a little removed from the main parts of Vegas, but does offer the benefits of a quiet, residential neighborhood.
Your private room has a queen bed and can sleep two people, making this quite a cheap Airbnb in Vegas. Along with your own room you'll also have a private bathroom and private entrance set up with an electronic lock and personal code for entry.
Beyond their own space, guests also have access to shared spaces such as the kitchen, the patio, the living room, and the dining room. Further conveniences and comforts include free street parking, coffee supplies and snacks, cable TV, Wi-Fi, air-conditioning, and use of laundry facilities.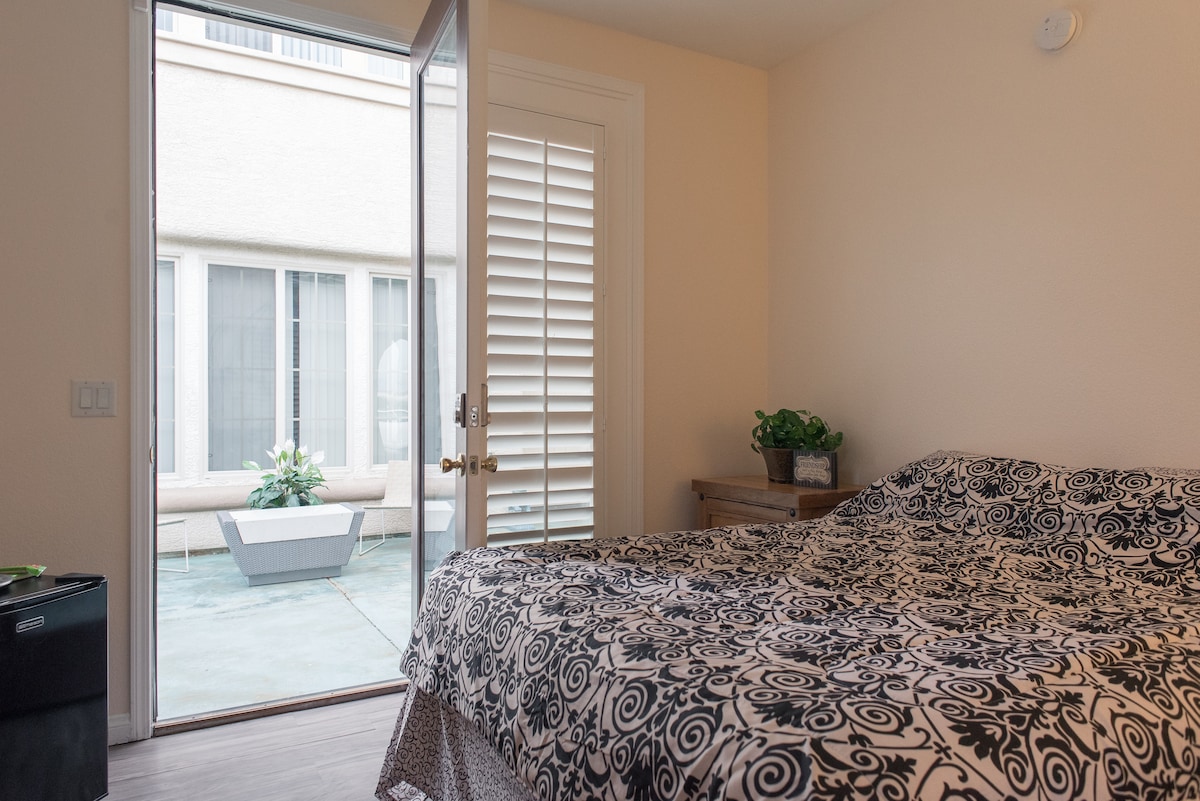 Private Guest House SW 1BD/1 BA 15 Min to Strip
Rather than rent a house in Vegas, guesthouses like this can prove to be a more cost effective option, especially if you don't require loads of space. Even though it's found out in the northern part of Enterprise in the metro area, this Airbnb is just 15 minutes drive from the Strip and main airport. However, you do have plenty of restaurant options close by for when you get hungry.
A cute little casita, this studio guest house makes for a great place to lay your head at the end of the day. Sitting across a quiet courtyard from the main house, it's a perfect retreat after a busy day out and about in the city. Its bedroom looks out on the courtyard and comes with a queen bed, making it best suited to couples or solo travelers.
Off the bedroom you have an attached private bathroom, which continues the guesthouse's uncomplicated and gentle aesthetic. There's really not much more to say about this Airbnb besides its amenities like free on-site parking, an EV charger, a mini fridge, air-conditioning, Wi-Fi and smart TV.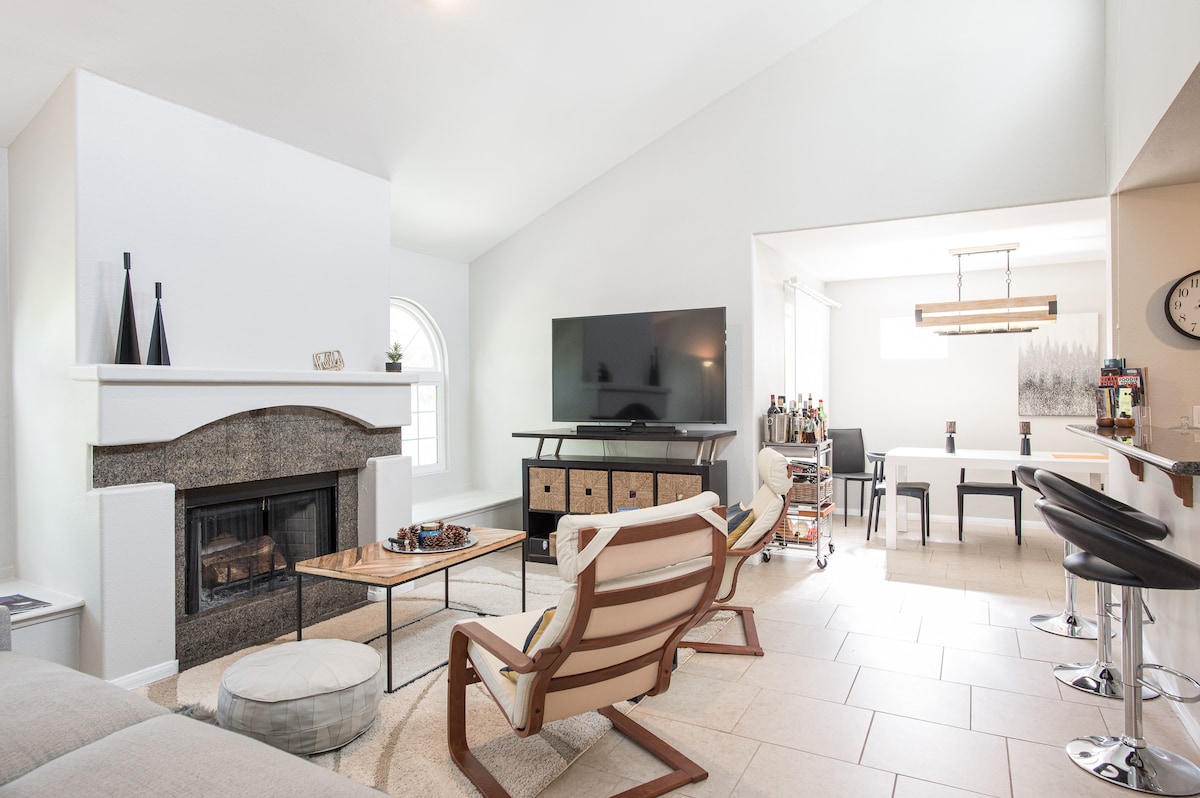 The Spot In Las Vegas
Another private room to rent in Vegas worth checking out is this fantastic and affordable Las Vegas Airbnb. Located near the western end of the unincorporated town of Paradise, this Airbnb is roughly 4 miles from both the Las Vegas Strip and international airport.
Nearby you have a bus stop, restaurants, grocery stores, and more, meaning it's quite a convenient spot no matter what your plans are. When staying in this private room you'll be sharing the home of superhost Daniel. Your room comes with a queen bed, a window seat and TV, as well as a private ensuite bathroom.
Guests have access to the small balcony area and amenities like the coffee maker in the kitchen. Other conveniences of staying here include free parking, use of the laundry facilities, Wi-Fi, air-conditioning and self-service check-in.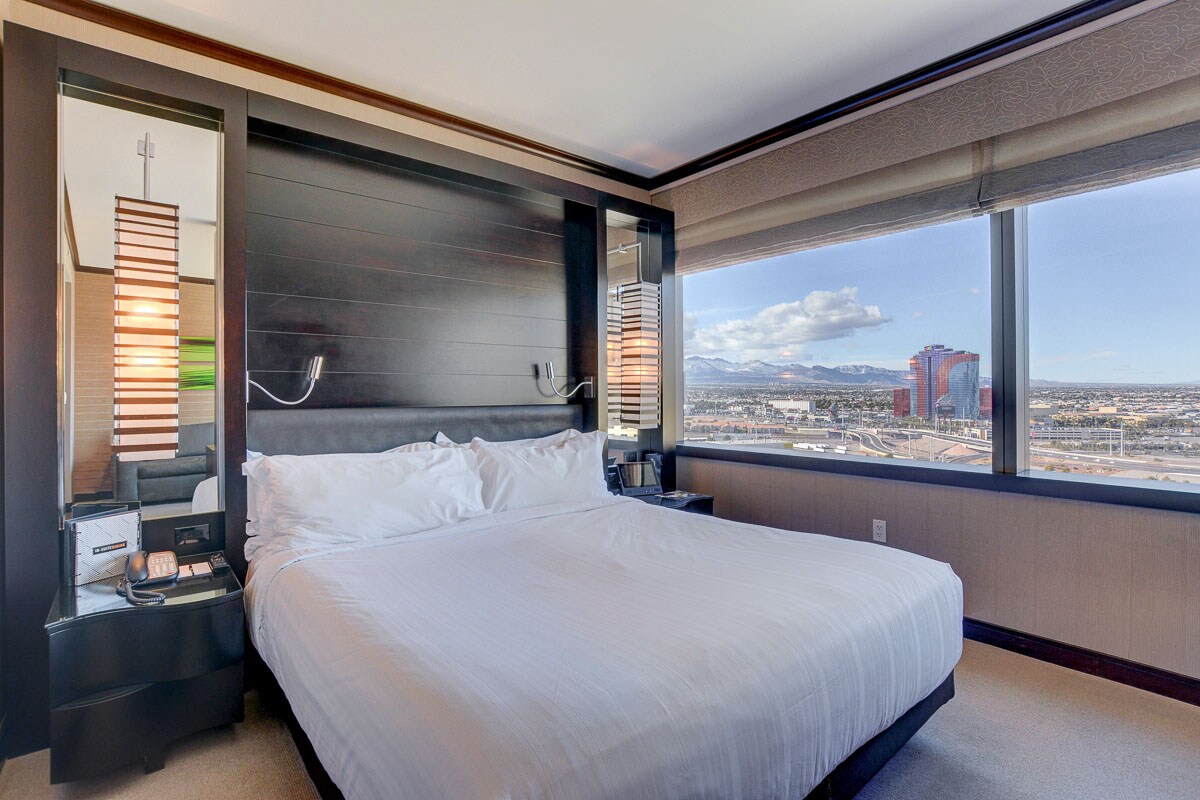 Vdara Suite – 23rd Floor
To get the most out of your time in Vegas, it's worth considering this modern condo. Situated within the Vdara Hotel & Spa adjacent to the Bellagio Hotel & Casino, you couldn't ask for a better location. Although not technically an Airbnb on the Las Vegas Strip, it's just as good, since it's only a few steps to get there.
Up to four people can stay in this serviced apartment, making it the perfect place for families or a group of friends. Even though it's a studio apartment, the way this Airbnb is laid out means that there's a bit of privacy between the king bed in the sleeping area and the pull out sofa bed in the living area.
The rest of the apartment features a full bathroom with a large bathtub, a kitchenette, and a small dining space. In the kitchenette you'll find a small cooktop, microwave, and fridge, which will allow you to do things like make breakfast in the morning. In-room amenities include Wi-Fi, TV, and air-conditioning, while the building also provides facilities such as a gym, a pool, and a hot tub.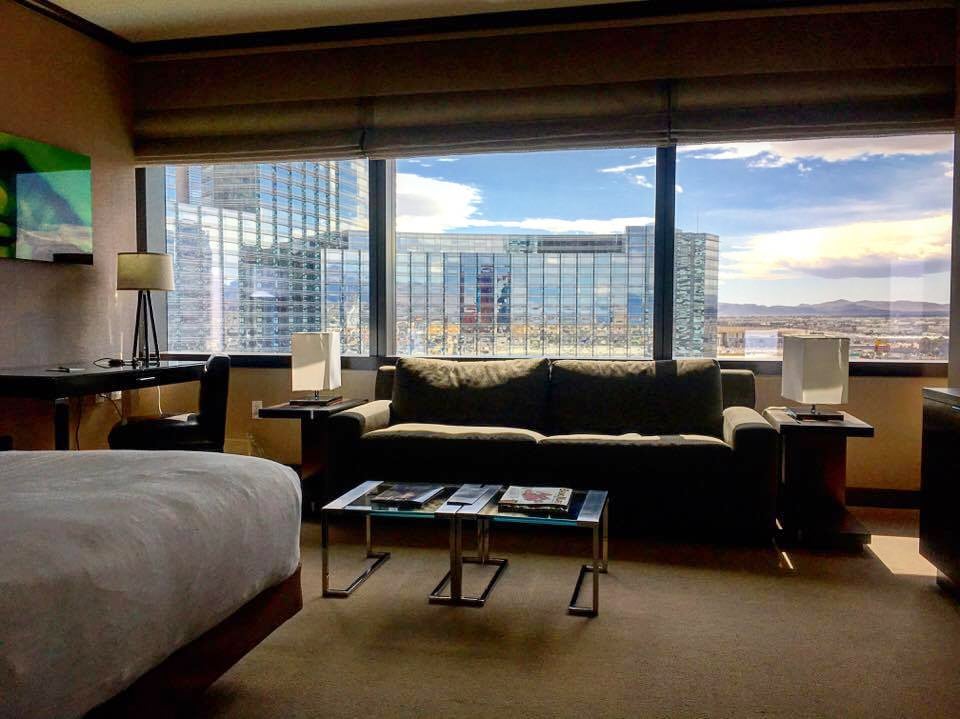 Vdara 18th Flr – Free Parking – Steps to Strip – CityCtr
Those wanting to feel like they're staying at a hotel but don't want the price tag should turn their attention to Airbnb's range of condo rentals in Las Vegas for places like this. Part of the Vdara Hotel & Spa which is connected to the Bellagio, it's two minutes walk to the famous Las Vegas Strip. From here you have multiple casinos and shops that you can easily reach, not to mention the iconic Fountains of Bellagio.
With gorgeous views of the Vegas Strip from your window you'll feel right among the action here. Although a studio apartment, this Airbnb is able to fit up to four people thanks to its king bed and queen-size sofa bed. That said, it isn't a large apartment so four adults may find the space a bit limited.
Off the main living area you have a kitchenette, a small dining area, and a full bathroom, all decked out in the apartment's luxury decor. One benefit of staying here is that you also have access to all the hotel facilities, like room service, the gym, pool, and hot tub. Of course, there's also amenities in the room such as air-conditioning, Wi-Fi, and TV.
Legal: Yes, I Do Look Just Like My Pics!
Of all the houses in Las Vegas for rent out there, it's hard to go past this huge and comfortable property. Found on the eastern side of the Las Vegas Golf Club, this Airbnb boasts a fantastic location in a pleasant residential community. While obviously you're nice and close to a golf course, you also have Lorenzi Park nearby and downtown is just a short 10 minutes by car.
One of the main reasons to look at rental houses in Las Vegas like this, is for their incredible amount of space. This three bedroom, two bathroom house can accommodate up to 8 people, which makes it perfect for larger groups. The house has an open concept layout which features a large modern kitchen, a formal dining table, and a spacious living area that groups will no doubt find very useful.
A really nice aspect of this Airbnb is that it also offers an outdoor space with a covered patio, a BBQ grill, and a yard for guests to use. Other amenities include childcare equipment like a Pack 'n Play crib, Wi-Fi, TV, air-conditioning, washer/dryer, and even an indoor fireplace.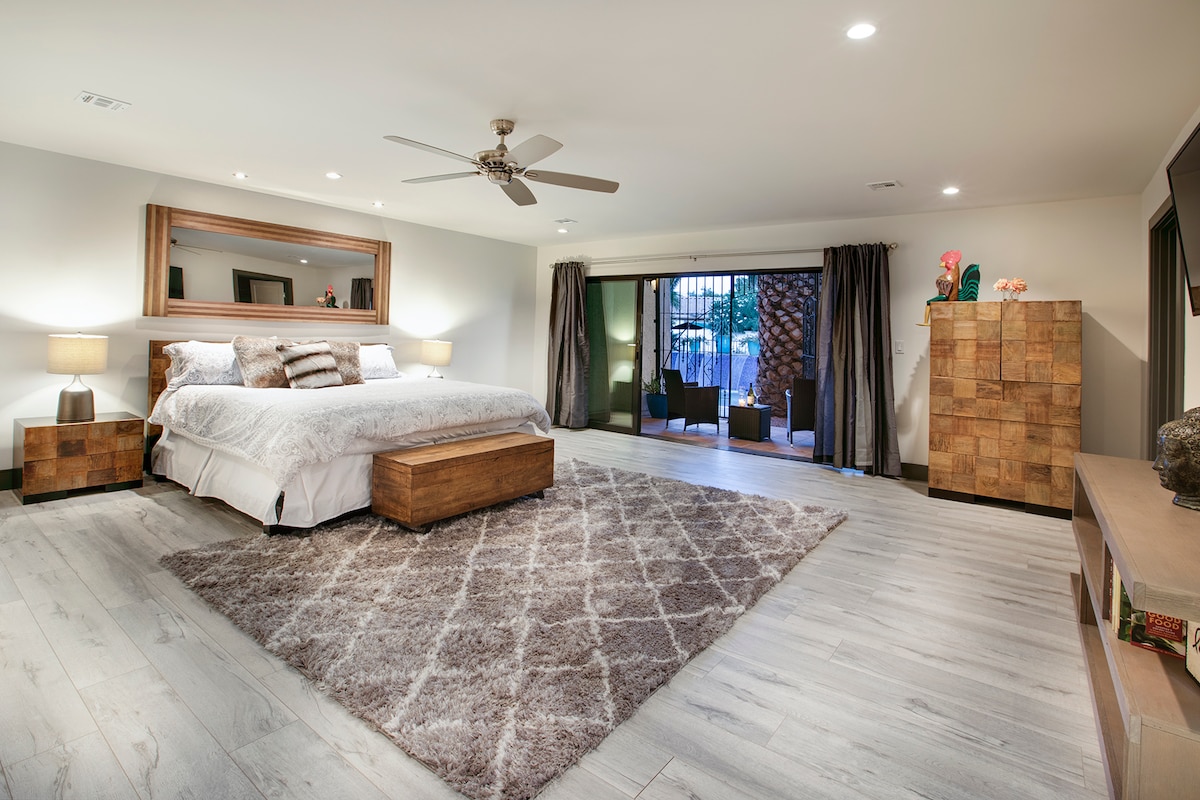 Escape To Modern Luxury – 1.5 Miles to the Strip!
If you always wanted to rent a mansion in Las Vegas, don't go past this immense, luxury Airbnb. Located in a quiet neighborhood in the Rancho Oakey area, this house puts you comfortably close to the best parts of Vegas, with the Strip just 1.5 miles away.
Covering 6,000 sq. ft. there's no understating the sheer size of this luxury home that you can make yours for your vacation. Inside it boasts four bedrooms and four bathrooms, allowing you to easily sleep eight people here. You won't find too many Airbnbs that are this size and also this incredibly deluxe, so if you're traveling in a large group don't hesitate to book here. Besides its sleeping spaces, this mansion also features a gourmet kitchen, a living area, a dining area, and a pool table by the bar.
And yet, we haven't even gotten to the expansive outdoor space of this palatial home. There you have a large swimming pool, spa, BBQ, picnic table, and sun lounges, creating yet another space you won't want to leave. Further amenities in this Airbnb in Las Vegas with a pool include a washer/dryer, Wi-Fi, TV, air-conditioning and indoor fireplace.
A Very Stylish 1950's Bungalow
This Airbnb in Las Vegas is a great choice for travelers who need several rooms but want somewhere affordable to stay for their trip. Situated in the Scotch 80's neighborhood in a central part of the city, this Airbnb has plenty of great local places nearby where you can get food and groceries. As for entertainment, the Arts District is one mile away and downtown is just under 2 miles away.
During your stay in the home of superhost Kevin you'll actually have two bedrooms to use, which isn't a common setup, but could prove quite useful. With a queen in one room and two singles in the other, a group of four could easily feel at home here on their Vegas visit. On top of that, you'll have a private bathroom to yourselves, giving you just a little more privacy when you stay.
In terms of shared spaces inside, guests have access to the living room, dining room and kitchen, including use of the fridge, stove and coffee maker. Then there's the yard outside where you can sit out on the patio and swim in the pool. Additional perks include Wi-Fi, TV, air-conditioning, and use of the washer/dryer.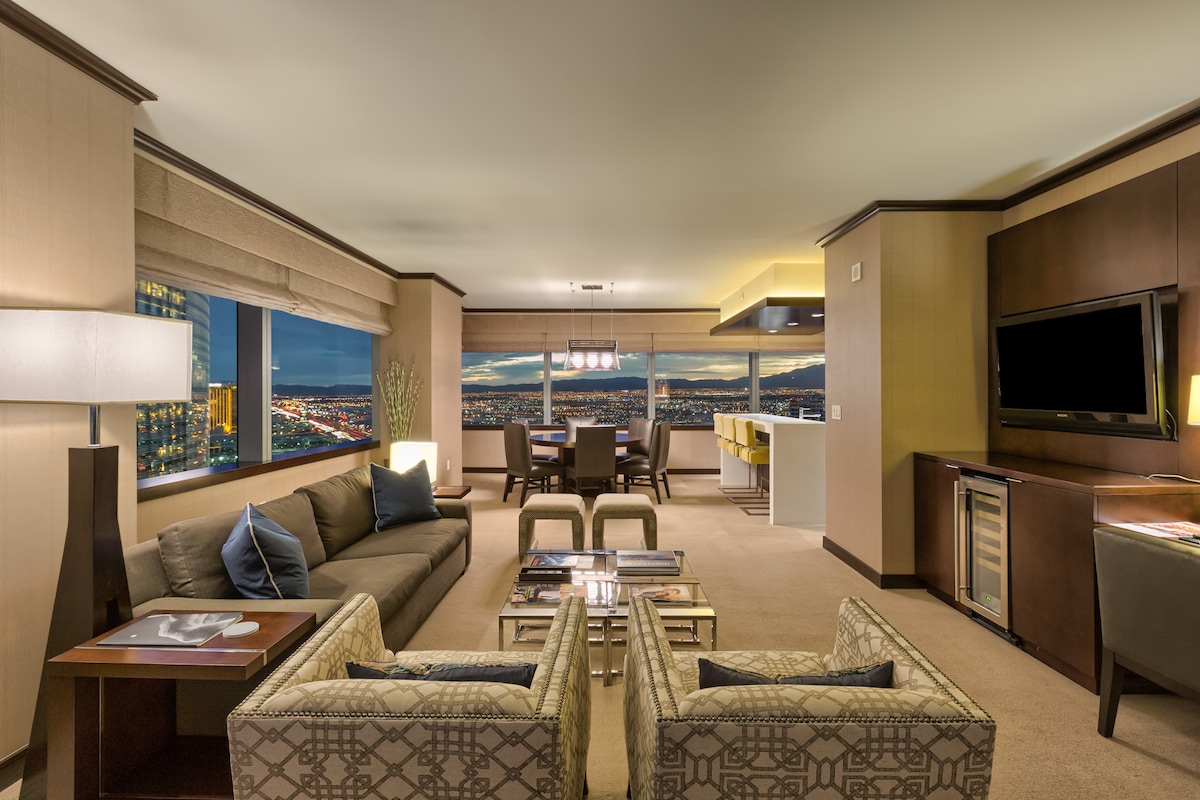 Vdara's Biggest Penthouse!! 2+BR – Jaw Drop Views!
Among the best Airbnb rentals in Las Vegas that you'll find, this penthouse apartment is sure to dazzle those who stay here. Found up on the 45th floor of the Vdara Hotel & Spa in the city centre, this Airbnb is nestled between the Aria, Bellagio, and The Cosmopolitan casinos. As for the Strip, it's just three minutes on foot.
Being a penthouse apartment, it's only natural we start with the killer views you have from its three walls of windows. But take a look around inside and you'll see a gorgeous apartment appointed with luxury furnishings that are sure to make this stay feel special. Although a two bedroom apartment, it's possible to fit seven guests here thanks to a sofa bed and roll away single.
This spacious apartment features 2.5 bathrooms, a full modern kitchen,a dining area, and an inviting living room. Staying at the Vdara, guests also gain access to the hotel's facilities, which include a hot tub, pool, and gym, in addition to in-room amenities like TVs, air-conditioning, and Wi-Fi.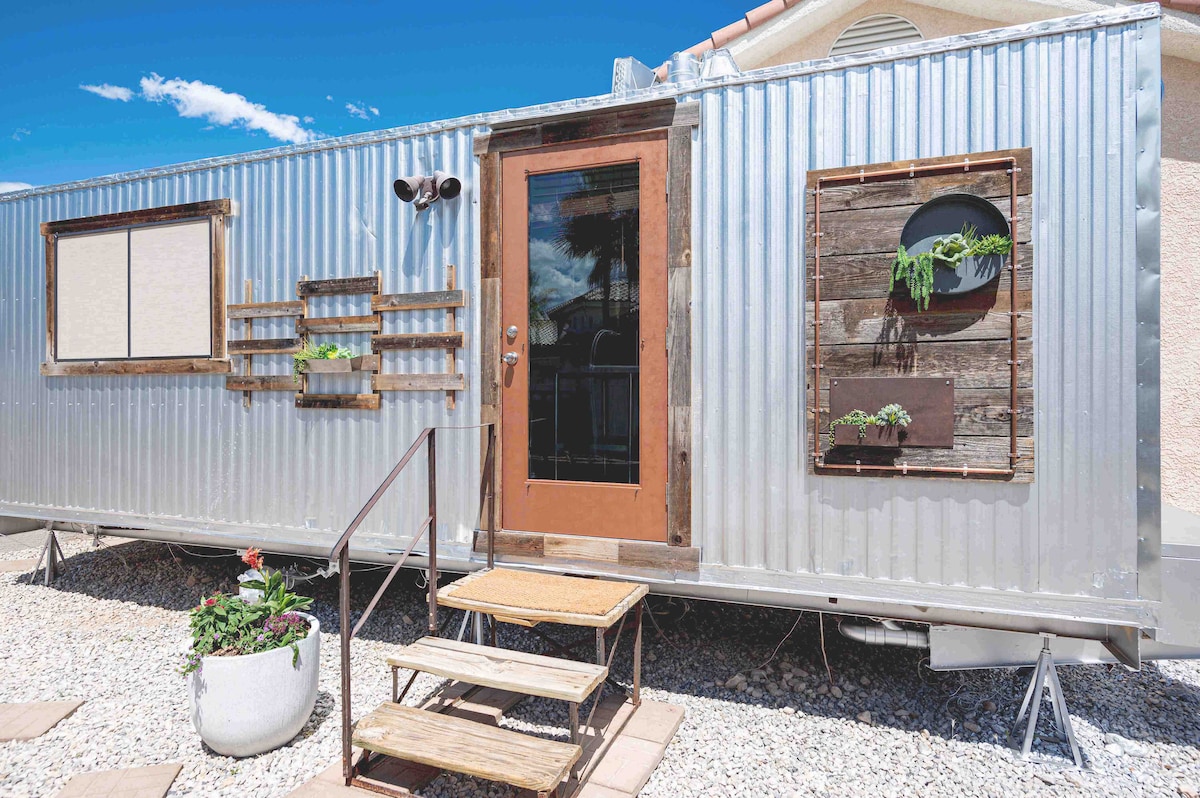 Living Large in a Tiny House
Not all Las Vegas Airbnbs are located right in the heart of the city, which can be a good thing if you're more interested in nature spots like Red Rock Canyon than casinos. This tiny house located just north of Summerlin in the area of Lone Mountain Park makes getting to the conservation area super easy as it's just 15 minutes by car. Even still, it's only around a 20 minute drive to Las Vegas Boulevard if you decide to visit after all.
Rustic on the outside, cozy and modern on the inside, this tiny house is a delightful choice for a couple or a solo traveler. It features a queen bed, but also a cot if you're traveling to Las Vegas with a little one. The studio space inside includes a sofa seating area, a breakfast bar, and a kitchenette, equipped with a microwave, a refrigerator, a hot plate, and a coffee maker.
Amazingly, it also has room for a small bathroom, meaning you really should have all you need for a pleasant stay. In terms of amenities, it offers Wi-Fi, TV, air-conditioning, and free parking on the premises.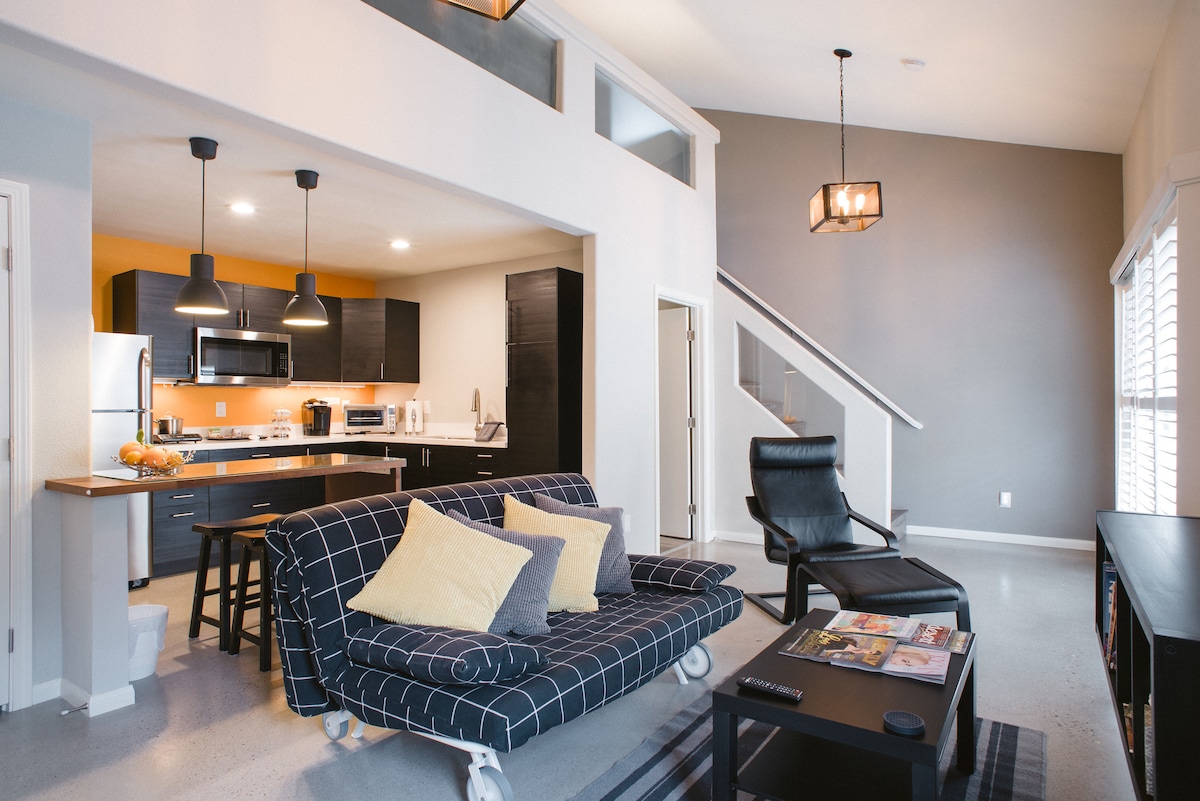 Graystone Guesthouse in Las Vegas for Business
While many Airbnbs in the city are designed for short visits, there are also a range of weekly rentals in Las Vegas like this guesthouse. Situated in the Silverado Ranch neighborhood at the southern end of Paradise area, you'll be staying in a quiet residential area here. Grocery stores, coffee shops, and places to eat aren't far on foot, while the Strip is around 8 miles away.
With this newly renovated guesthouse it's possible to sleep up to three people. Upstairs there is a king bed in the loft-style bedroom, and downstairs in the living room is a sofa bed. Beyond that, it also provides a full bathroom, a small desk area, and a small modern kitchen, equipped with a stove, microwave, fridge, and coffee maker.
The guesthouse is detached from the main house and comes with a private entrance so you can come and go as you please. There's plenty of street parking available and the guesthouse has other amenities including a stereo system, TV, Wi-Fi, and air-conditioning.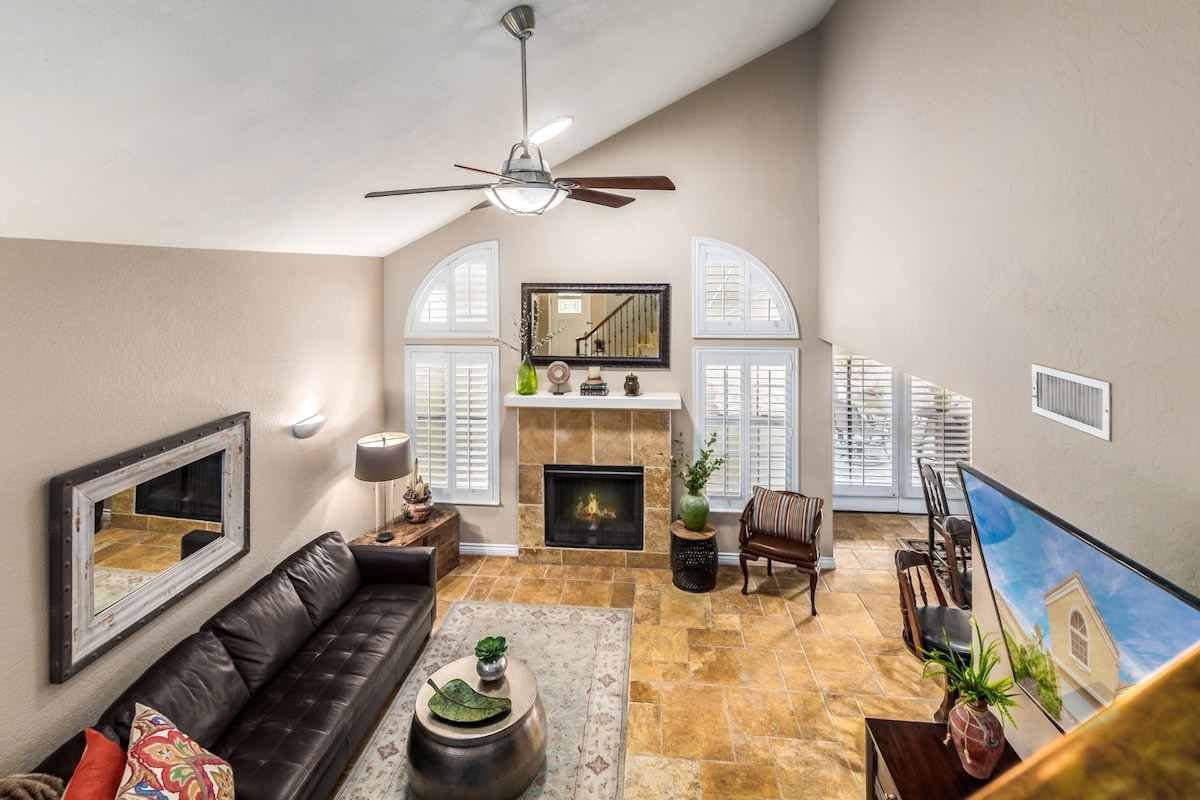 Beautiful Summerlin Home (The Lakes)
One last Las Vegas house rental worth taking a peek at is this spacious and homely Airbnb. Found within The Lakes, a peaceful residential community in the Summerlin area of Vegas, it's a great spot if you want somewhere away from the bustle. Both the Strip and airport are 15 minutes drive from here, so you're really not all that far from things anyway.
With this lovely Summerlin house you're able to have up to four people stay. It offers two master bedrooms each with ensuite bathrooms, which could be perfect if you have two couples heading off on a trip together. Elsewhere in the house you have a half bathroom, a spacious sitting room, a formal dining area, and a full kitchen with all the necessary appliances.
A nice touch with this Airbnb is that you also have a backyard and a covered patio area to sit out on in the fresh area. Then there's all the amenities here, like a laundry room, pay TV, Wi-Fi, air-conditioning, and free on-site parking.
As you can see, there's a nice variety of Airbnbs in Las Vegas for you to choose from, depending on what you have planned. However you want to spend your time in Sin City, Airbnb has you covered.