Thanks to its iconic nightlife, festive spirit, and deep-seated multiculturalism, most travelers need no introduction to the city of New Orleans. When planning a trip to the Big Easy, many will jump straight to looking up hotels or vacation rentals in New Orleans' French Quarter. But do that and you might miss out on all the incredible New Orleans Airbnbs dotted around the historic center of the city. Here is a list of the best of the best on Airbnb for trips to NOLA.
So that these are only the best Airbnbs in New Orleans, all the properties are run by Airbnb superhosts, most of whom are also Airbnb Plus members. What that means is that these places belong to superhosts, owners with a strong track record of excellent reviews. As for Airbnb Plus, that is an even more exclusive program, where in-person inspections are performed at properties to guarantee their quality.
Related: 15 Best Airbnbs in Louisiana, USA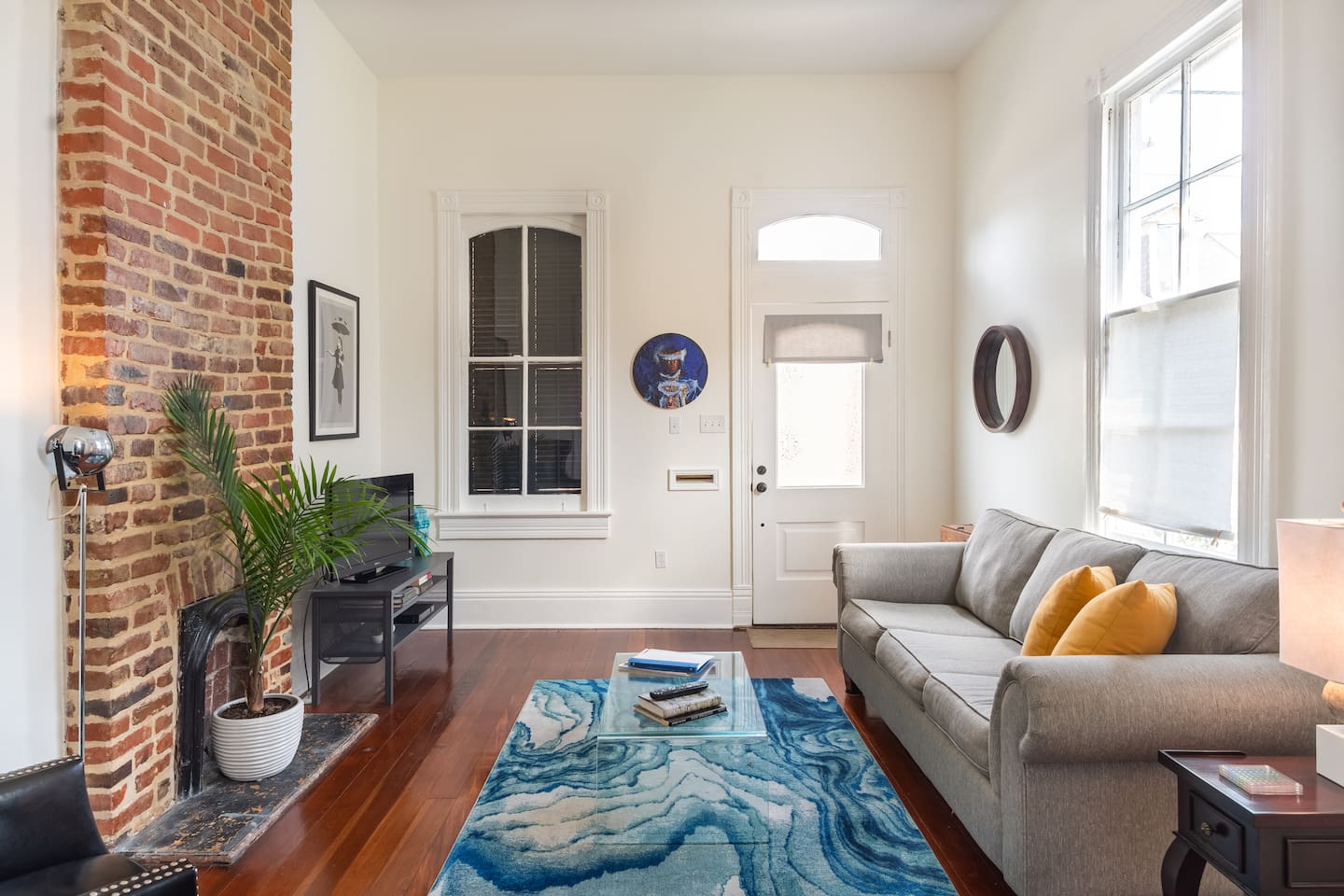 Renovated Marigny Home One Block from the French Quarter
For those looking at vacation apartments for rent in New Orleans, it's hard to pass up this beautifully renovated home. Located in Marigny, one of New Orleans oldest neighborhoods, this Airbnb Plus is one block from the French Quarter and close to everything you could need.
The apartment occupies the ground floor of a historic shotgun home and enjoys a tasteful and restrained decor. Wooden floor boards and exposed brick speak to its past, but the space also feels fresh and new. While only meant for up to two guests, this Airbnb provides plenty of space. There's a cozy living room and dining area by the kitchen to go with the bedroom with its queen-size four-poster bed.
Speaking of the kitchen, it comes well-equipped with a stove, oven, fridge, and microwave, providing everything you'll need to self-cater. Other amenities for use include Wi-Fi, TV, air-conditioning and a washer/dryer, plus the quiet backyard patio.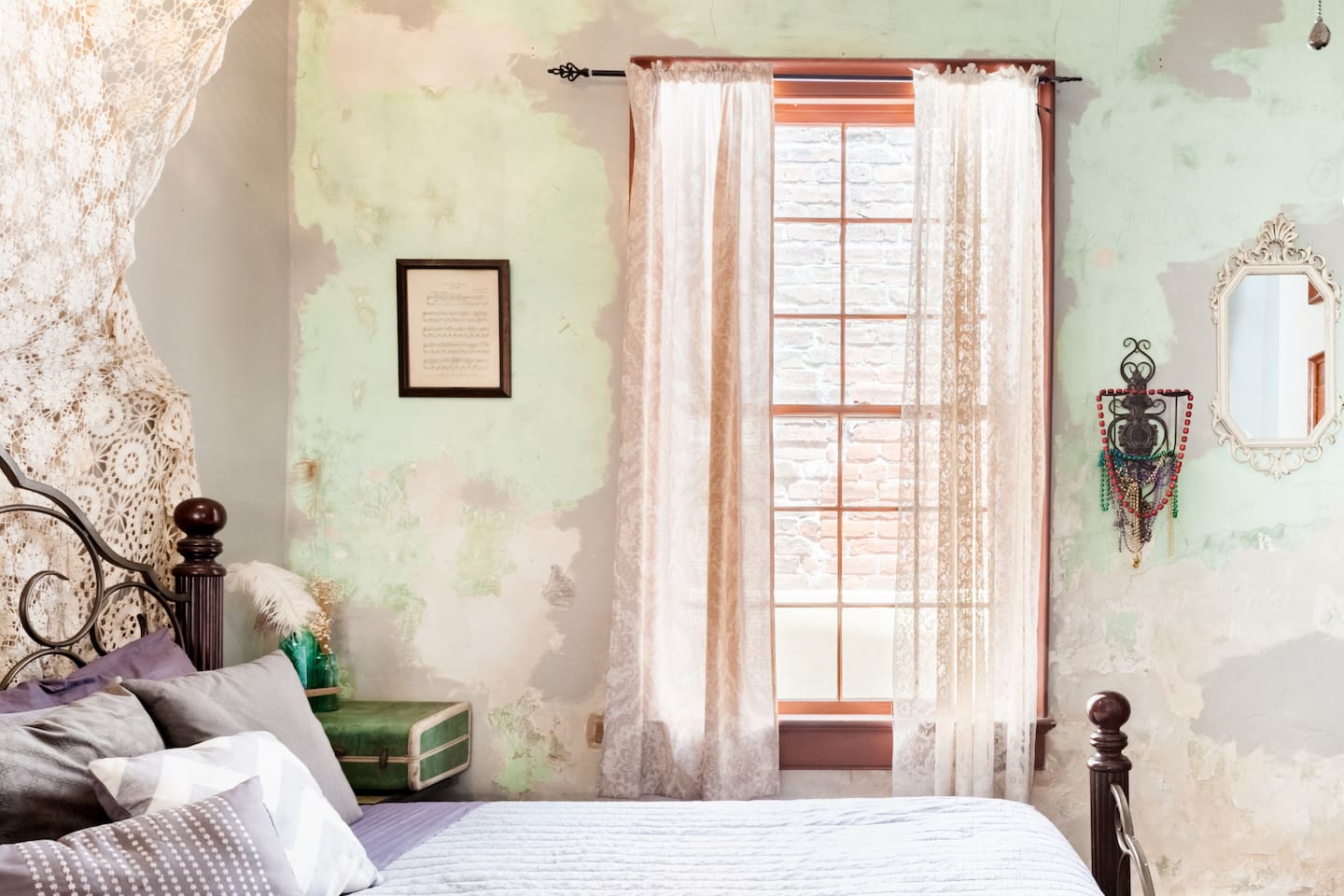 Chic Bohemian Guest Suite Close to the Famous French Quarter
If you're hoping to find the best Airbnb rentals in New Orleans, you can't miss this chic guest house. Situated just blocks from Frenchmen Street and the French Quarter in the quiet neighborhood of Marigny, it offers the perfect location for tourists keen to explore New Orleans.
It's hard to ignore that this Airbnb Plus has gone all out on its French-influenced boho chic home decor. One look at the living room with its vinyl player and colorful sofa perfectly sums up the New Orleans' character. You'll also find this playful style all around the suite's bedroom and its queen bed. It's really only when you step out onto the back patio with its outdoor seating that the theme dials back a bit.
But this Airbnb Plus is definitely not just style over substance. It offers amenities both old-fashioned and modern, like the combination of an indoor fireplace and air-conditioning in the bedroom. Then there's the full kitchen with an oven, stove, fridge, and microwave for all your cooking needs. Finally there's the laundry room with a washer/dryer and other touches like Wi-Fi, TV, and self check-in.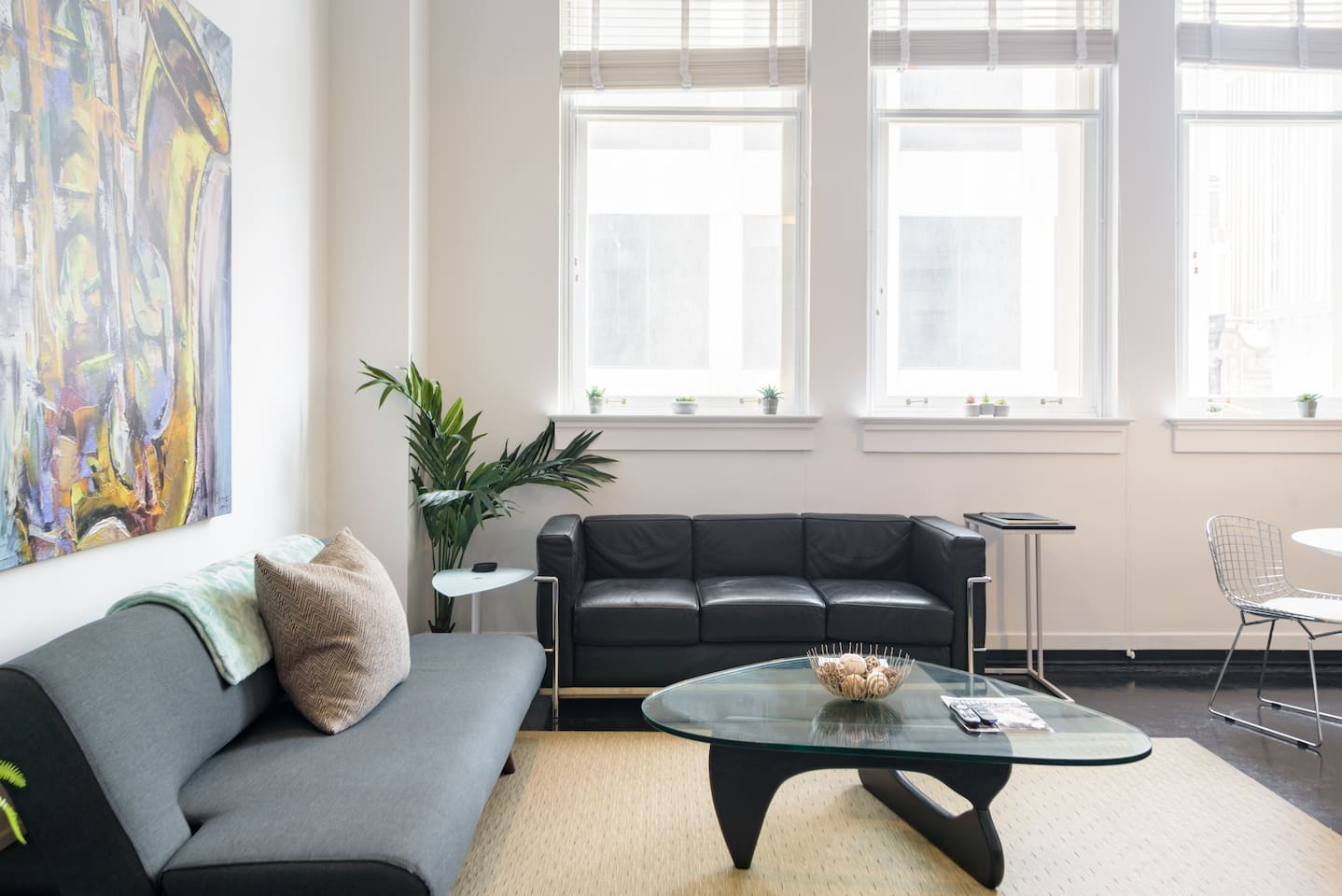 Bright, Modern Loft One Block from Bourbon Street
You won't find too many modern apartments and lofts on Airbnb around the historic center of New Orleans, with this loft being an exception. Found in the Central Business District, this Airbnb Plus is conveniently close to the French Quarter, but also close to plenty of bars and restaurants.
One of the more unusual Airbnbs in New Orleans, this bright and contemporary loft has an interesting approach to creative spaces. Rather than a studio layout, it features semi-transparent screens that separate the bedroom from the rest of the loft. The sleeping area provides a plush queen bed with a full bathroom off the side like an ensuite. On the other side of the screens you'll find the living room, a breakfast table, and the kitchen, which is equipped with a stove, oven, microwave, and fridge.
One of the benefits of staying in this loft is that you also have access to the communal amenities of the building. These include an elevator, a gym, and a laundry room. Then there are the in-room benefits like Wi-Fi, TV, and air-conditioning.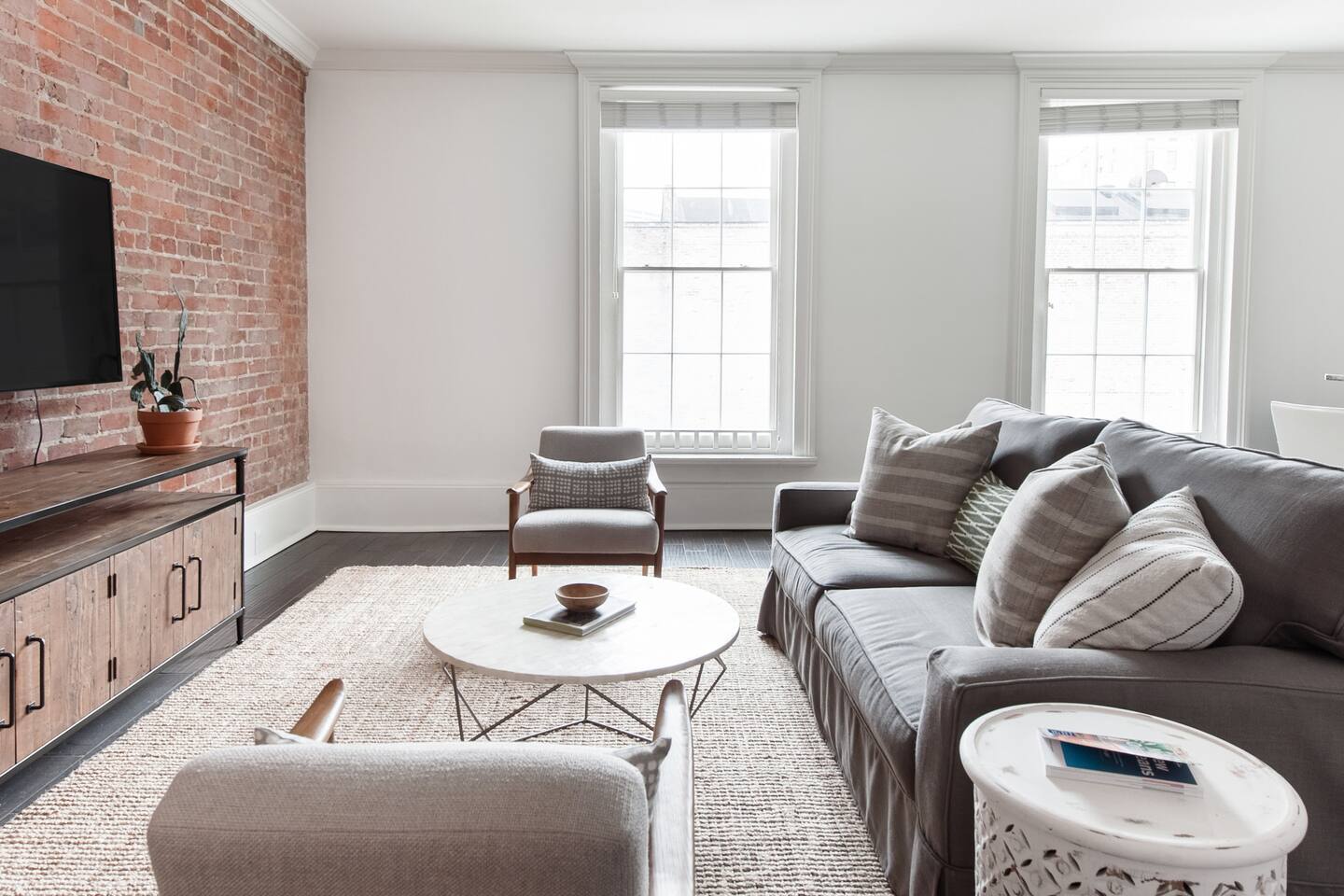 Stroll to Bourbon Street from an Elegant, Neutral Abode
Staying in New Orleans couldn't be easier with fantastic options like this chic condo. Also located in the Central Business District of the city, you'll be just a few blocks from the French Quarter and many of the city's top restaurants and bars.
Stepping inside this upscale Airbnb Plus, you're sure to notice its sophisticated, neutral decor which makes it work for all manner of guests. Rather than being flashy, this one bedroom condo goes for a more reliable, pared back approach. The condo offers a sizable king bed in the bedroom and a sofa bed out in the living area, meaning it can sleep up to four. In fitting with the rest of the Airbnb, it features a practical and modern kitchen, complete with a stove, oven, microwave, fridge, and dishwasher.
One thing that sets this condo apart from other vacation rentals in New Orleans is its accessibility. With no steps at the building entrance or in the condo, and an elevator to reach it, this is a great choice for those with accessibility concerns. This is all on top of other benefits like Wi-Fi, TV, air-conditioning, and a private washer/dryer.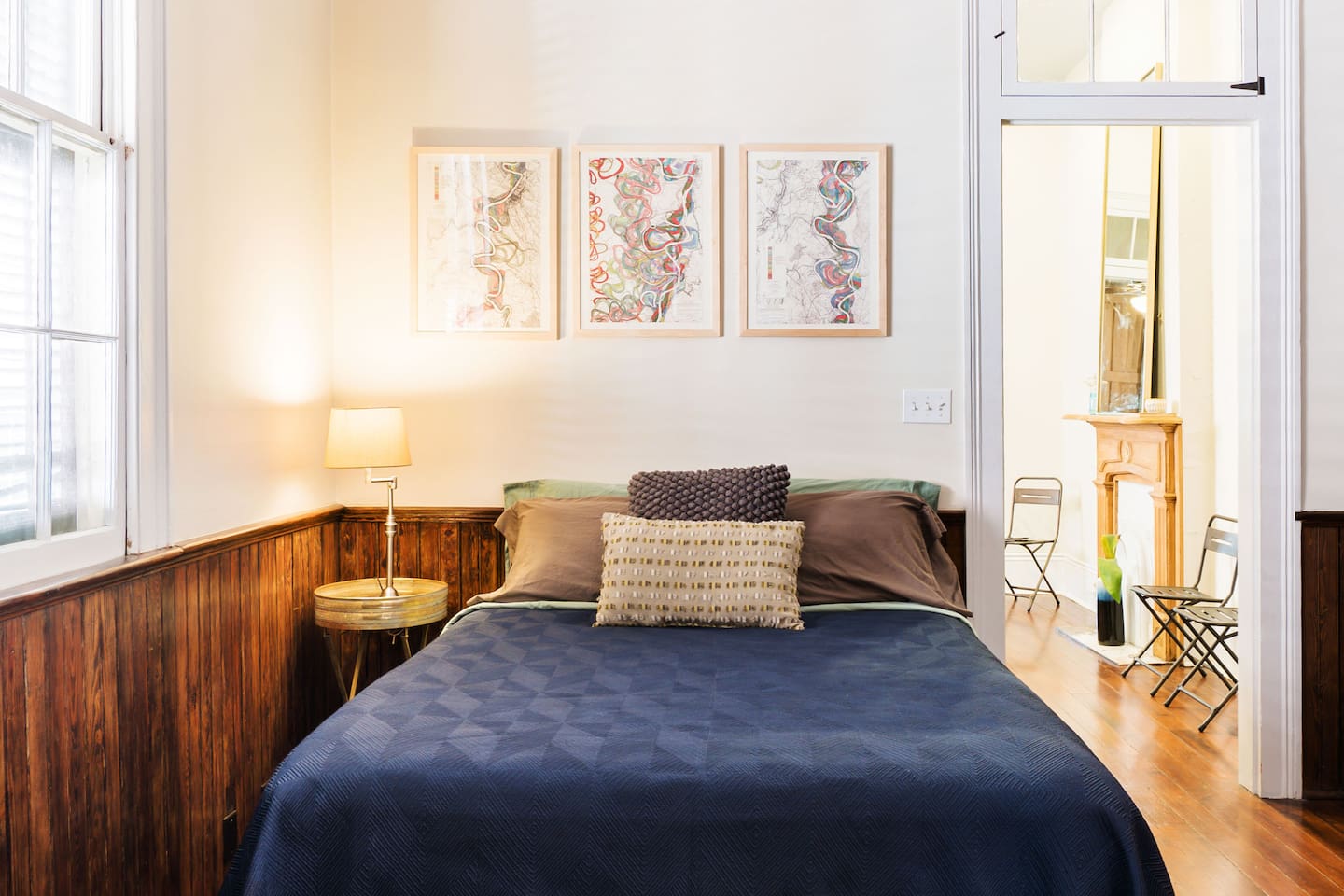 Wander through the French Quarter from a Treme Shotgun Home
Groups or families after a bit more space should take a moment to check out this house rental in New Orleans. It comes with three bedrooms, two with queen beds and one with twin singles, meaning it can comfortably accommodate up to six people. After all, why rent two apartments when everyone can stay together in this one? You can even bring pets if you like.
This beautiful and inviting home is situated in the oldest part of the famous neighbourhood of Treme. From the house, it's just four blocks to the French Quarter and all that it has to offer. But just because it isn't in the French Quarter doesn't mean it lacks character, as this Victorian-era shotgun home is beautiful inside and out. When you see its old-fashioned front porch and big shutters, you're bound to fall just a little in love.
With up to six people staying, it's a good thing that this house is well designed for such groups. Hang out in the relaxed living room and eat your meals around the big table in the kitchen which features a stove, oven, microwave, and dishwasher. Then there are amenities like the laundry, Wi-Fi, TV, air-conditioning, and free parking that help with longer stays.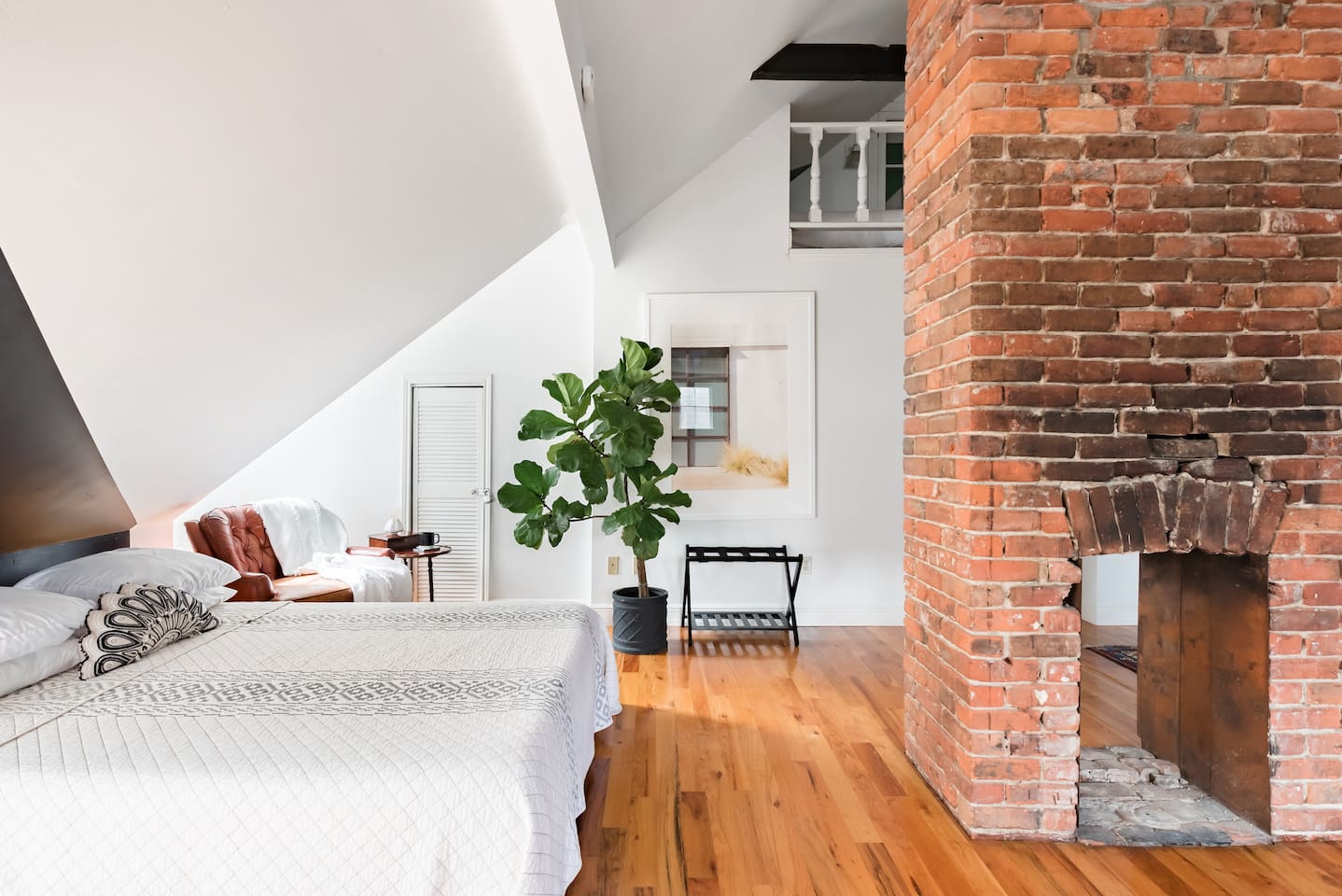 Take in the Historic Charm at a Luminous Marigny Loft
Those seeking the best New Orleans Airbnbs will definitely want to consider this fantastic guest suite. Found near the Cajun bistros and jazz clubs of Frenchmen Street in the Marigny neighborhood, this Airbnb Plus is in the ideal spot for sightseeing.
Set across the second floor of a historic Victorian home, this guest suite has been renovated to make it feel modern, while still honoring its past. Quite impressively, it can sleep up to eight people, making it an excellent option for large groups and families. There are queen beds in the master bedroom, and in each of the two sleeping spaces in the loft, as well as a sofa bed down in the living room. Along with the large living room, guests can spend time together out in the tranquil communal courtyard.
Perhaps the only downside to this Airbnb Plus is that it lacks a kitchen, with only coffee making supplies available. But this house does have some amenities including several smart TVs, air-conditioning, and Wi-Fi.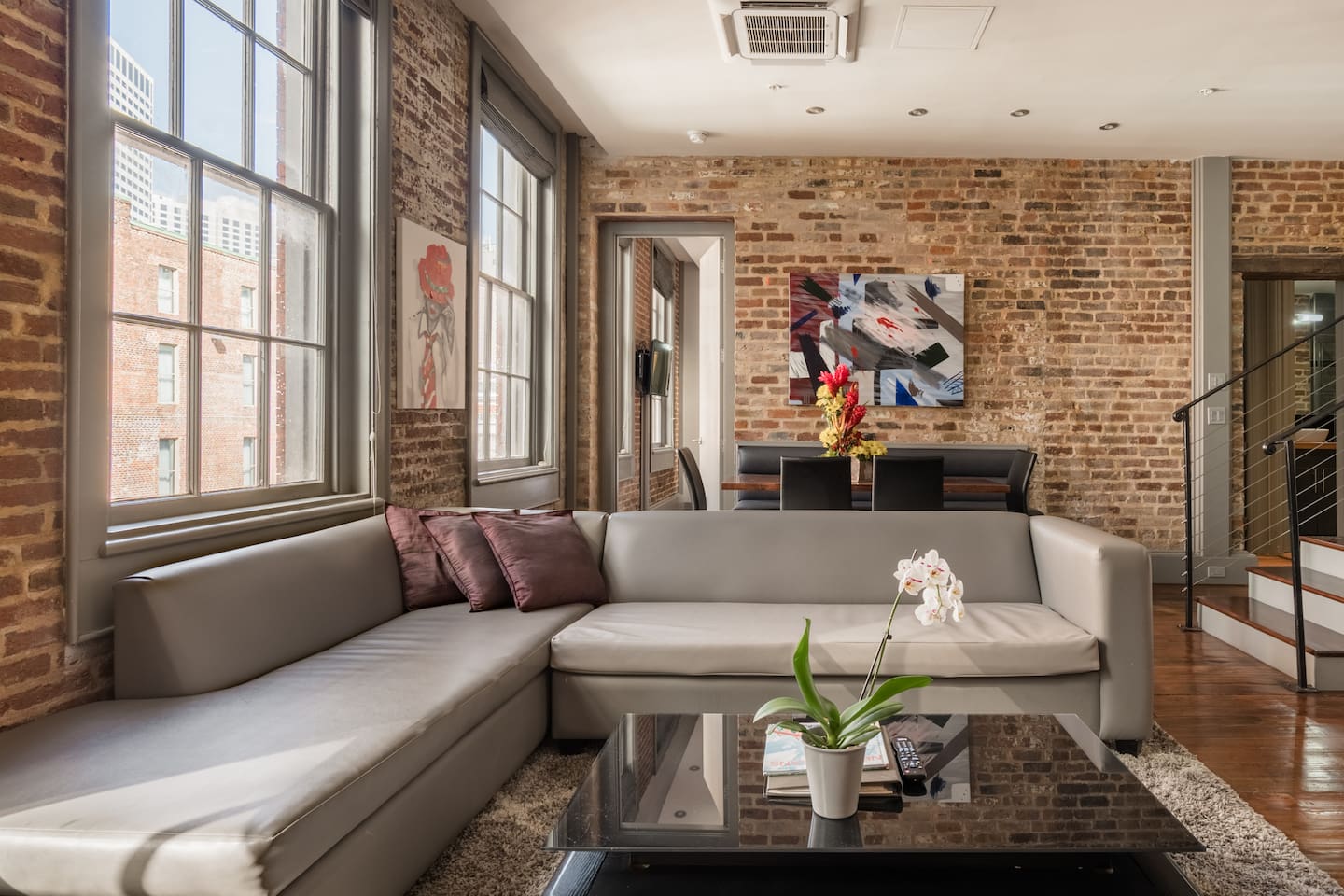 Soak up the Sleek Style of a Renovated 1830s Residence
Another huge Airbnb Plus that's perfectly suited for large groups is this expansive serviced apartment. Located inside a renovated building from the 1830s within the Central Business District, here you have the benefits of an Airbnb in the French Quarter of New Orleans without the noise.
What makes this large serviced apartment so good for groups is that it's clearly been designed just for that. With four bedrooms, each with a king bed and ensuite bathroom, everyone gets their own space. Add in the sofas in the living room and this apartment can host up to ten people. The living room features a large corner sofa and dining table, plus there's also plenty of space outside in the common areas belonging to the building.
One benefit of this apartment is that it comes with a fully modern kitchen, complete with stove, oven, microwave, fridge, and dishwasher. The apartment also boasts multiple TVs, Wi-Fi, air-conditioning, and room-darkening shades. Then there are all the amenities shared with other guests like the hot tub, cabanas, swimming pool, and laundry. There aren't too many Airbnbs in New Orleans with a pool, making this even more special.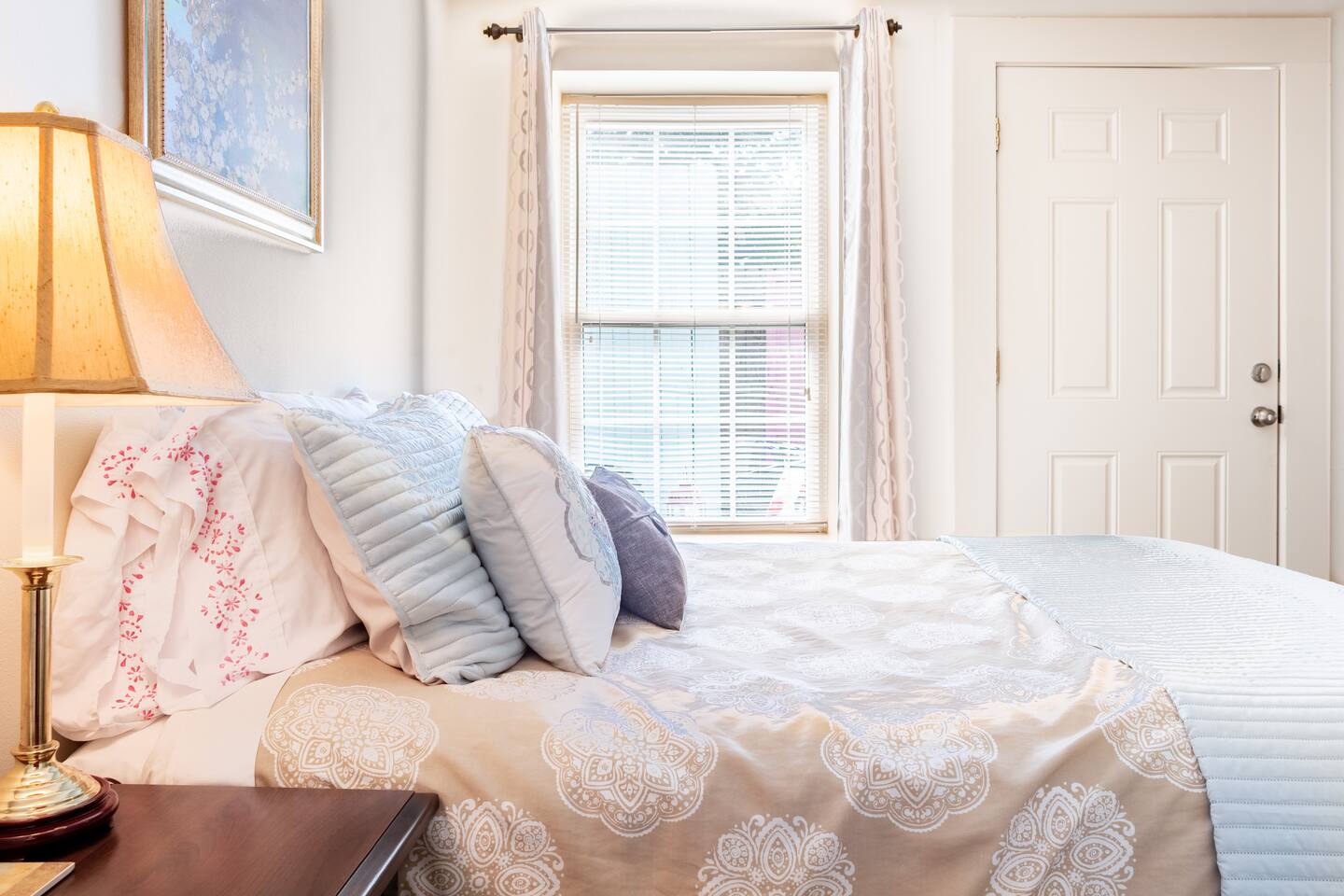 Beautiful French Quarter and Frenchmen Street Condo
Finding somewhere to stay that feels like home can make a trip much easier, which is why this condo is such a great pick. Situated right on the famous Frenchmen Street in Marigny, you can easily walk to the city's famous music venues, bars, and restaurants in this part of town.
A two bedroom apartment, families or couples traveling together will be best suited to this Airbnb Plus. Each bedroom has a queen bed and its own ensuite bathroom, providing a little privacy between guests if necessary. The bathrooms even come with soaking tubs to really help you relax on your trip. As for other spaces in the apartment, there's the bright and cheery living room and the full gourmet kitchen, not to mention the pretty courtyard out behind this historic residence.
Thanks to the kitchen equipped with a stove, oven, microwave, fridge, and dishwasher, you have the choice of trying local restaurants or staying in for meals. Other amenities within this short term apartment rental in New Orleans include Wi-Fi, TV, air-conditioning, the option for self check-in, and free on-site parking.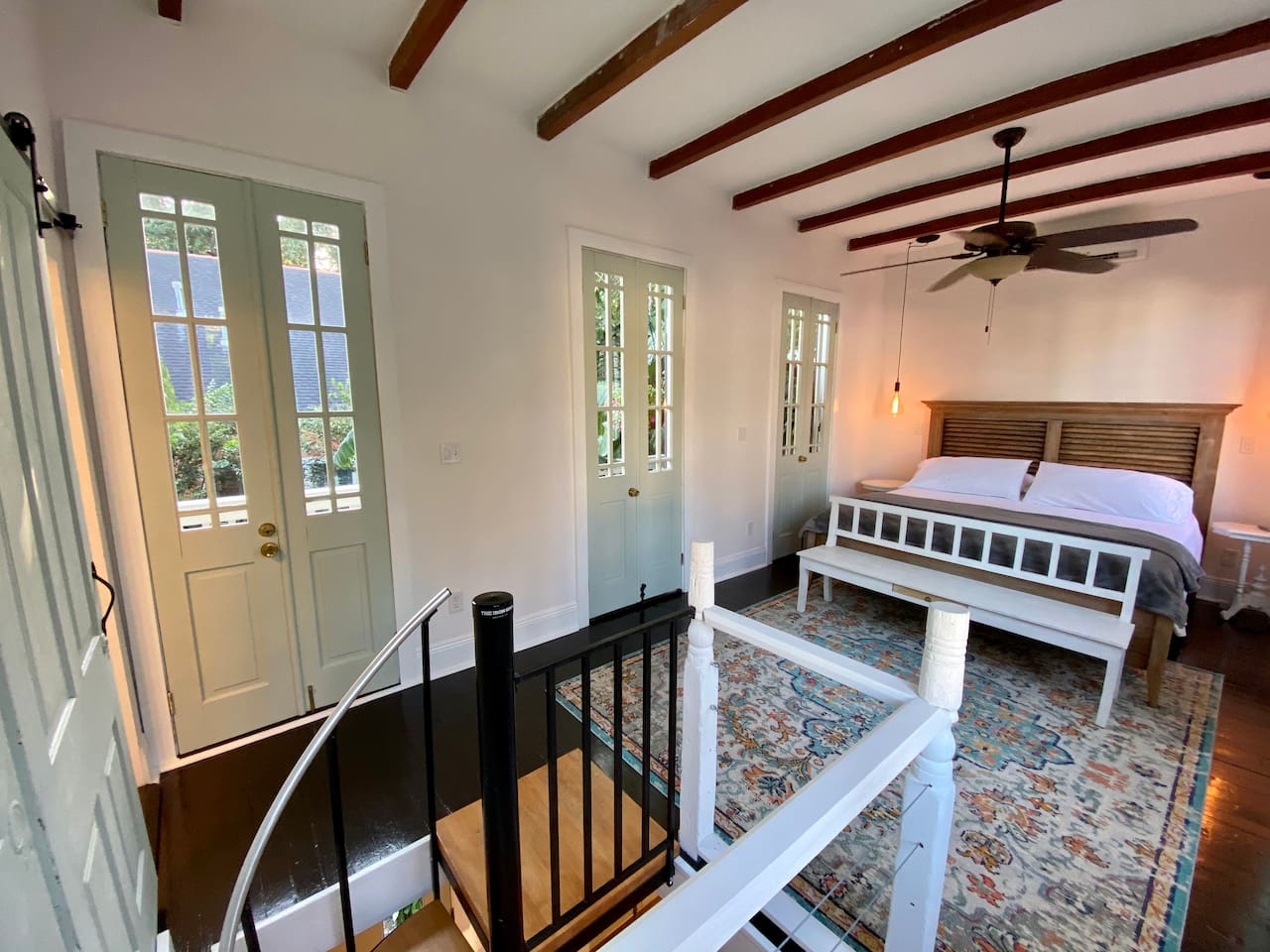 Treme Guesthouse Just a Half-Block to the Quarter
A nice option for those who don't need a huge amount of space is this distinctly New Orleans guesthouse. Staying here in the friendly neighborhood of Treme, you'll really be able to experience the spirit of New Orleans. Plus, it's only a few blocks to Bourbon Street and even less of a walk to the French Quarter.
Sitting out in the lush garden behind the home of superhost Bret, this guesthouse is entirely private and self-sufficient. With just the one king bed in its bedroom, this Airbnb is best suited to couples or solo travelers. While the bedroom and bathroom are situated upstairs, head down a small spiral staircase and you have the living room and kitchen. So really, it's not that small and there's little chance you'll feel cooped up. And if you do, just head out onto your private patio or onto the shared courtyard, both of which are surrounded by greenery.
Back inside, the kitchen comes with the full suite of appliances including a dishwasher, so cooking meals here shouldn't be a problem. Then there are the amenities like the TV with Netflix and Amazon Prime, Wi-Fi, air-conditioning, luggage drop-off, and access to laundry facilities.
Historic Home Near French Quarter
Recently remodeled to add even more modern luxuries, this old-world home is the perfect New Orleans Airbnb for a luxurious getaway.
With three bedrooms and two full bathrooms, the rental can accommodate up to six guests. The entire home is decorated with gorgeous furniture, historic pine floors, and elegant chandeliers. The sunny living area includes a dedicated workspace and a smart TV, while the modern full kitchen features stainless steel appliances and marble accents. You'll also have access to a private backyard and a porch with stunning views of the Mississippi River.
This charming Airbnb is in the family-friendly neighborhood of Algiers Point, surrounded by shops, bars, and restaurants. It's also just one block away from the Canal Street Ferry, which will take you directly to the exciting attractions of the French Quarter.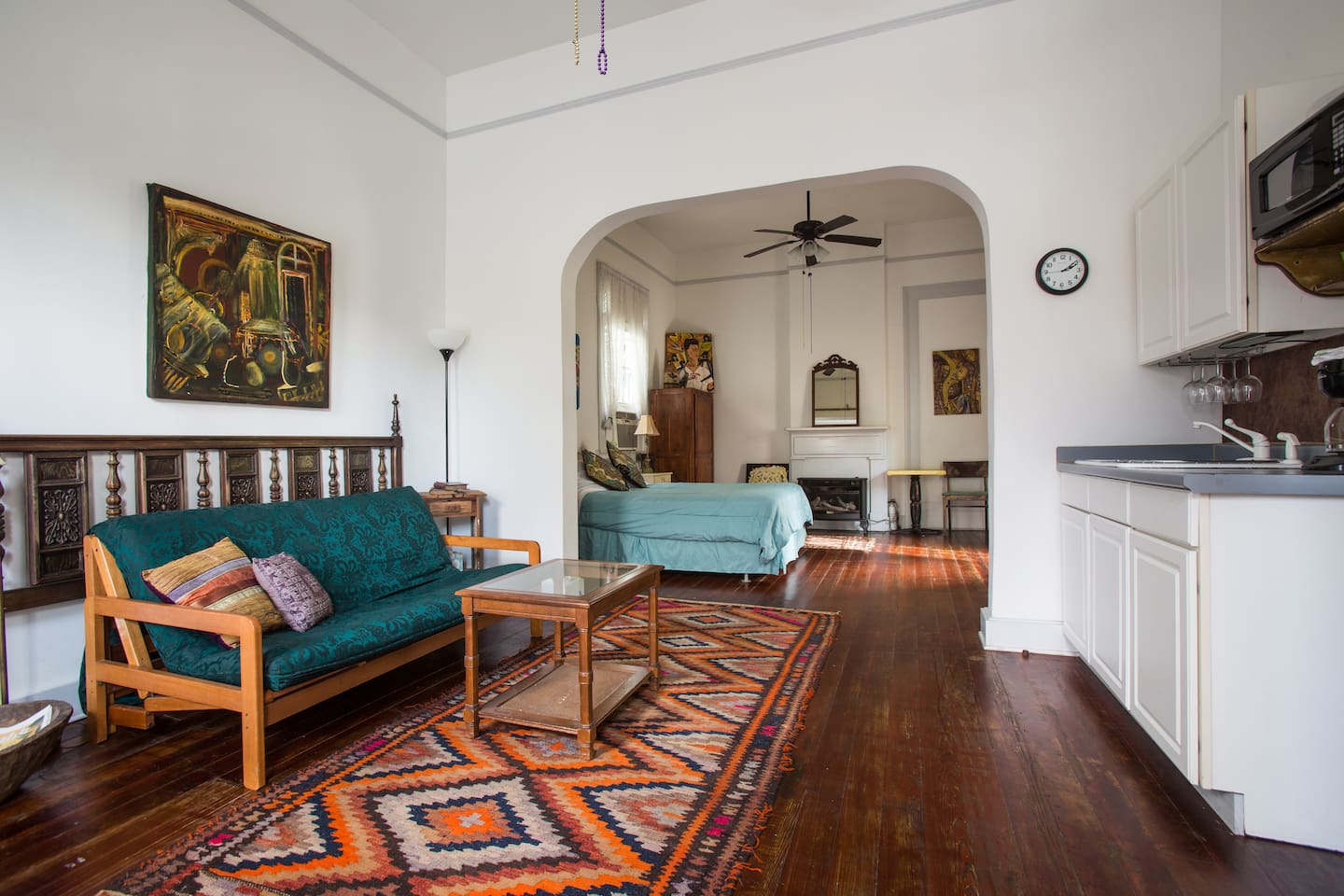 Bywater Beauty Guesthouse
Relaxed, full of light, and thoughtfully styled, this is one of the best value-for-money Airbnbs in New Orleans you'll come across. Situated on the border of the Bywater and Marigny neighborhoods, this Airbnb is in a diverse and eclectic area that offers access to the French Quarter, while having plenty to boast about all on its own.
The house, like so many in New Orleans, has quite a bit of history to it and is roughly 125 years old. Not that it necessarily looks like it when you step inside. Set out like a studio apartment, this Airbnb for two has curtains to help separate the bedroom from the living area and create some privacy. That's useful as the suite features a queen bed in the bedroom and a sofa bed in the living room, meaning guests don't necessarily need to share.
Besides a nice sofa and coffee table, the living space also includes a dining table and a well-equipped kitchenette. Featuring a stove, refrigerator, and microwave, it should be more than enough for basic things like breakfast. Guests here also enjoy free street parking, air-conditioning, Wi-Fi, and a TV with Netflix and Hulu.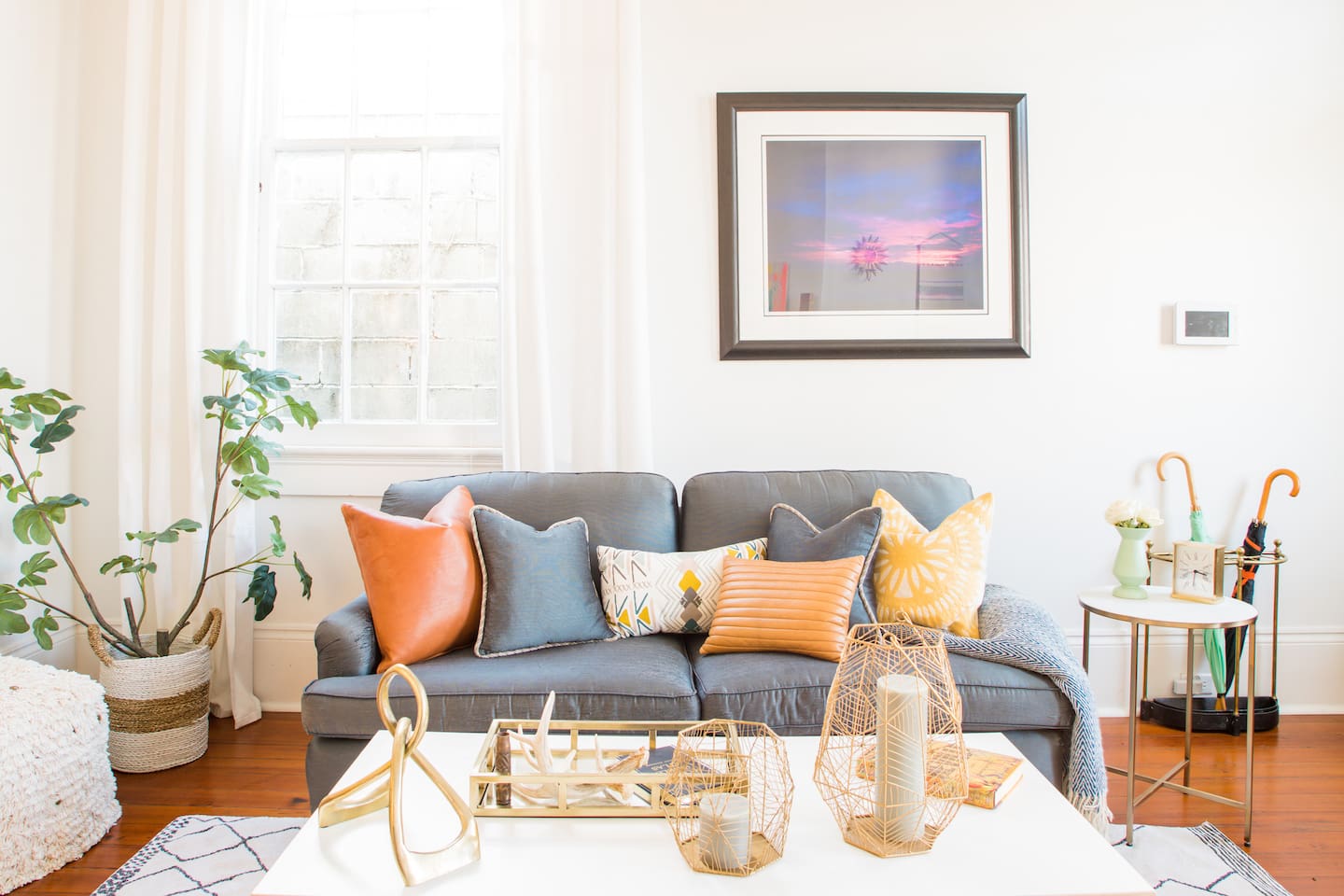 Bywater Beauty – Historic Renovation Featured on Hgtv
To stay in a classic historic house typical of New Orleans, look no further than this renovated house. Found in the hip neighborhood of Bywater, you'll be surrounded by restaurants and bars.
This Airbnb Plus is an absolute delight to stay at, in part thanks to its chic, light-filled interior. While mostly open concept, the bedroom and its high-end pillow-top mattress queen bed is tucked away off on its own. Off the bedroom is an ensuite bathroom with a walk-in shower. Of course, there's also a living room, which boasts an indoor fireplace and a smart TV ready with Netflix and HBO GO for a quiet evening in. And let's not forget the front porch, which you can sit on to watch the world go by.
Restaurants abound in this part of New Orleans, but if you want or need to cook, there's a full kitchen with a dishwasher at your disposal. Those traveling for more than a weekend will be glad to hear this Airbnb has its own laundry. Then there are the other amenities like Wi-Fi and air-conditioning to cap things off.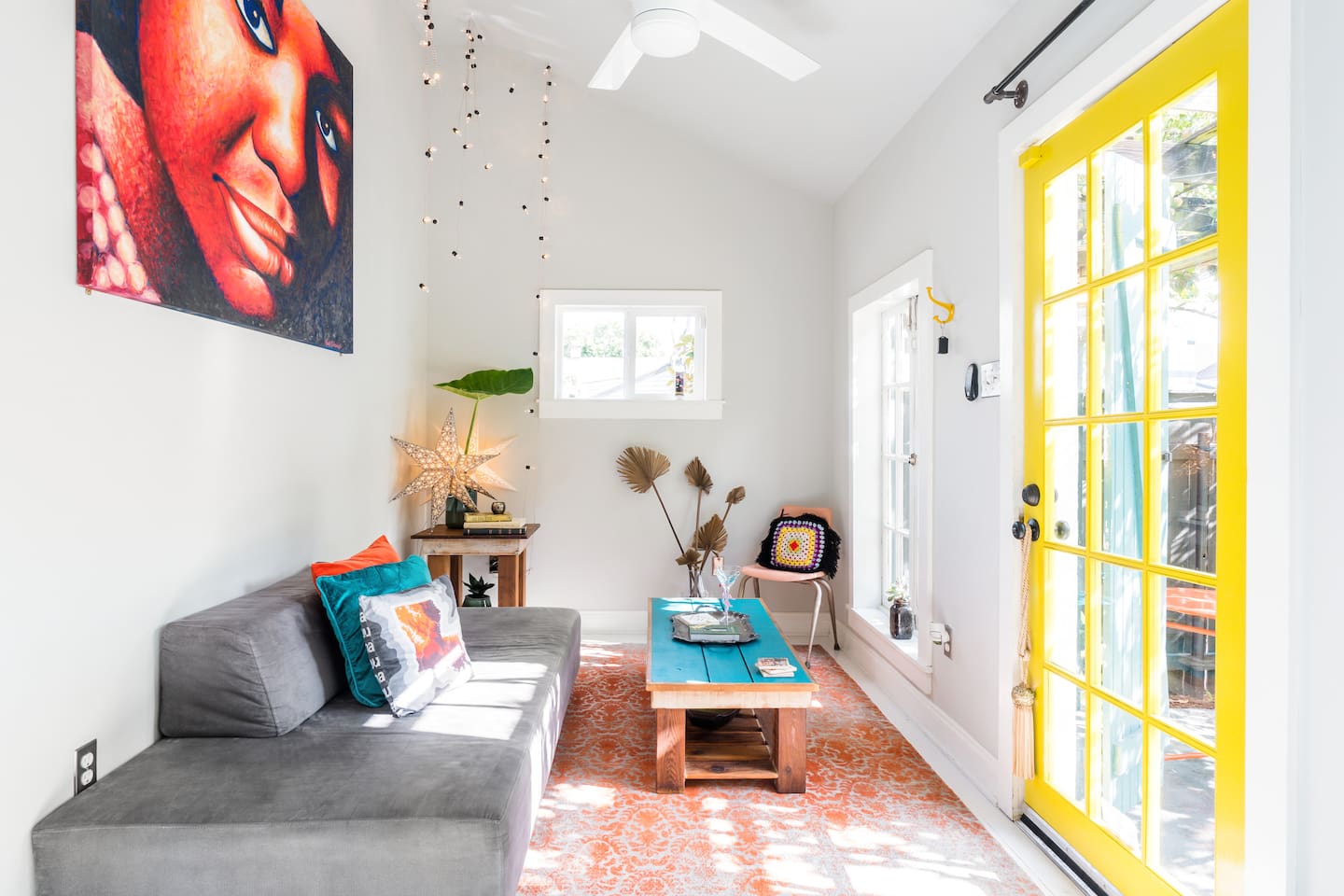 Bask in the Tranquil Courtyard of Bywater Guest House
Few Airbnbs are quite as bright and colorful as this cottage guesthouse, making it a fun pick for your vacation. Another Airbnb located in the Bywater Historic District, visitors to New Orleans enjoy this neighborhood for its dining and entertainment, as well as its proximity to the French Quarter.
Couples and solo travelers are best suited to this Airbnb Plus, as the guesthouse offers just the one bedroom with a queen bed. That said, there is a travel crib available, so parents with a newborn might find this option particularly useful. The bedroom, like the rest of the guesthouse, has a vibrant and modern decor that is bound to brighten up your time here. It also helps that this Airbnb looks out on a lush and peaceful shared courtyard, where you can sit with a coffee and just take it easy.
To make this cottage even more inviting, superhost Stephanie has kitted it out with lots of useful odds and ends. There's the full kitchen that features an oven, stove, fridge, and dishwasher, as well as a laundry room with a washer/dryer. On top of that, there's also air-conditioning, a smart TV with cable, and Wi-Fi.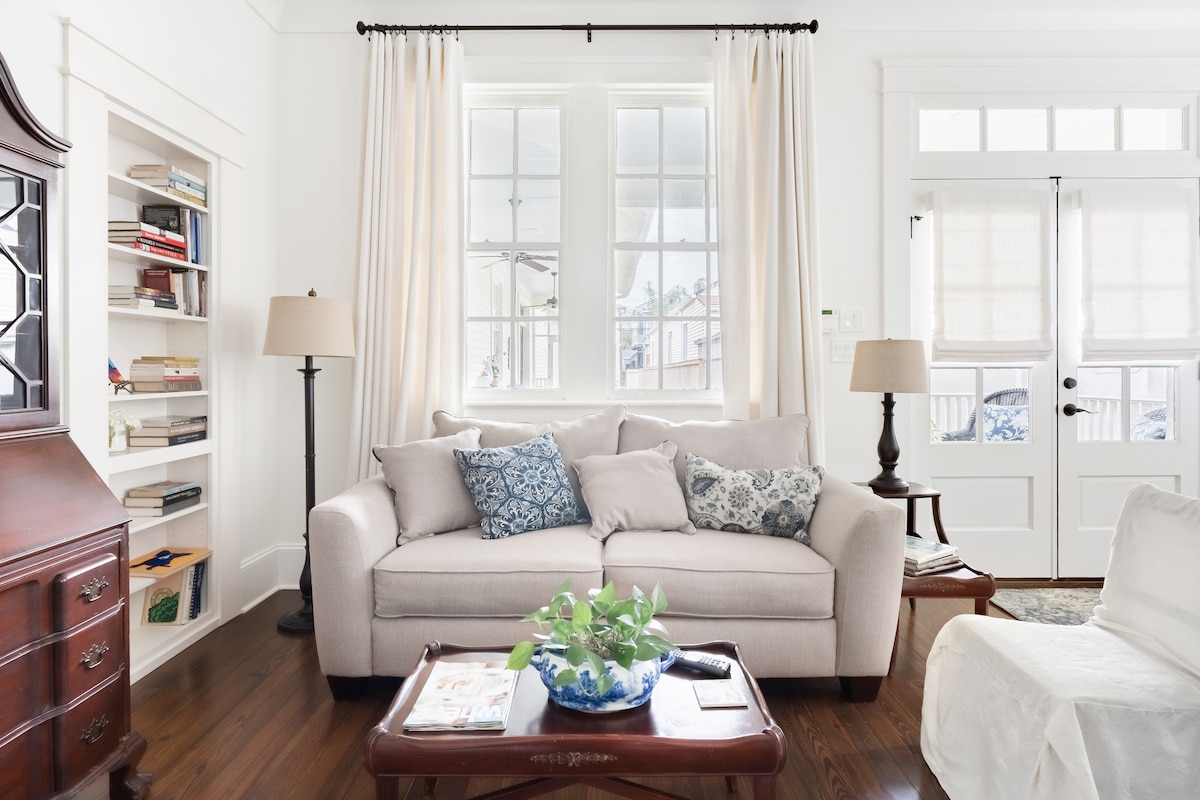 Private Cottage in Charming Neighborhood 
Another luxurious Airbnb Plus with a great location, this quaint cottage makes the perfect vacation rental for solo travelers and couples.
The one-bedroom, one-bathroom home is characterized by antique furniture and eclectic artwork, while the white finishes and large windows make the interior bright and sunny. There is plenty of common space where you can entertain friends or just hang out, including a large living area, a private porch, and a full kitchen with stainless steel appliances and a dining table. The bedroom is decorated with unique local artwork, includes ample storage space, and has a luxurious en suite bathroom. Other amenities include a dishwasher and an in-unit washer and dryer.
This convenient New Orleans Airbnb is centrally located in the Irish Channel neighborhood, offering easy access to museums, art galleries, restaurants, and live music venues.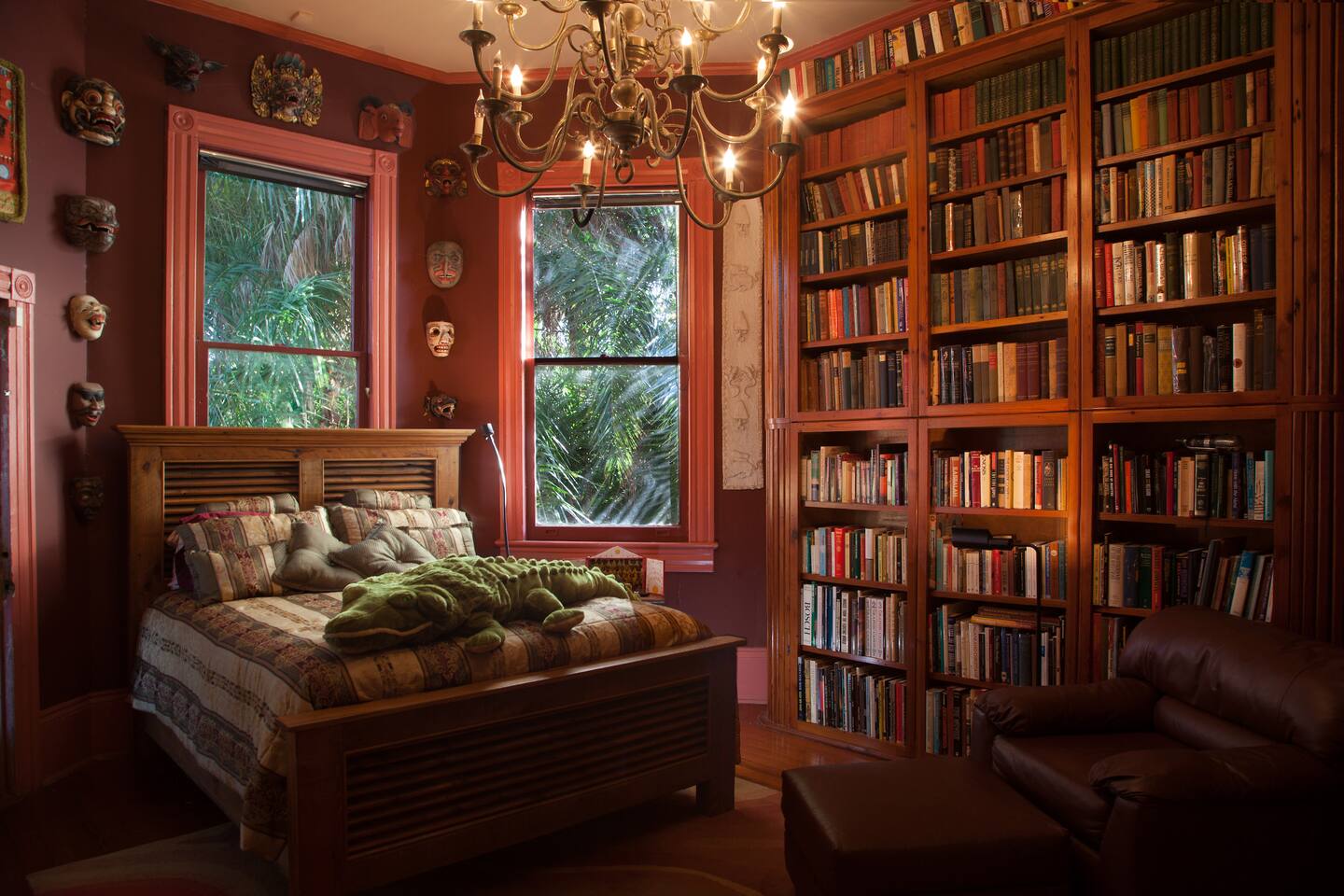 Parks-Bowman Mansion: The Library
Some travelers don't mind not having a complete Airbnb to themselves, and for them a room rental in New Orleans like this one is perfect. Found in the pleasant Garden District to the southeast of the historical center, this area is a nice change of pace from the French Quarter and Bourbon Street.
With this Airbnb you'll be staying in the breathtaking apartment of superhost Adrienne. Her home is full of grand furnishings, exquisite artwork, and fascinating odds-and-ends that are sure to captivate you. As for your space, guests have a private room known as the "The Library" due to its incredible bookshelves. Besides its remarkable decor, the room offers a queen bed for two, Wi-Fi, air-conditioning, a TV, and a mini-fridge. What's more, you have a private ensuite bathroom and a great little porch to sit out on.
In terms of shared spaces, guests have access to the dining and living rooms, but unfortunately not the kitchen except to get coffee. You probably won't mind too much when you realize there's a swimming pool you can use.
Hopefully you now see that there's a lot of variety of places to stay in New Orleans. And while there are plenty of great hotels around, few can compete with the sort of experiences you get from Airbnbs in New Orleans.
Since it would be a shame to visit New Orleans without partaking in at least one ghost tour, make sure to take a look at our guide to the best haunted tours in New Orleans for recommendations on which are worth your time and money.