Looking for a cheap, but good hostel in Chiang Mai? If your answer is yes, than you have come to the right spot. Chiang Mai has literally hundreds of hostels to choose from, so we understand that it can be difficult to choose the right one for you. But don't worry, with the help of this Chiang Mai hostel guide, you will be booked into your new favorite hostel in no time. From the best party hostels to cheap budget hostels, here are the best hostels in Chiang Mai.
Quick Answer: The Best Hostels in Chiang Mai
Oxotel Hostel
Oxotel is a design hostel located on the renowned Wualai Road. It has a comfy and stylish feel and welcomes travelers from all over the world. The six different room types work well for solo travelers, couples, or groups. They have dorms, twin rooms, double rooms, and even a private caravan mobile home. The mobile home is located in the garden, sleeps two, and has a private bathroom. This resort hostel gives you easy access to the airport as well as the city center, so whether you're staying in Chiang Mai or passing through to tour Thailand, Oxotel Hostel is a great option.
Check Prices on Hostelworld Check Prices on Booking.com
HOSTEL by BED
Inspired by the famous hotel chain BED, this contemporary hostel is designed to be a home away from home. When thinking about where to stay in Chiang Mai, HOSTEL by BED is an obvious answer because it's located in the old town square near numerous attractions. The staff host a variety of events to help you meet other travelers, a favorite of which is their movie nights when they blow up an inflatable screen and everyone gathers around with popcorn. The hostel has indoor and outdoor common areas as well as a shared kitchen. They offer double rooms with private bathrooms and single and queen beds in dormitories. For a fun stay where you can be immersed in Thai culture, book your stay at HOSTEL by BED.
Check Prices on Hostelworld Check Prices on Booking.com
Bodega Party Hostel
If you're looking to party hard then this is the best Chiang Mai hostel for you. Bodega Party Hostel has nightly drinking games, great food, and good booze that everyone loves to bond over. Pub crawls and market crawls let you get to know Chiang Mai better while making new friends. This hostel offers 15 four-bed dorms with air conditioning, international charging ports, and storage for your travel bag. When you're ready to head out into the city you're only steps from the Night Bazaar and Thapae Gate. For the best party hostel in Thailand, choose Bodega Party Hostel.
Check Prices on Hostelworld Check Prices on Booking.com
The Entaneer Poshtel
Locatedt in the Chang Khlan district, the Entaneer Poshtel is a family-run hostel with a welcoming staff. This design hostel has 45 guestrooms (private rooms and dorms) all with shared bathrooms stocked with towels, toiletries, and hair dryers. There's a bar on-site as well as a shared kitchen so you can cook your own meals. The hostel is always very clean and the common areas are modern and inviting. The owners live at the hostel, so if you need assistance with anything they can be your personal concierge. Its convenient location and friendly staff are only two of the things that make the Entaneer Poshtel one of the best cheap places to stay in Chiang Mai.
Check Prices on Hostelworld Check Prices on Booking.com
Hug Hostel Rooftop
One of the best backpacker hostels in Chiang Mai, Hug Hostel Rooftop is an award-winning hostel that's ideal for those who like to party as well as those who want a good night's sleep. Feel free to party the night away at their bar as you listen to music and meet new people. The rooftop has impressive views and cheap beer. In the morning you can head out on one of the various day trips or activities they offer like jungle trekking and cooking classes. With more than 100 beds spread across dorms with between four and 12 beds and private rooms, each bed has its own locker, reading light, and power socket (don't forget to bring your travel adapter). Located near Chang Phuak Gate, Hug Hostel Rooftop is a five-star, modern hostel that has everything you need for a perfect stay in Chiang Mai.
Check Prices on Hostelworld Check Prices on Booking.com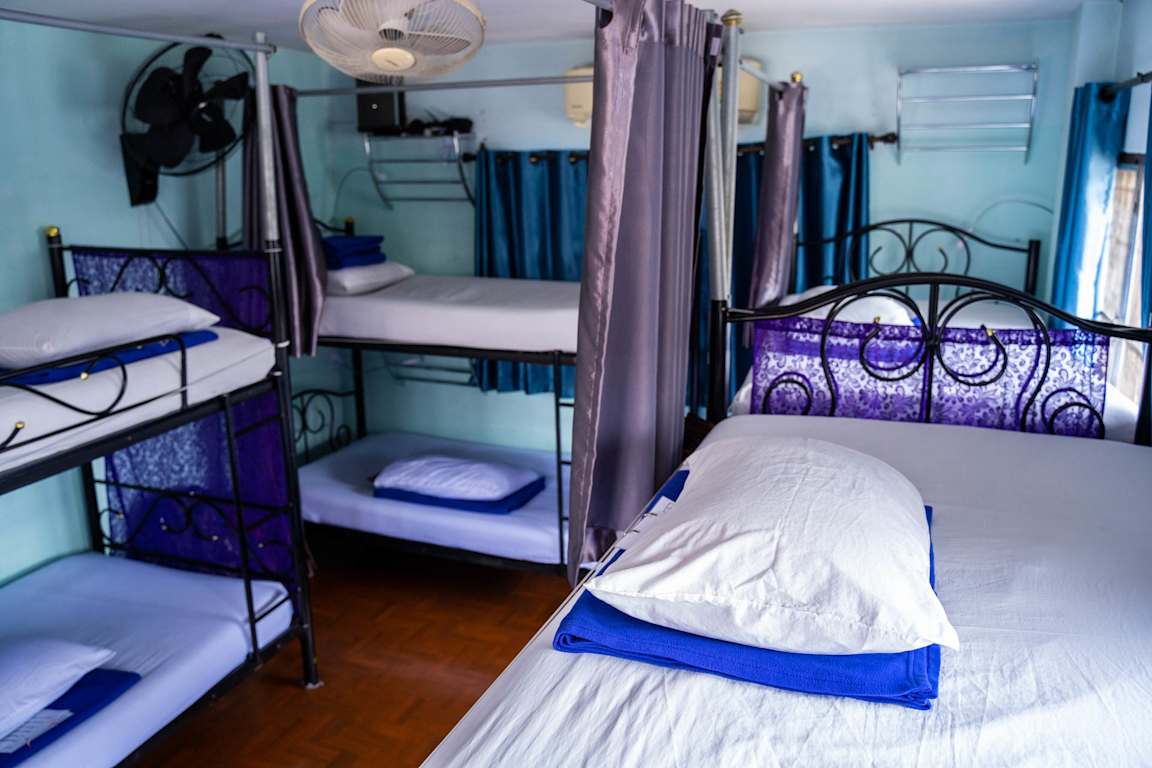 Thailand Wow Hostel
The owner of Thailand Wow Hostel, Khai, has ensured that this place is one of the best hostels to stay in Chiang Mai. You can enjoy delicious, homemade Thai dishes throughout the day at their bar and restaurant. The evenings are filled with fun as the hostels hosts a variety of events ranging from family dinners and movie nights to Thai boxing shows and trivia nights. Khai is also happy to help you arrange off-site activities like rafting tours and hikes. They offer dorms and private rooms, some with air conditioning and others with fans. Thailand Wow Hostel has a local staff that looks forward to personalizing your stay in Chiang Mai.
Check Prices on Hostelworld Check Prices on Booking.com
Stamps Backpackers
For those looking for a bit more privacy in a hostel stay, check out Stamps Backpackers. They have six and eight-bed dorms made up of semi-private sleeping pods. Each pod has a power outlet, locker, and bedside light for reading books, and you'll also be able to draw the curtain so you can have some privacy. There is a kitchen on-site where their western chef whips up delicious food. You can also get breakfast to go so you don't go hungry while you're out touring. The staff host group activities each night which give the hostel a family vibe. Stamps Backpackers offers the perfect blend of a social hostel without being a party hostel.
Check Prices on Hostelworld Check Prices on Booking.com
Hostel Lullaby
A super chill budget accommodation in Chiang Mai, Hostel Lullaby lets you relax and recharge during your stay. This stylish hostel is located in the heart of Old Town near several religious and historical sites. Dorms have four or six beds, and they offer a double room with ensuite bathroom. All beds boast five-star hotel mattresses, and linens and towels are included. Hostel activities include free cooking classes and yoga. They even have bottomless snacks in the lobby. Hostel Lullaby is a cozy and convenient hostel that'll enhance your stay in Chiang Mai.
Check Prices on Hostelworld Check Prices on Booking.com
D-Well Hostel
Awarded "Chiang Mai's most popular hostel", D-Well Hostel is located in a prime location halfway between the Chiang Mai Night Market and Thapae Gate. Reception is open 24/7 and the staff are happy to help you book whatever tours you'd like. There's a cafe on-site which offers free breakfast until 10:30am and has a three-hour happy hour each night. When you want to hang out in the hostel they have board games, puzzles, a TV, and a game console. The all-dorm hostel rents linens and towels, and each bed has a socket so you can plug in your travel alarm clock. D-Well Hostel gives you have a homey stay while you explore Chiang Mai.
Check Prices on Hostelworld Check Prices on Booking.com
Green Sleep Hostel
Green Sleep Hostel was created to offer a boutique hotel at a budget price. It's located in a four-storey building across from the Chiang Mai District Office. You can choose from a four, six, or ten-bed dorm or a private room. The private rooms have televisions, but they don't have windows. All rooms have shared bathrooms. If you book a dorm, you'll have a private locker, but there is also a small area to store your luggage if it's too large for the locker. The hostel has a lounge where you can meet other travelers. You can also rent a bicycle for free for up to four hours. Green Sleep Hostel will let you have a warm and cozy experience during your stay in Chiang Mai.
Check Prices on Hostelworld Check Prices on Booking.com
That about sums it up for the best hostels in Chiang Mai. There are many more great hostels in Chiang Mai but these are by far the best ones in town.