Whether you're a California native or a tourist traveling around the state, it's often nice to get away from the big cities. One of the great things about California is that there's so much choice, with desert, forests, and seaside there are plenty of great places to unwind. That variety is reflected in the best Airbnbs in California. Rather than spending time hunting them down, this list will guide you through your top choices.
Now, if all you want is an ordinary vacation apartment for rent in California, then this list isn't going to do much for you. That's because we've selected the best of the best, finding well-rated Airbnbs with superhosts. In case you're not familiar, superhosts are Airbnb hosts with well-reviewed properties and a proven record of good service. We also list a few Airbnb Plus rentals here, which are special listings that take style to the next level. So, let's get to it.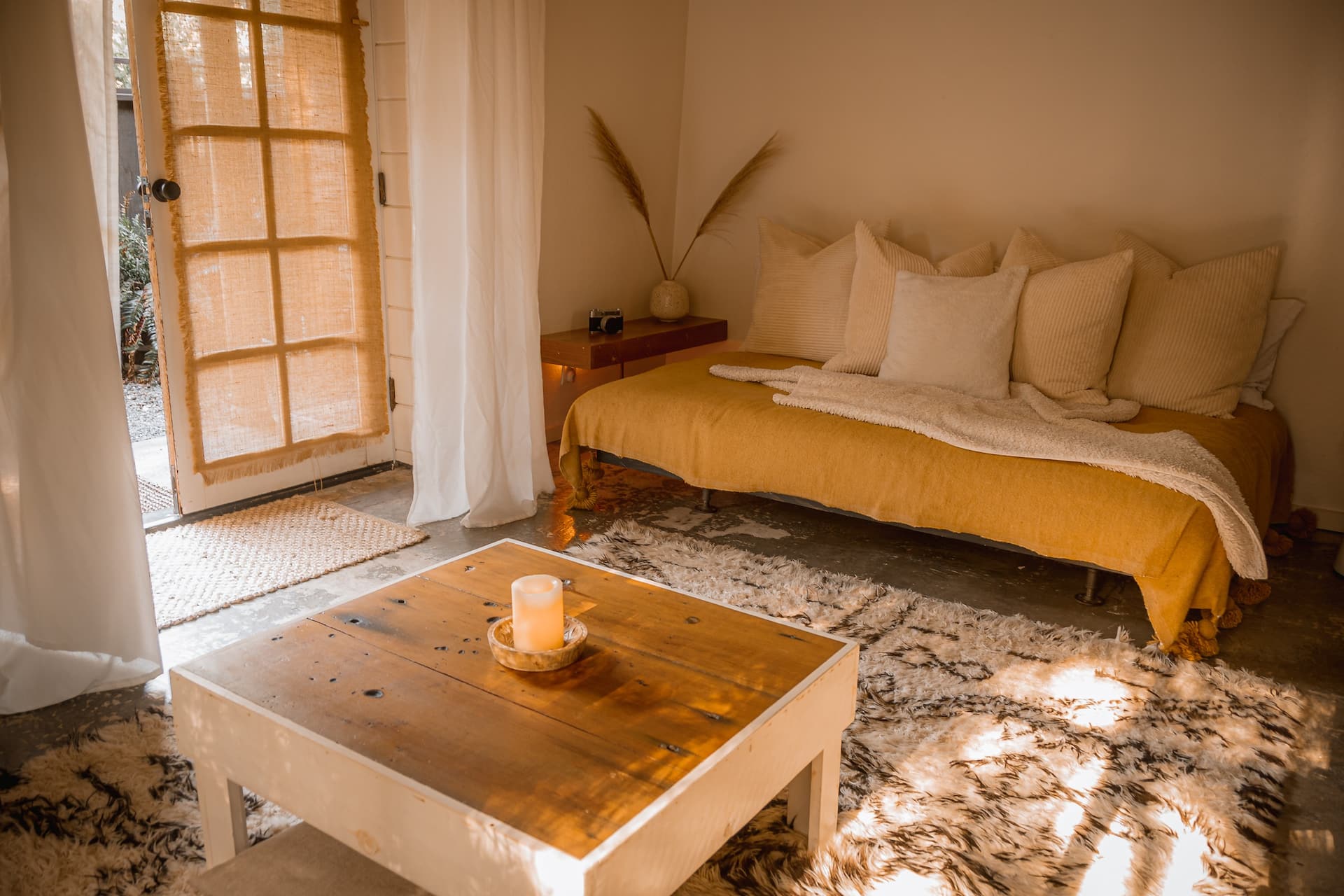 Water Tower Retreat
Surrounded by redwoods, this has to be among the best airbnbs in Northern California for those seeking some R&R. In this small one bedroom house outside the town of Elk near Mendocino you can escape the world in style.
We really can't stress enough how remote this California Airbnb is. It's five miles to the nearest town – Elk, which has nothing more than a roadhouse and market. There's also no Wi-Fi and very limited cell service, making this the perfect place for a digital detox. Instead, you can enjoy your cozy surroundings, go for walks in the quiet forest, or take a short drive to the seaside.
Inside this cozy house you'll find a relaxed cabin feel in the living room downstairs with big windows looking out to the forest. There's also a kitchenette with a single cooktop and mini fridge. Then there's the recently renovated bathroom and the bedroom with a queen bed hidden away up a ladder staircase. As well as everything indoors, there's a great outdoor space, complete with a table and hammock.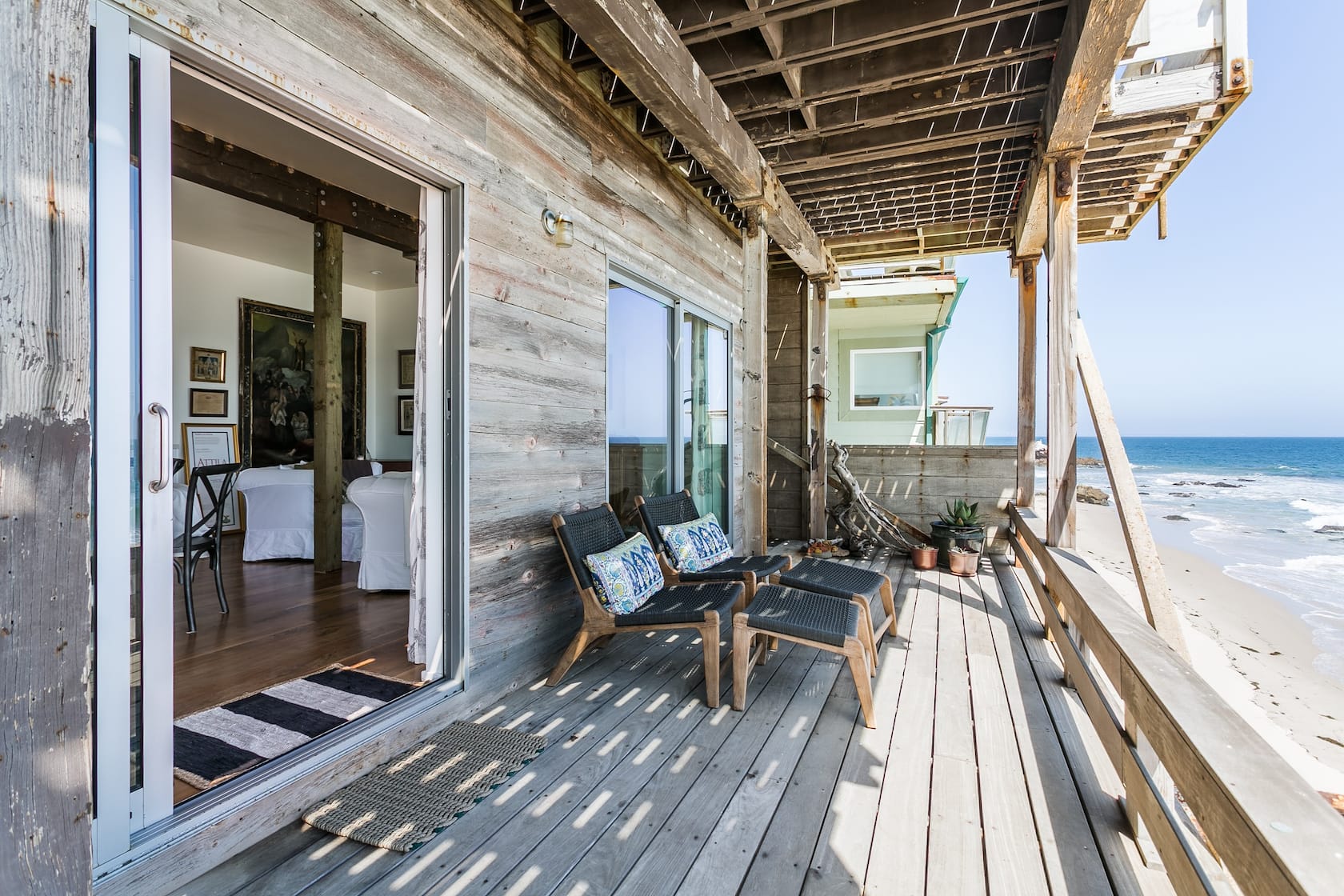 Idyllic, Romantic Beachfront Apartment in Malibu
If you're dreaming of spending time by the ocean, you need to see this beach house Airbnb in California. Situated right on the beaches of Malibu this is one of the best airbnbs in California on the ocean and is ideal if you want to sit back and have a few drinks while listening to the waves break. This is on a quieter part of the Malibu coast so it won't get busy with other tourists.
This Airbnb Plus apartment has just the one bedroom with a queen bed, making it well suited for a romantic getaway. From the cozy bedroom you can venture out onto the spacious patio, relax in the sun loungers, and even rinse off after the beach in the rain shower.
But you also have plenty of indoor space thanks to the bright and comfortable living room with sofas and a dining table. Sharing the room is the kitchen, complete with a gas oven and the usual facilities. Other amenities include heating and air conditioning, Wi-Fi and laundry facilities, all provided by superhost Connie who's attentive to guests' needs.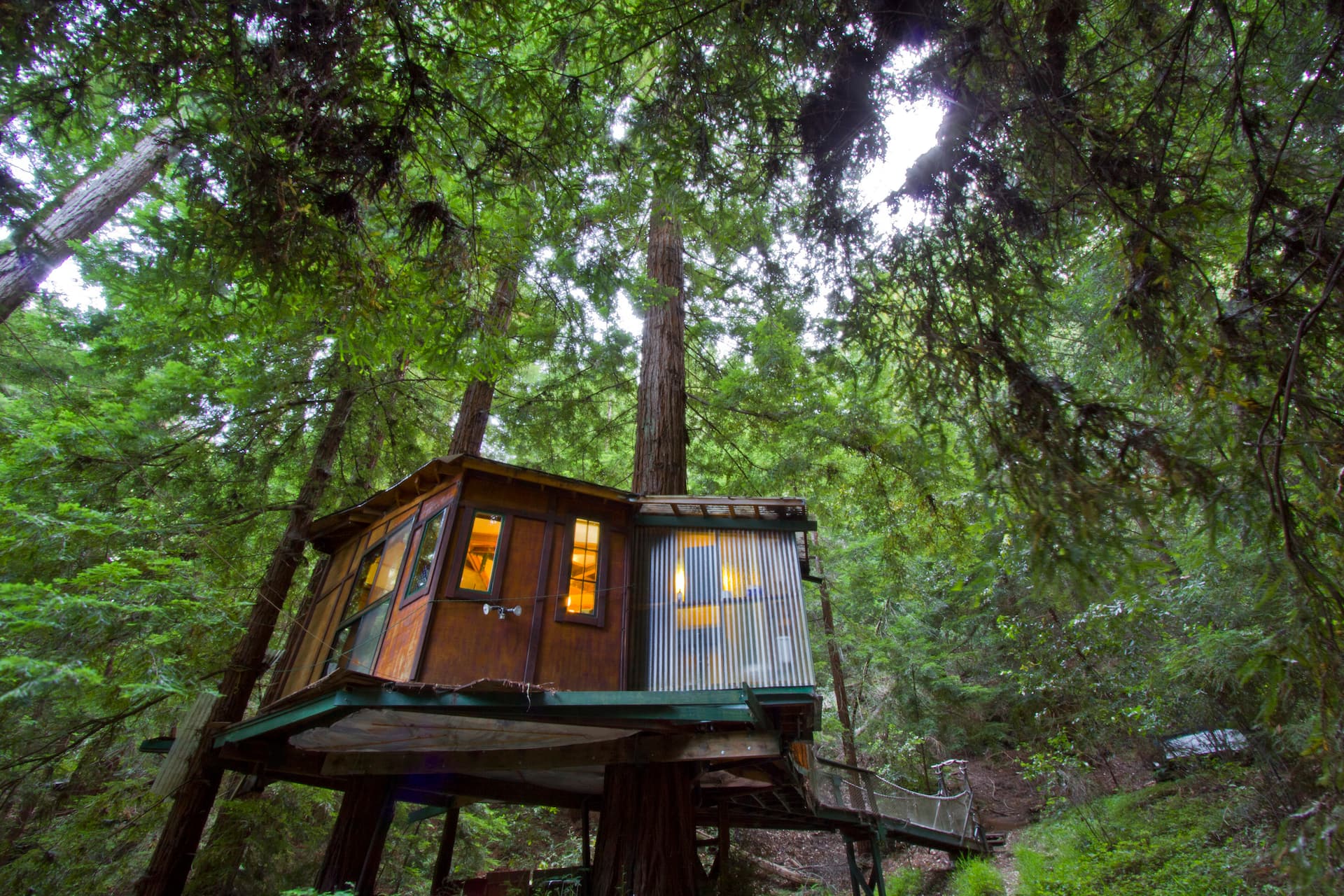 Redwood Treehouse Santa Cruz Mtns.
Rather than simply rent a cabin in California, why not stay in this genuine treehouse which is built off the ground around two redwood trees. Hidden away in the Pacific Coast forests of the Santa Cruz Mountains, staying in this treehouse airbnb in California is an experience like no other.
Located down a trail a few hundred yards from the parking area, you'll have plenty of opportunities to wander through the woods. And when you're back you'll be able to enjoy this cozy little treehouse that sleeps two. The main living space includes a large bed, a sofa, gas stove heater, and kitchen with stove and refrigerator. Attached to that is a full bathroom with a shower and toilet.
Since your surroundings are meant to be your main focus up here, amenities are rather simple. While there is a TV and DVD player, you won't find Wi-Fi here in the woods or air-conditioning. One nice perk though is the new hot-tub that will make relaxing at the end of the day easy.
Pirates of the Caribbean Getaway
Possibly the most unique Airbnb in California, this one bedroom guest house goes all out with its Carribean/jungle theme. Surrounded by lush greenery in Topanga Canyon outside of L.A., this is a great choice for couples looking for a fun and relaxing mini-break. And while up near Topanga State Park, it's only 20 minutes drive from Santa Monica and Malibu.
What's so great about this California Airbnb is how much it has going on – all before you even get inside. Around the private bungalow you'll find multiple patios for use, each featuring different combinations of tables and chairs, daybed, hammock, swing, and outdoor bathtub. There's even a romantic and secluded jacuzzi where you can happily spend hours soaking, plus a huge teepee to chill out in.
With so much outdoor space, you won't mind the smaller interior of the bungalow, especially as its design keeps with the jungle look. Only suited for two adults, the bungalow has a single bedroom with a queen size bed, while the living room has a reclining couch and a flatscreen TV. For those looking to cook, the kitchenette comes with a stove top, microwave, coffee maker, and other essentials.
For even more Airbnb suggestions in L.A. and surrounding area, take a look at our guide to the best Los Angeles Airbnbs.
The Mushroom Dome Retreat & LAND of Paradise Suite
Although there are Airbnbs across the globe, the most popular Airbnb out there is this cabin rental in California. The Mushroom Dome Retreat has made countless headlines for being the most booked place on Airbnb, with people needing to reserve dates months in advance. And while you can no longer stay in the cabin, you do have access to it staying in this private suite of superhosts Kitty and Michael.
Located in the hills near Aptos Village off Monterey Bay, this is one of the best California Airbnbs for guests looking to return to nature. And while you can go hiking in the woods and pet the resident goats, it's the Mushroom Dome that's the big draw. Gaze out through the geodesic dome into the surrounding trees, and meditate or nap in the serene, rustic space.
As for where you'll be sleeping, this cozy suite comes with a private bedroom with a double bed, as well as a couch that's a fold-out bed and sleeps up to three people. If you're bringing babies or dogs with you, Kelly is able to help get things ready for them as well. There are also basic facilities like a small fridge and kettle for making tea and coffee.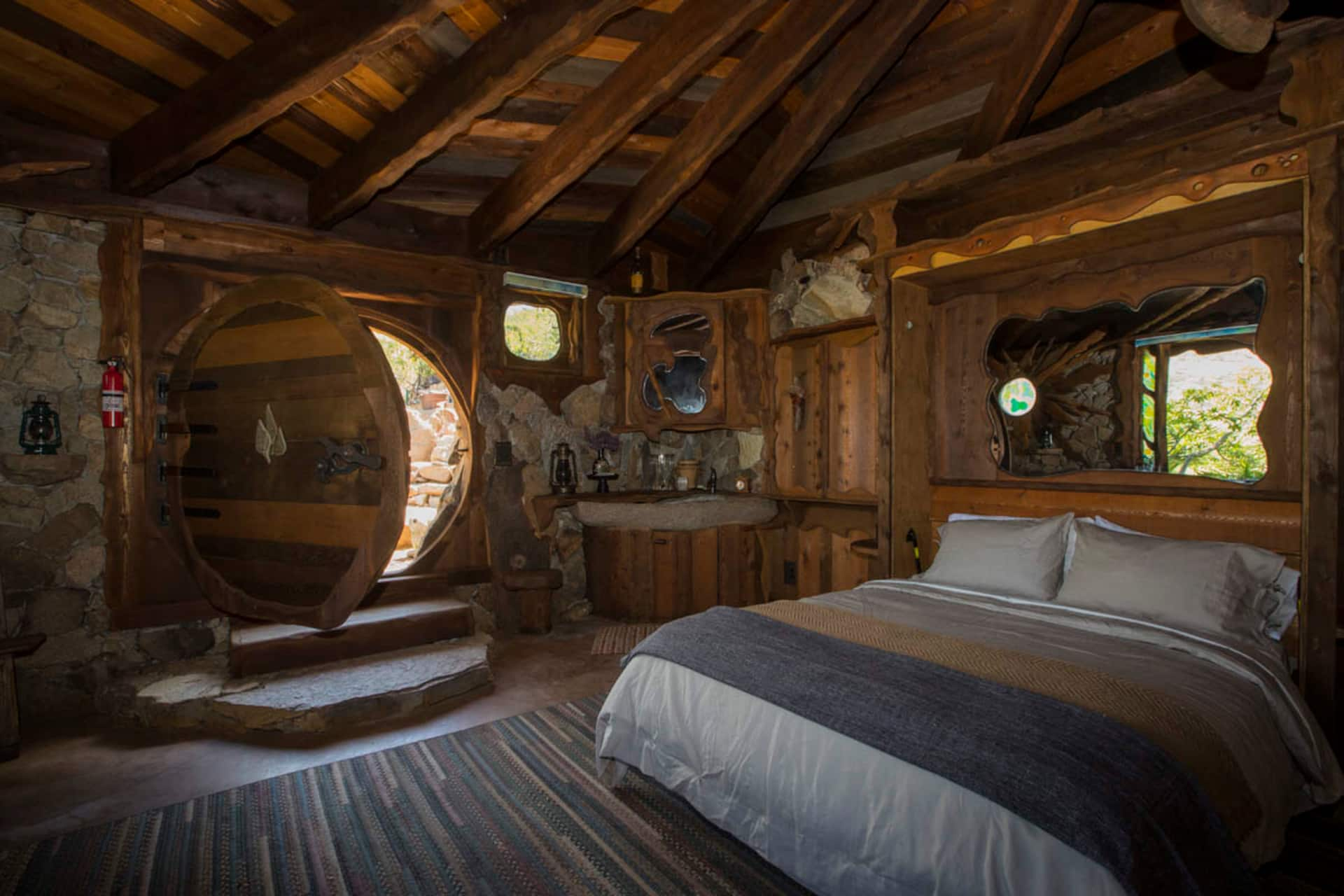 Secluded Hobbit House Near San Diego
You don't need to go to New Zealand to see how hobbits live. At this Airbnb in California you can stay in what is basically a hobbit house. Yes, this house outside of Ramona north of San Diego truly resembles Frodo's house from Lord of the Rings, complete with a big round door.
Stepping inside, you'll be overwhelmed by the beautiful interior of stone and wood which is illuminated by lantern-light. It's not a large space for two people, but inside is a queen size Murphy bed that helps create more room. Then there's the wood-burning fireplace and a beautiful granite sink. Outside you have a nice patio area, or you can even climb up on the roof to sit and watch the sunrise.
While magical, the hobbit house does lack some usual amenities like electricity, cell service, and Wi-Fi, although you can access Wi-Fi and electrical outlets at the main house. This also means that your kitchen facilities are more basic; a cooler, a camping stove, and a BBQ grill. But what the property lacks in amenities it more than makes up for in character.
Looking for an Airbnb in San Diego? Take a look at our guide to the best Airbnbs in San Diego instead.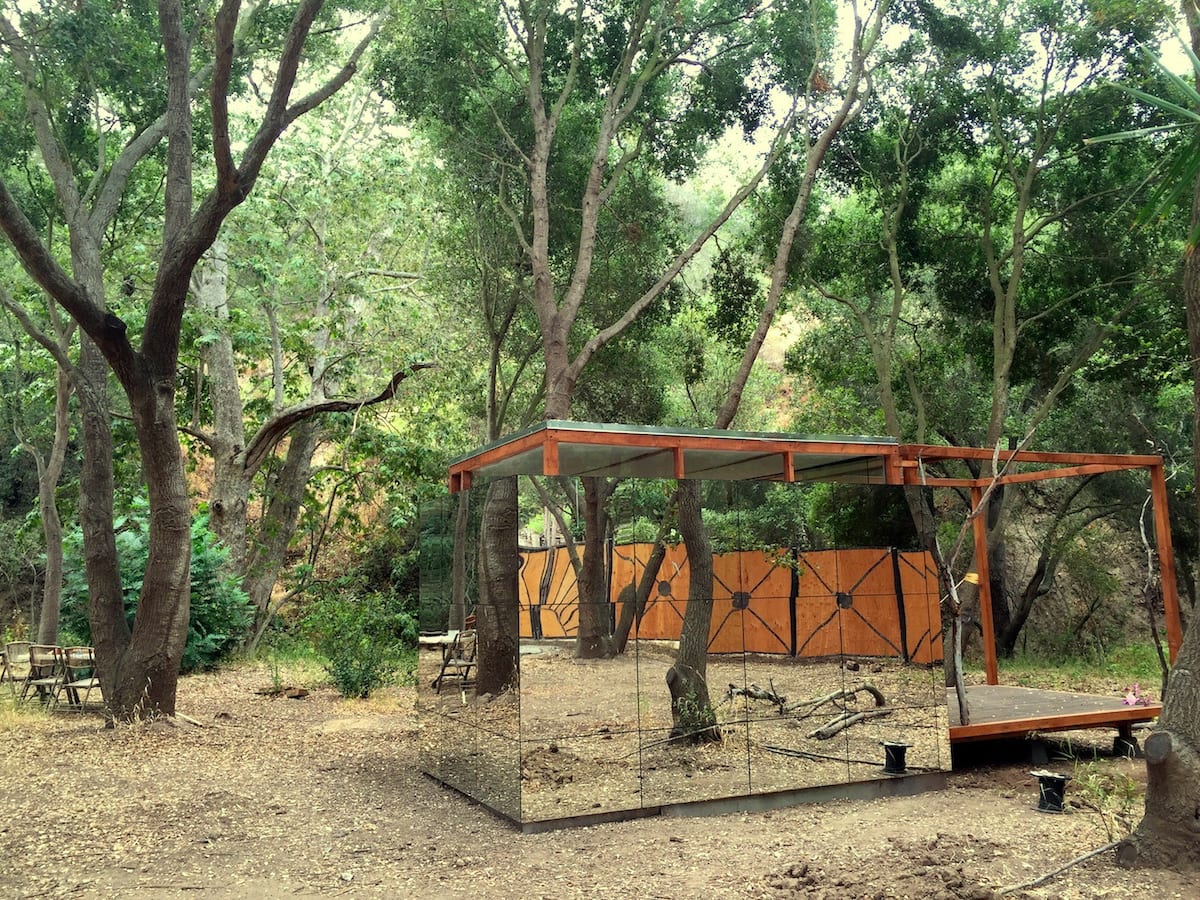 Dreamy Glass Cottage In Nature Paradise
One of the best Airbnb rentals in California for nature lovers has to be this cottage in the woods near Santa Barbara. You'll feel like you're sleeping out among the trees thanks to its two walls of solid glass. This is the perfect getaway if you want an outdoor adventure with a little comfort.
This cleverly designed Airbnb in California sits in a small clearing surrounded by trees. The design integrates the nature surrounding it, with two walls of windows and two of mirrors, creating a little nature retreat that deftly blends in. Unsurprisingly, the interior of this cottage is also very straightforward, with the queen bed occupying most of the space.
Beyond its four walls, there is an outdoor kitchen and outdoor bath house with an open-air shower to retain the ambience. Other nice amenities include hammocks, an outdoor pool, and a hot tub. Don't expect things like a TV or Wi-Fi, the nature and nearby city of Santa Barbara are the entertainment here.
Isolate in Style Large House
Groups and families looking for a desert getaway will love this big dome house out in the middle of nowhere near Palm Springs. This hyper-modern house has to be one of the coolest Airbnbs in California, with everything you need no matter the occasion. It's one of those vacation rentals in California that's great if you want to spend time with people – but away from the rest of the world.
Able to sleep up to six, this house shaped like a geodesic dome comes with three bedrooms each with a queen bed. The property also has two and a half baths and a fully decked out kitchen to properly cater to groups this size. You also have the choice of dining inside or out, plus the living room is equipped with books, games, and big flatscreen smart TV.
While you may be alone on this large five acre property, you still have cell reception and high speed Wi-Fi to keep connected with the outside world. Speaking of outside, you'll be treated to some stunning views of the property surrounded by windmills, desert, and mountains.
Thinking about staying in Palm Springs? Take a look at our guide to the best Airbnbs in Palm Springs instead.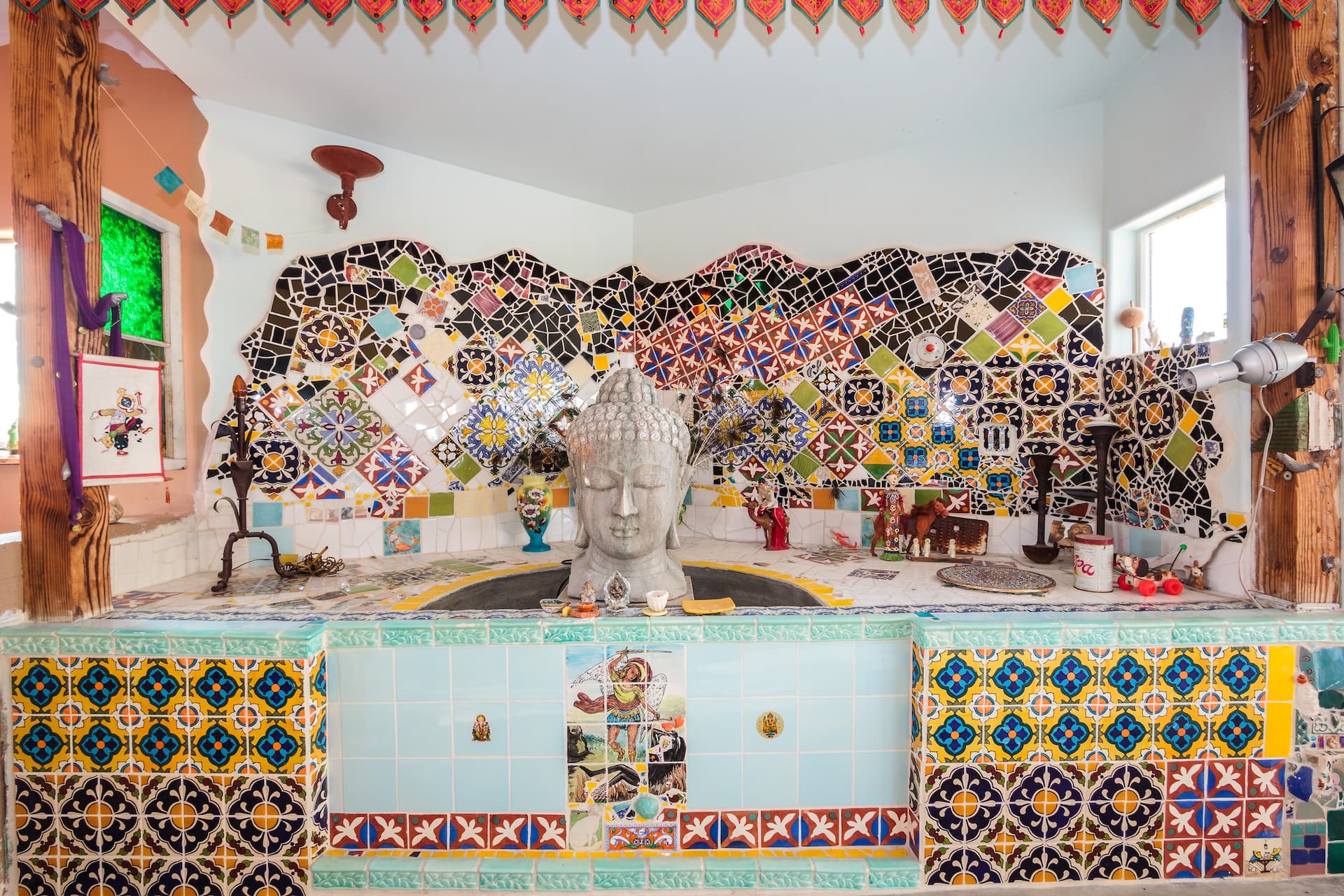 Tile House
Why choose to rent an apartment in California for a vacation when you could instead stay somewhere as eclectic as this artistic house in the desert? Located a little out of Twentynine Palms, this is a place for people who want a desert hangout with a difference.
As its name suggests, this two bedroom house is entirely decorated in tiles which will amaze you from one room to the next. Suitable for up to four guests, it's best suited to those seeking to meditate by the Buddha fountain or unwind while looking out over the desert and up into the stars. There's also an outdoor hot tub if that's how you prefer to relax.
Both bedrooms feature queen beds and have their own very colorful designs. For your convenience the house comes with a full kitchen that includes a stove, refrigerator, and a bar with stools. However, there's also the middle and dining room, proving space won't be a problem. You also have access to laundry facilities, Wi-Fi, and a dog-door for those who want to bring their pet.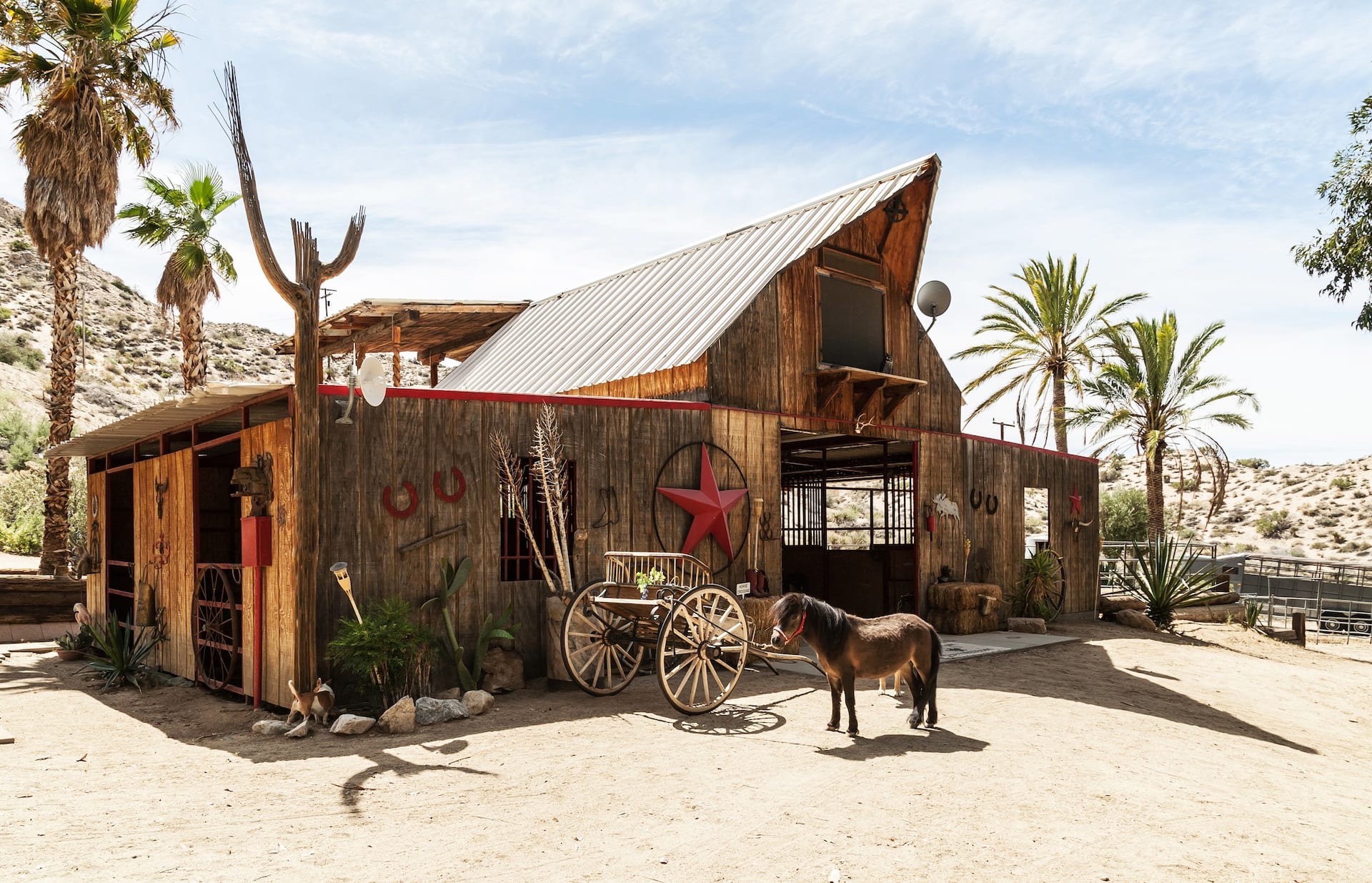 "Love Nest" w/ Private Deck
Located over a barn on a ranch, you'll feel like you're visiting the Wild West at this Airbnb out in the Morongo Valley. With both Joshua Tree and Palm Springs just a 20 minute drive away, this farm stay offers up a whole new take on the standard desert vacay.
More than just a room for the night, staying here is a full-on experience. Superhosts Galiena and Gary make you feel welcome as they take you on a tour of the ranch and show you the saloon where you can get drinks or play pool. Other options for entertaining yourself include the 25ft swing and the hiking trails that lead down into the valley.
As for your private room, it features a king bed, seating area, and old fashioned bath tub to unwind in. There's also an outdoor shower. Then there's the large deck outside the room where you can read or admire the scenery. And while there's no kitchen facilities, you do have comforts like Wi-Fi, cable TV, and air-conditioning.
Oceanview Retreat
Inspired by the Japanese concept of Zen and overlooking Bolinas Bay, this small retreat is a great alternative to a short term apartment rental in California. Situated just up the coast from San Francisco and a matter of minutes from Stinson Beach, the property offers a wonderful combination of serenity and seaside.
Featuring a strong Japanese style, this one room guest house makes up for minimal space with plenty of creature comforts. Along with a queen bed, the room comes with tea and coffee making facilities, as well as kimonos for you to walk around in. Outside the little zen bungalow there is a lovely balcony where you can enjoy breakfast as you look out onto the coast.
Across a little bridge in the zen garden you'll come to the bathhouse, where you'll find the toilet and shower. There is also an outdoor Japanese soaking tub with views of the garden. Other nice touches include Wi-Fi and a private walkway that takes you down to the beach and local restaurants in town.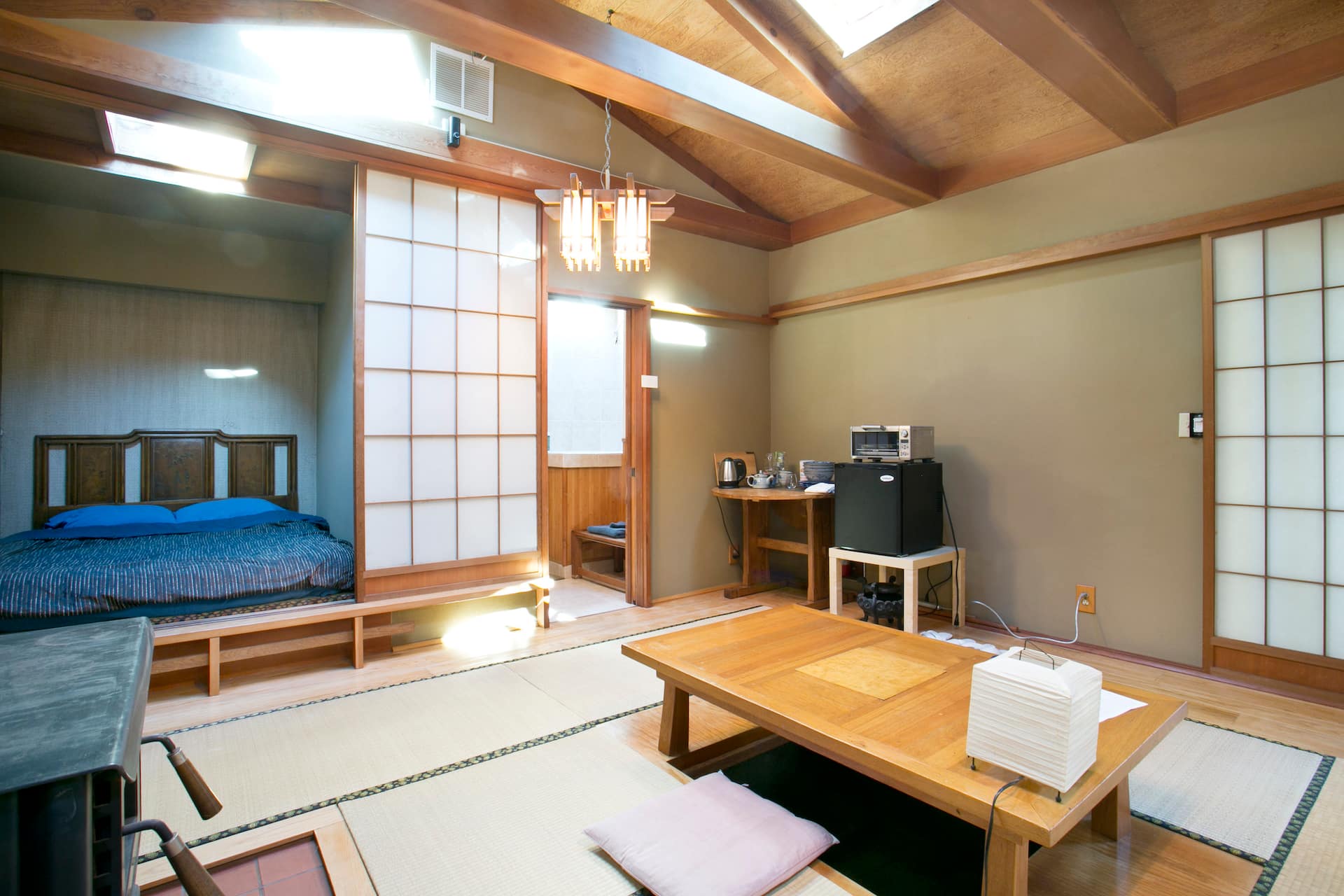 Traditional Japanese Tea House
Another Airbnb in California taking inspiration from Japan, this guest house is set up like a traditional Japanese tea house. Step inside and you'll find it hard to believe you're actually in Berkeley and only a few blocks from the university.
Taking its Japanese aesthetic very seriously, the tea house is lined with traditional tatami mats and centers around a low-lying dining table. Off to one side of the room there is a queen size futon which can sleep two. In the other room is the bathroom, featuring a typical Japanese soaking tub that also works as a shower.
The guest house does come with limited food preparation facilities; only a small fridge, toaster oven, and kettle for tea. During winter you can stay warm with a wood stove, while a fan is available during summer. Other conveniences include Wi-Fi and the possibility to leave your luggage with superhosts Zan And Rainbow before or after your stay.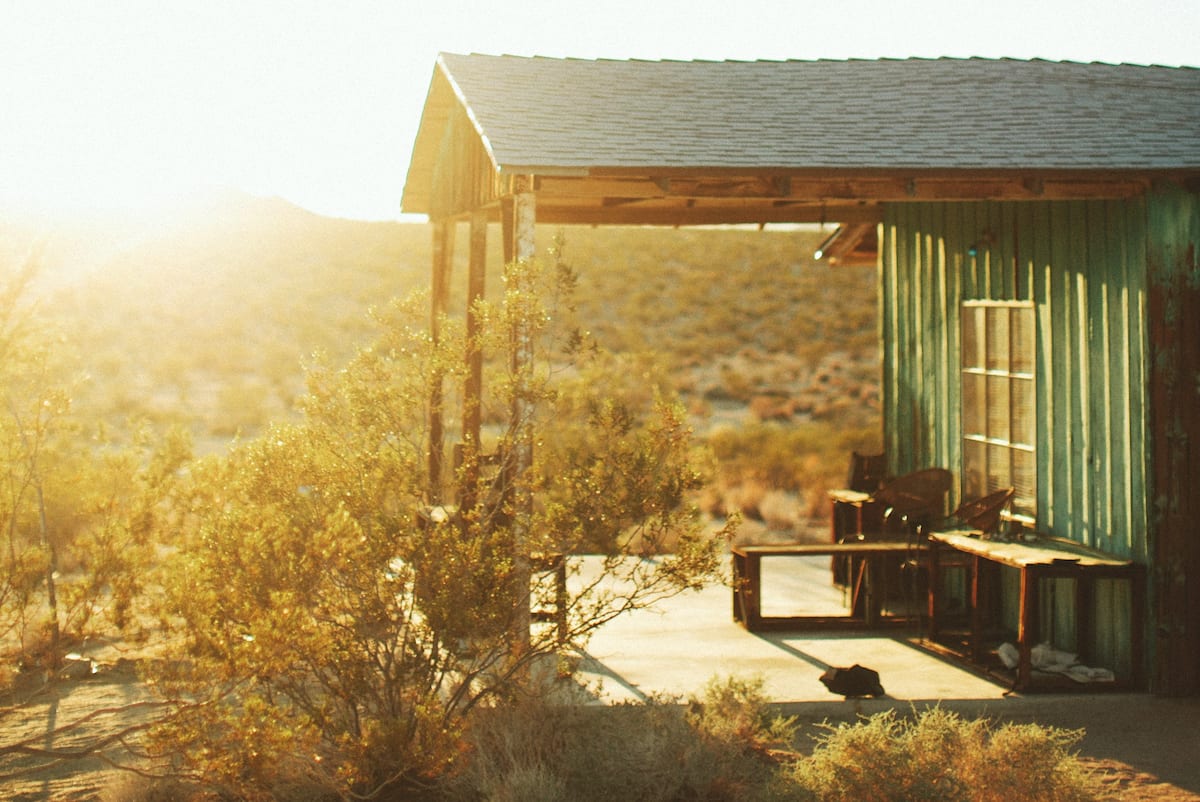 Joshua Tree Homesteader Cabin
This is one of the best airbnbs in Southern California for couples seeking a secluded desert getaway. Just a short drive from the town of Joshua Tree and the national park of the same name, this restored cabin makes for a great base to explore this beloved part of southern California.
While the outside of the cabin hasn't changed a bit since it was built in 1955, inside you'll find a renovated interior for your comfort. While the cabin comes with Wi-Fi and air-conditioning, you will have to rough it a little thanks to the outhouse toilet and open-air shower. Still, you have a bedroom, a living room, and a kitchen all combined in the cabin's space, providing the essentials for your time there.
Outside, there's plenty of covered seating space to look out and admire the desert wilderness during sunrise and sunset. You might even spot some cottontail rabbits, lizards, or owls if you're lucky.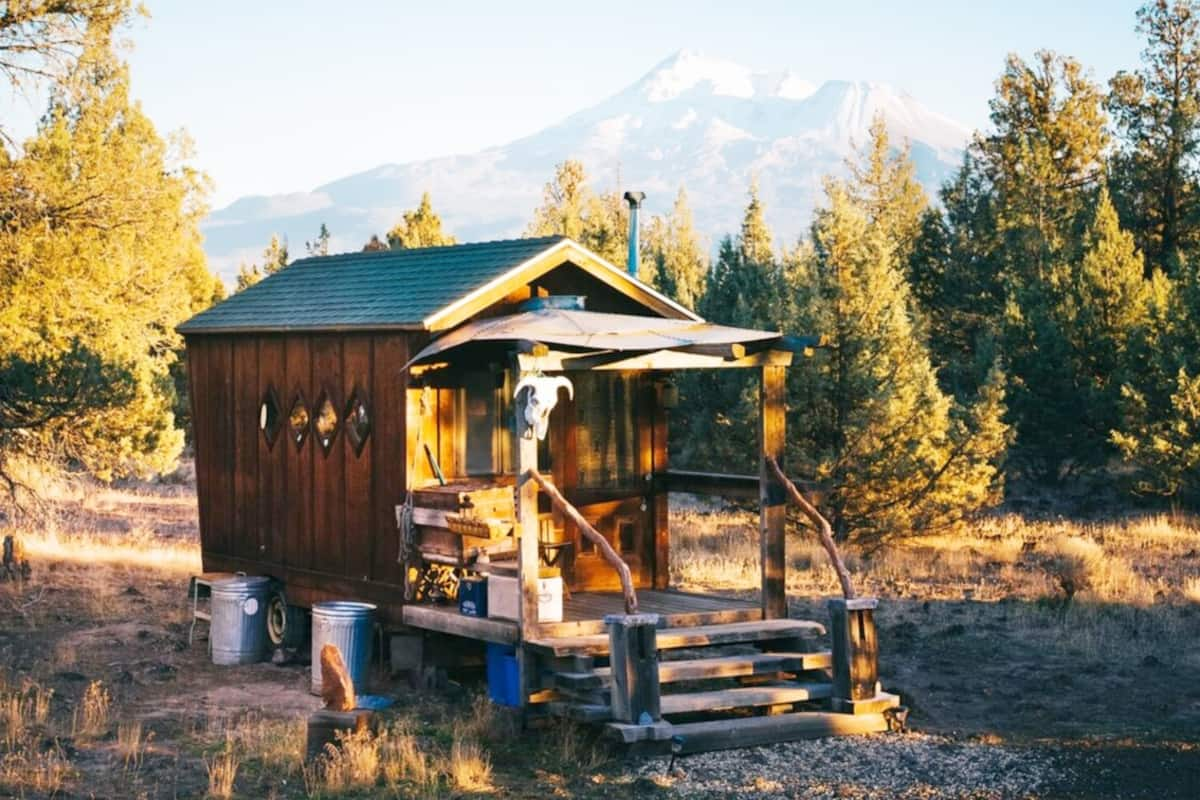 The Juniper Rose
Emphasizing setting over space, this tiny hut in the Shasta Valley of Northern California is as adorable as it is small. A cross between a ranch cabin and gypsy wagon, this off-the-grid Airbnb gives you the essentials in style.
The hut is lined with diamond windows providing plenty of light into the kitchenette/dining space. In the kitchenette you'll find the essentials as well as an electric hot plate and wood stove for cooking. Behind all of this is the queen size bed which has a view of Mt. Shasta. As for other facilities, there is an outhouse and outdoor shower close by.
Given its humble style, it should be no surprise that you won't find luxuries like Wi-Fi or hair dryers at this Airbnb. However, you'll have access to the 40 acre property that surrounds the hut as well as the lakes, rivers and waterfalls in the area. Best of all, you have superhost Jennifer to rely on should you have any questions.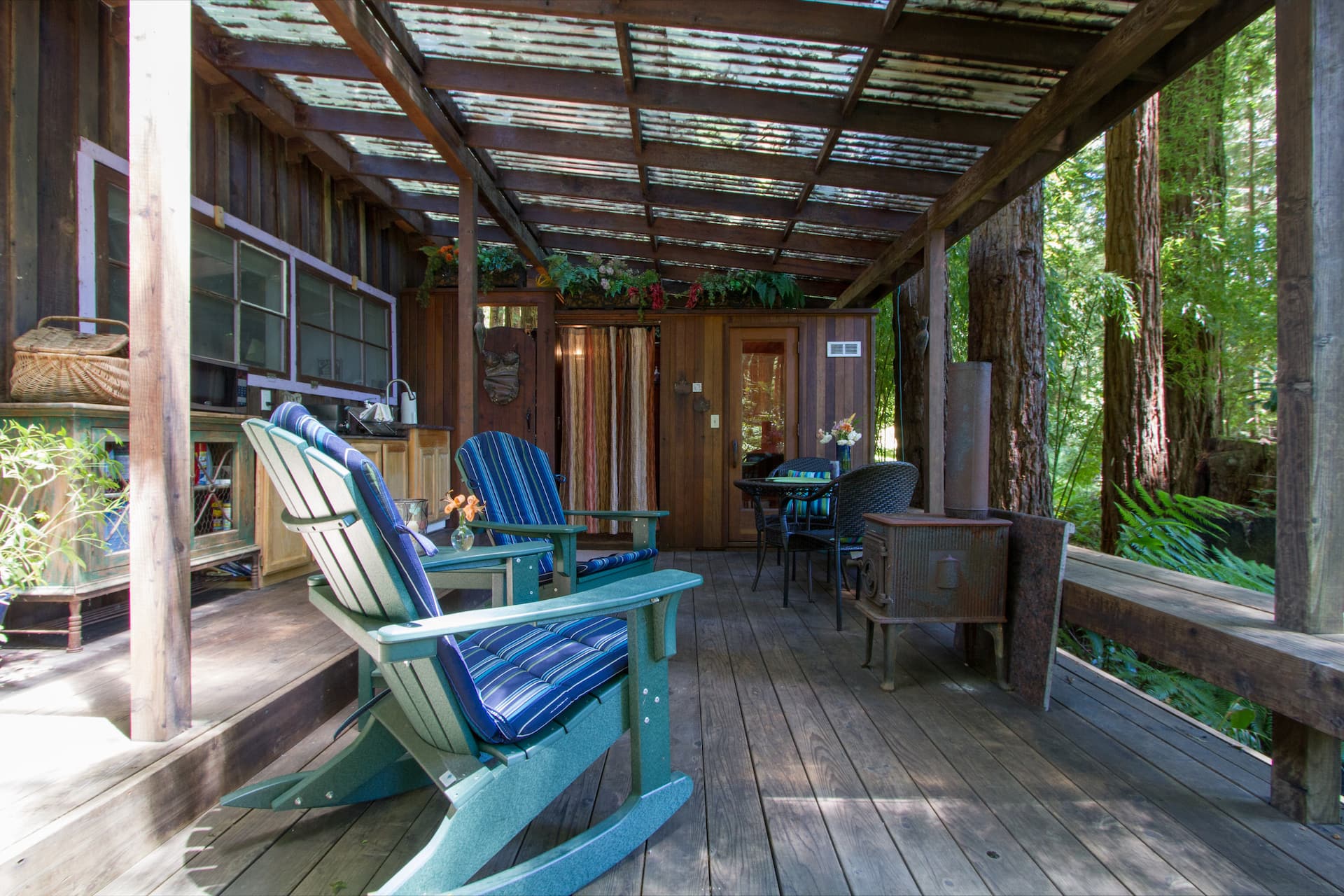 Rustic Cottage in Sonoma Redwoods
It's hard to resist the idea of a cozy cottage in the woods of Sonoma, especially a place as charming as this one. A little inland from the Pacific Coast, here you can stay nestled between the region's iconic redwoods and step away from the world for a bit.
Making the most of its setting, this gorgeous redwood cabin features a large covered deck with an outdoor kitchen. Along with its stove top and microwave there's also a dining table out here, so there's no need to head indoors at meal times. Also outdoors is the bathroom and shower, although they are covered from the elements.
The cabin's room centers around the large double bed but you'll also find a wood stove, fridge, and desk. But the real perk of staying in this cabin is that you have access to a sauna, outdoor hot tub, and fire pit, the last two of which are surrounded by giant redwoods providing an incredible atmosphere for you to relax in.
It should be pretty obvious now that there are quite a few cool, beautiful, and unique Airbnbs in California where you can happily spend your vacation. No matter what you're into, you're bound to find it there.