Did you know that Georgia is actually one of the most popular US states for tourism? That popularity is thanks to the state's mix of mountains, forests, and beaches, a combination that's hard to ignore if you're looking for a vacation somewhere with lots of nature. Now, no matter what you've got planned in Georgia – but especially if you're heading for the outdoors, Airbnb is the best place to start your search for vacation rentals in Georgia.
Here is a list of the best Airbnbs in Georgia which showcases all the kinds of places you can stay in. These Airbnbs all have owners with superhost status. What that means is that each owner has a strong track record of providing quality for their guests and has excellent reviews that prove so.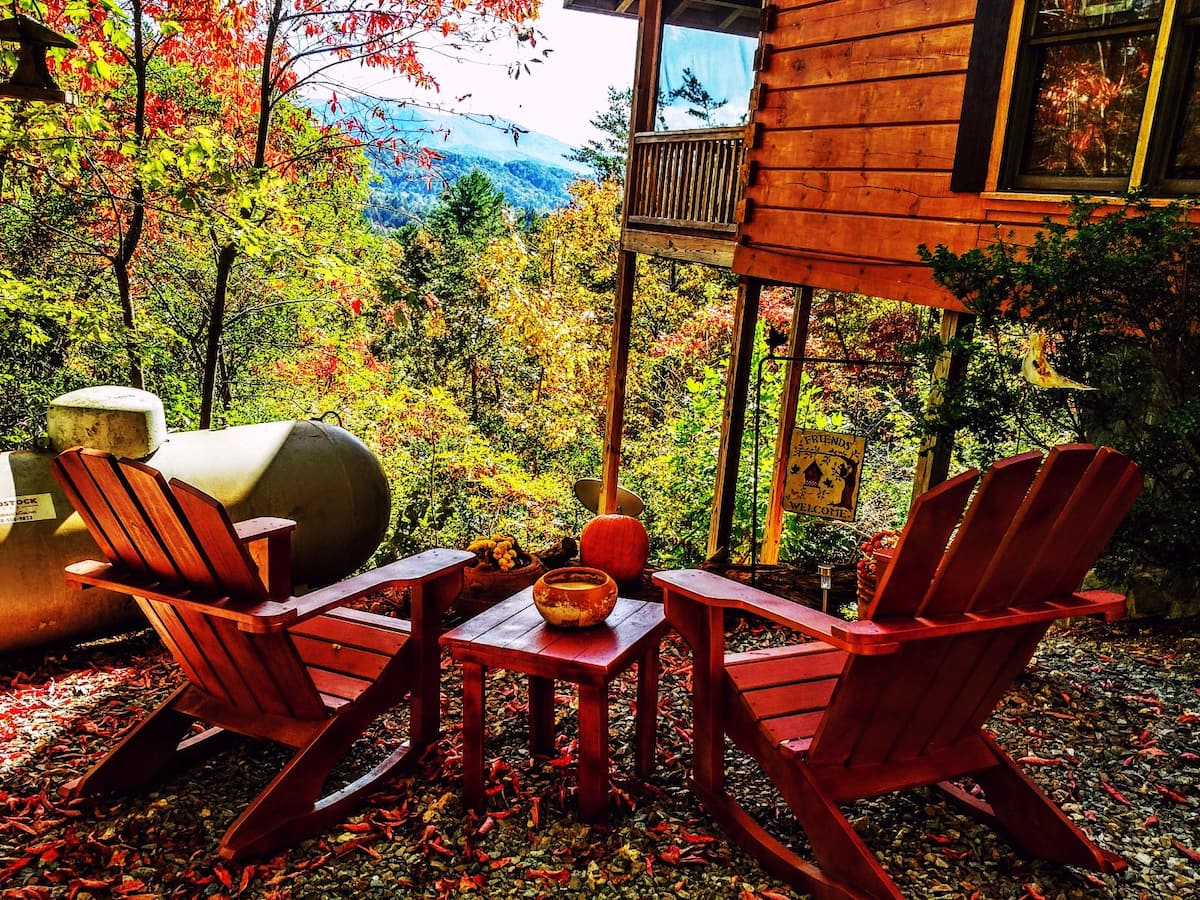 Mountain View Hideaway Blue Ridge GA Fishing & Hiking
What could be better than exploring the mountains of Georgia while staying at one of the best Georgia Airbnbs? Located just outside the mountain town of Blue Ridge, this cabin is a perfect base for those after a remote getaway with friends, family, or pets. Spend your days hiking local trails or fishing, and evenings by the fireplace or in town at a restaurant or brewery.
Besides its amazing mountain views, the best thing about this log cabin is how incredibly spacious it is. This large cabin can sleep up to seven guests, making it suitable for large families or groups of friends. It features a king bed in the master bedroom, a double bed and single bed in the other bedroom, and a double bed sleeper sofa up in the loft. To cater to this many people, it also has two bathrooms which is surely welcome.
As well as the indoor spaces, this cabin makes the most of its outdoors. It offers a private balcony off the master bedroom and a large downstairs porch with a hammock, swing, and hot tub for your enjoyment. Other amenities include a full kitchen, Wi-Fi, cable TV, indoor fireplace, and air-conditioning.
Helen, GA North Georgia Mountains
If you're looking at cabins in the North Georgia Mountains, then don't miss this traditional one with plenty of privacy. Situated a short drive from the small town of Helen and Unicoi State Park, you have everything you need nearby, from restaurants to water parks and plenty of nature.
Another big cabin, up to six people can comfortably fit here thanks to a king bed in the master bedroom, a queen bed in the second room, and a sleep sofa in the living room. What's more is it features three bathrooms which should be more than enough for a large family or group of friends staying here. To help you enjoy your stay, the cabin comes with a fully equipped kitchen, which makes self-catering super easy.
A nice aspect of this Airbnb is that you can bring pets along after owner approval. The cabin is also nicely designed to keep you entertained when you're stuck inside, with Wi-Fi, multiple TVs with satellite, air-hockey, foosball, and a dartboard. That said, outside you have a hot tub and fire pit and the surrounding nature to explore.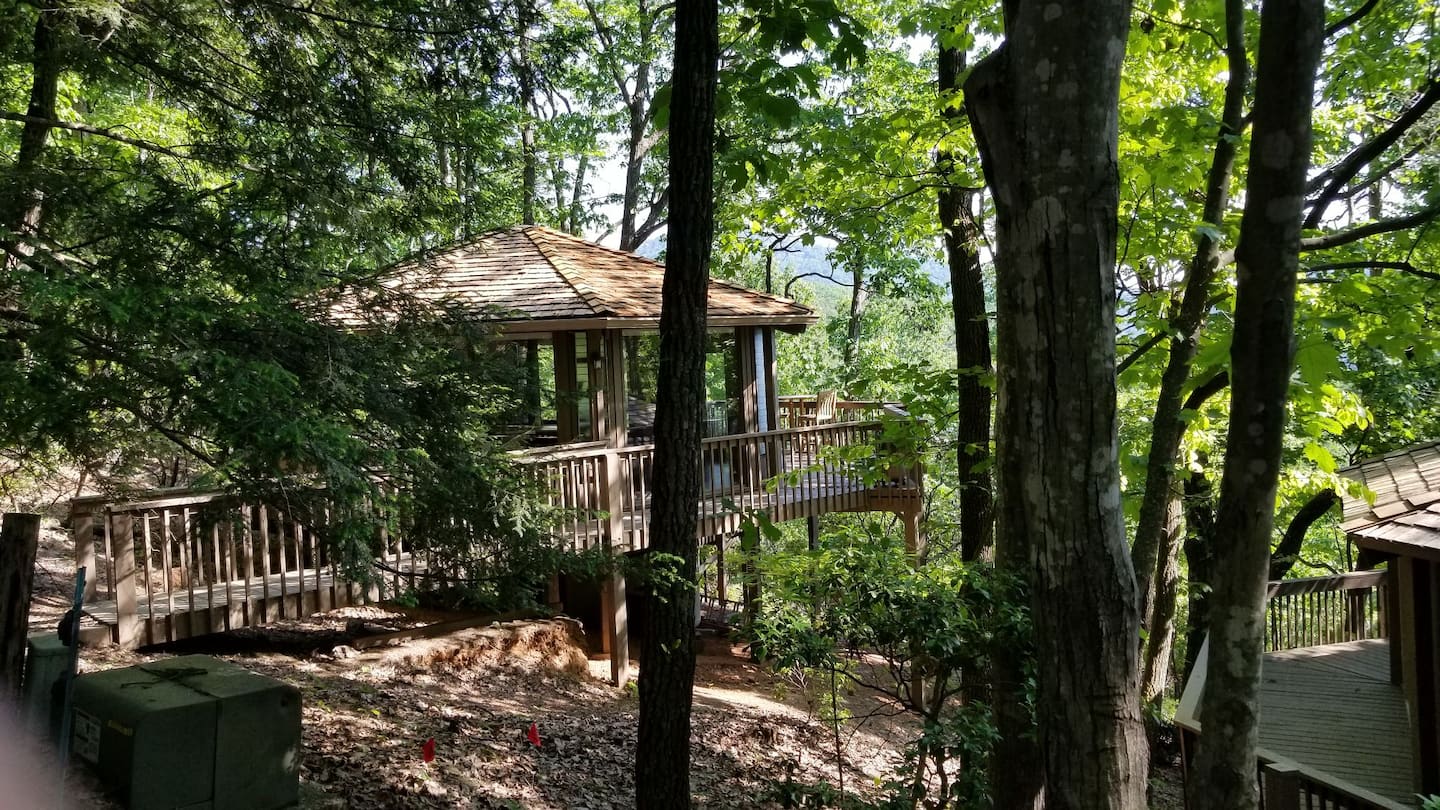 Couples Retreat with Hot Tub/Lake/Mountain Views
Those hoping to find the best Airbnb rentals in Georgia need look no further than this wonderful little retreat. Found north of Atlanta in the gated community of Big Canoe, overlooking Lake Petit, this Georgia Airbnb is perfect for wildlife spotting, hiking, and kayaking. Best of all, you get to enjoy the communal amenities of Big Canoe such as its golf course, tennis courts, and swimming pools.
Staying in this cottage is best suited to couples looking for an intimate getaway. However, in addition to the king bed there is a sofa bed, which could sleep one child if needed. Within its studio layout there is a living area, dining area, and kitchen, all surrounded by large windows that look out onto the surrounding woods. Around the outside of the cottage is a nice deck, boasting a hot tub and gas grill, along with views of the lake and mountains.
Not only is this cottage relaxing, it's also practical. It comes with a fully-equipped modern kitchen that includes a stove, oven, microwave, fridge, and dishwasher. Additional amenities include Wi-Fi, TV, an indoor fireplace, and air-conditioning.
Cherry Blossom Yurt on Lookout Mountain
Looking for something a little different for your next vacation? Well staying in this yurt definitely qualifies as one of the more unique Georgia Airbnbs available. Located not far from Cloudland Canyon National Park in the state's northwest, this Airbnb offers guests a remote destination that's ideal for getting in touch with nature.
For those unfamiliar with the concept of a yurt, it's essentially a single common area under a large round tent. In this yurt, the kitchen area acts as a buffer to separate the living space from the bedroom and bathroom. With a large king bed in the sleeping space, this accommodation is ideal for couples or solo travelers.
Guests have a sofa, smart TV, dining table, and full kitchen in the living area, providing everything you'd expect to find in a regular short term apartment rental in Georgia, but in yurt form. Outside, there's a great big deck for relaxing, outdoor dining, and star-gazing come nightfall, plus there's a yard underneath. Other modern touches include Wi-Fi and air-conditioning, ensuring a comfortable stay.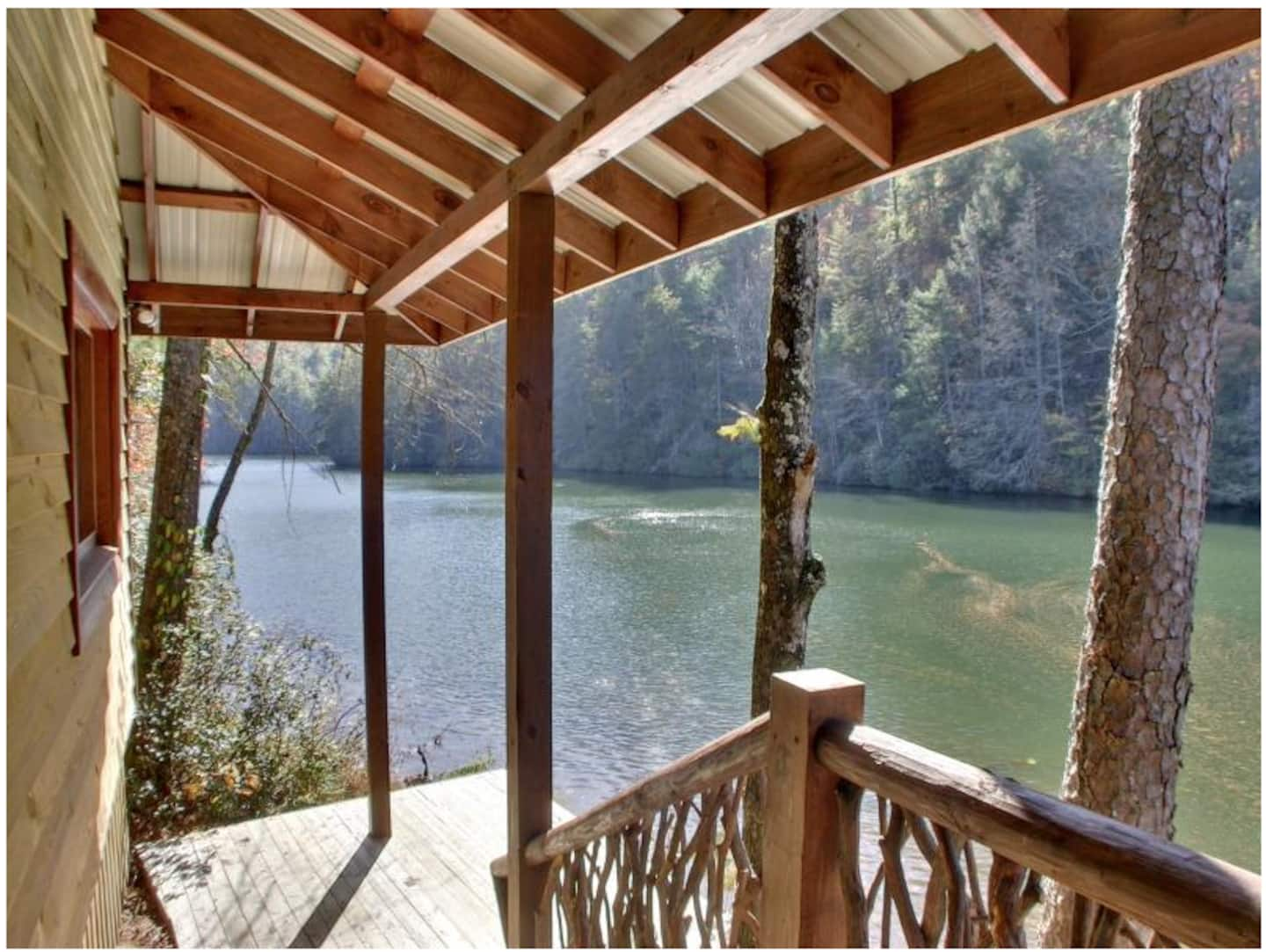 Edgewater Escape
It's easy to see why this is one of the best North Georgia cabins for rent when you see its cozy interior and deck views. Situated right on Tallulah Lake in northeast Georgia, you'll enjoy easy access to the resort town of Tallulah Falls and its awesome waterfalls. Popular activities here include hiking, fishing, and most importantly, relaxing.
The most important thing to make clear about this cabin is that it really is right on Tallulah Lake. From the deck you look right onto the water and over to the deep forest covering the far bank. It's the perfect kind of view if you're in need of a little R&R. You don't even need to be outdoors to enjoy it either, as the living room sofa faces the large glass doors which lead out to the deck.
Turning your attention inward, this cozy one bedroom cabin fits up to three guests. There's a large queen bed in the bedroom, and a sleeper sofa in the living room should you need it. For your benefit the kitchen comes fully-equipped with a stove, oven, microwave, and fridge, so you can cook while you're there. Additional amenities include a TV and air-conditioning, but no Wi-Fi.
The Riverside Cabin
Another option for travelers searching for an Airbnb in Blue Ridge Georgia is this quiet and inviting cabin. Overlooking the Toccoa River, this Airbnb manages to provide seclusion while also being conveniently close to downtown Blue Ridge.
When it comes to sleeping arrangements, you have quite a lot of choice in this cabin. Although only two guests are allowed to stay here, it boasts three different beds for you to use. Choose from the double bed up in the loft, a full bed in the sleeping nook of the screen porch, and a queen-sized pull-out sofa. This makes it quite suitable for friends traveling together.
Moving on, the cabin also enjoys two full bathrooms, as well as an indoor and an outdoor kitchen. Inside you have a fully-equipped kitchen, and outside you have a stainless gas grill and outdoor dining table. The cabin shares an outdoor pool and hot tub a short walk away with other properties on the grounds. Wi-Fi, TV, and air-conditioning are some other benefits of staying here.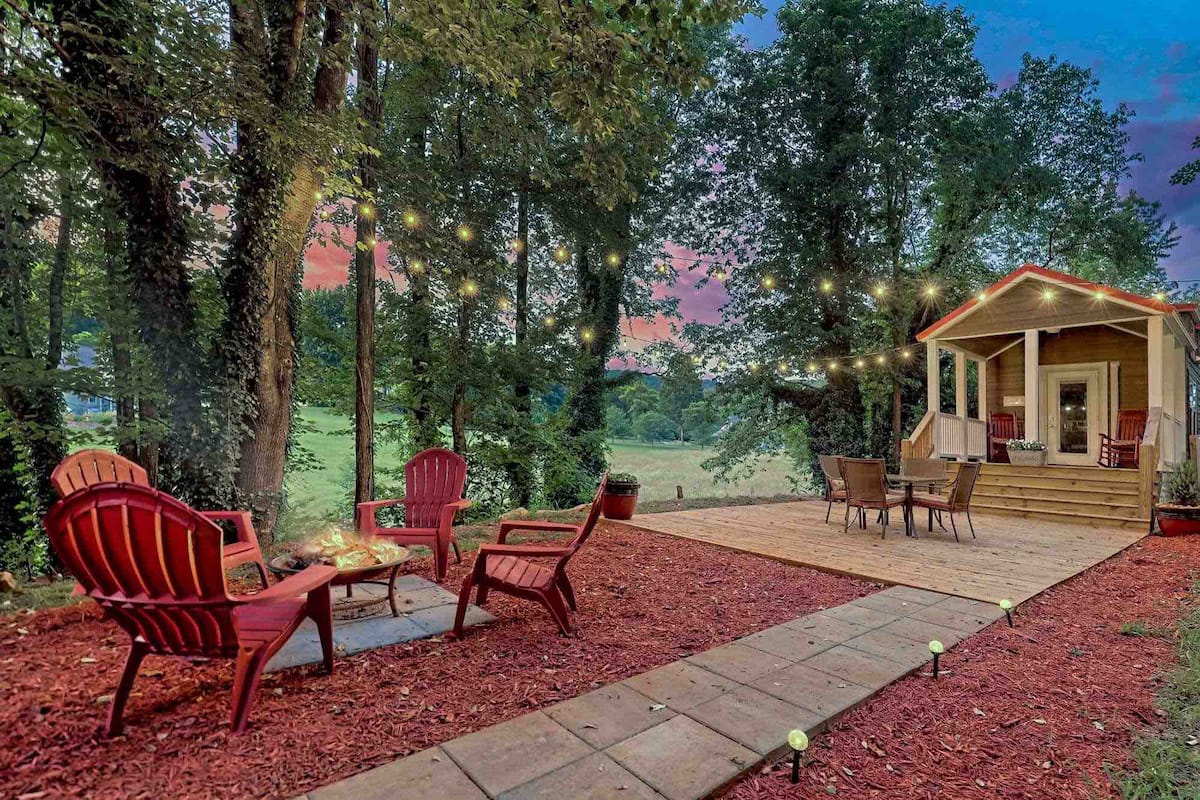 Little Red Roof, A Tiny House in The Mountains!
You won't find many mountain getaways in Georgia quite as adorable as this charming tiny house. Found to the south of the small city of Clayton, this Georgia Airbnb is just minutes from stores, dining options, and countless outdoor activities.
Despite its size, you'll be amazed how much fits inside this fantastic tiny house. Believe it or not, this house can sleep up to four people, with a queen bed in the bedroom, bunk beds in a sleeping nook, and a mattress hidden away in the loft. Perfect for families or friends traveling together. This tiny house also features a proper bathroom and full kitchen, complete with stove, oven, microwave, and fridge.
Like many tiny homes, what's on the outside is just as important as the inside. Here you have a covered porch with rocking chairs, fairy lights over the patio, and an outdoor dining table and a fire pit to sit around come night time. Other amenities include two smart TVs, Wi-Fi, air-conditioning, and access to a washer/dryer.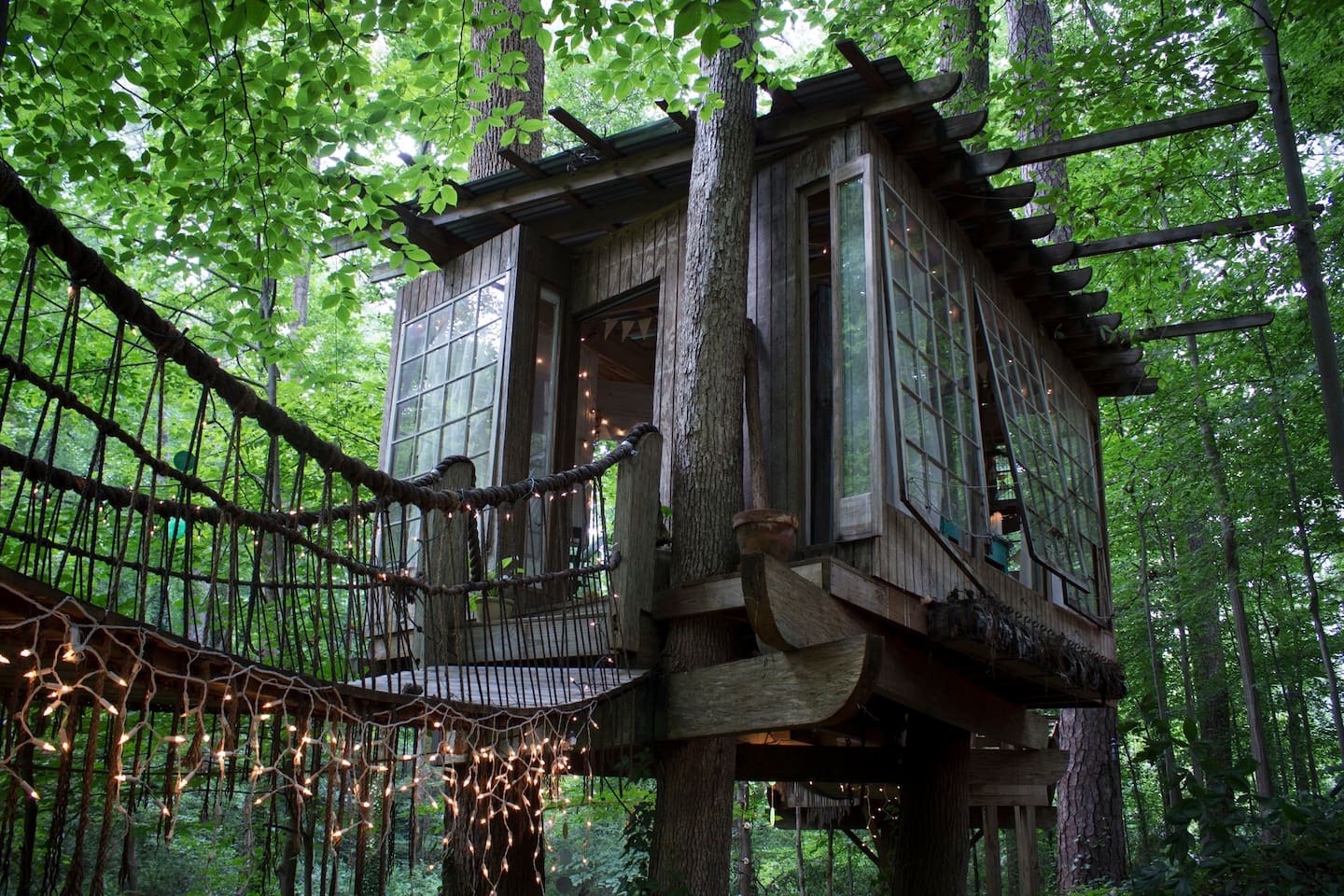 Secluded Intown Treehouse
For a treehouse Airbnb in Georgia that's sure to delight, you can't pass up this enchanting one in Atlanta. It's honestly hard to believe when looking at this treehouse that it could be in the city, and yet it is actually within a residential neighborhood of Intown Atlanta. That means you get some peace and quiet here without having to drive miles to get food.
With lush forest around it, this treehouse definitely has the look of something out of a storybook. It's made up of three carefully decorated rooms elevated off the ground that are connected by adorable rope-bridges. At the center lies the bedroom where you have a double bed for two that can actually be rolled out through the glass doors onto a small open-air platform. Across the rope-bridges on one side you have the antique sitting room for reading, while the other way lies the hammock deck.
Bathroom facilities for the treehouse are found in the basement of the main house, roughly a 30 second walk away. Amenities in general are a bit more basic here, with fans and a mattress warmer to help with the temperature. A microwave and Wi-Fi are really the only other creature comforts.
If the above Airbnb is already booked or not quite right, be sure to take a look at this alternative Airbnb treehouse in Atlanta.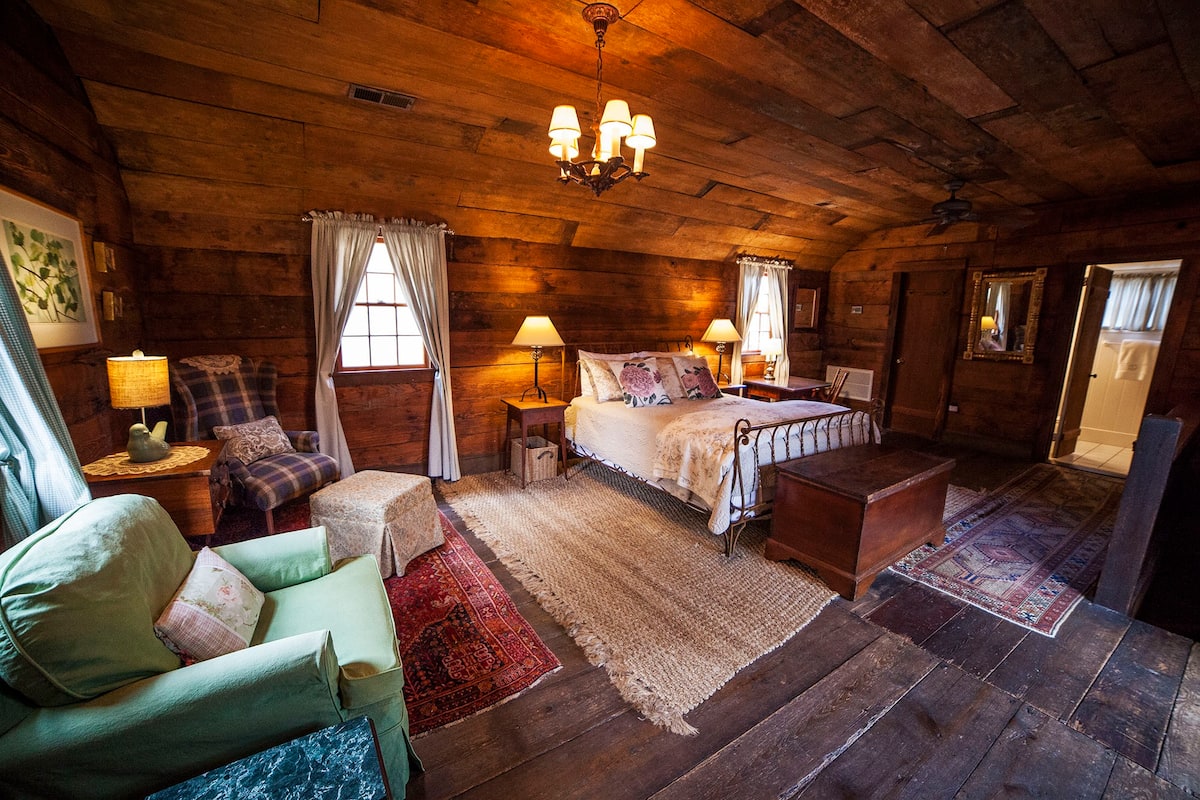 Laura's Cottage, Redford Film Spot, Historic
Staying in Savannah couldn't be better with this beautiful wooden cottage. Located on a quiet residential block of the Historic District, it's just a short walk to the riverfront and countless stores, coffee shops, and restaurants. You also only have to walk two blocks for a stop on the city's free trolley route that takes you to attractions around Savannah.
With its grand, old-fashioned design and plum central location, no other Airbnb in Georgia offers the best of both worlds quite like this one does. Dating from the 18th century, and with rocking chairs on the front porch, this cottage is sure to transport you to a totally different era. It doesn't hurt that there are horse-drawn carriages rolling down the street either.
Despite its age, you're bound to feel very comfortable here. The rooms are spacious and delicately appointed with functional antique furniture. Up to four people can stay here, with a queen bed in the bedroom, and two twin beds in the living room. While you have a full kitchen at your disposal, superhost Vicki provides a continental breakfast each morning. Finally, there's Wi-Fi, cable TV, and air-conditioning to ensure a pleasant stay.
Cute & Quirky Tybee Beach Bungalow
There are quite a lot of beach houses for rent in Georgia, but few pack in as much character as this guest suite. Situated on Tybee Island up by the South Carolina border, this bungalow is at the quieter, northern end of the island. That said, it's easy enough to reach the main restaurants, pubs, and beach shops, not to mention some of the emptier beaches.
Vacationing at this Airbnb on Tybee Island GA, you'll have everything you need for a good time. This one bedroom bungalow admittedly isn't huge, but as it only sleeps two people, you won't need much space. It does come with a nice covered patio out in the garden, giving you a little extra room should you need it. Besides a table and chairs, this outdoor space also has a grill area for your use.
Heading back inside, there's a fully equipped kitchen with a small fridge, microwave, stove, and complimentary coffee. The rest of the suite is quite open-plan with a double bed in the bedroom and living space where you can watch cable TV. Other perks of staying here include Wi-Fi, air-conditioning, and free on-site parking.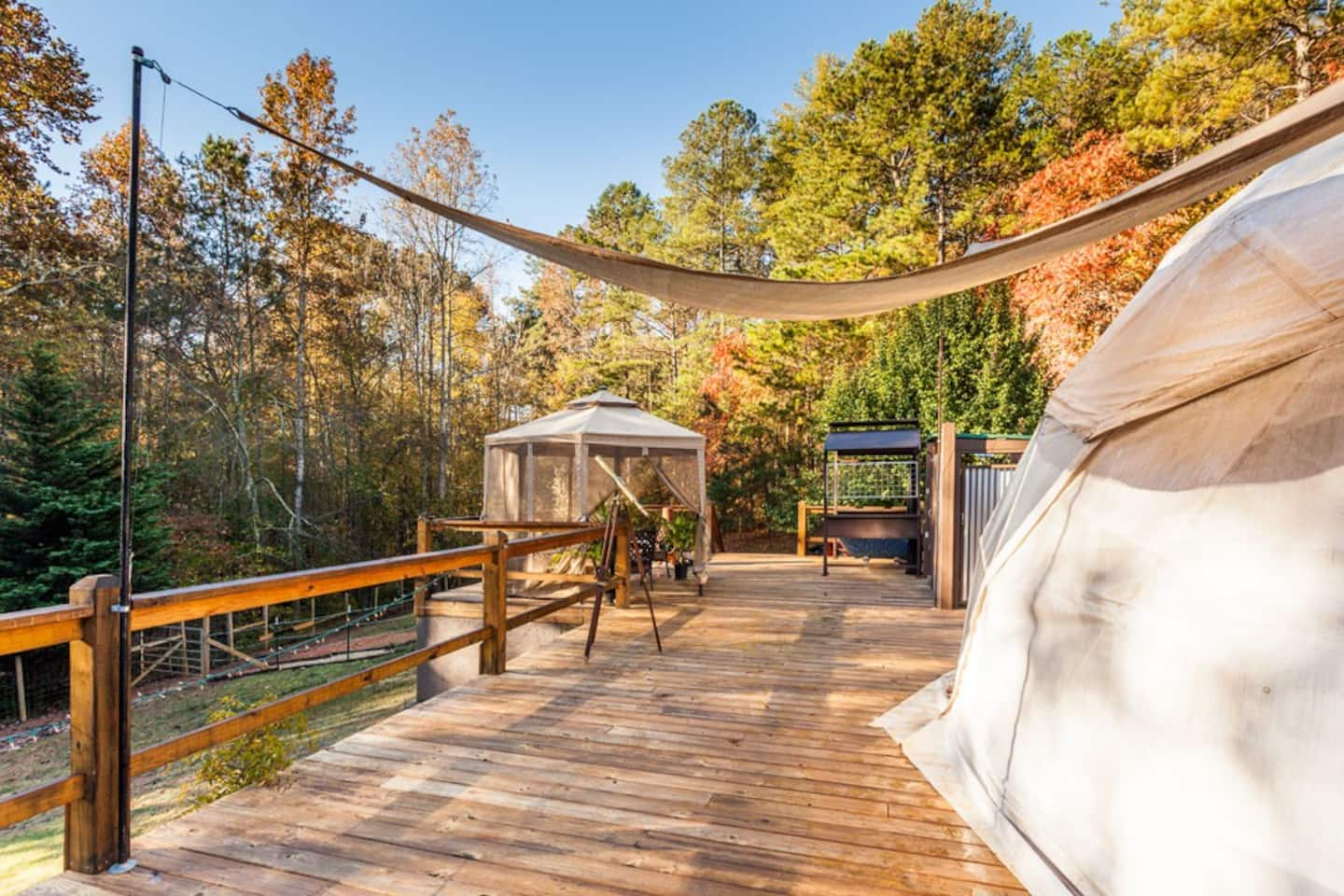 Glamping Geo Dome near Carters Lake
An interesting alternative to camping in Georgia is to live it up by glamping in this Geodesic Dome. Found near Carters Lake in the North Georgia Mountains, this dome provides a peaceful setting that's also an easy drive from downtown Ellijay where there are shops, bars, and restaurants.
While many Airbnbs in Georgia help you reconnect with the outdoors, few are as direct about it as this glamping option. That's because most of your time staying here will be spent outside as the dome is really just for sleeping. Everything from the kitchen to the bathroom and living area are open-air but covered. Inside the dome are three beds; a queen and two singles, making it a fun option for families or friends on vacation.
Outside, the bathroom facilities include both an outdoor shower and private bath tub with hot water, which is a welcome touch. In the kitchen you have a refrigerator, camping stove, coffee maker, and a charcoal grill. Superhost Rebekah provides guests with the basics for hot drinks, as well as fresh eggs and the makings for s'mores. Kayaks are also available should you want to head out on the water.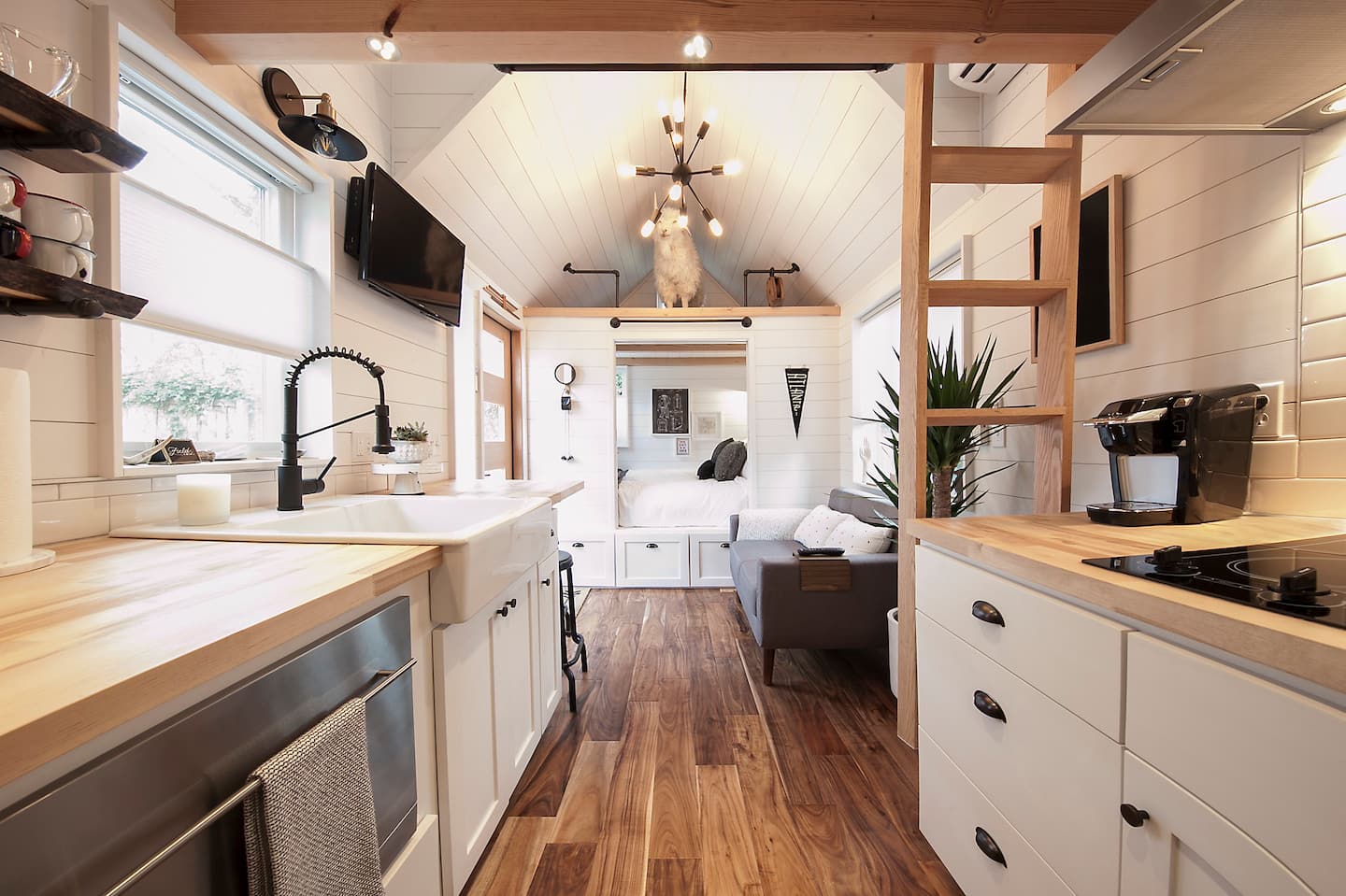 Unique Modern Tiny House 2BR/1BA
When looking for an Airbnb in Atlanta Georgia don't pass up this gorgeous tiny house as an option. Located just to the east of downtown Atlanta, this is a convenient area for those wanting to visit trendy spots like Little Five Points and the Old Fourth Ward.
At first glance, a tiny house may seem like a novelty rather than a real option. But actually, this two bedroom Airbnb is a fun and practical alternative to more traditional vacation apartments for rent in Georgia. With queen beds in each bedroom, this tiny house can fit up to four guests, and still has room for a small living area, kitchen, and a full bathroom. But this tiny house isn't just about optimizing its space; it also has a tasteful, modern decor that makes it immediately inviting.
There's a lot of functionality found inside as well. The full kitchen comes with a stove, microwave, fridge, and dishwasher for you to prepare meals in, while there's also a washer/dryer should you have laundry to do. If the Wi-Fi and smart TV fail to keep you entertained, you also have access to the backyard, with a ping pong table and fire pit.
Looking for even more Airbnb suggestions in Atlanta? Take a look at our guide to the best Airbnbs in Atlanta.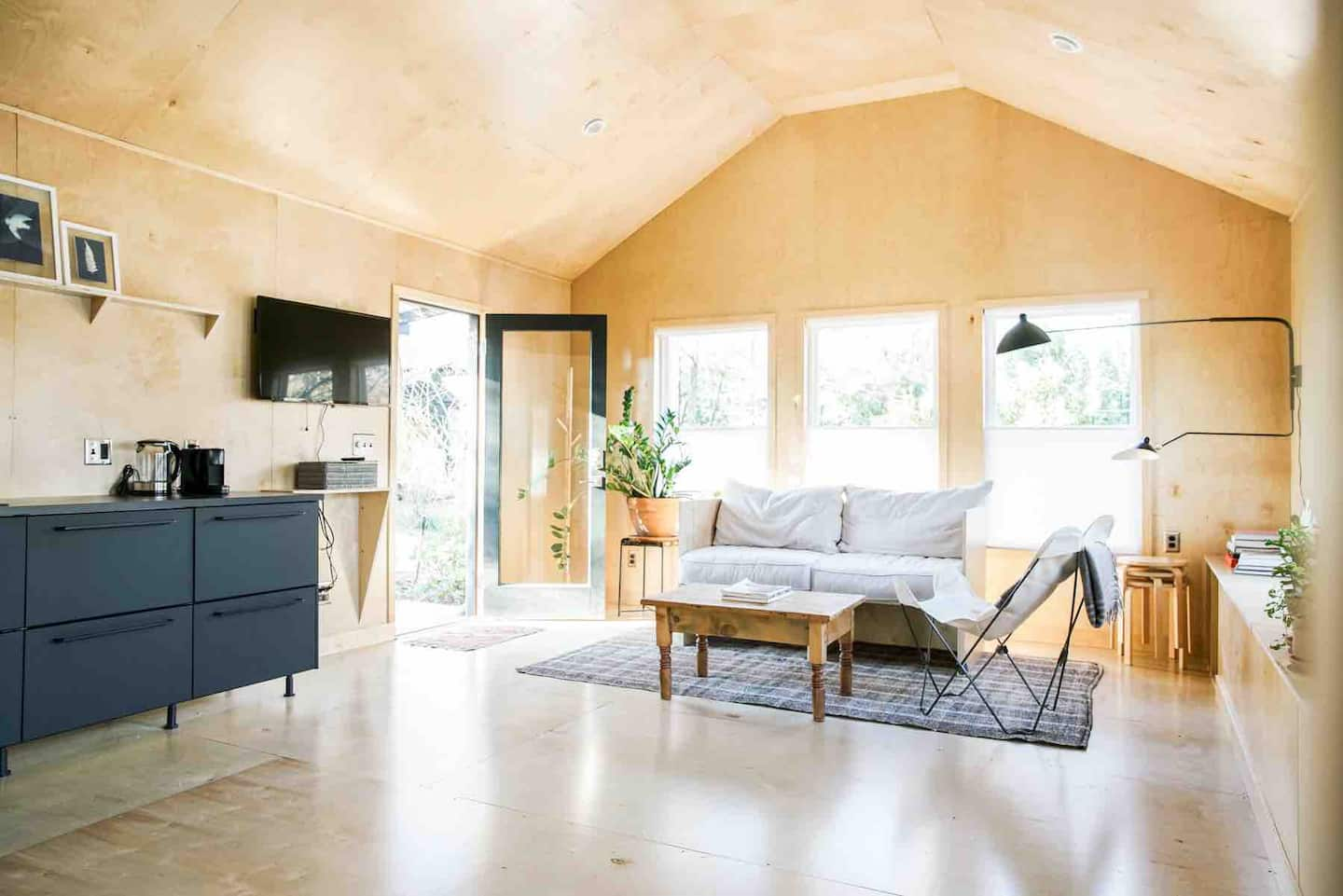 Small House Walkable Downtown
With a great light-filled interior, this Airbnb in Athens Georgia is an absolute delight for those looking to visit the city. Situated less than a block from downtown, you get the benefits of staying in a residential area, along with easy access to restaurants, grocery stores, and breweries.
Even though this Airbnb is described as a tiny house that only fits two guests, it's actually incredibly spacious. The bedroom with the queen bed is by no means cramped, and the main living area is simply massive for just two people. In it you have a sofa and coffee table to relax at, but then you also have a huge empty space behind the kitchenette.
This tiny house isn't lacking in facilities either. The kitchenette comes with a refrigerator, coffee maker, and microwave, making it useful for basic things like breakfast. Then there's the Wi-Fi, smart TV, stereo, and air-conditioning to keep you comfortable and entertained. Guests have access to a free parking space as well.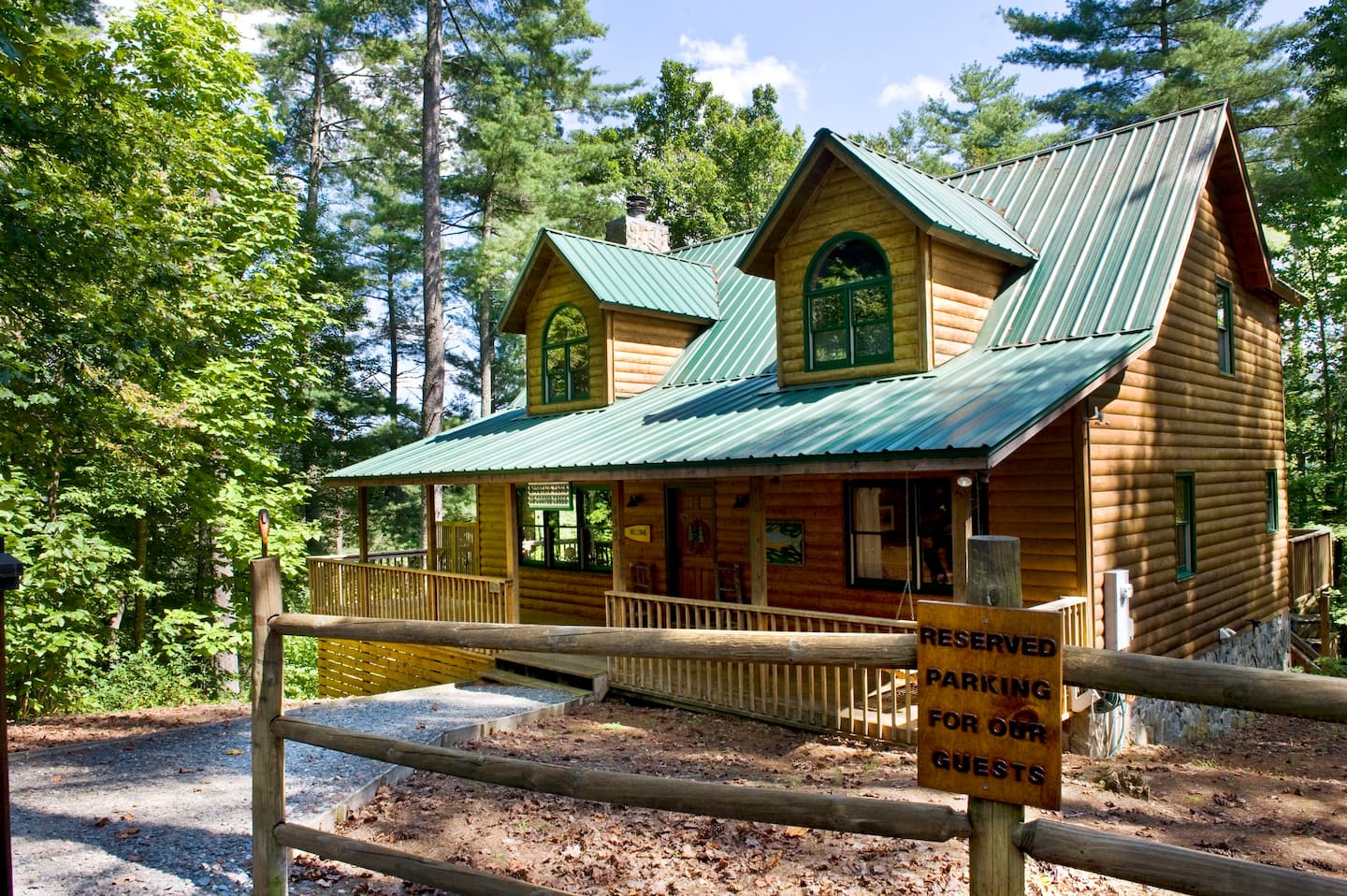 Mountain Cabin On Cooper Creek
While there are loads of log cabins for rent in Georgia, there's just something about this one that's hard to resist. This log cabin sits along the creek in the Cooper Creek Wildlife Management Area, surrounded by forest, wildlife and views of the mountains. If you're in need of a nature retreat, this is definitely a solid choice.
You can fit up to six guests when staying in this log cabin, making it a great choice for friends looking to spend time together. There are two bedrooms, one with a king bed and the other with a queen bed, while the cozy sleeping loft has a double futon as well. Showing the sheer size of this cabin, it features two full bathrooms, a big lounge area, and a full kitchen.
Chances are though, you'll also be spending a lot of time outside on the decks and patios that surround the cabin. One concrete patio has a big stone outdoor fireplace, while up from that is an outdoor lounge space and five-person hot tub. Then there's also the picnic table, grill, and fire pit over by the creek.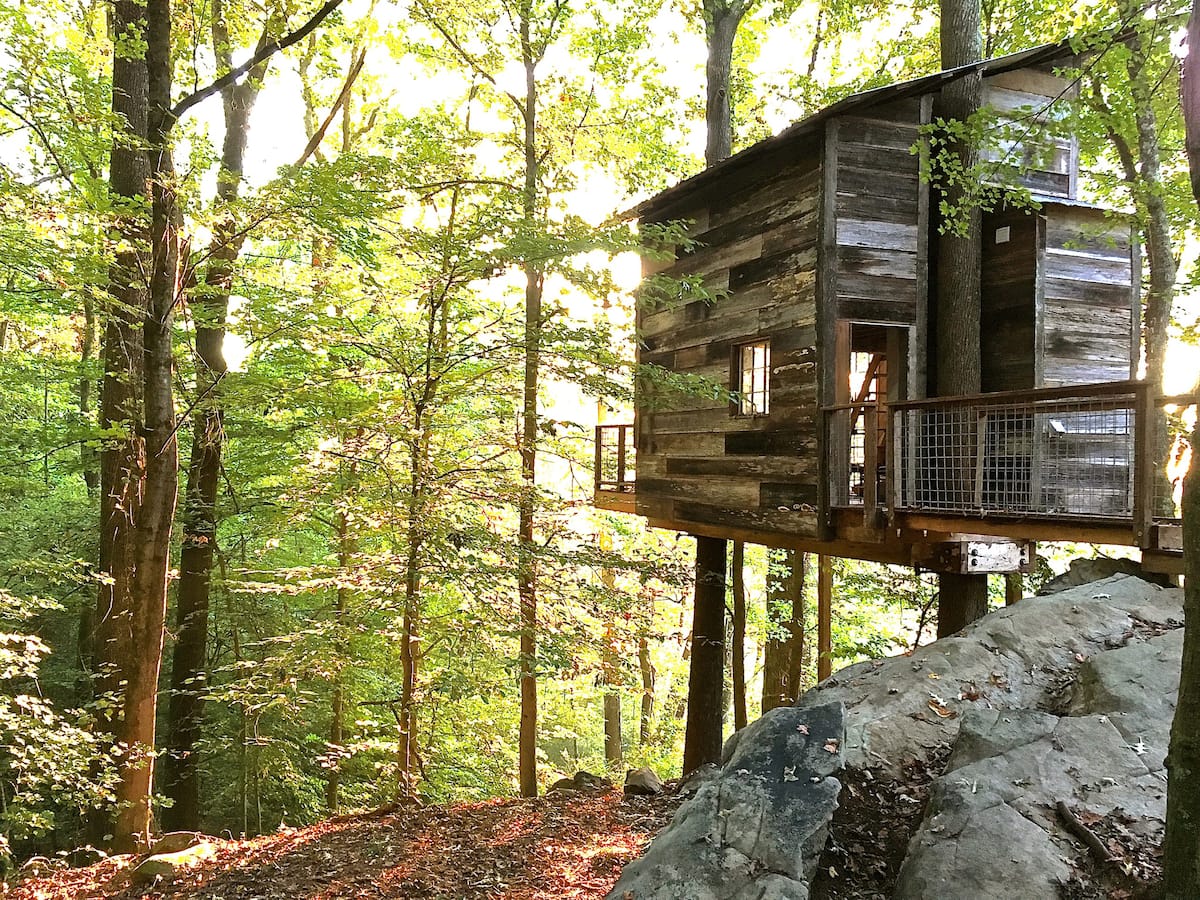 Treetop Hideaways: Luna Loft
Hard to believe, but there are actually multiple treehouse rentals in Georgia, with this being another cool one you can stay in. Found just outside the city of Lookout Mountain by the Tennessee border, you can just as easily go rock climbing, as you can find museums and galleries to visit.
There's plenty of quirks and character to admire in this eclectic treehouse, from its old-fashioned windows to its bathroom floor made from pennies. The treehouse is separated across two stories, with its sleeping space up in the little loft area. While there's a queen bed up there, the Airbnb can host up to three people thanks to the sofa bed downstairs. Besides the sofa and living space, there's a kitchenette and bathroom down there also.
It's to be expected that staying in this treehouse is all about the ambiance of being surrounded by branches and leaves. But it is actually quite practical as well, with climate control to keep you comfortable, plus a microwave and mini-fridge stocked with complimentary drinks and snacks in the kitchenette. There's even Wi-Fi up there. What more could you want?
Clearly, there are a great variety of Airbnbs in Georgia which all allow you to experience the state's nature and cities. You really shouldn't have any trouble at all finding one that suits your vacation, no matter what you have planned.