Scotland's gorgeous, hilly, and compact capital city is more than worth a visit, but like any capital city, it can get expensive. There's much to enjoy here, from experiencing Queen Elizabeth II's Scottish royal residence to trying haggis for the first time, it may be difficult to stick to your budget. Keeping accommodation cheap is one of the best ways to keep yourself on track financially, and that usually means staying in hostels. So, here are the best hostels in Edinburgh.
Quick Answer: The Best Edinburgh Hostel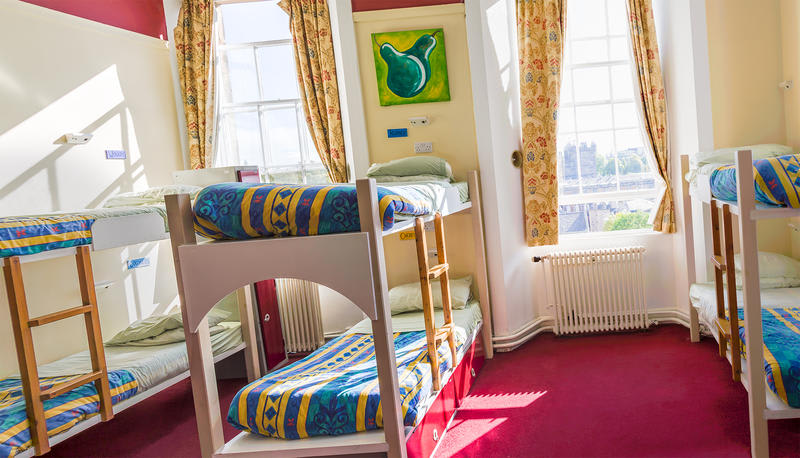 Castle Rock Hostel
Located right next to one of Scotland's best castles, Castle Rock Hostel allows you to be on a quieter street but still right near all of the action. It's only a one-minute walk from Edinburgh Castle, the Royal Mile, and the historic Grassmarket. This 19th-century building is filled with character, antiques, and art, and its vibrancy extends to the themed rooms. There are several lounges that make it easy to meet other travelers, and they're decorated with things like a jukebox, piano, and pool table. There's a self-catering kitchen, the bathrooms are super clean, and each bed has a power outlet to charge your devices. Castle Rock Hostel is a pickup point for the free Edinburgh walking tour, and the hostel hosts daily activities to keep everyone entertained. If you're not interested in a party hostel but still want to have a great time, Castle Rock is the place for you.
Check Prices on Hostelworld Check Prices on Booking.com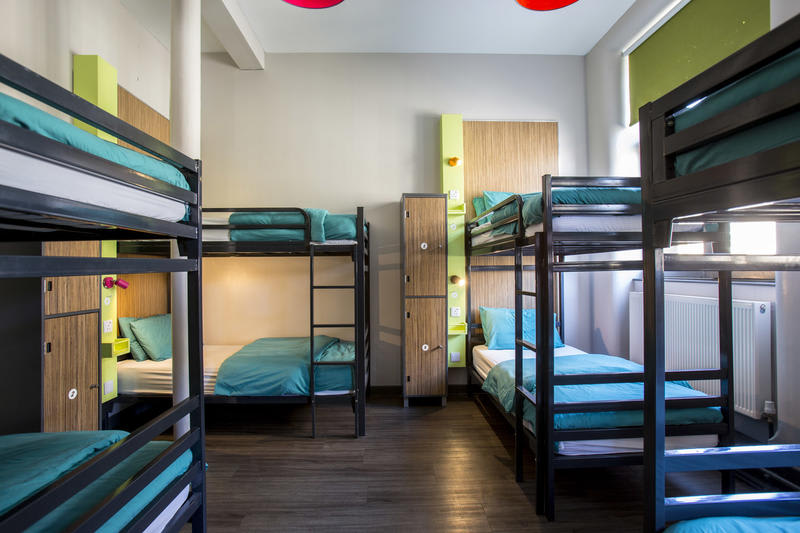 Kick Ass Hostels
Situated right in the heart of Grassmarket, one of the best places to visit in Edinburgh, Kick Ass is an award-winning hostel which gives off a luxury vibe. Fun, security, and cleanliness are priorities here. There's a café and bar on-site in which meals start from under £5, there are cheap cocktails and drinks, and there's daily entertainment and events so everyone can have fun and meet each other. There's a 24-hour reception and each room has swipe cards, private bed lights, and individual USB charging ports. Not only do they have traditional bunk beds in their dorms, but they have also dorms with super cool private sleeping pods. Other bonuses include a large self-catering kitchen, private shower pods, and complimentary access to the facilities at Budget Backpackers hostel only two minutes away. One of the nicest hostels you'll ever stay in, you can't go wrong with Kick Ass.
Check Prices on Hostelworld Check Prices on Booking.com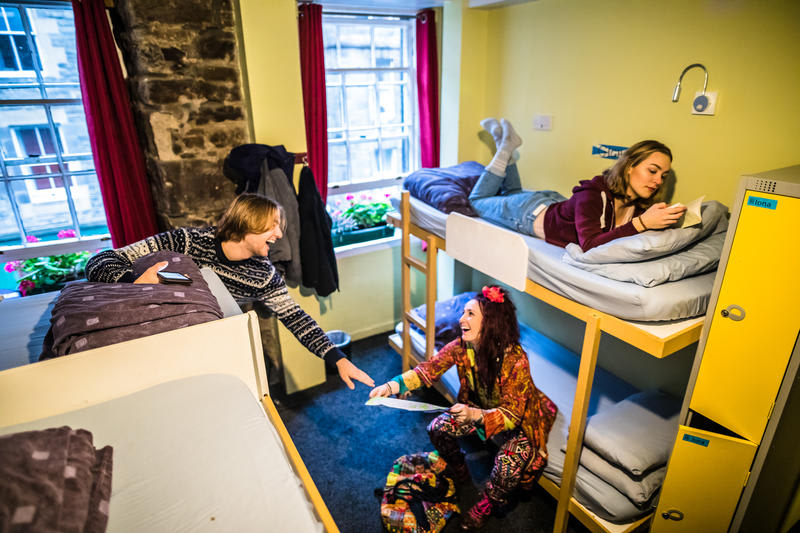 High Street Hostel
Dating back to 1564, this building once housed James Douglas, 4th Earl of Morton, the man who was beheaded for his involvement in the murder of Lord Darnley, the second husband of the famed Mary, Queen of Scots. Since then the building has been updated with state-of-the-art features to help you enjoy your stay in Edinburgh. There's a lot going on in the surrounding area as bars, restaurants, and music venues continue to pop up. Discounts at some of these hot spots are even offered to High Street Hostel guests. Also, you'll be just moments from the Royal Mile; and even if you're spending just two days in Edinburgh, you absolutely can't miss this area. If you want to stay in, you can try your hand at billiards, work on your chef skills in the fully-equipped kitchen (a buffet-style breakfast is also available), or join in hostel events such as trivia night, burger night, or movie night. If you want to see even more of this beautiful country, you can book tours through High Street Hostel to Scottish gems like the Isle of Skye. To enhance your time in Scotland, go with High Street Hostel.
Check Prices on Hostelworld Check Prices on Booking.com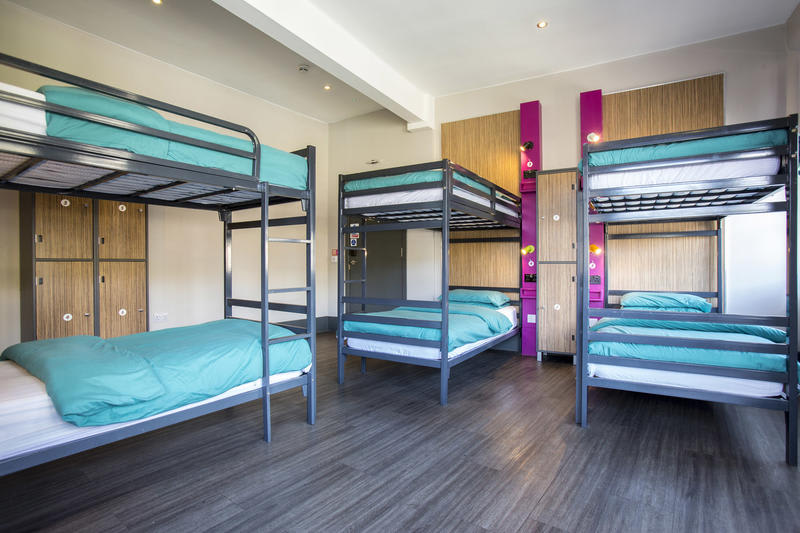 Budget Backpackers
Located in a unique Victorian building with a turreted tower, Budget Backpackers is praised for their walking tours and pub crawls. This hostel is located in the middle of everything in the Grassmarket area only a stone's throw from The Real Mary King's Close. There's plenty to eat and drink surrounding the hostel, but there's also on-site options including a unique VW Camper-themed café and bar. Also be sure to take some time to chill out and watch TV in the super cool treehouse-themed room. Budget Backpackers even offers a ton of free bonuses like a city tour, daily events and entertainment, luggage storage prior to check-in, bed linens, and Wi-Fi. You'll also have access to all of the facilities at their sister property, Kick Ass Hostels, only 200 yards away. Budget Backpackers is here to make sure you're living life to the fullest.
Check Prices on Hostelworld Check Prices on Booking.com
Edinburgh Backpackers
Edinburgh Backpackers has just about everything you could want in a hostel. One of the best parts about this hostel is its variety. There are a total of 150 beds in the rooms which range from doubles to dorms and are spread across four buildings. The main building has large dorms and a few private rooms while the additional buildings next door have only private rooms, some with ensuite bathrooms. Attached to the hostel is Southern Cross Café which hasan extensive food and drink menu, and as a hostel guest you'll get a 15% discount off of your food bill there. Edinburgh Backpackers is located on the eclectic Cockburn Street only 200 yards from Waverley railway station and an Airlink bus stop and only 55 yards from the Royal Mile. Edinburgh Backpackers is sure to exceed your expectations.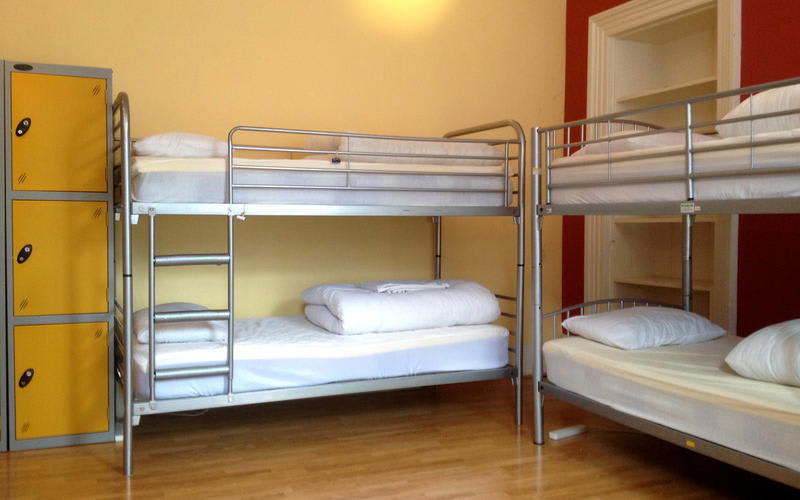 Light House Hostel
Kindness and hospitality radiate through Light House Hostel which prides itself on following Jesus' teachings of compassion by offering friendship and a safe resting place for travelers. They even donate 50% of profits to a housing charity. This beautiful Georgian townhouse is filled with character, and the atmosphere is a fusion of contemporary and charming hospitality. The laid-back lounge has a home cinema system, and when it's warm enough they host BBQs and campfires in the garden. Some of the major freebies here include breakfast and evening car parking. Light House Hostel sits in an artistic area of Old Town and is only a 15-minute walk from Edinburgh Castle. For a caring, loving, and sharing hostel, Light House Hostel is the place to be.
St. Christopher's Edinburgh
One of Edinburgh's most famous hostels, you'll only have to stay one night here to understand why people love it so much. St. Christopher's has been voted the "best large hostel chain" in Europe, and you're pretty much guaranteed to have a great time. St. Christopher's Edinburgh is situated across from Waverley railway station and the Edinburgh Dungeons, putting you in the midst of the medieval Old Town. Despite everything you have right out the door, you don't even have to leave the hostel to party as Belushi's, a bar and club, is just downstairs. There you can enjoy 25% off of your food and drinks as a registered hostel guest. After a night at the bar, most guests start their mornings with free breakfast before hitting the town and enjoying all of the sites, or the free walking tour offered by the hostel for first-time Edinburgh visitors. St. Christopher's also has other amenities like a chillout room, internet lounge, and travel desk to help your stay go smoothly. If you love the underground party scene, you'll love St. Christopher's Edinburgh.
Check Prices on Hostelworld Check Prices on Booking.com
Royal Mile Backpackers
This cozy hostel sits on High Street and overlooks the world-famous Royal Mile. It offers a great base for exploring Edinburgh as it sits halfway between the Palace of Holyroodhouse (the Scottish residence of Queen Elizabeth II) and Edinburgh Castle. Royal Mile Backpackers wants you to experience the best of the city and make new friends while you're there. The lounge and its fireplace make for an ideal location to relax and meet new people, but if the lounge is full, you can also head to the open concept kitchen and dining room. The typical free amenities like hot chocolate, tea, WiFi, etc. can be expected, and there is also a free pub crawl every Thursday as well as a free book exchange. To be in the heart of the action on Scotland's most famous street, book your stay with Royal Mile Backpackers.
Check Prices on Hostelworld Check Prices on Booking.com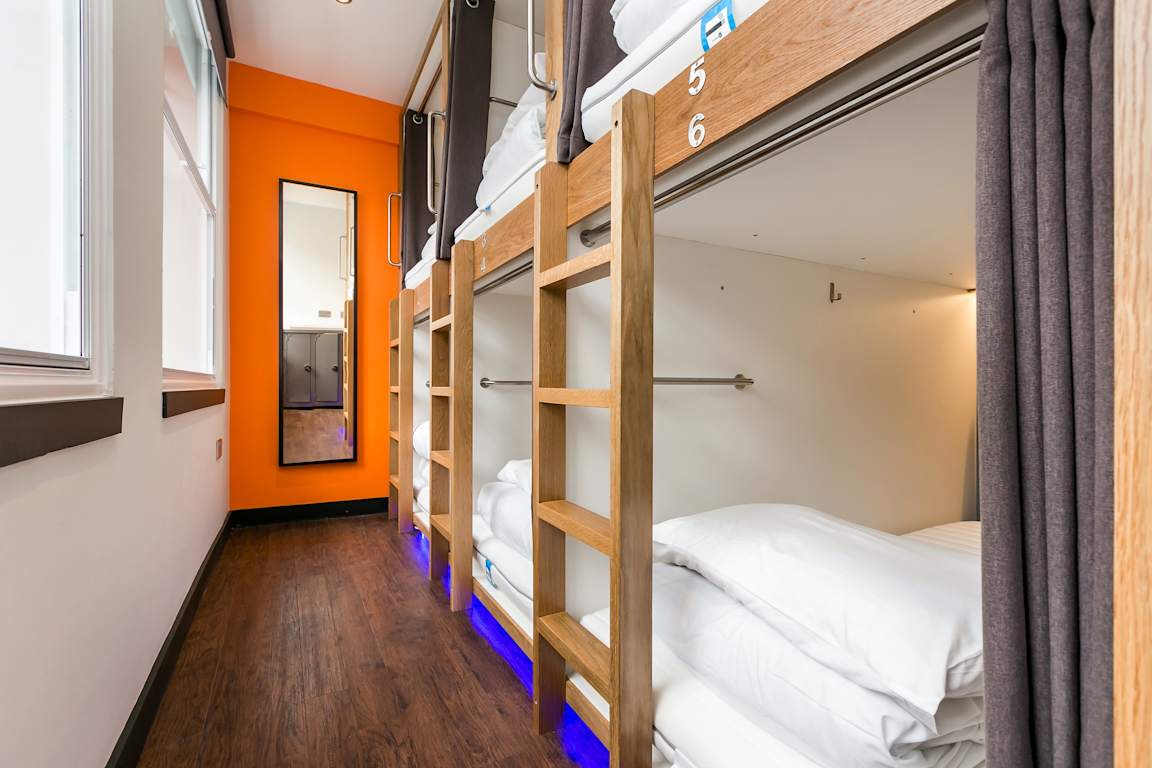 Code Pod Hostel
Code Pod Hostel has done away with squeaky bunk beds. They've adopted the Asian-style pod concept with privacy and comfort in mind. Each pod includes an LED light, power sockets, USB sockets, a shelf, and hooks. In addition to the pod dorms, they have a luxury penthouse apartment. This private room offers a double bed, private kitchen, private bathroom, and a roof terrace with views of Edinburgh Castle. For security purposes, each guest is assigned a digital code upon check-in that only works for their room. If you've had enough of privacy and want to meet other travelers, then head to the kitchen or communal area and introduce yourself. Located on Rose Street North Lane in New Town, this boutique hostel will add an upscale feel to your time in Edinburgh.
Check Prices on Hostelworld Check Prices on Booking.com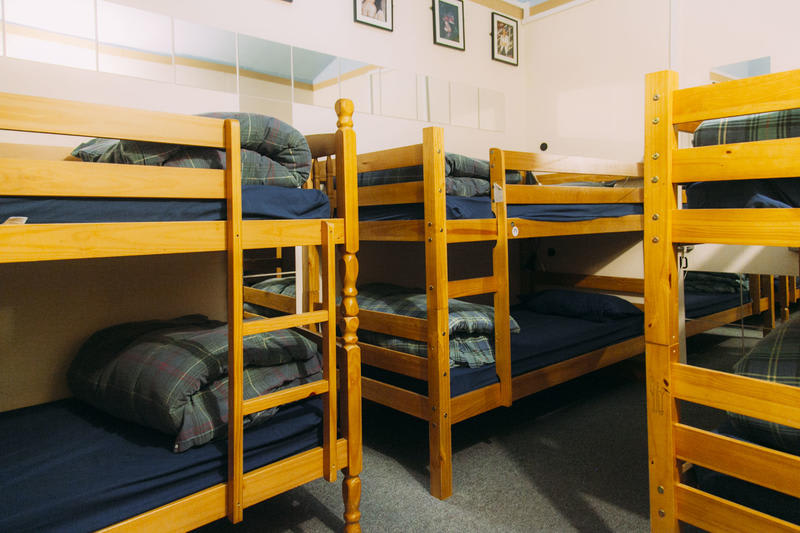 Belford Hostel
Formerly a church, Belford Hostel can sleep up to 98 guests in dorms and private rooms, some with ensuite bathrooms. Art lovers will adore the decor in this church hall which maintains a Gothic feel thanks to its stained glass windows. Outdoor is a BBQ area and inside is a resident's bar, dart board, big screen TV, and more. Around the hostel you'll see sports memorabilia from around the world. This unique hostel is in the West End right near the ancient and gorgeous Dean Village and Water of Leith. If you're at all concerned about the location, don't be. You'll be less than a 15-minute walk to Princes Street. If you want to stay in one of the coolest hostels in all of Edinburgh, it's going to be hard to beat Belford Hostel.
Edinburgh truly is one of the best places to visit in all of Europe; and whether you're visiting for the sights, food, culture, to check another UNESCO World Heritage Site off of your bucket list, or for any reason at all, it's important to have a safe and comfortable place to rest your head at night. When you choose any one of the best hostels in Edinburgh, you'll be able to enjoy a high quality rest without spending an arm and a leg.