When we were researching cheap places to stay in Jamaica all we could find were articles recommending hotels for $100 a night or more. I am not sure what their definition of cheap is, but that sure isn't cheap enough for us. That is why we decided to write our own list of cheap places to stay in Jamaica, for people like us, who can only afford places in the $20 – $60 range.
Many of the hotels listed here are very basic. Some have amenities like on-site restaurants, bars, and pools, but others don't even have running hot water or A/C (and if they do, they will probably charge you an extra $10 – 20). This is the real Jamaica mon! If you are looking for luxury resorts please press the back button now, as you have come to the wrong place.
If you are still here, respect! We hope this list will help you reduce your accommodation costs as much as possible on the island of One Love.
Already know where in Jamaica you are headed? Click on the destination below and it will take you to our list of cheap hotels and hostels in that area.
Montego Bay | Negril | Treasure Beach | Kingston | Port Antonio | Ocho Rios
---
Cheap Places to Stay in Montego Bay
Mobay Kotch is one of the only hostels in the heart of the city and is located at the landmark known as the "Townhouse". This historic townhouse dates back to the 1760s and you'll notice it by its distinct red brick exterior. It's owned and run by locals who are more than happy to share their favorite places in Montego Bay. You can choose from a dorm or a private room, and you'll also have access to kitchen and laundry facilities. Mobay Kotch is in the ideal location for you to enjoy the busy city life as well as a relaxing day on the beach.
Check Price on Booking.com Check Price on Hostelworld
If you don't want to be directly in the hustle and bustle of Montego Bay, then consider Yaad Hostel. It's less than a 10-minute drive to the commercial zone where you can find everything from entertainment to stores and restaurants. The hostel itself has shared and private rooms along with a lounge and kitchen. Each room has a seating area, an electric tea kettle, and free Wi-Fi. This area is very popular with cyclists, and you can rent a bike from the hostel if you want to bike around and explore the area. Yaad Hostel is an ideal accommodation if you want to experience authentic Jamaica.
Check Price on Booking.com Check Price on Hostelworld
One of the cheapest hotels in Montego Bay, Jamaica is located only an 18-minute walk from Cornwall Beach, and a mile from Doctor's Cave Beach. Castle Vue B&B has seven private rooms with air conditioning and Wi-Fi. The surrounding scenery is gorgeous, and the host Lawrence will make sure you're well taken care of. Guests share a lounge, garden, kitchen, grill, and terrace. For breakfast you'll have the option of a full English/Irish or a vegetarian breakfast. For a spacious B&B with easy beach access, you'll love Castle Vue B&B.
---
Cheap Places to Stay in Negril
T&T Guesthouse is a cheap hotel in Negril that doesn't sacrifice on conveniences. The property is located in the West End of Negril only a five-minute drive to the beach and less than a 10-minute walk to Rick's Cafe. It has a garden, terrace, and barbecue facilities on-site, and you can organize grocery deliveries, dry cleaning, and water sports. Popular activities in the area are fishing, hiking, and cycling, which the staff is more than happy to help you coordinate. This guesthouse offers self-catering apartments with a shared kitchen. There's a minimarket nearby for food, and the on-site bar means you can get your favorite drinks at good prices. For a cheap hotel in Jamaica T&T Guesthouse is one of the best choices you can make.
It's hard to beat the location of Drifters@One Mile. It's only a two-minute walk to the beach and there are numerous restaurants nearby. There are a total of seven rooms with 18 beds in the hostel; one room has a double bed with an ensuite bathroom. Guests have access to a self-catering kitchen and a barbecue. If you stay there between November and May make sure you check out the live music at the bar. You can't get any closer to the beach when you stay at Drifters@One Mile.
Check Price on Booking.com Check Price on Hostelworld
Sue is the owner of the Judy House. A guest house which truly has something for everyone. There are private cottages with fully-equipped kitchens and ensuite bathrooms as well as private rooms, some with ensuite bathrooms and others with shared bathrooms. There are shared rooms and cabanas for those who don't want to spend as much money. The on-site cafe is open 24 hours a day and has drinks and snacks. The Judy House is only minutes from Negril's famous cliffs, restaurants, bars, shows, shops, and more.
Check Price on Booking.com Check Price on Hostelworld
T-Bird on the Cliffs is a boutique guesthouse with seven unique rooms. It's surrounded by lush gardens, fruit, birds, and flowers. The friendly staff is on duty 24/7 to help with anything you need, and the on-site restaurant serves delicious local dishes. The world-famous Rick's Cafe right across the street plays live reggae music every day. Within a five-minute walk are a variety of eateries ranging from fine dining to roadside jerk chicken, and the beach is about a 10-minute drive from the guesthouse. The location and atmosphere of T-Bird on the Cliffs will really make you feel welcome in Negril.
Check Price on Booking.com Check Price on Hostelworld
---
Cheap Places to Stay in Treasure Beach
Jacob is a local tour guide and lobster fisherman who owns this tranquil cottage in the heart of Treasure Beach. It has a relaxed and laid back vibe while still offering a range of services to help improve your stay. The staff can organize everything from a personal chef and excursions, to cultural activities and social events. All rooms are private with ensuite bathrooms, and one even has a sea view. A stay at Welcoming Vibes puts you only a five-minute walk from the sea, shops, and cafes that you came to enjoy.
Check Price on Booking.com Check Price on Hostelworld
Southview Hotel is a great place to unwind and enjoy Treasure Beach. The ecological property features two swimming pools, a sun terrace, fruit gardens, a bar, and an entertainment area with board games for you to enjoy. All 20 rooms have private bathrooms and you can choose between a dorm or a private room. The hotel offers local dishes and continental breakfast in the common dining area, and there's also room service available. If you're interested in eco-tours let the staff know; they can arrange tours to the Black River Safari and Holland Bamboo. For a great hotel stay that won't break your budget, consider Southview Hotel.
This beachfront guesthouse is a great family-friendly option for your time in Treasure Beach. There are eight private rooms all of which have patios and refrigerators. If you're driving, there's free parking on-site and if not, the guesthouse has a paid airport shuttle service. There are ten restaurants less than a mile from the property, and you'll be only steps from the beach. The Waikiki Guest House is a simple, well-kept accommodation whose amazing staff is ready to help you personalize your stay.
Joshua truly knows how to make guests feel comfortable during their stay. If you need anything, don't hesitate to let him know. He's been known to pick guests up from the bus, show them the beach, organize car rentals, and more. All rooms are private with a seating area, microwave, and ensuite bathroom. Some rooms even have a patio and amazing sea view. You're sure to have a pleasant stay at Joshua's Treasure Heights.
---
Cheap Places to Stay in Kingston
When you search for the cheapest hotel in Jamaica Ragamuffin Hostel always makes the list. Each room in the all-dorm hostel includes an electric tea pot and shared bathroom, and some rooms have a kitchenette with a fridge. The property offers a shared kitchen and lounge, and there are several restaurants nearby. Whether you're coming for business, entertainment, or the local cuisine, Ragamuffin Hostel is a great home base.
Check Price on Booking.com Check Price on Hostelworld
If you want to have a great time and make friends while in Kingston, Belleh23 Guesthouse is a great place to stay. They most often host creatives from all over the world and offer a handful of events, including dance classes, to guarantee you enjoy your stay. They're part of the dancehall and reggae scene and have both an indoor and outdoor dance space. There's a shared kitchen on-site and you'll be a five-minute walk from anything you may need. There are private rooms with shared bathrooms and dorms with private bathrooms, and you're able to rent out the entire house if you're traveling with a group. If you're looking for a creative space while in Jamaica, go with Belleh23 Guesthouse.
Check Price on Booking.com Check Price on Hostelworld
The coolest hostel in Kingston is located on the same property as the renowned Cell Block Recording Studio in Jackson Town, only a 15-minute drive to the city center. At Dancehall Hostel you'll have the opportunity to visit beaches, parties, and historical sites, and take dance lessons from local dancers. The property has an outdoor hot tub, a sun terrace, shared kitchen, laundry room, cable TV, and an on-site bar. You can choose from dorms or private rooms all with Wi-Fi and air conditioning. If you want to learn to dance and experience the city's nightlife, book a stay at Dancehall Hostel.
Check Price on Booking.com Check Price on Hostelworld
---
Cheap Places to Stay in Port Antonio
Germaican Hostel offers gorgeous views of the Caribbean Sea, the harbor of Port Antonio, and the Blue Mountains. You'll be a 25-minute walk to the beach, and a ten-minute drive to the town center where you'll find clubs, bars, cafes, concerts, restaurants, markets, and more. They offer shared and private rooms, or you can book a private bungalow with sea views and a private bathroom. If your idea of fun in Jamaica is relaxing in a hammock while you soak in the views, check out Germaican Hostel.
Check Price on Booking.com Check Price on Hostelworld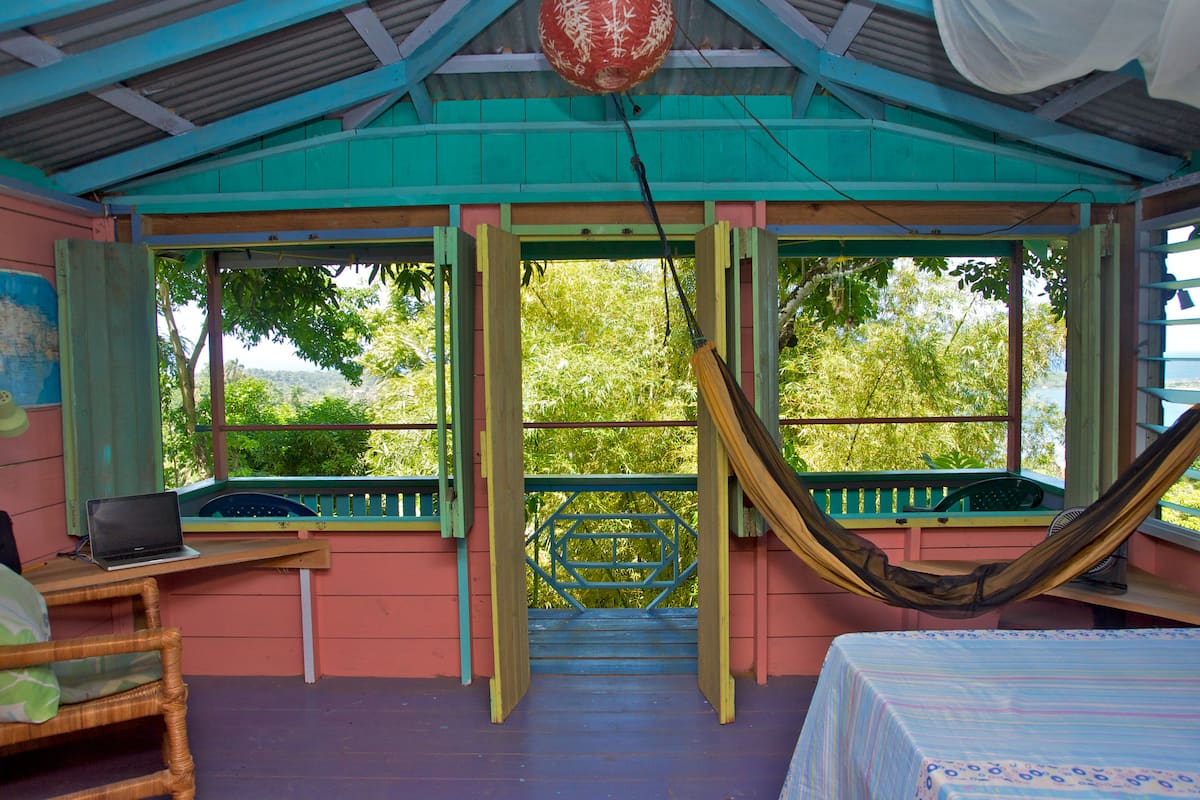 Mango Ridge is located in the foothills of the blue mountains and it overlooks the market town of Port Antonio. It is within walking distance of public transportation, the beach, and the produce and craft markets. All cottages are secluded amongst banana, mango and coconut trees, and come with a small kitchen, bathroom and free WiFi. Mango Ridge is a true gem in Port Antonio and the owner, Michael, is one of the most hospitable people we have ever met. He will do his best to make your stay there as pleasant as possible. Cottages start at $50 per night, but if you stay longer and Michael isn't overbooked, I am sure he'll give you a deal. Just tell him we send you :D
Located in the quiet neighborhood of Fairy Hill, Porty Hostel is within walking distance of Winnifred Beach and Boston Bay Beach, and it's a 15-minute drive to Port Antonio town. The homely hostel includes dorms and private rooms as well as two sofas, a smart TV, dining area, and well-equipped kitchen. This hostel offers continental breakfast and on-site is a bar, lounge, and garden. For a relaxing stay near Port Antonio, Porty Hostel is a great option.
Check Price on Booking.com Check Price on Hostelworld
---
Cheap Places to Stay in Ocho Rios
Thanks to its oceanfront location, Tina's Guest House is a great cheap hotel in Ocho Rios, Jamaica. It's only a 15-minute drive to the town center and you can enjoy a variety of activities on-site or nearby. Marley Beach is a seven-minute walk, and Stewart Town is a 10-minute walk from the guesthouse and they have restaurants, clubs, and markets. All rooms are private and each has Wi-Fi, a TV, and a private bathroom. There's also a shared kitchen and terrace on the property. Michael and Beverly are very welcoming and they'll go out of their way to make sure you have an enjoyable stay at Tina's Guest House.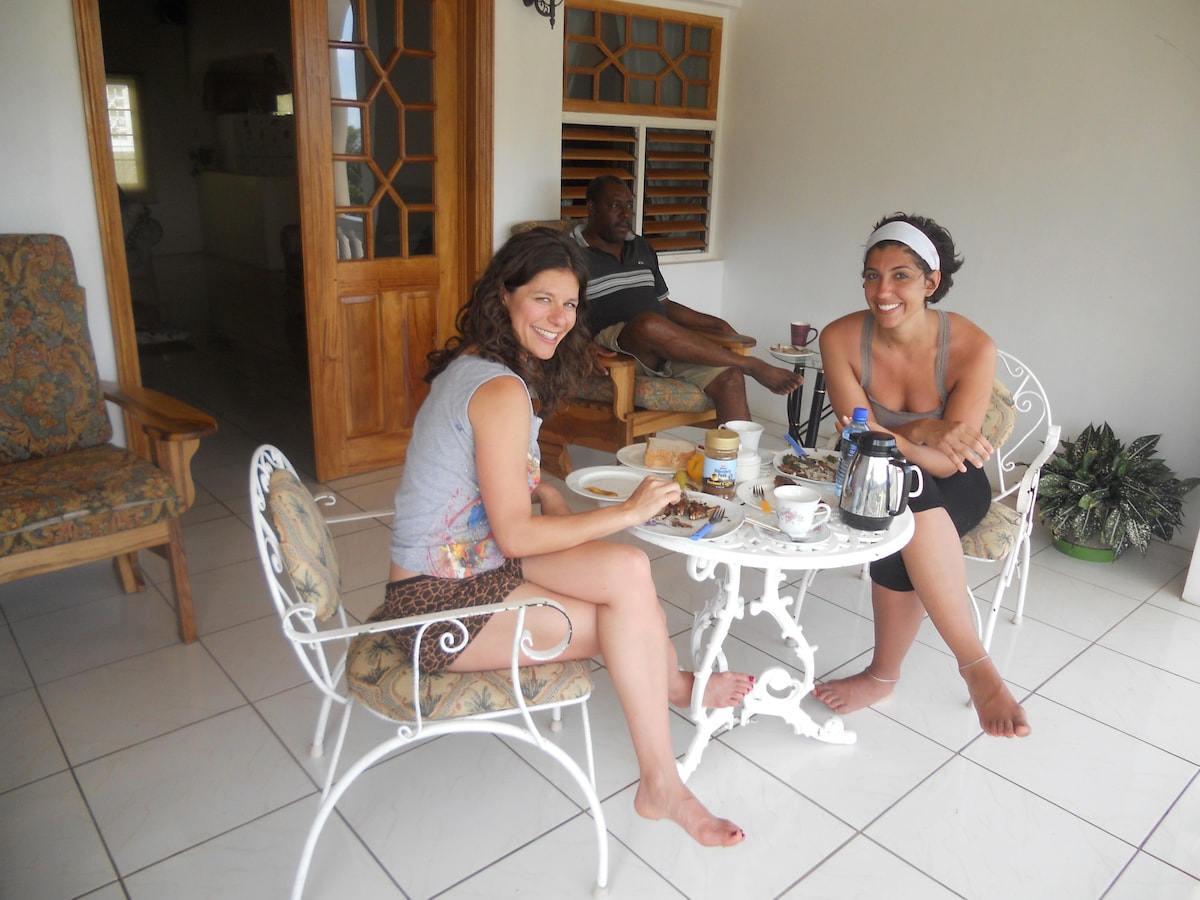 Live Like a Local is a family house five minutes from the hustle and bustle of town. This is a great place to experience world-class reggae music, intriguing culture, white sand beaches, and the renowned Dunn's River Falls. The house offers one bedroom with a shared bathroom, and can sleep up to four people. Booking a stay here also gives you access to a kitchen and living area. If you truly want to live like a local during your time in Ocho Rios, stay at Live Like a Local.
Check Price on Airbnb Check Price on Hostelworld
A 10-minute drive from the city center is Wizzy Apartment. They offer a studio, one-bedroom, and two-bedroom apartment. Amenities and facilities include a patio, an electric kettle, flat-screen TV, dining table, desk, microwave, and air conditioning. You'll have access to laundry and a hot tub, and you can even arrange an airport shuttle or car rental. For your own private space during your time in Ocho Rios, check out Wizzy Apartment.
Cheap places aren't for everyone, but for an authentic stay in Jamaica that won't bust your budget, choose from this list. The hosts will do their best to make sure you have the best experience possible.
Do you know of any cheap places to stay in Jamaica that are not listed here? If so, feel free to share it with us in the comments below.