Just past the concrete jungle of Cancun and the resort town of Playa del Carmen, you'll find a never-ending adventure in the paradise of Tulum. As one of the last cities built by the Mayans, it has remained incredibly preserved even with the rise in tourism, making it one of the best places to visit in Mexico. The good news is that Tulum has accommodations to fit any budget, but with so many options, it can be hard to decide. Here are the best hotels in Tulum to help you figure out which one will work best for you.
Consider looking on Airbnb for places to stay in Tulum as well. Many Airbnbs are cheaper than regular hotels while still offering the same quality. For Airbnb recommendations, check out our guide to the best Tulum Airbnbs.
Alma Tulum ****
Situated between the Caribbean Sea and the lush rainforest, Alma Tulum Hotel is the perfect place to have a vacation with no distractions. The natural beauty and bohemian vibe will welcome you the moment you arrive in paradise. With all rooms including complimentary continental breakfast, a sea view, and a gorgeous terrace, you can take your pick of a beach room or a town room. The town rooms are separate apartments beautifully situated in a corner of the tropical jungle that give you direct access to the hotel's beach club. The beach club complements your stay at Alma Tulum with a restaurant, bar, lounge chairs, and different services and amenities to make your stay an unforgettable one. After the sun sets, the restaurant is lit by candlelight, which gives you the perfect opportunity to have a romantic dinner under the stars listening to the waves crash. You can expect a rejuvenating stay that helps you truly experience nature as you relax beachside.
Check Prices on Booking.com Check Prices on Hotels.com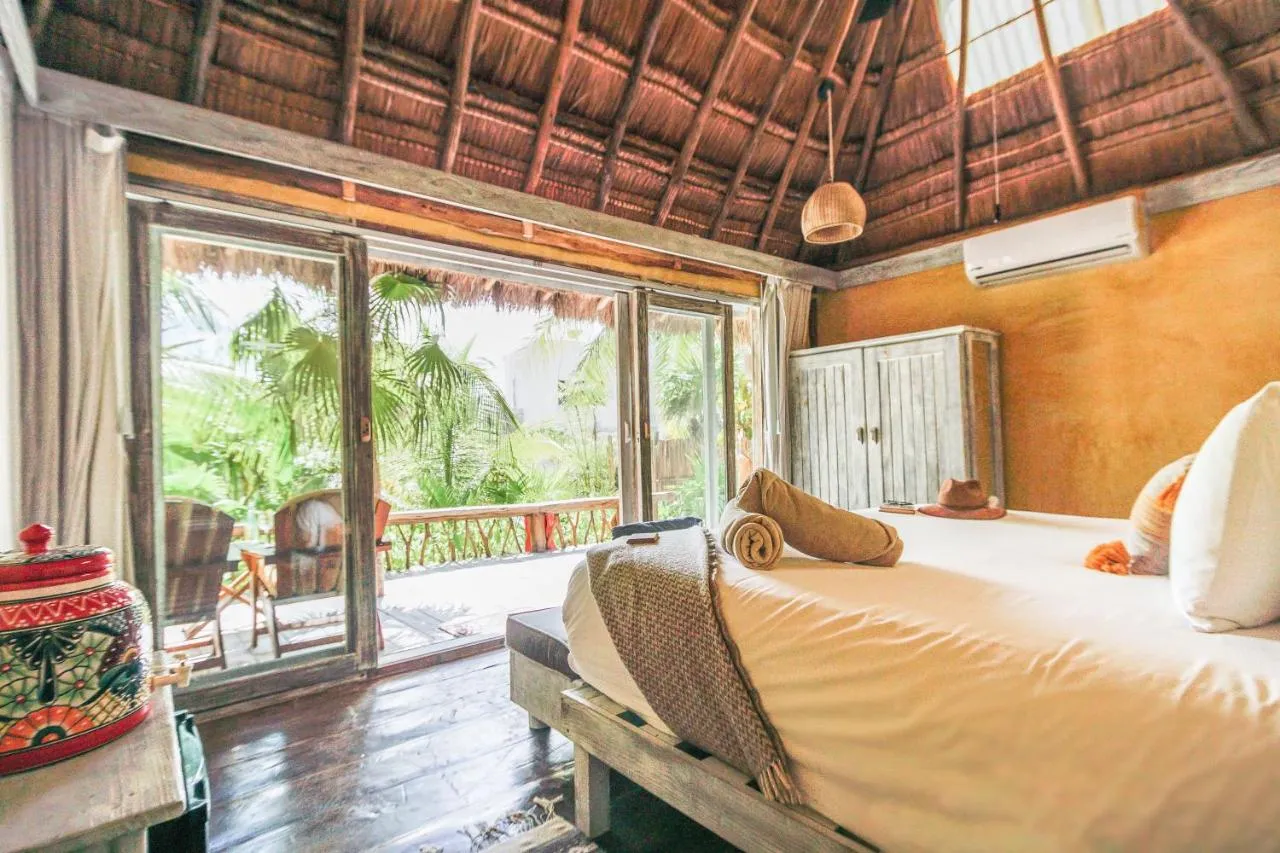 Villa Pescadores ***
Overlooking the Atlantic Ocean, this upscale hotel is themed like an old fishing village. Just a short walk from the Tulum Ruins, it gives you convenient access to wherever you want to go. The unique history of Villa Pescadores is evident throughout the property, and each room is decked out with handmade furniture, canopy beds, and balconies. Once you're ready to leave your room, restaurant chef Robert Vilchis Soto is happy to welcome you to the restaurant for one of his famous dishes. For the watersport lovers, this is one of the best hotels in Tulum because you'll have direct access to kitesurfing, paddle surfing, and (stand up) paddle-boarding with certified instructors at their sister hotel. When it's time to relax, hammocks hang all over the property, and you'll fall in love with Villa Pescadores as you chill out under the stars listening to the sounds of palm trees blowing and crickets chirping. It's a tropical retreat in every sense and will prove to be a fantastic accommodation for your vacation.
Check Prices on Booking.com Check Prices on Hotels.com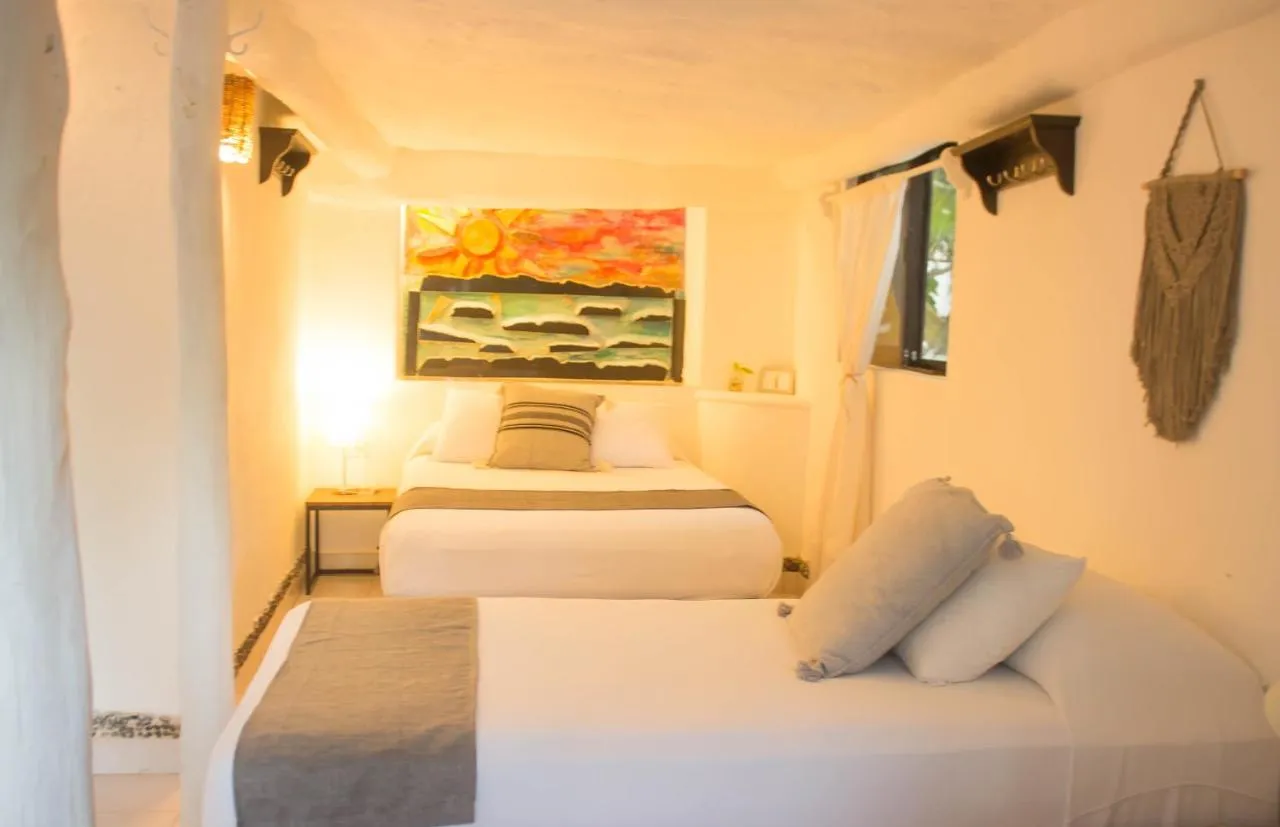 Playa Xcanan **
The beautiful grounds, gorgeous beach, and great atmosphere will be just a few of the highlights of your stay here. The owner, Fabio, and his team keep guests coming back over and over again, and they'll make you feel just like family. Playa Xcanan Tulum is in a great location nearby many attractions, and if you're looking to add more things to your itinerary, check out our ultimate guide to Tulum. The rustic theme of the rooms along with the sofa, wardrobe, and terrace are designed to maximize your comfort. Breakfast is included in your room rate and there is a delicious seafood restaurant nearby, so your stomach will always be satisfied. A great choice for your stay in Tulum, Fabio looks forward to welcoming you personally.
Check Prices on Booking.com Check Prices on Hotels.com
Mi Amor a Colibri Boutique Hotel *****
If you're looking for premier service and to slip away into seclusion on your vacation, this is one of the best luxury hotels in Tulum for you. Situated on a rocky cliff in the tropical forest, this hotel overlooks the Caribbean Sea and creates the perfect atmosphere for a romantic getaway. Your options are endless at Mi Amor Colibri Boutique Hotel. Your choice of views include the sea, the jungle, the garden, or the pool, and you can also choose a room with either a furnished balcony or a private plunge pool. Mi Amor Restaurant presents French and Italian-inspired cuisine designed to give you a truly special dining experience. Renowned chef Paul Bentley and master mixologist Jasper Soffer are a fantastic pair that create decadent flavors to make your meals unique and unforgettable. This upscale boutique resort takes great pride in providing a quiet and intimate stay for all their guests. Words can't describe how spectacular this place really is, you'll just have to see it yourself.
Check Prices on Booking.com Check Prices on Hotels.com
Be Tulum Beach & Spa Resort ****
This exotic hotel has fun written all over it. From the DJ to the beach bar, you'll definitely enjoy every moment of your stay. Uniquely built by the sea cliffs, you'll appreciate the charm and quiet of the nature around you throughout your stay. With rooms facing the jungle, the sea, and the pool, you'll love taking advantage of your own private plunge pool or terrace. Some rooms even have access to a private rooftop terrace with a pool. The three on-site restaurants are equally astonishing and specialize in different types of deliciousness. Maresias is a raw bar with a variety of fresh elements, 4 Fuegos is an open-fire kitchen creating everything from beach snacks to main courses, and Ocumare's menu contains flavors from around the world, including Spanish, Indian, and Argentinian cuisine. If it's relaxation you're after, the Yaan Wellness Energy Spa located on the jungle side of the hotel is there to serve you and supply your every need. Before or even after your spa treatment, be sure to enjoy the complimentary water therapies of the sauna, steam, and pools. With all that Be Tulum Beach & Spa Resort has to offer it will be impossible to leave at the end of your stay.
Check Prices on Booking.com Check Prices on Hotels.com
Mezzanine a Colibri Boutique Hotel ****
With no children under 16 allowed to stay at the property, it's the perfect spot for an adults-only vacation. You'll relish in the first-class service as everything about your stay here will be enjoyable. Prior to your arrival, the concierge will contact you to give you the opportunity to customize your stay. From flowers to excursions, they're prepared to customize your itinerary in whatever way fits you best. Each of the nine rooms is decorated in a boho-chic style and you can enjoy a complimentary breakfast basket delivered to your door daily as well as snorkeling equipment. Celebrity chef Dim Geefay and resident chef Garn Surasak tag team to create authentic Thai food like you've never experienced. There is also a margarita happy hour from 1:00 – 4:00pm that you won't want to miss. Away from the city life, you'll experience the ultimate Caribbean enchantment as you relax and refresh at Mezzanine Colibri Boutique Hotel.
Check Prices on Booking.com Check Prices on Hotels.com
Sueños Tulum ****
This eco Mayan resort is sculpted to represent the Mayan gods surrounding the hotel. Nestled where the jungle meets the beach and the blowing palm trees, every wall here tells a story and the tribal vibe overtakes the tourist vibe in this beachfront boutique resort. All suites face the ocean and each one is beautifully hand-painted with a Mayan and Pre-Hispanic theme. The open-air restaurant sits on the second floor and gives you prime ocean views. Bike rentals, board games, and a lending library are available in the lobby for your convenience. The fire pit is a popular gathering place, but there are several different areas to lounge or hang in a hammock if you want some privacy. As you lay in a daybed on the beach, you'll be confident that you made a great choice choosing to stay at Sueños Tulum.
Viento De Mar ****
Just a short drive from UNESCO World Heritage Site Sian Ka'an, you'll always be taken care of at this beachfront property. The hotel showcases a private beach and 36 beachfront palapas with beds for your enjoyment and relaxation. Whether you choose an ocean or garden view room, each room has a unique layout with your own private hammock and terrace. The white rooms with tasteful pops of color carry the beach feel right into your room. Their thoughtful services and amenities show that your experience is their priority. The list is endless, but some of their considerate amenities include on-site bike rentals, complimentary Kindle rentals for the book lovers, sand castle molds for kids, and a drug store delivery service. Regardless of whether you're at the restaurant, spa, or anywhere else on the property, the staff is ready to treat you like royalty every step of the way. Previously rated the best value in Tulum, even a short stay here will show you why it tops the list of best hotels in Tulum.
Check Prices on Booking.com Check Prices on Hotels.com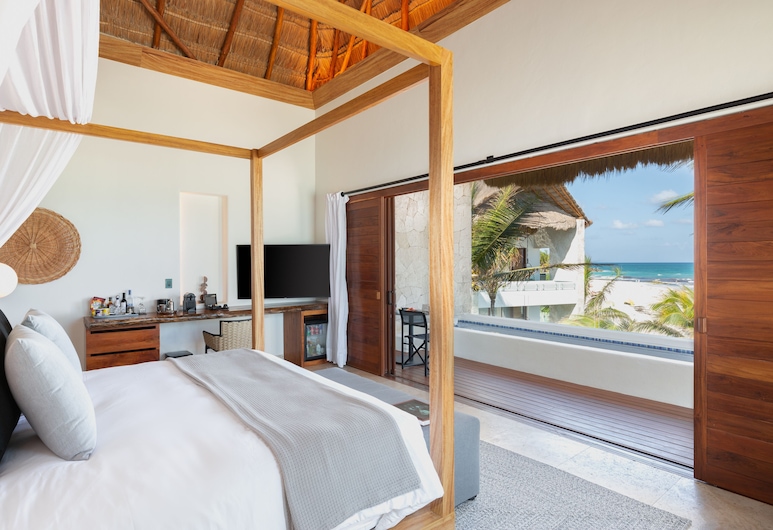 Coral Tulum *****
This is your chance to escape reality and experience one of the best luxury hotels in Tulum. This beachfront hotel is all about quality. Whether you choose a garden or ocean view, each suite is decorated with the finest local materials and equipped with a balcony and a private pool! To enhance your well-being you'll be provided with your own personal aromatherapy menu. And if that is not enough, the spa staff is prepared to pamper you like no other. When your stomach starts growling, head to Cilantro's. Take your pick of dining on the restaurant grounds, in a palapa, or beachfront as you indulge in their perfect blend of Mexican and Peruvian food. Need help choosing from all the great menu options? The lobster ceviche and the spicy lobster empanadas are must-haves.. Once you experience paradise at Coral Tulum, you'll have a hard time wanting to return home.
Check Prices on Booking.com Check Prices on Hotels.com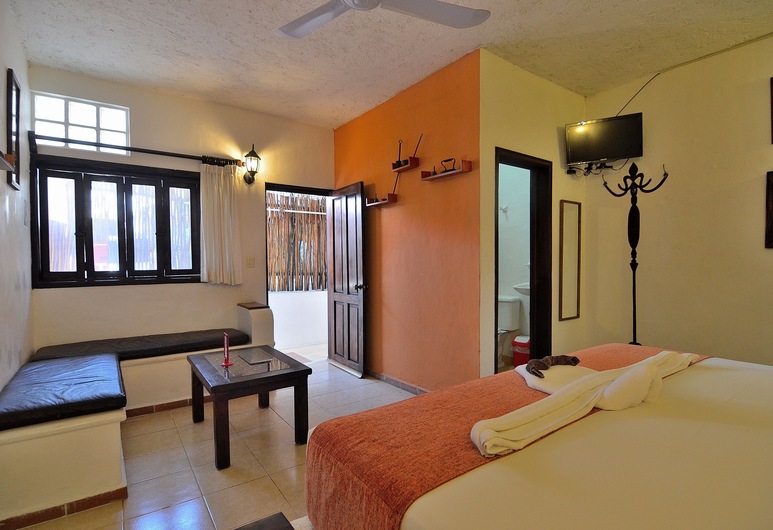 Itour México Túlum ***
iTour Mexico was created with the idea of being a host to travelers who want to learn more about Tulum and Mexico. As the first hotel dedicated to Mexican pop culture, it's accomplished its mission, and you can be reassured you'll not only learn something but also have fun throughout your stay. Each of the seven rooms are thoughtfully spacious and uniquely Mexican-themed. A quick stop at the excursion office will provide you with a host of tours to help you experience the best of Tulum, and if you want to explore Tulum on your own terms, don't despair, the complimentary bicycle rentals are for just that. If you want to experience a charming stay where you can be part of a community, iTour México Túlum is one of the best hotels in Tulum for you.
Check Prices on Booking.com Check Prices on Hotels.com
The ancient wonder of Tulum puts you in close proximity to so many exciting outdoor activities, including watersports and Mayan history and cultural attractions. With so much to do, we're happy to share the best hotels in Tulum so you have a great place to rest your head after a long day of exploring.